Whether you call it fall or autumn, there is no mistaking this as one of the most beloved seasons of the year.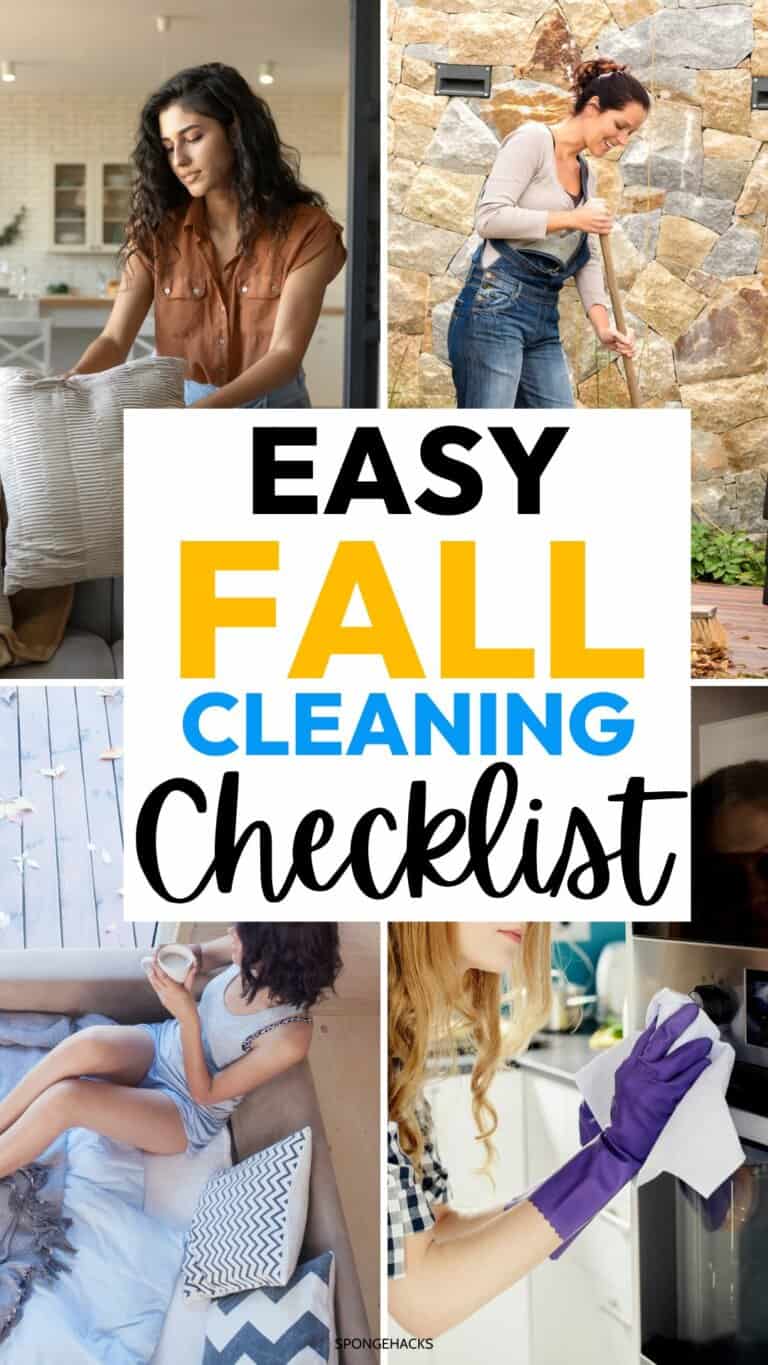 And for good reason!!
Cozy sweaters as the brisk, cool wind gently kisses your cheeks while you sit on the patio of your new home.
You're sipping on a delicious cup of hot cocoa with a hint of pumpkin spice as you marvel at the colors of the leaves that are carefully dancing their way to the ground.
'THIS is perfect,' is what you think to yourself.
But fall isn't just about all of that. This season brings about a whole new level of cleaning and organizing that you don't see at any other time of year.
In comes fall cleaning.
With all those beautiful leaves, decorations and winter approaching fast, you'll want to prioritize your fall cleaning.
Thankfully, I've got just this post as your ultimate fall cleaning list to help make things a whole lot easier for you!
Fall Cleaning Checklist (Room-by-Room) – Free to Download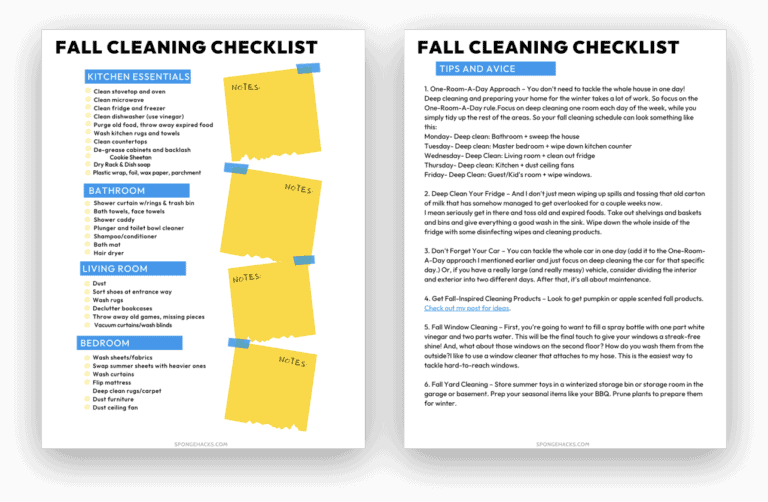 But Why Do Fall Cleaning?
You already spot clean and probably do a weekly cleaning schedule too, right?
And, don't forget all that spring cleaning you did earlier this year.
It's a lot for sure!
But keep in mind that our homes tend to start closing up when the weather gets cold.
The air conditioners turn into heaters and for most of fall and winter, we keep our windows shut, meaning that all the dirt and dust stays trapped indoors.
Na-uh!
You don't want that!
Not only is it a good habit to add to your yearly routine, it's also helpful to already have some deep cleaning, purging and organizing done before the Holidays show up.
This time of year tends to bring more stuff into your home and wouldn't it be nice if you didn't have to worry about decluttering your already cluttered home as you sit there with your family for a nice dinner on Christmas Eve?
Fall cleaning is more than just what I mentioned, too.
Lots of pests tend to take refuge within our homes, usually in places that tend to be overlooked.
Fall cleaning with a splash of deep cleaning will help give us a better idea of where these pests are in our home and kick them out to the curb if need be!
Quick Fall Cleaning Tips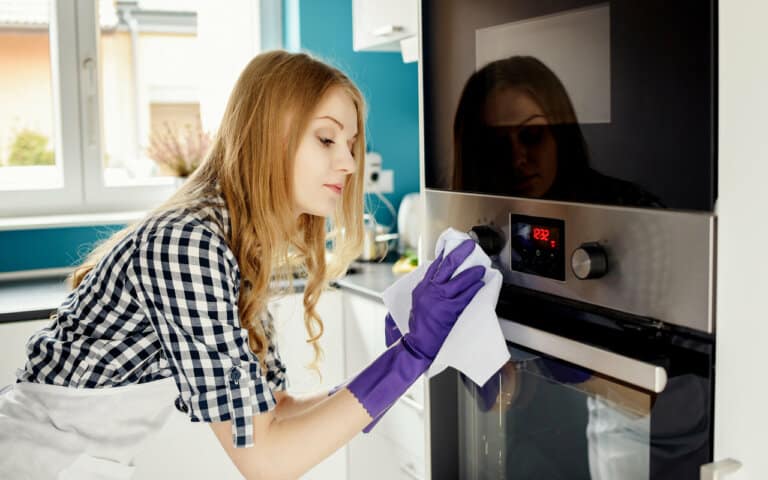 Alrighty!
We're going to start off with some quick and easy tips to help you make the most out of your fall cleaning for your new home or apartment!
When you think of fall cleaning , you probably just think about all the cleaning that needs to be done outdoors.
Falling leaves, dead flowers and seasonal plants, gutters… There are LOTS to do in your yard to prepare for the winter.
And, if you're like me, it's not a fun task to do, but it must be done to prepare for winter.
Some quick tips for your fall outdoor cleaning:
Use a large tarp to help you collect fallen leaves. You can use a leaf blower or rake to get the leaves onto the tarp. Then, connect together the edges of the tarp to basically create a giant tarp garbage bag and easily drag the tarp bag to wherever you want to place your leaves.
Make sure you have the right tools on hand. This will help make your fall cleaning a whole lot easier! You'll need a rake, broom and trimmers for trees.
A giant 5-gallon bucket, like the ones you can find at Home Depot or Lowes, are great to use for your fall cleaning! This also works as storage for your tools when you're done.
Make sure to mow your grass one last time before the cold comes around! This will help leave your yard looking neat and the dead grass will work perfectly as compost for when the spring comes back around.
General Fall Cleaning Tips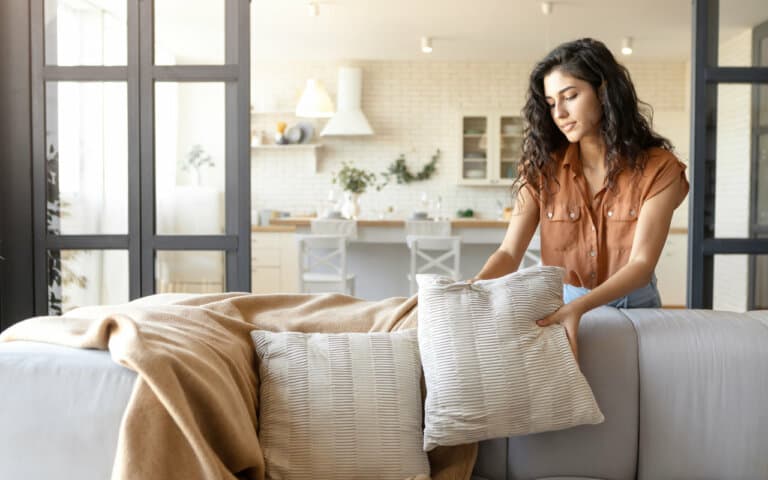 As the weather gets colder and the days get shorter, there's no better time then to prepare your home for the fall!
This may seem like a daunting task, but with a little planning and elbow grease, it can be easily accomplished. Here are some tips to help you get started
1. One-Room-A-Day Approach
You don't need to tackle the whole house in one day!
Deep cleaning and preparing your home for the winter takes a lot of work.
So focus on the One-Room-A-Day rule.
Basically, focus on deep cleaning one room each day of the week, while you simply tidy up the rest of the areas.
So your fall cleaning schedule can look something like this:
Monday– Deep clean: Bathroom + sweep the house
Tuesday– Deep clean: Master bedroom + wipe down kitchen counter
Wednesday– Deep Clean: Living room + clean out fridge
Thursday– Deep clean: Kitchen + dust ceiling fans
Friday– Deep Clean: Guest/Kid's room + wipe windows.
This is just to give you an example of what the One-Room-A-Day approach to deep cleaning looks like.
Once you've deep cleaned the whole house, afterwards, you just keep a basic schedule to maintain it.
This approach works great for when it comes to decluttering and purging your home, which is essential to do during your fall cleaning.
I've got this awesome checklist here for decluttering your home. Feel free to use it as your guide! 🙂
2. Deep Clean Your Fridge
I know what you're thinking: Whaaaaaaaaaa?! Why tho??
But here me out!
The holidays bring about a certain instinctual need to just… clutter and hoard, haha.
I mean, between the gift exchanges, massive amounts of foods, having people over… it is not surprising at all that the cleaning aspect of having a home gets put on the back burner (oh, just remembered, don't forget to clean the stove top burners, by the way! Those need some lovin' ASAP, too!)
Imagine having your fridge already deep cleaned and ready for the holidays!
And I don't just mean wiping up spills and tossing that old carton of milk that has somehow managed to get overlooked for a couple weeks now.
I mean seriously get in there and toss old and expired foods.
Take out shelvings and baskets and bins and give everything a good wash in the sink.
Wipe down the whole inside of the fridge with some disinfecting wipes and cleaning products. (Psst, I'll be mentioning some of the best go-to fall cleaning products here in a bit 😀 )
3. Don't Forget Your Car!
Now would be a perfect time to pick a day to focus on deep cleaning your car.
The car is like your second home, considering how much time we spend in it and just how much it piles on random stuff.
You can tackle the whole car in one day (add it to the One-Room-A-Day approach I mentioned earlier and just focus on deep cleaning the car for that specific day.)
Or, if you have a really large (and really messy) vehicle, consider dividing the interior and exterior into two different days. After that, it's all about maintenance.
If you live in an area that gets some harsh winters, I found this fantastic article to help you prepare your car for those winter months!
Because, just like deep cleaning your car, assuring your car is winter-ready will ensure safety and efficiency!
We also spend countless hours in our cars, so it only makes sense that we take proper care of them.
Get a Cleaning Schedule!
Taking an afternoon to create a simple cleaning schedule on paper has many benefits including:
It prevents you from being too overwhelmed
Can be easily delegated to other members of the home
It's much more efficient and,
It becomes a routine
If you want an all-done for you schedule, check out these budget-friendly ones here:
I've also added an example of a cleaning schedule below, too!
So, now you have no excuse to get it done!
Fall Cleaning Supplies
So those are just some quick fall home cleaning tips to help you get your gears grindin'!
Now we will start diving into what we use for our fall cleaning shenanigans.
Fall-inspired scented products.
I mean, nothing screams fall like the smells.
Pumpkin spice, spruce tree, wildberries…. It's all in the scent. Here are some of my favorite fall-inspired scented products from my guide:
1. Mrs.Meyer's Clean Day Acorn Spice Kitchen Basics Set
This lovely combo of dish soap, multi-surface cleaner and hand soap is to die for!
This Acorn Spice blends the rich, nutty scent of acorn with cinnamon and spices for a perfect air of autumn comfort.
Apart from being made with recyclable packaging, Mrs.Meyer's brand is cruelty-free and their cleaning products are derived from plants. So you can feel good about indulging in your Fall vices!
2. SMELLS BEGONE Odor Eliminator Gel Beads- Apple Cinnamon
Get your WHOLE house smellin' like Fall just walked right through the door with these fabulous gel beads!
And the best part??
This affordable pack brings enough to put one in every corner to ensure you are completely submerged in this apple cinnamon goodness!
Yes, please!
3. Febreeze Air Odor-Eliminating Air Freshener, Fresh-Harvest Pumpkin, 2-pack
Eliminates air odors without masking, leaving nothing behind but a light, fresh scent.
This is perfect for freshening up your whole home with the smell of pumpkin. 🙂
Pine-Sol Original
Apart from being a loved product in my home, I loooooove filling my home up with the Pine-Sol Original when it's time to mop my floors.
It already comes with that pine-y smell that I love inside my home and when paired with my Fall decor and other scents, my home basically yells freshness all around.
And if you're thinking about Pine-Sol or Fabuloso, I compare the two cleaning products in this post, so make sure to check that out!
Want even more fall-scented products??? (I mean, what kind of question is that? Of course you do!!)
When to Start Fall Cleaning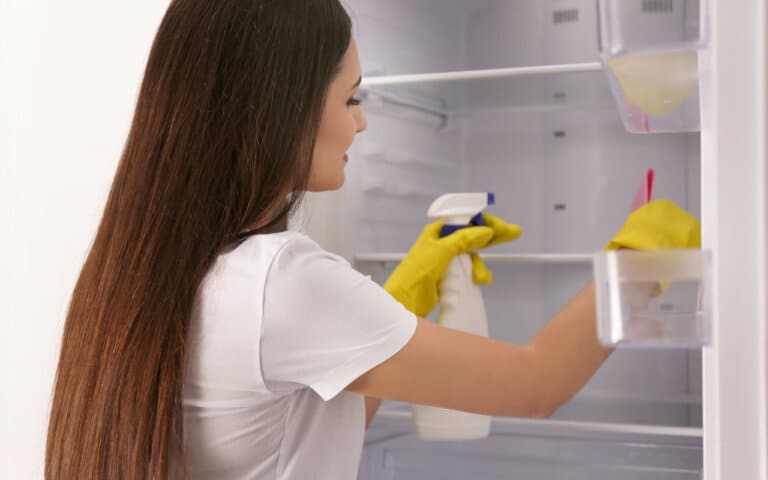 So, when should you even start fall cleaning?
To put it very simply: when Fall starts!
But even so, even though fall starts in late September, you don't really have piles of leaves until October/November, mentions this post on fall Cleaning & Landscaping.
That being said, your indoor fall cleaning can definitely start as soon as you get that first itch of the season, so between the end of September and the start of October.
That leaves the outdoor part of fall cleaning to be closer to the end of October and the start of November.
Remember to refer back to the start of this post regarding the One-Room-A-Day approach, to help you battle getting overwhelmed and end up procrastinating on your Fall cleaning to-do list!
Living Room/Entryway
Clean doormat(s)
Hang up Fall jackets, hats and scarves
Organize shoes
Organize mail slot/throw out junk mail
Dust furniture
Wash pillows and throw blankets
Dust ceiling fans and air vents
Vacuum/Wash curtains
Dust lamps
Sweep/Mop/Vacuum floors (remember to move furniture to get in those hard-to-reach areas!)
Deep clean rugs/carpet
Dust and clean electronics
Dust and wipe down decor
Sanitize remote control(s)
Switch out seasonal decor
Clean out fireplace and have it inspected by a professional (if you have a fireplace)
Kitchen/Dining Area
Clean stovetop and oven
Clean microwave
Clean refrigerator and freezer
Clean dishwasher
Purge through foods and throw out expired/old food in pantry, fridge and freezer
Wash kitchen towels
Clean countertops
Disinfect and degrease backsplash and cabinet doors
Dust tops of high surfaces that are usually ignored
Clean garbage disposal
Dust furniture (and polish, if needed)
Polish any silverware
Wash or vacuum curtains and chair cushions
Bathroom(s)
Discard old/expired makeup and any other personal care products
Wipe down mirrors (including glass shower doors if you have)
Clean shower-head – Try using Fabuloso
Clean toilet
Wash shower curtain and replace liner
Stock up on toiletries
Scrub tile grout
Clean tub and shower
Laundry Room
Clean washing machine
Clean dryer vent
Organize laundry supplies
Restock laundry supplies
Living Room
Bedroom(s)
Wash all sheets and fabrics (including pillows, duvets, pillowcases, etc.)
Swap light summer sheets with heavier winter bedding and linens
Wash or vacuum curtains
Flip mattress
Deep clean rugs or carpet
Dust decor
Dust ceiling fans
Closets
Purge. Purge. Purge.
Swap summer wear for winter clothing and fabrics
Wipe down shelves
Fall Window Cleaning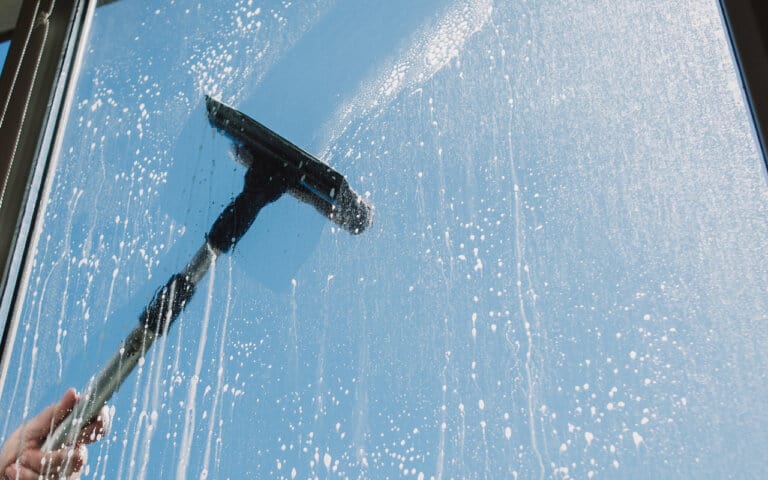 Cleaning the inside of our home in the fall is clearly a very important task.
But have you considered the outside?
Yes, the outside of our homes get just as messy and need just as much lovin' as the inside.
And we're going to dive right in on some of the more common tasks to focus on to help you make your new home extra fabulous this fall!!
Let's start with something that seems simple, but even experienced spring cleaners can use a little refresher: windows!
And we're not just talking about the inside of your home's windows. We're tackling the outside.
Let's face it: the outside of our windows gather just as much dirt, dust and muck as the inside does. But many times, it gets overlooked.
So, how do you clean windows from the outside?
First, you're going to want to fill a spray bottle with one part white vinegar and two parts water. This will be the final touch to give your windows a streak-free shine!
And, what about those windows on the second floor? How do you wash them from the outside?I like to use a window cleaner that attaches to my hose. This is the easiest way to tackle hard-to-reach windows.
Now that you've got that taken care of, you're going to want to give your windows a good rinse with the hose, then fill a bucket with cool, clean water and add a few drops of liquid dish soap.
For lower windows, use a soft microfiber sponge and begin to scrub the window. For taller windows (or windows that are just harder to reach), a sponge mop will become your best friend!
Rinse thoroughly with the hose.
Once finished, spray and mop your special solution onto your windows.
Lastly, wipe your windows dry with a squeegee (your other next best friend when it comes to cleaning the outside of your windows.)
It has given me the best results thus far!
Fall Yard Cleaning
This post has been fuuuuuuuull of great tips to get your fall cleaning started!
BUT… I've got one last thing to add that just CANNOT be left out: your yard.
From replacing decorations to gutters and even your BBQ, your yard is a literal priority, since it is the very first thing you see as you come upon your home from work or school.
So it's understandable that you'd want your yard to look on point!
I first want to mention a few general pointers before getting specific on gutters and your garden.
1. Pack Up Summer Toys/Tools
Remember to store those summer toys and tools!
Pool noodles, beach toys, etc. should be cleaned thoroughly and stored somewhere so that they don't get damaged from snow (if you live in an area that gets it) and so that you have the seasonal items organized.
AKA clutter-free!
Also, remember to wash out small, plastic pools and clean out and store inflatable ones.
For larger pools, make sure they get one last good clean before covering them up to protect them from all the things nature may throw at your yard this year!
2. Store Seasonal Items Safely
Just as important as it is to store seasonal summer items, storing your BBQ is a must!
Your BBQ is susceptible to wear and tear if not properly stored during the winter months.
So to help your prized (and not so cheap, haha) possession from being destroyed by nature, take a moment to find a proper location to store it!
3. Plant Grass Seed
You might be wondering when is the best time to plant grass seeds to bring your garden to life!
Well, the answer is: NOW.
Yes, autumn is prime time for planting grass seeds in certain areas. Here's an awesome article explaining the WHYs, HOWs, and everything in between!
4. Time to Rake the Leaves
Now, raking leaves may not be your cup o' tea.
But it is something that has to be done.
But here's the truth of the matter: leaves actually have more purpose than simply filling up your yard. They actually serve amazingly as compost for your lawn!
You can either leave them to do their own thing and not even rake them.
OR, you can rake them into piles (remember the tip I mentioned earlier to help make this process a bit easier and more efficient??) and save them to compost in bags to use in the early spring.
That's just my honest opinion on this. BUT, if you truly just want them out of your way, then make sure to check out this post here for some more tips on leaf-raking!
Fall Gutter Cleaning Tips
Now that we are squared away on that, let's get on with gutter cleaning!
This Youtube video is fabulous for explaining the nitty-gritty aspects of gutter cleaning.
The tools you will be needing are:
Extension or Step Ladder
Two Buckets
Trowel or Gutter Scoop
Garden Hose
Spray Nozzle
Drill and Bits
Pressure Washer
Steps for Gutter Cleaning:
Prep Ladder
Clear Debris
Flush Gutters
Remove Clogs
Check Drainage
Check Slope
Check fasteners
Clean Exterior
Make sure to check out the video for a clearer idea of the process!
Cleaning Up the Garden in Fall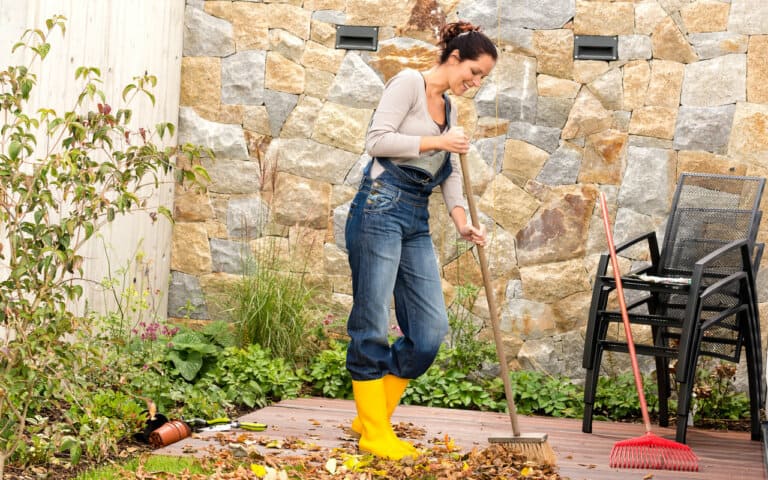 Oh, the beauty of a garden.
Every garden is different so be sure to do a thorough look over your yard and garden to determine what it is that you need to do in the Fall to prepare for the upcoming cold season.
One of the first things I do to prepare for the winter is give my lawn one last, good mow.
Since we are most likely going to be sowing some new grass seeds, it will allow for the new grass to even out with the older grass once late spring rolls around.
Not only that, but that way, you aren't starting the spring season having to mow your lawn.
Autumn is also the perfect time to take care of any trees that need pruning.
Just be careful not to prune new, green growth because doing so may leave the plant vulnerable and it may not be able to regrow new shoots before the cold sets in.
Go ahead and take this time to also give your garden a proper clean up before the first frost comes.
Clean up sticks, pull out dead or dying flowers and plants, and replace spring/summer growth with plants that are hardy for fall/winter.
I try to do this every fall with my Hosta plants.
One last tip I will mention is tree wrapping.
Some trees and plants are more sensitive to frost, or are still very new and young, and can benefit from a protective layer of plastic tree guard or any other opaque protective tree guard you find at your garden store.
Wrapping It Up
Alrighty! I'm hoping this post covers all your pre-fall cleaning needs!
I know it may all seem like a lot, but at the end of the day, you have to remember that you have the whoooooole fall season to tackle these tasks. AND just find the fun in them.
And, don't forget to download my totally free Fall Cleaning Checklist!
Creating these routines and making them habits will leave you and your new home with the benefits that result for proper prepping and care as 'tis the season falls upon us.
Make sure to Pin this and follow me on Pinterest!