Anyone who's ever lived in a small apartment or home knows that storage space is always at a premium.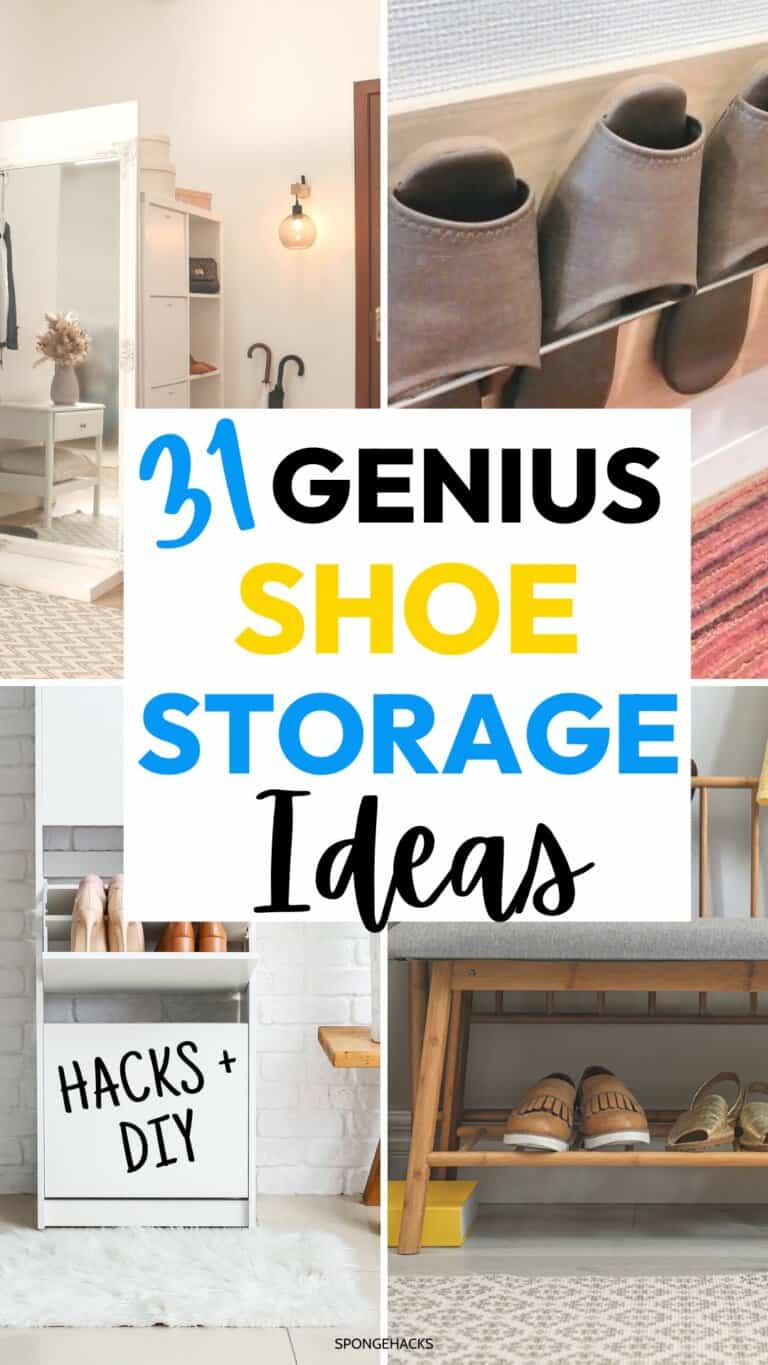 Ya' don't got any, really!
And when it comes to shoes, that can be especially true.
After all, you can only fit so many pairs of shoes in your closet!
That's why you have to take notice of your entryway when it comes to hallway shoe storage.
Yes! There's a little piece of real estate right when you walk into your apartment.
And you won't BELIEVE all the amazing hacks, tips and just overall stylish ways to store your shoes 🙂
That's why I've rounded up the best shoe storage ideas from none other than Pinterest and put together this list for you.
Whether you have a tiny mudroom or no entryway at all, these ideas will help you keep your shoes organized and out of the way.
Trust me, your future self will thank you!
Entryway Bench with Shoe Storage – Ideas for You
If you live in a small place, you know that every square inch counts.
That's why it's important to be smart about how you use your space, especially when it comes to storage and organizing.
I mean, we are adulting here!
When it comes to the shoe storage entryway, all you have to do is look on Pinterest and the ideas will come!
You can literally spend hours checking out all the closet shoe storage Pins and more!
To help you NOT succumb to the rabbit hole that IS PINTEREST, here are the best ideas for shoes that actually work.
1. From a Pile on the Floor to a Modern and Clean Shoe Bench
This shoe storage bench with cushion is just amazing, isn't it?
I LOVE how simple yet sophisticated yet high fashion this looks!
And you know what?
Even if you live in a small apartment, you can steal this look with this shoe organizer.
If you're someone who owns a lot of shoes – *cough, me –and you're looking for a storage solution that doesn't take up a lot of space, then get this shoe rack bench.
It comes with extra nuts and bolts to make it more sturdier, so you can be sure your shoes will be safe and secure.
Plus, this small entryway shoe storage bench is perfect for apartments or small entrance ways.
2. Hide Your Shoes This Way
Don't you just love this idea?
Out of sight outta mind!
The hidden shoe storage compartment means you can store your shoes out of sight, which is great if you're limited on storage space.
You're entranceway won't look cluttered anymore with this bench that has a hidden shoe organizer.
This bench is also great if this is your first apartment – it's sturdy enough and provides a place to sit and take off your shoes! Win-win!
This bench can hold up to 12+ shoes (not boots though) and can sit two people up to 400 lbs!
The seat also opens up (the leather lid) and you can hide your keys, keep your glove sand other accessories you need.
Talk about clutter-free and space saving!
3. Use Baskets for Rustic Hallway Shoe Storage – Almost DIY
How farmhouse is this look?
I'm OBSESSED!
All you need are baskets and some chalk labels and repurpose an old bench and you have this amazing ALMOST DIY look!
This set up is perfect if you have roommates or a family. Put the name of each person on a basket and that basket is for their shoes!
Easy peasy!
4. Shoe Storage Bench With Drawer
Functional and looks good too!
No matter if you have only 3 ft. to work with, this shoe storage bench with a little drawer can totally work for your small apartment entryway.
And if you're thinking, "hmm, I wish this was in white," I got you!
Here's the white version shoe storage cabinet.
This tiny but mighty shoe storage bench can hold up to four or five shoes and one pair of boots.
But what about all the other shoes you own?
Keep your hallway tidy by storing any extra shoes you don't use every day with stackable shoe box storage system.
Shoe Storage Cabinet Entryway
Have you ever seen someone with a thousand shoes and no place to put them?
Or, maybe that's you?
Everyone needs a little organization in their lives, right? And having a shoe storage cabinet in the entryway is a start!
Not only will it help to keep your shoes organized, but it will also prevent them from tracking mud and dirt into the apartment.
And let's be honest, who doesn't love a little bit of extra storage space?
So if you're looking for a way to keep your entryway tidy and your shoes in good condition, make sure to check out these gorgeous Pins and organizers!
5. Entryway Table with Shoe Storage – IKEA Dupe!
If you don't live near an IKEA or the shipping takes too long, you can get a similar look from Amazon.
This contemporary shoe storage cabinet is great as an entryway table and it comes with hidden shoe storage!
I simply adore this sleek look!
There is plenty of room with this shoe organizer and even if you have large shoes they can fit easily in the hidden shoe compartment.
The top has enough room for your keys, mail and even a few succulents!
6. Large Shoe Storage Cabinet For A Lotta Shoes!
Look –
If you don't have a long or large hallway, then this shoe storage idea won't work for you. But, if your apartment is open or house has an open concept, then why not try this easy and organized way of storing your shoes – it's like having a shoe cubby storage room!
This 8-tier shoe rack holds up to 32 pairs of shoes! Wow!
If you live in a condo then this shoe storage idea is a LIFESAVER!
It's perfect for your entrance way or even the hallway closet!
This also comes in a 6-tier organizing unit!
7. Why Not a Long Vertical Shoe Storage Cabinet?
Instead of going horizontal, go vertical!
Maximize your wall height!
GENIUS!
I absolutely love this shoe storage idea!
Whether you have wedges, heels, sneakers or flats, practically any shoe can fit into these cubby style slots!
Make sure to grab one for your small walk in closet! It first perfectly behind the door!
8. Clean This Shoe Storage Cabinet Quickly
Made from soft but durable material, this shoe storage cabinet won't fade over time or just look worn out like other wooden organizers would.
You can easily clean this shoe organizer and it's light enough to carry it outside to use in another room.
And don't forget this also has side pockets – PERFECT for umbrellas, purses, sunglasses and even the daily newspaper!
Narrow Entryway Shoe Storage
An overcrowded and cluttered entryway just won't do if you're in a tiny place!
That's where narrow entryway shoe storage comes in – it's the perfect way to organize your space and show off your kicks all at once.
And there's no need to sacrifice style for function, either – there are tons of shoe storage ideas I'm sure you'll find that are GOLD!
Because having a small place means maximizing everything you got!
So whether you're a fan of sleek and minimalistic designs or prefer something a little more eclectic, there's sure to be a narrow entryway shoe storage solution that's perfect for you.
9. Wall Mount Shore Storage
Doesn't this shoe storage idea look AMAZING?
I simply love how sleek and narrow this shoe organization is for the entryway!
Here's a similar look if your have a tight fit for a narrow entryway shoe storage system!
These cubbies come in a variety of sizes and can fit anything from heels to books, keys, and the morning newspaper even!
Plus, they are easy and simple to hang on the wall.
10. Space Saving Shoe Organizer – Budget Friendly!
Don't you just think this shoe storage idea is clever?
This is for the tiniest, narrowest, smallest entrance way there is!
When I lived in my first apartment, this was exactly the type of shoe storage I had for my tiny practically non-existent entryway!
This sturdy and lightweight rack is perfect for decluttering your space and storing all your shoes in one place.
With vinyl-like fabric shelves that slide over metal bars, this rack can hold up to 30 pairs of shoes!
11. Corner Shoe Storage Idea
Isn't this just the best way to use a corner?
I love figuring out how to use the corners in my small place – like with the kitchen countertop!
This narrow entryway shoe storage is perfect for small spaces, and is easy to assemble– just make sure you tighten all posts firmly.
A hook is included to add support at the top of the stand, so you can rest assured it won't fall away from the wall.
Plus, THIS COMES comes in a variety of colors to match any decor. So why not try it for yourself?
12. White Corner Shoe Storage Idea
Now this version looks like a modern shoe storage entryway idea!
I'm seriously OBSESSED with this look!
People will come by and I bet will ask you where you got this gorgeous organizer!
13. Hall Tree with Shoe Storage
Now this shoe storage setup is TO.DIE.FOR.
This might not be the greatest for an apartment but it can fit a small almost narrow area.
This looks completes your entrance way and creates a calming and organized atmosphere!
Gotta love it!
I love this farmhouse look so much!
14. Hall Tree with Shoe Bench – Best of Both Worlds!
OMG! If you want a country and laid back feel, then get this hall tree and shoe bench duo!
This fits perfectly in any apartment, and provides ample storage for shoes and coats.
The bench is durable and resourceful, yet takes up no real space.
So if you're looking for a way to keep your space organized and clutter-free, this is it!
15. Coat Rack with Shoe Storage
I just love Pinterest!
I mean LOOK at this get up?
No words!
This is definitely a popular way to display your shoes and coats and remove all that clutter off the ground.
Here are my favorite two shoe storage ideas:
I mean, look at those?
Amazing!
Closet Shoe Storage
Every girl knows that shoes are essential to any outfit.
Whether you're going for a casual look or dressing up for a special occasion, the right pair of shoes can make all the difference.
But storing all your shoes right at the entrance way can be a bit of a challenge, especially if you don't have a lot of space.
One solution is to invest in an entrance closet shoe storage system.
This way, you can keep all your shoes organized and within easy reach.
Plus, it'll save you from having to search through your closet every time you need to find the perfect pair.
So if you're looking for a way to to store your shoes, try these closet shoe storage ideas!
16. Use the Top Shelf for Shoe Storage
If you have a small closet, then it might be best to use the top shelf for all of your shoes.
Not only will your shoes be out of the way, but they'll also be out of sight. And out of mind.
That's why the top shelf is the best place to store your shoes.
Besides, who wants their shoes to take up valuable space on the floor?
That's just asking for a trip to the shoe store.
17. Shoe Storage Hanging Shelf
Now when I say get one of these, I mean get three of these!
These storage hanging shelves are versatile and necessary for organizing your closets!
I have one for my entranceway closet, craft closet and for each of my twins' closets!
You can put anything in them – clothes, shoes, boots, umbrellas, sunscreen, hats, rain pants and more!
18. Use Shoe Hangers
Only Pinterest can show me this closet shoe storage idea!
I had no idea that there were such things as shoe hangers! OMG!
New OBSESSION!
With these shoe hangers you save soo much space and remove all that clutter off the closet floor! Plus they are a budget-friendly option!
19. Good Ol' Shoe Rack – Always Works
Of course you can't go wrong with the trusty shoe rack for the entryway closet!
DIY Shoe Storage
If you don't have a lot of space, traditional shoe racks can be bulky and inconvenient.
Fortunately, there are plenty of creative DIY shoe storage solutions that can help you make the most of your space.
You can even get creative with repurposing items like coffee cans or old jewelry boxes. So if you're looking for a way to declutter your closet, try one of these DIY shoe storage ideas.
20. Use Coat Hooks!
What an amazing DIY shoe storage idea for a small apartment with a small entryway!
This is PURE GENIUS I tell you! And all you need is a wall mounted coat rack! Easy, cheap and doable!
21. DIY Shoe Cubby
While this doesn't scream farmhouse or modern, this DIY shoe storage project is cheap, easy to make and is fine for college life!
Paint this up and make it look more chic and inviting. Check out this Pin to see what I mean!
22. Plastic Crates for Shoe Storage – Genius!
Imagine a New York condo with 20 ft high ceilings and exposed brick annnnnnd….these milk jug crates on the wall for shoes!
What a look!
23. Make Your Own Shoe Storage Bench
If you have space to make this shoe storage bench then do it! You'll save money and get to use your new tools (or your parent's tools!).
Other Fantastic Shoe Storage Ideas
Pinterest is my eye-candy!
There are sooo many wonderful shoe storage ideas so I thought I'd just dump them here for you to view and admire!
24. Under the Stairs Shoe Storage
25. It's All About the Look
26. A Piece of Art
27. Make a Station
28. Space Saving
29. Simple and Easy
30. It's All About the Heels
31. Dump Them In a Basket
Shoe Storage Ideas for You!
No matter what kind of small home you live in, there's a shoe storage solution for you!
By making use of unused space like doors and walls, you can create an organized and efficient entryway that will make your life much easier.
And, don't forget that it's okay to spend time looking at all these wonderful shoe storage ideas on Pinterest! They can really help you figure out what will work for you! I hope you enjoyed this post and please Pin me!