I have a confession to make.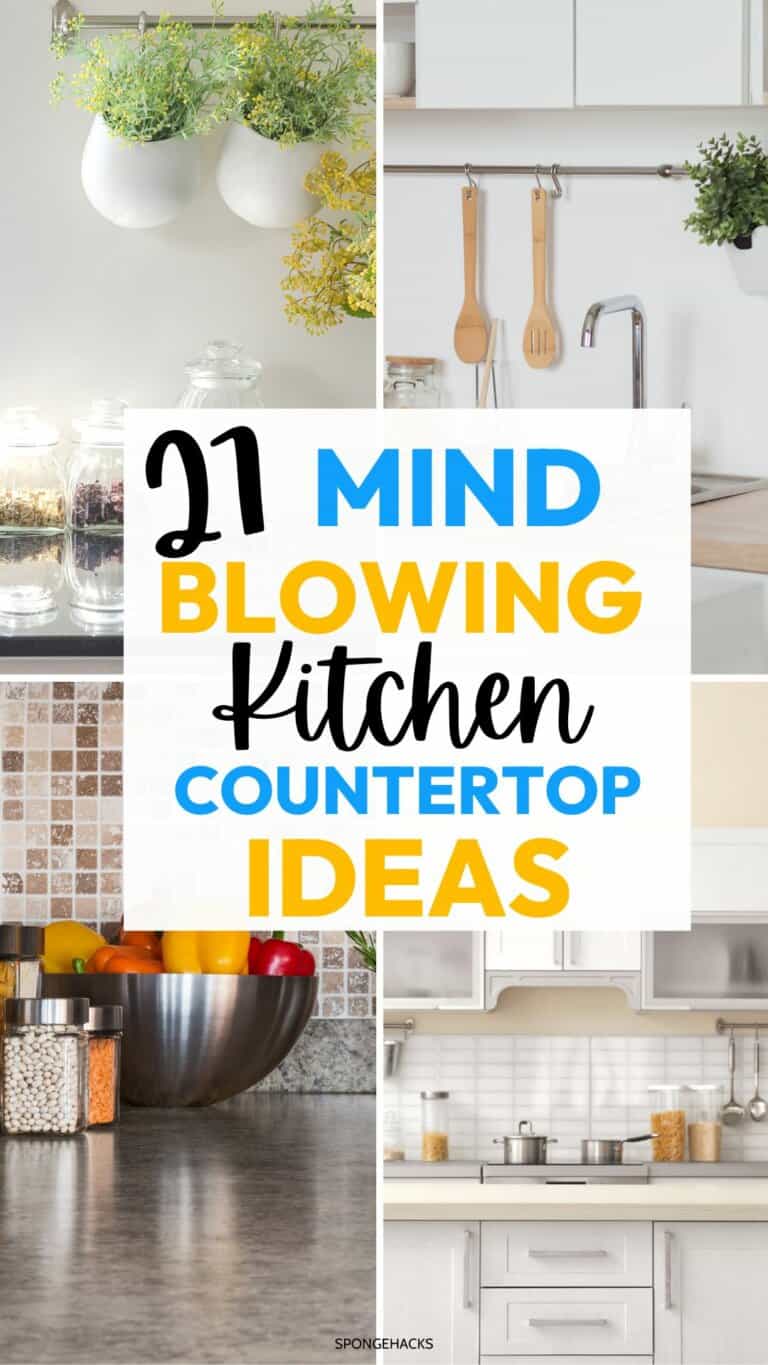 I'm seriously obsessed with having the ultimate Pinterest look for my kitchen… countertop!
It has to be styled just oh so right and you know what?
I'm not the only person who has this secret obsession!
There are amazing people who LOVE to share their kitchen countertop decor ideas and let me tell you –
~ Inspiration vibes ~
I end up spending HOURS on Pinterest just admiring and mentally arranging my kitchen countertop!
So, if you secretly obsess over having THE Pinterest look, check out how to accessorize a kitchen counter!
Top Decor Ideas for Your Kitchen Countertop
Whether you have a marble countertop or even laminate, don't worry!
There are even kitchen decor ideas for brown cabinet and white countertops! I got you!
1. Kitchen Sink Decor
How can you make your boring sink pop?
With a cool way to display your kitchen sponge, soap and scrubbers!
My favorite sink organizers are:
2. How About This This Sink System?
Ooo! For something all encompassing try this idea for your kitchen countertop!
This is great for a small apartment or a small kitchen with not a lot of cabinets or cupboards.
3. Under The Cabinet Jars!
What a GENIUS idea! Putting your food in glass jars is so chic and looks beautiful! But where to store them?
Why not under the kitchen cabinets!
Get some special lids and there you go!
4. Use a Cake Stand for Your Kitchen Sink Decor Idea
Perfect for repurposing old things!
Ask around or ask your parents if they have a cake stand and use it to decorate your kitchen countertop!
Love it!
I'm seriously ga-ga over this simple kitchen countertop decor idea!
5. Store Fruit/Onions Under the Cabinet
This is great when you don't have a lot of countertop to play with!
6. Store Your Kitchen and Cooking Utensils on the Wall!
Don't you love this look?
If you don't want your kitchen countertop to look cluttered, one way to style it is by storing your utensils on the wall!
You get a kitchen utensil holder that will help declutter your countertop and add some decoration to your kitchen at the same time!
7. Cute DIY Cutting Board Utensil Holder
Isn't this an AMAZING DIY craft?
All you need are tiny cutting boards that you can paint or stain and then add a hook or two so that you can hang them on the wall.
You can also add a small strip of cloth to each board to hold your kitchen utensils!
8. Use a Basket!
Who doesn't have a basket laying around not filled with anything?
*raises hand*
Turn that around and use a basket (I would put a cookie sheet or something similar at the bottom of the basket) and place your cooking oils, spices or salt and pepper on.
Easy access while you cook!
9. Or this Way!
Love the old farmhouse look as a top kitchen theme ideas?
You can start with this cool rustic metal caddy or chicken feeder.
Add some nice looking glass jars filled with your favorite spices, some cool looking bottles for your cooking oils and Bob's your uncle!
10. Expertly Display Your Cooking Utensils
Love counter top ideas that uses wood!
This wooden tray would look perfect on a marble countertop or even a white countertop!
Grab some metal utensil holders and you have a stylish and chic look for your kitchen counter decor.
Kitchen Corner Countertop Decor Ideas
Who says the countertop corner is wasted space?
Not all these fabulous Pins say so!
Check out how you can make your kitchen corner the #1 focus area of your entire kitchen!
11. Highlight Your Kitchen Corner With This!
How simple and effective is this kitchen countertop decor idea?
I LOVE it!
With a 2-tier basket system, you can place a decorative plant, your salad dressing and more!
12. Decorative Jars for the Perfect Kitchen Theme!
Who doesn't just love the look of these white jars! This Pinner used the kitchen corner countertop for a drink station and it's darling!
13. Make a Coffee or Hot Drink Station
If you're a coffee or tea lover, then having a designated spot on your countertop for your hot drinks is a must!
You can either use a cute mug tree or make your own coffee station with a few mugs, a small coffee maker, and some favorite flavors.
14. Cool Drink Station
This drink station is TO DIE FOR!
I love the rainbow cups, the letter board, and the double drink holders!
15. Classy Kitchen Countertop Ideas
How to accessorize a kitchen counter doesn't have to be hard!
With a silver tray and some decorative jars, you can have a beautiful hot cocoa station!
16. Put Suzan In the Corner!
The Lazy Suzan isn't boring anymore!
Look at how this Pinner used silver trays for this Lazy Suzan!
OBSESSION!
17. Classic Lazy Suzan
Popular kitchen decorating ideas include using a Lazy Suzan to maximize space! Using a simple Lazy Suzan looks modern, streamlined and functional!
Kitchen Island Countertop Decor Ideas You Gotta See!
A kitchen island is a great way to add extra counter space and storage to your kitchen (if you have a kitchen big enough to have an island!)
But why stop there? A kitchen island can also be a great way to add extra style and personality to your kitchen. If you're looking for some inspiration, check out these kitchen island countertop decor ideas!
18. Add Fresh Flowers
Flowers just make anyone smile, right?
Adding a vase full of flowers just turns your blah kitchen into photo-inspired kitchen!
19. More Beautiful Flowers!
Experiment with different vases to get the look you want! I love this white vase SO MUCH!
20. Store Items On the Side of Your Kitchen Island
The side of your island is perfect for storing things that you need quick access to, but don't want on your countertop. This could be things like cutting boards, and towels.
21. Use Pendant Lighting
Okay –
You got me!
Pendant lighting ISN'T a kitchen countertop idea, but hear me out!
Don't you want the things on your kitchen counter to shine?
Stand out?
Look amazeballs?
Well, pendant lighting can help you achieve that and more!
22. More Kitchen Lights!
Yes! More Pendant lighting.
Even if you don't have a kitchen island, you can use pendant lighting in your small walk in closet even!
Kitchen Countertop Mail Organizer Decor Ideas
One of the easiest ways to bring a touch of decor to your kitchen counter is to add a mail organizer.
This can be as simple as a small tray where you can sort your bills and other correspondence, or as elaborate as a multi-tiered system with compartments for all of your different types of mail.
Either way, having a dedicated place for your mail will help to keep your countertop clutter-free.
Let's look at some ways to organize your mail!
23. Use the Wall
By far the BEST mail organizer is vertical – on the wall!
Attach some clear file folder trays to your refrigerator along with some pen holders and schedules and BOOM! You have the perfect way to organize your bills, receipts and other important papers!
24. Under Cabinet File Folders
If you don't want to crowd the side of your fridge (or it's not exposed), why not place a magazine holder under a cabinet and on the kitchen counter you can have a mini cork board and pen holders!
25. Use a Mini File Folder
If you don't want to be bothered with all of that, a practical hanging filing system on your kitchen countertop is perfect!
It can hold all your bills, envelops, fast food menus and more!
26. Make a Command Center
Of course, if you have a family or room mates, having a central location for your paper work – a command center – not only keeps you and your mates organized, but also looks put together too!
27. Bill Center
For another variation create a bill center for all those important deadlines and payments you gotta send off! You know, adulting an all!
Quick Tips to Help You Have a Fabulous Kitchen Countertop
Let's add a touch of style to your kitchen with some décor for your countertop. Check out my best tips to get the same look as these pins.
1. Use Plants
First, consider adding a plant or two.
This is a great way to bring some life into your kitchen. Just make sure you choose plants that don't require too much light or water, as they'll be sitting on your countertop. succulents and cacti are always a good option.
2. Display Your Best Dishes or Glassware
This is a great way to show off your personal style while also being practical.
Plus, it'll make grab-and-go meal prep a breeze.
3. Makeshift a Bar – It's Popular!
You could also use your countertop as a makeshift bar cart. No party is complete without a little bubbly, so why not keep your champagne flutes and wine glasses within reach?
Just add a few bottles of your favorite spirits and mixers, and you're good to go.
4. Add Your Personal Touch
Candles, coaster, napkins, and other small accessories can all help to tie your countertop décor together.
And when it comes time to switch things up, they're easy to change out. So have fun with it and see what works for you.
FAQs About Kitchen Countertop Ideas
I just threw at you a TON of inspiration…and…headaches I bet!
It's a lot to look at and think about for decorating your kitchen counter top. Check out these questions if you need help in deciding how to design and organize your kitchen counters!
1. How Can I Decorate My Kitchen Countertop Without Clutter?
A way to keep your countertop free of clutter is with only displaying the things that you love.
This could be a few cookbooks that you use often, a pretty vase filled with fresh flowers, or a frame containing a cherished recipe.
By carefully curating the items that you display on your countertop, you can avoid the appearance of cluttered and chaos.
Instead, your countertop will become a beautiful and tranquil space that reflects your personal style.
2. Should Kitchen Counters be Empty?
There is no right or wrong answer when it comes to styling your kitchen counters.
It ultimately depends on your personal preference. If you prefer a clean and minimalistic look, then you might want to keep your countertops empty.
This can help to create a more spacious feel in your kitchen.
Also, it can be easier to keep your counters clean if there is nothing on them. But, some people find that bare countertops can feel stark and unwelcoming.
If you want your kitchen to feel more like a home, then you can style your counters with some decorations. This could include a fruit bowl, a vase of flowers, or even just a few cute mugs.
Ultimately, it is up to you to decide what feels best in your kitchen!
3. How Do You Decorate an Empty Counter Space?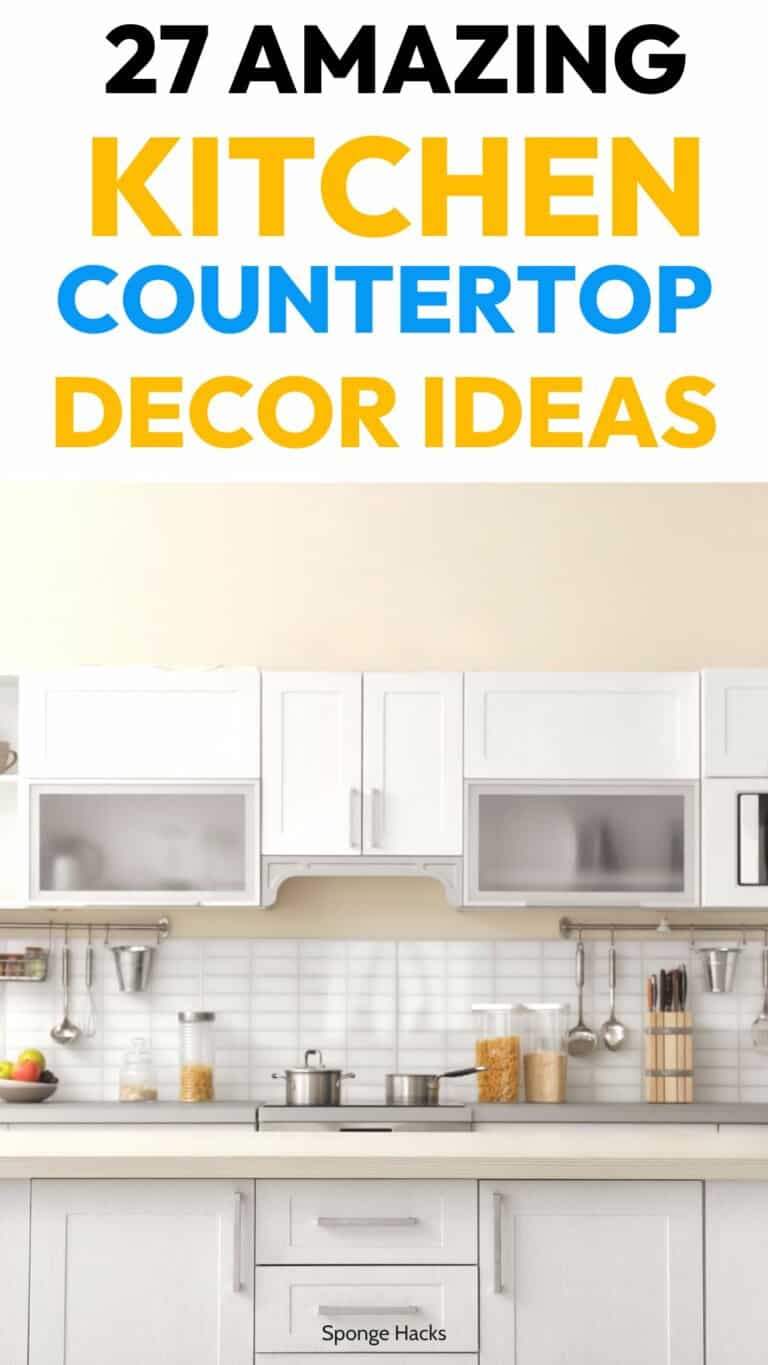 When it comes to home decor, the options for counter space are endless.
One way to spruce up an empty counter is by adding a plant. The Pins I shared showed a lot of plants being used to make the countertop look lived in and friendly!
Plants can add a touch of life to any room and help to purify the air.
Another option for decorating an empty counter is to add a vase with fresh flowers. Flowers add instant color and can brighten up any space. They are also great if you have a island too!
If you have limited counter space, consider adding a few small decorative items such as candles, picture frames, or sculptures. These items can add interest and character to any room.
With a little imagination, you can transform an empty counter into a stylish and inviting space.
The Kitchen Countertop Decor Ideas I'm Seriously Obsessed With!
Are you obsessed too?
I can't get enough of these kitchen counter top ideas! Follow me on Pinterest while I spend all day pinning away the perfect look for my kitchen!