Most people wouldn't think twice about where to put their sponge when they're done cleaning dishes.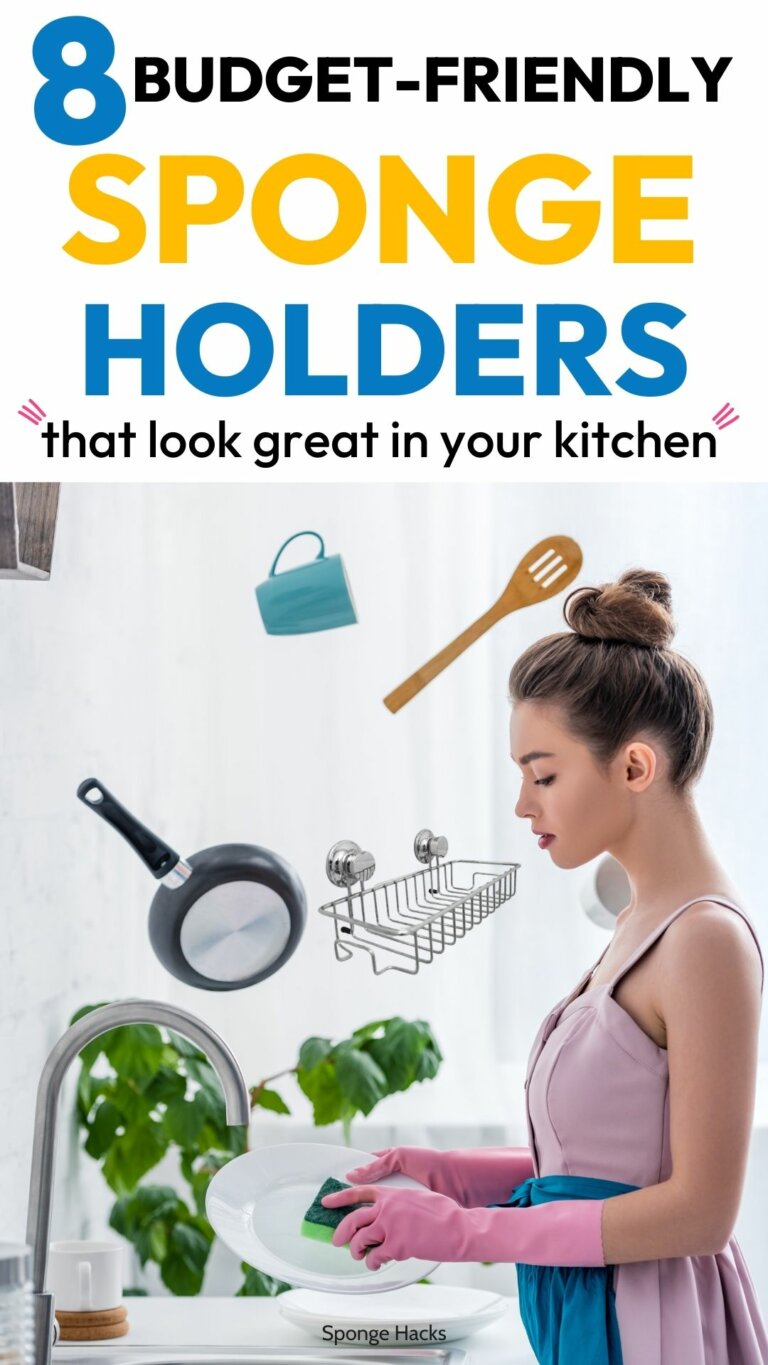 But for some, this is a daily dilemma.
Do you place the sponge on the counter or in the sink?
If you put it in the sink, does it go in the drain or next to the faucet?
And what about bacteria?
Where's the best place to store your sponge so that it doesn't become a breeding ground for harmful germs?
Having a sponge holder will help solve all these problems and more.
To help you out in choosing, let's look at the top eight sponge holders that not only hold your sponge and keep it clean, but also look great for your kitchen sink.
Using Metal Sponge Holders
When it comes to keeping your kitchen sink clean, one of the best ways to do so is by using a sponge holder. There are a variety of different holders you can choose from, but one of the best types is a metal holder.
One of the main benefits of using a metal holder is that it's very easy to clean.
All you need to do is rinse it off with water and it will be good as new. This is much easier than trying to clean a plastic or rubber holder.
Another great benefit of using a metal holder is that it will not rust.
This means you can use it for years without having to worry about it breaking down or corroding.
Let's look at the top metal sponge holders you can use for your kitchen sink.
1. iDesign Gia Stainless Steel Kitchen Sink Suction Organizer Basket
If you're looking for a metal sponge holder that you can put next to your kitchen sink, there are many different types and styles to choose from.
One of the best sellers is a the iDesign Gia Stainless Steel basket.
The basket has a suction cup on the side that attaches to the sink, and it has a wire frame to hold the sponge up so it can dry.
The look of the sponge holder is modern, chic and industrial all in one. Plus, it looks great and keeps your sponge dry.
This sponge holder also has a spot for your dish scrubber, and it comes in many different finishes:
The suction cup that attaches to the sink actually moves for easy removal.
Make sure to also grab some non-scratch scrub sponges for your sponge holder!
2. Adhesive Sponge Holder + Dish Cloth Hanger by KESOL
The adhesive sponge holder is waterproof and the perfect way to keep your kitchen sink organized and clean.
This sponge holder attaches to the side of your sink with a strong adhesive, and it can hold a sponge or a dishcloth. It's made of durable metal, and it's easy to clean.
The dish cloth hanger addition makes it easy if you use sponges and wiping rags.
It's made from stainless steel and will not rust in the sink.
Make sure to also pick up the matching dish drying rack for over the sink.
3. OXO Good Grips StrongHold Suction Sponge Holder
The OXO suction sponge holder has the strongest suction out of all the sponge holders on my list.
It's a lever push up suction, making it impenetrable for water to enter into the suction rink.
The suction will definitely last for years.
For best results, have a stainless kitchen sink.
Go ahead and grab the Scrub Daddy to complete the set!
Natural Sponge Holders
We all know the kitchen is one of the dirtiest places in our house, so having something to hold your sponges in is key.
But who wants an old plastic cup when you can have a beautiful wooden holder?
The natural sponge holders from wood, with their great and beautiful designs, are a perfect addition to any kitchen.
They can be used as a decoration or they can also be functional. The best thing about them is they're made of recycled products which means you will not have the guilt of adding more waste to the world around us.
Let's look at the top natural sponge holders for your kitchen (and can work for your bathroom too!).
4. Fiewmay Bamboo Soap Dishes for Bathroom
Hear me out!
You CAN use a soap dish for a sponge holder!
This Fiewmay bamboo dish can sit next to your sink and dry your sponges so they don't smell and gather bacteria.
These are made from non-toxic bamboo wood and all Fiewmay dish and soap/sponge holder are designed with a self-incline to make it easy for water to drain.
Pick up the No Tox Life Dish Washing Soap Block to naturally wash your dishes.
5. OYAMIHUI Natural Stone Pebbles Sponge Holder
Are you looking for a way to organize your sponges in your kitchen sink all using natural products?
If so, then the OYAMIHUI Natural Stone Pebbles Sponge Holder not only looks amazing in your kitchen – or bathroom – but it's made from natural pebbles!
This holder is made of natural stone and it is very attractive. It will look great in your kitchen and it will help you to keep your sponges organized.
Add this to your cart: a pack of eco-friendly sponges!
Plastic Sponge Holders (Great for First Apartment or House)
Moving into your first apartment is a rite of passage for many young adults.
It's an exciting time, but it can also be daunting.
There are so many things to think about – from choosing the right place to finding the perfect sponge holder, right?
Plastic sponge holders are very affordable .
You don't have to break the bank to buy one of these great little gadgets, and they will help keep your kitchen sink clean.
Let's look at the top plastic sponge holders.
6. iDesign BPA-Free Plastic Kitchen Sink Suction Sponge Holder
A plastic sponge holder is a great way to store your sponges, and it's easy to clean.
And, I love iDesign!
My favorite budget-friendly sponge holder is this plastic sponge holder from iDesign.
One thing about sponges is that they tend to get very dirty after one use.
By the time you clean them, your sponge can be home to all sorts of germs and bacteria. Using a plastic sponge holder will help to keep your sink clean by keeping the dirt away from the sink.
A plastic sponge holder is easy to clean, and you can even use it in your dishwasher.
This will keep your sponge holder squeaky clean and free of bacteria.
Pick up some dishwasher pods to complete your order!
7. DecorRack 2 Sponge Holders with Suction Cups
This sponge holder has a strong suction cup that attaches to any flat surface, making it easy to keep your sponges and other kitchen tools within reach.
The DecorRack Sponge Holder is also made of durable plastic, making it a long-lasting addition to your kitchen.
And, you get two sponge holders, instead of one for under $10. You can't beat that deal!
8. Umbra Sling Single-Sided Sponge Holder
Looking for a stylish way to store your kitchen sponges?
Check out Umbra's Sling Single-Sided Sponge Holder.
This holder is made of sturdy black plastic that matches any kitchen decor.
The Umbra sponge holder is unlike any other sponge holder out there. It forms around your sink, so it can fit most sink sizes.
Have fun using it!
Sponge Holders You Need for Your Kitchen Sink
Sponge holders have come a long way and come in a variety of designs and finishes.
Today, you can find ones that will not only hold sponges but also help with any extra dishwashing duties you may need in your home or business kitchen.
Make sure your sponge holder (I love the iDesign metal sponge holder) are within reach of where you do dishes on a daily basis and they'll be handy for when you're done washing up to dry them off!
Tell me which sponge holder you can't live without!
Please pin me!