Don't you love it when you're in the zone when you clean?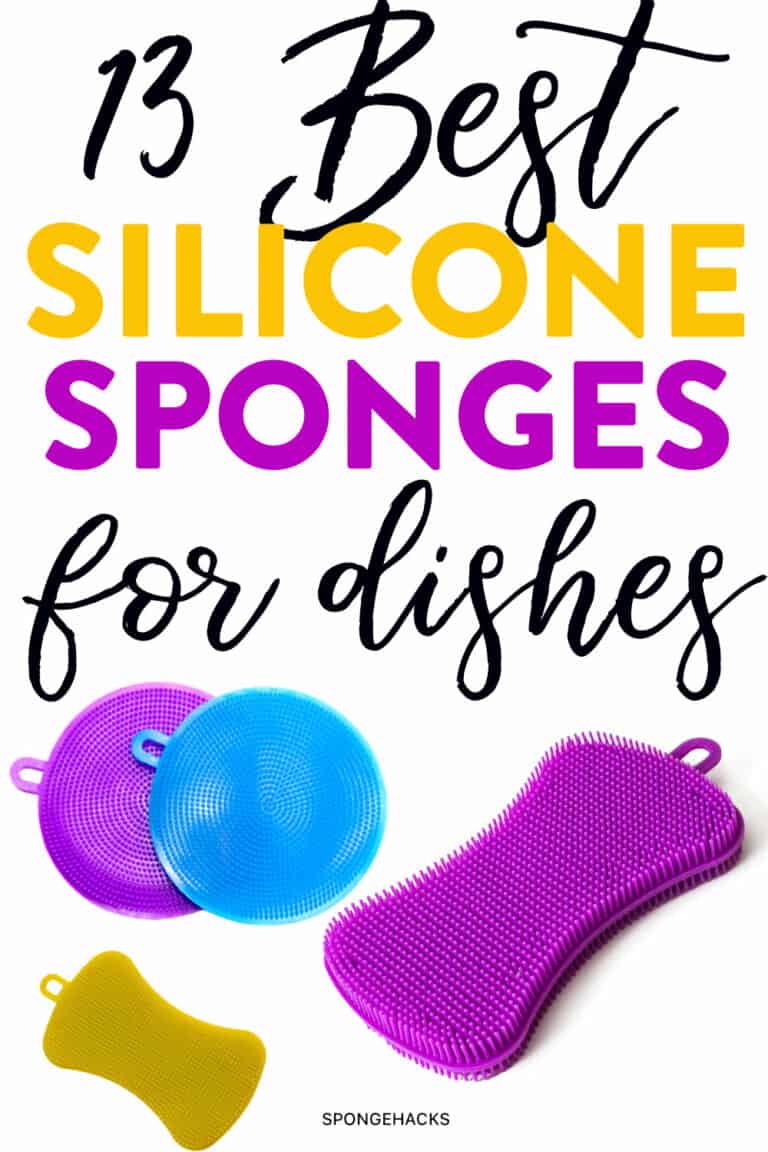 You know, it's when you're in the groove and you become a cleaning machine! Oh yea!
There's no mess, spill or stain that can stop you.
But, there is one thing that could stop cleaning in its tracks. It's having a good sponge for those dishes.
Of course, there are a handful of ways to use sponges for different cleaning projects but not all of them are best to use for your dish washing.
There's definitely one type of sponge to do THAT important job.
It's a silicone sponge!
If you're not using silicone dish sponges by now, then you're missing out BIG TIME.
And let me tell ya, after you discover this better alternative to the old stinker sponge you hate replacing more times than you can count, you'll NEVER go back!
Learn why silicone kitchen sponges aren't a fad, but something you'll want to keep around long-term.
What is a Silicone Dish Sponge?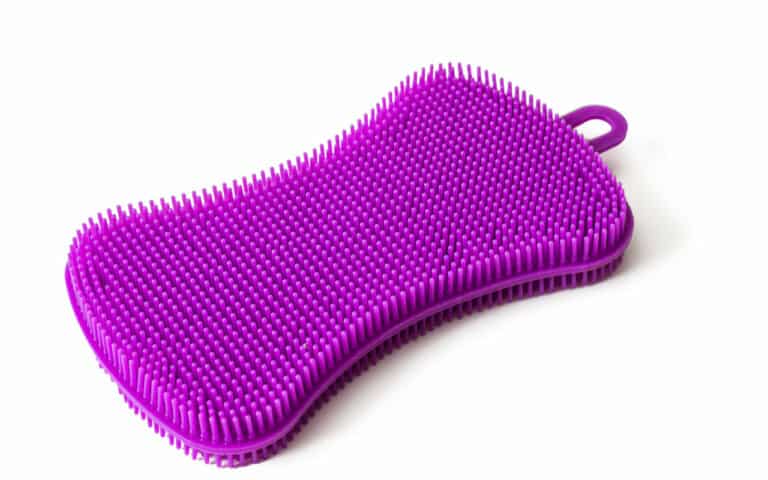 Are you fed up with replacing the sponges you just bought last week? I can't even.
Well, you won't need too if you use silicone sponges!
Unlike the typical cellulose sponge most of us have been using, silicone sponges are far more friendly to the environment, our health…and our noses!
Regular cellulose sponges become the nesting ground for bacteria the more you use them and also carry those funky odors. Silicone dish sponges, though, are easy to wash AND last longer.
Is that all?
Nope!
Avoiding the horrendous smells aren't even the best part.
Silicone dish sponges take the worry out of actually spreading and consuming harmful bacteria such as salmonella or even the coronavirus.
But, can you use these sponges for dishes?
Are Silicone Sponges Good for Dishes?
Silicone sponges work AMAZING on dishes.
Let's jump right into the perks:
They are durable, soft, and flexible
They don't leave scratch marks on pots and pans
And again, they don't carry and spread harmful bacteria
While we're talkin' sponges, let's address the biggest question of all.
Will it remove stuck on food?
It's not a simple answer…yes and no.
While it may take off food from this morning's breakfast, what about the burnt rice at the bottom of the pan from yesterday? Maybe not.
In this case, just use something stronger – like scouring pads – as a supplement less often.
Isn't it funny how we tend to stay loyal to products we don't even like for months? And even years?! My guess is it's because we aren't aware of other options.
And if we are, we don't make the change because it's just easier to stay in our own little comfort zone.
Well here's to becoming aware and exploring why silicone sponges are a better alternative to the traditional kitchen sponge. You've got nothing to lose!
It's time to try a silicone sponge that will stick around long enough to actually be worth what you paid for it.
So, let's check them out!
Best Silicone Sponges for Dishes
1. Geloo Silicone Sponge – Best Overall!
This sponge is incredible!
People all over TikTok are falling in love with this dependable kitchen friend.
If you're looking for a silicone sponge that's going to get hardened food off, this is the one!
Use them on your non-stick pots, pans, and other cookware.
Say good-bye to sponges that fall apart. This one also drips less and dries faster. And, you know what that means?
You don't have to spend more money for more sponges, making it an eco-friendly sponge option!
2. XHFU Silicone Sponge – Perfect Size!
This environmentally friendly silicone sponge cleans all kitchenware and glassware.
I'm OBSESSED with these cute silicone sponges because they are:
BPA free
Easy to clean (dishwasher safe)
Doesn't absorb water
Fast drying
Small enough to reach into small spaces
Soak your dishes before use rather than expecting the sponge to work like magic on those really tough areas.
They're lightweight and come in a set of 7 brightly colored sponges that will get the job done and brighten your kitchen.
3. Mitaloo Sponge Gloves – Keep Your Hands Dry!
Who needs wrinkled hands and fingers after each dishwashing session?
These resusable silicone gloves have soft bristles that leave no scratches on your kitchen ware.
The cool thing is that they're also tolerable to extreme temperatures of both hot and cold.
Avoid washing sharp object such as knives, which can easily cut through and damage the gloves.
Handling glassware can get slippery so be careful not to drop those items while wearing these gloves.
If you HATE washing the dishes, now you'll love it!
4. ezpz Mushroom Sponge – Perfect for Small Spaces!
This mushroom-shaped silicone sponge is easy to use and store in your kitchen.
Besides it's fun design this dish sponge has:
A sturdy suction base
A flexible mushroom top that bends into tight spaces
A Non-slip grip
BPA, BPS, PVC, latex, and phthalate free material
One thing I like about this design is how awesome it is for cleaning plates with scrambled eggs!
I hate when bits of egg get stuck in sponges but this ezpz sponge doesn't let that happen!
It's egg-free, smell-free and easy to use and clean with!
Win-win in my books!
5. TopHome Silicone Sponge – Multi-Use!
This silicone kitchen sponge is not only perfect for scrubbing your dishes clean but also great as a general cleaning sponge for housecleaning!
If you are washing lots or have dishes that had burnt food stuck to the bottom, I wouldn't recommend this sponge. It's best to use this sponge as soon as you are done eating. Don't let the food dry or harden. If you do, just soak your dishes and then use this silicone sponge for cleaning.
What I LOVE about this sponge is that the soft bristles leave your dishes scratch-free. Each side has a different texture, length, and purpose for all your dishwashing needs!
6. Molly's Marvelous Scented Silicone Sponge – Lemon Scented!
It can be hard to enjoy cleaning without the citrusy smells to go with it!
I get it, LOL. There's a clean smell that makes cleaning anything more enjoyable.
If you need all the smells, try Molly's scented sponge.
In either case, Molly's sponge is safe to use on pots, pans, and won't wreck your dishes with scratches.
7. BEAUTAIL Silicone Sponge – Strongest Silicone Sponge!
Check out the size of this silicone dish sponge!
Wow!
If you're like me, then you're always looking for ways to make washing and drying dishes a faster chore.
I don't know about you, but I hate scrubbing dishes by hand. It's one of my least favorite chores. That's why these large circular silicone sponges are perfect!
They're great for doing dishes and keeping hands dry and soap free.
Plus, they're naturally water-tight and don't trap moisture.
Don't worry about cleaning the sponges either! They rinse clean and leave nothing on the bristles safe for easy cleaning.
I love using this sponge to scrape dishes before putting them in the dishwasher!
8. Cuisense Silicone Sponges – Great for Kids!
Are you a cat lover? Of course there's a special sponge just for you!
It's fun to thoughtfully choose every item in your home and kitchen. Even cleaning tools!
It just makes things feel more homish and inviting.
These come in a pack of 3 (red, white, and blue) and are a great way to get the kids involved in doing chores!
These cute kitty cat silicone sponges are:
Safe to use on pots, pans, glassware, and other dishes
Non-scratch
BPA free
Odorless
Flexibile, reaching easily into small spaces
This pack also has a hanging hole design making it easy to for them to dry!
9. Patelai Silicone Scrubber Sponge – Doesn't Scratch Dishes
If you want something that's closer to a traditional dish sponge, then check out this silicone scrubber sponge.
For best use, fill your sink with soap and water and scrub the dishes in the water.
This dish sponge is safe to use on all dishes with no worries of it scratching your dish ware.
This comes in a set of 10 with two of each color (orange, yellow, blue, and green).
10. Dual Sized Silicone Sponges – Holds More Soap!
This "magic" silicone sponge really makes it easy to clean dishes, without all the hassle.
Unlike other sponges, these silicone sponges holds onto MORE soap and degreasers than the other sponges on this list.
Plus, it's way more sanitary than regular sponges – just soak in water with bleach to get all the germs out.
The best part? These silicone sponges lasts way longer, so you can save money in the long run. Make dishwashing a breeze with this must-have tool!
11. Silicone Brush Sponges – Colorful Pack!
These silicone sponges are built so colorful!
Their soft bristles provide a gentle scrub for all your dishes, so make sure you pre-soak those dishes!
These are reusable, so you'll never have to buy another sponge again!
AMAZING!
Simply wash them with water and they're good as new. Ready to say goodbye to smelly sponges forever? Check out this pack of silicone sponges today!
12. ScrubIt Silicone Sponges – The SOFTEST Sponge!
I'm always on the lookout for new ways to make my life easier, and these silicone sponge set are definitely a game-changer.
These sud up quickly and easily, and get into hard-to-reach areas with ease.
Plus, they don't leave any smells behind in your sink – which is a huge plus in my book!
And, they are the SOFTEST!!!!
13. 3-In-1 Silicone Sponge – Everyone Will Want to Use It!
Check out this funky silicone sponge!
If you're looking for a versatile kitchen cleaning tool, then this the 3 in 1 silicone sponge is it!
This 3-in-1 silicone kitchen sponge can be used to scrub countertops, clean cooking utensils, and even wash dishes.
They are made out of durable silicone and are safe to use in the dishwasher.
Also, these special sponges comes with a built-in soap dispenser and nylon scrapper for easy cleaning. And because it is made from BPA-free silicone, you can be sure that it is safe for your family.
So why wait?
Silicone Sponge Holders
A silicone sponge holder is the best way to bring organization to your kitchen.
Having the tools you need is one thing, but being able to find them when you need them is just as important.
Plus, it also makes your kitchen look more attractive!
My favorite silicone sponge holders are:
Find even more sponge holder ideas that are perfect for your kitchen right here!
How to Clean a Silicone Sponge
Although silicone sponges don't retain bacteria or foul smells, you'll still want to wash them just to maintain good hygiene in your kitchen.
Silcone sponges are crazy easy to clean.
Just toss them in boiling water or into your dishwasher. They'll look good as new.
And BAM…reuse the same sponge again and again without having to touch and smell the egg pieces stuck in the sponge dating back to last month. Ewww!
For more help, cleaning expert Erin Meyers (of Lemons, Lavender, & Laundry) shares practical tips for those who are struggling to get on a cleaning routine.
Meyers says,
"Breaking down all the chores into "easy-to-manage" steps keeps me on track."
Author and cleaning expert Donna Smallin Kuper suggests creating and living by "umbrella rules."
Simply put, "if you don't love it or use it, lose it."
Give Silicone Sponges for Dishes a Try!
Silicone sponges are of great use in the kitchen for doing dishes.
Having the right tools in your kitchen makes cleaning easier.
You also don't need to be super health concious to know that reducing the spread of harmful bacteria is a good thing. And if the sponger can make that happen…hey!
You've got a winner.
Just remember that all brands of silicone sponge brands aren't the same. So be patient until you find the brand that works best for you.
Follow me on Pinterest!