I love sponges!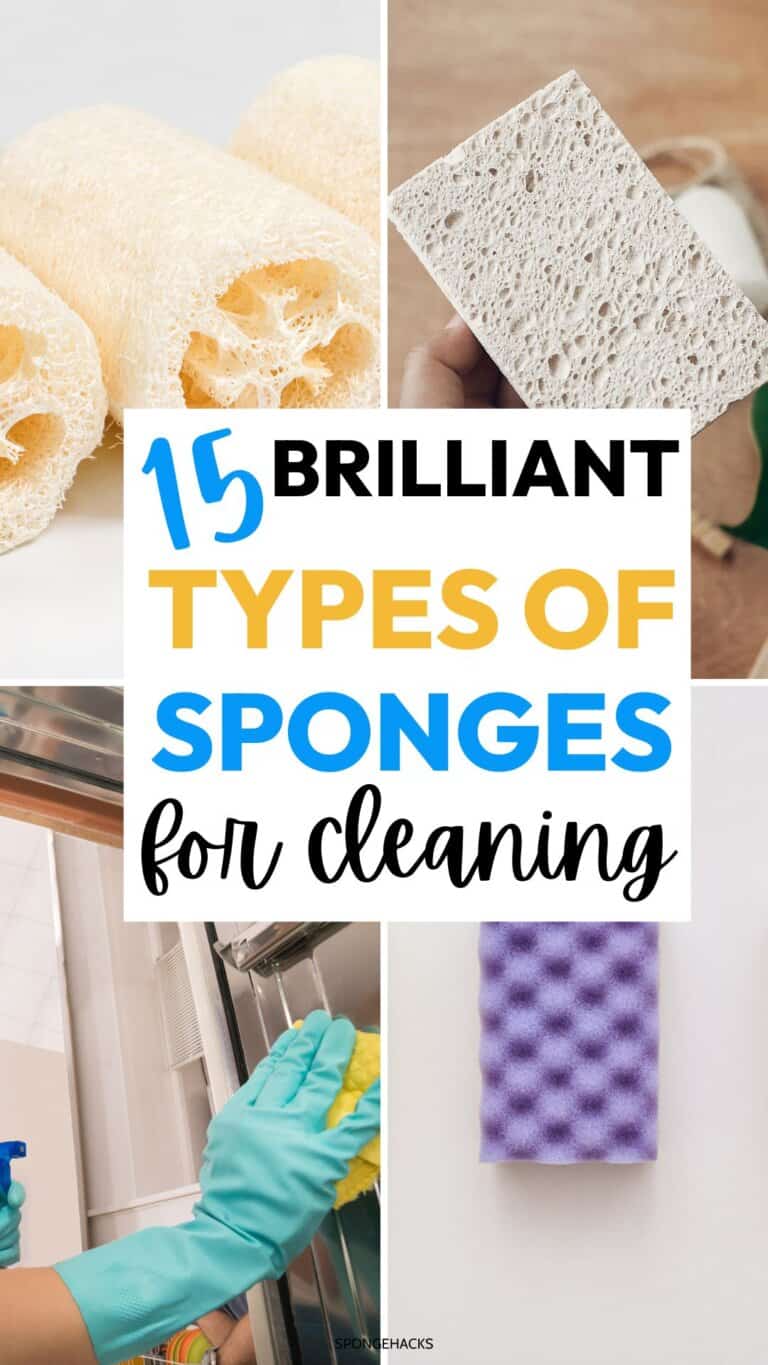 I mean, look at my blog name – Spongehacks!
They are budget-friendly, easy to use and easy to clean too.
From silicone sponges to eco-friendly alternatives and heavy-duty warriors, we're about to embark on a journey through the realm of innovative sponges.
These remarkable sponges not only simplify my cleaning routines but also offer a range of benefits, from durability and versatility to sustainability and efficiency.
Join me as I explore the diverse landscape of sponges and discover the perfect match for your cleaning needs.
Get ready to transform your cleaning experience with these amazing sponges!
Silicone Sponges: A New Era of Cleaning Convenience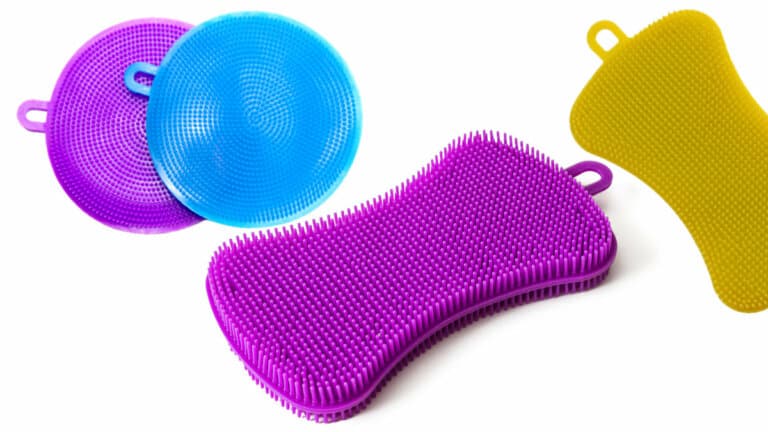 Silicone sponges are taking the cleaning world by storm, offering a plethora of benefits with their impressive durability and versatility.
Not only do they provide a gentle touch on delicate surfaces, but they also ensure that your dishes and countertops remain scratch-free.
Their non-porous nature also resists odors, promising a long-lasting freshness that traditional sponges simply can't match.
And silicone sponges are great for avoiding bacteria and other gunk!
1. Scrubit Silicone Sponges: Your Perfect Cleaning Companion
Say hello to Scrubit Silicone Sponges – the ultimate partner in conquering even the dirtiest dishes.
Crafted with durable silicone, these sponges effortlessly remove grime without leaving a trace of scratches behind.
Bid farewell to those unpleasant sponge odors that plague regular cloths, as these anti-smell sponges stay fresh even with daily use.
With Scrubit Silicone Sponges, cleaning becomes a breeze, and you can maintain a sparkling kitchen with ease.
2. Sinkology Silicone Dishwashing Sponge: The Reliable Dishwashing Hero
When it comes to tackling your pile of dirty dishes, Sinkology Silicone Sponges are here to save the day!
Made with genuine silicone, these sponges are built to last and won't leave a single scratch on your dishes, glasses, or surfaces.
Even with repeated use, these anti-smell sponges keep things fresh, making them an ideal choice for any kitchen or bathroom cleaning task.
With their versatility and durability, Sinkology Silicone Sponges are a must-have cleaning tool for any household.
3. Silicone Scrubber Sponge by Peachy Clean: A Revolution in Cleaning
Say goodbye to repulsive sponge smells with Peachy Clean Silicone Dish Scrubbers.
These non-absorbent silicone soft scrubbers are revolutionizing your cleaning routine.
Infused with an antimicrobial agent to combat unpleasant odors and featuring a refreshing peachy fragrance, Peachy Clean offers a unique and enjoyable cleaning experience.
Let Peachy Clean Silicone Scrubber Sponges transform the way you clean your dishes and surfaces.
Embrace Sustainability with Eco-Friendly Sponges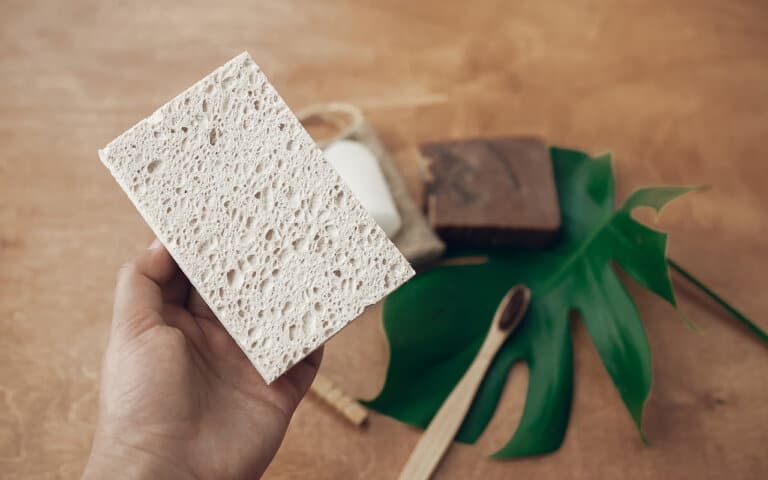 It's time to step into the world of sustainable cleaning with eco-friendly sponges.
These types of sponges for cleaning offer a greener approach to dishwashing, reducing waste and minimizing our environmental impact.
Let's discover their unique features, benefits, and their crucial role in creating a cleaner, more sustainable future.
Get ready to embrace eco-friendly sponges and clean with a clear conscience!
4. Airnex Biodegradable Kitchen Sponge: Making Eco-Friendly Dishwashing Easier
Eco-friendly dishwashing becomes a breeze with Airnex Biodegradable Kitchen Sponges.
Made from white cellulose and coconut fiber, these 100% plant-based compostable sponges let you go green in the kitchen without sacrificing performance.
With their ergonomic S shape, these sponges are not only comfortable to use but also gentle on your hands.
After you're done cleaning, these reusable scrubbers can go straight to the compost, minimizing waste and leaving you with a cleaner conscience.
5. Skoy Scrub Reusable Cloth: A Versatile Sustainable Alternative
The Skoy Scrub Reusable Cloth offers a versatile and sustainable option to traditional scouring pads and scrub sponges.
Made from cotton and a food-grade non-toxic hardener, this long-lasting and fashionable kitchen companion is designed to make your cleaning tasks a breeze.
These cloths are suitable for all hard surfaces, including non-stick pans. They provide superior functionality while reducing waste.
6. Jebblas Bamboo Sponges: Sustainable Dishwashing at its Finest
For those committed to sustainable dishwashing, Jebblas Bamboo Sponges are the perfect choice.
Made from natural bamboo fibers, these long-lasting sponges offer a reusable and eco-friendly solution.
They can be used on a variety of hard surfaces, including glass, ceramic, and non-stick cookware.
What's more, you can easily wash these sponges in the washing machine or dishwasher, ensuring their longevity and minimizing waste.
Discover the Power of Plant-Based Sponges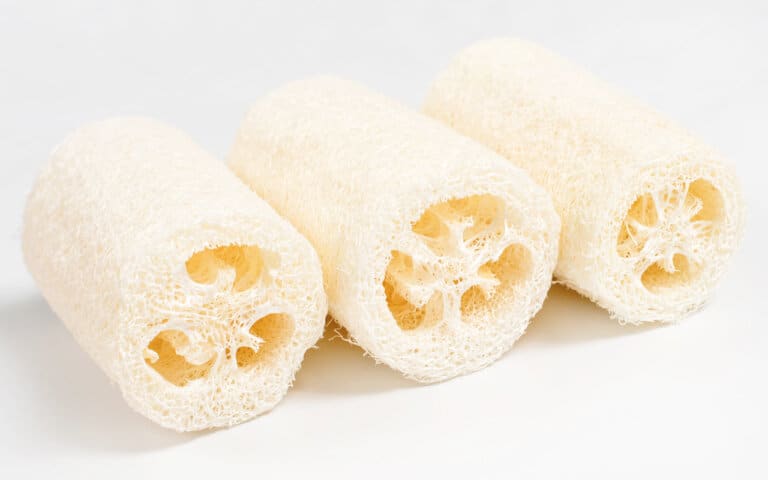 Plant-based sponges bring together sustainability and effective cleaning.
Made from natural materials like loofah plant fibers, cellulose, and coconut husk, these remarkable sponges allow you to tackle household chores while showing love to the environment.
Check out these fantastic plant-based sponges if you're leaning towards a more sustainable lifestyle.
7. Eco Plant-Based Sponge: Nature's Cleaning Warrior
These eco sponges are crafted from 100% natural cellulose fiber, coconut husk, and recyclable polyester, making them versatile sponges that are breathable, non-toxic, and dishwasher safe.
From scrubbing pots and pans to cleaning walls, these multi-purpose sponges are your go-to cleaning companions.
Their durability ensures efficient scrubbing, saving you time and money while reducing your environmental footprint.
8. Scotch Brite Greener Clean Scrub Sponge: Cleaning with a Conscience
With the ability to be cleaned and sanitized 20 times in the dishwasher, Scotch Brite Greener Clean sponges are a sustainable choice.
Made from 100% plant fibers and recycled content, they are free from dyes and BPA.
These scrub sponges are safe for all surfaces, including non-stick cookware, countertops, and dishes.
They offer effective cleaning while minimizing environmental impact, allowing you to maintain a clean home with a clear conscience.
9. Scrub and Throw Natural Loofah Sponges: Nature's Cleaning Secret
Did you know that loofah is nature's sponge?
Scrub and Throw Loofah Sponges are made from 100% loofah plant fibers, providing versatility and scratch-free cleaning.
Suitable for dishes, pots, countertops, and even delicate surfaces, these sponges offer a dual-action design for heavy-duty scrubbing.
Convenient pop-up sponges make storage a breeze, ensuring you always have an eco-friendly cleaning solution at hand.
Conquer Tough Messes with Heavy-Duty Sponges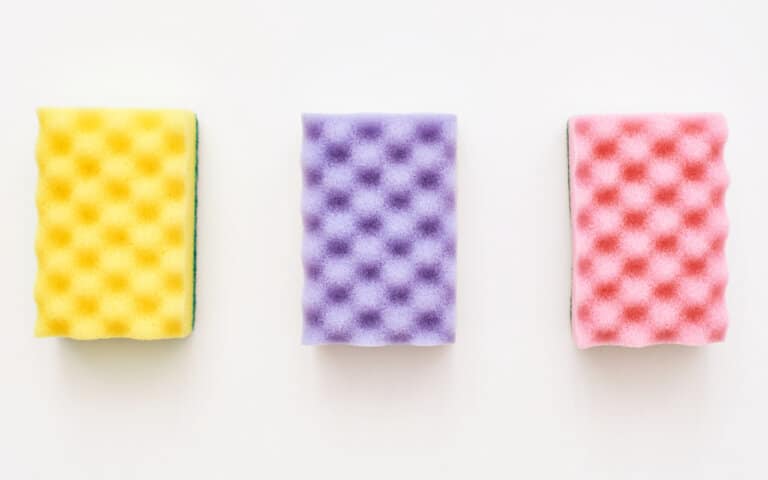 If you're tired of dealing with flimsy sponges that can't handle the toughest messes, it's time to meet their heavyweight counterparts.
These heavy-duty types of sponges for cleaning are designed to tackle even the most stubborn grime, making your cleaning tasks a breeze.
Let's explore the best heavy-duty sponges out there and get ready to conquer any cleaning challenge with these mighty warriors by your side.
10. Scrub-It Miracle Microfiber Sponge: A Dishwashing Game-Changer
Searching for a game-changer in your dishwashing routine?
Look no further than the Scrub-It Miracle Microfiber Sponge.
This sponge is designed to tackle stubborn grease effortlessly, leaving your dishes sparkling clean.
What's even better is that it's safe for all your pots and pans, including non-stick ones.
The unique FlexTexture foam firms up in cold water for tough scrubbing and softens in warm water for gentle cleaning.
Plus, it's machine washable, ensuring there are no more funky smells.
11. Vileda Scrunge Heavy Duty Sponge: Built to Last
Allow me to introduce you to the Vileda Scrunge Heavy Duty Sponge, a cleaning buddy that's built to last.
This sponge outshines regular scrubs by lasting 20% longer.
Say goodbye to pesky odors as it rinses clean like a champ.
The unique rippled surface effortlessly breaks up dirt, while its extra thickness gets the job done in a jiffy.
And guess what? It's dishwasher safe, making cleanup a breeze. With the Vileda Scrunge Heavy Duty Sponge, you'll wonder how you ever cleaned without it.
12. Scrub Daddy Steel Scour Pads: Heavy-Duty Cleaning without Harsh Chemicals
If you're on the hunt for a cleaning sidekick, look no further than the Scrub Daddy Steel Scour Pads.
This heavy-duty sponge can handle anything, from tackling stubborn grime to taking care of lighter cleaning tasks.
The best part? No need for harsh chemicals!
With just some water, it works like magic.
The vibrant colors make it easy to assign specific tasks, so you'll be color-coding like a pro.
It's heavy-duty and built to last, but remember, it's not suitable for delicate surfaces.
Sponges for Stainless Steel Cookware: Gentle and Effective Cleaning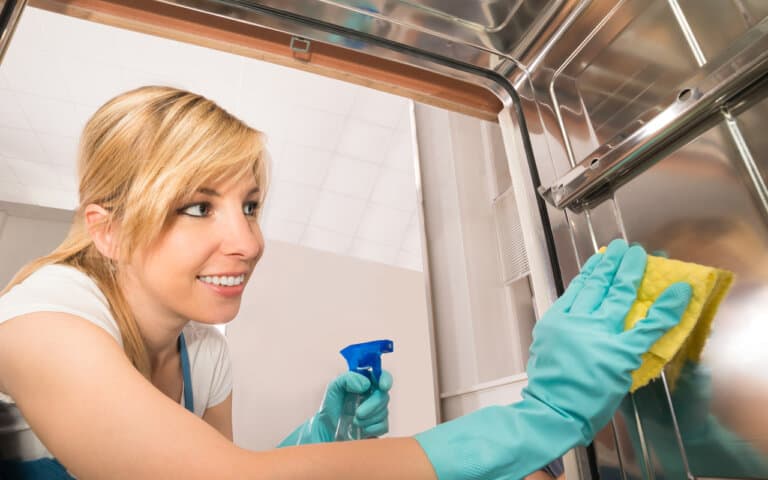 When it comes to maintaining the beautiful and pristine condition of stainless steel cookware, having the right cleaning tools is essential.
That's why I rely on sponges specially designed for stainless steel cookware, crafted to deliver a spotless shine without causing any scratches or damage.
These innovative sponges offer a combination of gentle yet effective cleaning power, ensuring my cookware remains in perfect condition.
13. Scrub Daddy Multipurpose Dish Sponge: Flexibility and Scrubbing Power
I can't get enough of the Scrub Daddy Multipurpose Dish Sponge—it gives me total control over my scrubbing power.
Its unique FlexTexture foam firms up in cold water for tough scrubbing and softens in warm water for gentle cleaning.
And I LOVE using it in my kitchen to clean all those dirty appliances!
Pretty cool, right?
This makes it ideal for stainless steel cookware and a variety of surfaces. This scratch-free sponge resists odors, lasts up to 8 weeks, and rinses clean effortlessly.
14. O-Cedar Multi-Use Scrunge Sponge: Non-Scratch Cleaning Power
I've found a powerful ally in the Scrounge Scrub Sponge by O-Cedar.
Endorsed by Teflon, its patented non-scratch scrubbing surface tackles tough messes without harming my stainless steel cookware.
The unique rippled surface effortlessly lifts away dirt, while the rinse-fresh technology keeps my sponge odor-free.
With its powerful scrubbing surface, you can confidently conquer any cleaning challenge without worrying about scratches.
15. Scrub-It Multi-Purpose Sponge: Efficient and Durable Cleaning
I believe in cleaning smarter, not harder, and that's why the Scrub-It Multi-Purpose Sponge is a go-to choice.
This ingenious scourer/microfiber cloth combo sponge is designed to handle tough jobs with ease.
Made from high-quality polyester, polyamide, and polyurethane, it outlasts average store-bought scouring pads.
Chemical-free and 100% safe, it offers a worry-free cleaning experience.
Plus, it's machine washable and dryer safe, making it convenient to keep them fresh!
Clean Like a Boss: Sponge Your Way to a Spotless Home!
In the world of cleaning, these types of sponges cleaning emerge as the unsung heroes that simplify our lives.
Whether it's the gentle touch of silicone sponges, the eco-friendly approach of sustainable alternatives, or the heavy-duty power of mighty scrubbers, these remarkable companions have proven their reliability in our pursuit of cleanliness.
With their innovative designs, durability, and versatile functionalities, sponges bring convenience, effectiveness, and even a touch of joy to our cleaning routines.
So, choose the perfect sponge that suits your needs and embrace the sponge revolution.
Let cleaning become a satisfying and effortless endeavor as your home shines with pristine freshness!
Follow me on Pinterest for more cleaning and organizing advice!