No one ever said that cleaning was fun. In fact, it's often seen as a necessary evil – something that we have to do, but would really rather not think about.
As a mom to some rambunctious twins I always have a dirty kitchen.
My son comes in from outside bringing rocks in his hand and leaving dirt on the kitchen floor.
Or, my daughter brings in sticks and flowers and leaves pieces of them all over the living room floor.
Every day my kitchen gets dirty but I've found a little secret.
Well, more like 21 secrets to keep my kitchen clean!
I love gadgets and once you have all of these, it's a cinch to clean your kitchen or home.
I seriously cannot live without all of these essential kitchen cleaning supplies.
I simply grab them and go!
So if you have a hard time keeping your kitchen clean or house tidy, check out these must have cleaning supplies for your kitchen.
21 Kitchen Cleaning Supplies You MUST Have
Everyone knows that a clean kitchen is a happy kitchen.
Not only will you be able to cook up your favorite recipes with ease, but you'll also be able to enjoy spending time in a space that's free of dirt and grime.
And I think that's why I strive to have a clean kitchen. This is the hub of my house, where people gather and come from outside.
It's the place where I talk with my twins and share family time.
But while a quick sweep or wipe down might do the trick every once in awhile, there are some essential kitchen cleaning supplies that you'll want to keep on hand at all times.
1. Cleaning Caddy
You can't start any kitchen cleaning supplies list without a cleaning caddy!
Cleaning caddies are like the Furby of kitchen cleaning supplies – get one and it'll revolutionize the way you clean.
Keep all your sponges, soaps, and scrub-daddies all in one spot to make it super easy to whip around and tackle even the most stubborn messes.
Load it up with an all-purpose cleaner or two, and don't forget to grab a pair of disposable gloves!
They come in handy when you don't want to get your hands dirty but still wanna be bossy with that dirt on the countertops.
I love this simple white cleaning caddy because it can fit all my cleaning sprays, my microfiber clothes, sponges and scrub brush!
2. Dawn Platinum Powerwash Dish Spray
I'm in LOVE with this Dawn Dish Spray.
Seriously, it can clean grime on my oven, shine my fridge, clean the WINDOWs and so much more!
If there's one thing that'll make you rage like the Hulk, it's when your kitchen looks less than clean.
That's why you need Dawn platinum power wash – because it's the best kitchen cleaning supply on the block!
Kitchen grease, grime and gunk will quickly be a thing of the past and you can finally have a sparkling clean kitchen that even Martha Stewart would be proud of.
Plus, it has fast-acting foam, so no more scrubbing away for hours just to get rid of one stubborn stain!
All you do is spray it on your kitchen counters, oven or appliances and wipe with a cloth.
In less than 5 minutes your kitchen is shining and smelling clean!
3. Lemi Shine Disposal Cleaner
Last month, whenever I was in the kitchen, I kept smelling this faint icky smell.
I couldn't pinpoint where the smell was.
I washed behind the fridge, I cleared my pantry and I scrubbed my sink but the smell lingered.
It wasn't until my husband mentioned it could be the garbage disposal that it clicked. Yes!
I tried several disposal tabs and NONE worked like Lemi Shine did.
This tab is GENIUS and amazing!
When you pop it into your sink's disposal, it's like an science experiment!
All the bubbles!
4. Bar Keepers Friend Powder Cleanser
One day my husband comes home with this tin called Bar Keepers Friend.
I had no idea what this was. I originally thought it was for the car or to be put in the garage.
But my husband soon told me it's to clean the bottoms on our cookware and shine our steel appliances.
So I gave it a go and OMG! Bar Keepers IS really my FRIEND!
All I do is sprinkle some of the powder directly on the bottom of a frypan, use my trusty abrasive sponge, and with a bit of water go in a circular motion and watch as the black gunk washes away.
And in no time the bottom of my frypans look absolutely clean and BRAND NEW!
5. Practical Matter Kitchen Sponge
I'm in love with these Practical Matter sponges.
They are all-purpose and don't scratch my sink or appliances.
What I love the most is the smell – there's NO SMELL even after you use it all day in the kitchen!
From scrubbing counters to the toughest stains on pots and pans, theese sponges help keep your kitchen squeaky clean.
And with so many cool colors to choose from, Practical Matter is more than just a cleaning sponge – it's home decor as self care!
Even though I use other sponges, Practical Matter is in my top three of all-time favorite kitchen cleaning supplies to use.
Maybe because they are organic and use natural fibers, but Practical Matter sponges just WORK better!
6. O-Cedar Mop
Over the years I've tried soooo many mops. I've tried ones that self ring or others that don't need a bucket or even others that have a small sponge head to get into the corners.
But, let me tell you this – once I used the O-Cedar Mop, GAME OVER!
It's even dubbed the TikTok mop!
The built-in ringer is what sold me.
It's so easy to use and the microfiber mop head cleans spills and gunk on my kitchen floor the best I've seen.
7. Microfiber Cloths
A staple in my home are my microfiber cloths. I store them in my pantry and I have a pile in my upstairs towel closet and bathroom closet.
They are EVERYWHERE.
Why? Because they are my go-to cloth for quick wipes when I clean the bathroom or dust the hallway trim.
If you want to be the queen or king of kitchen cleaning, microfiber clothes are your BFF.
Sure, there are lots of products out there that'll get the job done, but if you're looking for maximum scrubby-scrubbing action, then nada beats this fabric.
Whether it's skimming off grease and grime from your kitchen cabinets or getting that sauce splat present on the wall again, it'll make mincemeat of dirt and keep surfaces shinier than a new penny.
These microfiber clothes are the best as they don't pill in the dryer and they keep their shape even after hundreds of wash/dry cycles.
8. Scrub Brush
If you have tile floors or a tile backsplash then you MUST get this OXO Scrub Brush.
Whenever I cook spaghetti, sauce always splatters onto my backsplash and oftentimes I'm juggling making a salad, checking the garlic bread and the noodles that the sauce dries on the tile.
Well, if you tried using a cloth or sponge you know that you need to put a little elbow grease to remove the sauce.
But, not with a scrub brush!
It works quick and it's easy to use!
9. Rubbermaid Power Scrubber
On the same vein as the scrub brush, make sure to get the Rubbermaid Power Scrubber!
I swear, this thing is a LIFE SAVER.
It has a small scrubber that works fabulous around the sink handles and base where you know all that grime builds up.
It's also perfect for my window sill that sits above the kitchen sink.
For some reason, this window sill takes a beating in the kitchen, but this powerful little scrubber cleans it all up in seconds!
10. LYSOL Kitchen PRO Antibacterial Cleaner
Look –
We are still in the pandemic and no other item was on the shelves in the stores than this one – LYSOL Kitchen Pro.
This little cleaner spray is a hot item and is often unavailable so when it's available pick up 5 or 6 of these!
It's anti-bacterial spray which is perfect during COVID-19 times.
Use it to clean door knobs, the fridge handles and cupboard handles as well as the kitchen counters!
11. Swiffer Sweeper 2-in-1 Mop
I simply LOVE my Swiffer!
I use it to dust my hardwood and kitchen floor. But then I learned about how my Swiffer can also be a mop!
While I LOVE my O-Cedar mop, sometimes I just need to do a quick 5-minute kitchen clean up and using the Swiffer mop is QUICK and EASY.
All I have to do is take a wet cloth, attach it to the Swiffer and start mopping my kitchen floor!
And I LOVE how my kitchen smells afterwards!
12. Nano Towels
Can you tell I just love microfiber cloths?
Well, these Nano Towels as slightly different – they only need water to clean and they have two distinctive sides: a thinner and thicker side.
When you have a dirtier job that a regular microfiber just can't do, then use the Nano Towel.
It's safe for kids and pets and you'll use less cleaners and less paper products too – and that's a good thing!
13. Enzyme Cleaner
Finally –
A product where I don't have to spend time scrubbing or using elbow grease to have a clean kitchen.
Biokleen's Enzyme Cleaner is a vegetable-based kitchen cleaning supply and I don't know about you, but I can't always use my LYSOL cleaner.
It's not safe for the environment and if I can get away with something more natural and that does the job, then I will do it – especially knowing where my little twins' hands like to explore!
Its simple to use:
Make the surface wet
Spray on Biokleen
Wait a few minutes
Wipe away grime and gunk!
It's perfect for the kitchen and bathroom!
14. Drain Opener
I don't know about you but I seem to always get bits of food or hair down in the kitchen drain and causes it to clog.
My sink's drain hole seems small or something so I decided to pick up this drain opener and OMG!
The package comes with three packs filled with powerder.
Simply dump one packet into the clogged drain hole, pour a little bit of hot water and wait about 30 minutes.
Then, pour one or two kettle's full of hot water to remove all the clogged junk from your sink!
15. Skoy Scrub Sponge
I've tried out many MANY sponges over the years and I have a few core favorites. By far my top favorite on this list is my Practical Matter sponge, but a close second are these cute Skoy sponges.
What I like about these is not only are they cute-looking in my kitchen but I can use them in tandem with my other sponge to scrub my pots and pans, knowing that this sponge won't damage my pots.
This sponge is a MUST HAVE kitchen cleaning supply for sure!
And don't forget to have a sponge holder to help store your sponge safely! Here are my favorite picks of sponge holders.
16. Magic Erasers
I have no idea how other moms with children have a clean home without using a magic eraser!
The other day my daughter came into the kitchen with her markers, put them on the counter to wash her hand and guess what?
The marker left a stain on my counter and kitchen floor! Magic eraser to the rescue!
I use the eraser on EVERYTHING!
This stuff is like a boss when it comes to scrubbing away marks, dirt and scuffs on surfaces around the house.
Just find the nastiest stain and rub away.
Bam!
You'll be back in Marvelous Mode in no time.
On top of working totes magic-ally on countertops and appliances, it can also eliminate residue from adhesive hooks (for those defying gravity takeout moments) and tough-to-tackle grime near the sink area.
For marker stains to coffee stains on the counter to getting hard-to-come off stains on my backsplash!
It WORKS!
Just be careful –
I wouldn't use it on your sinks or appliances as it can scuff them up. The eraser is a mini sandpaper!
17. SOS Pads
Ya girl can't have enough kitchen cleaning supplies!
These SOS pads do an AMAZING job at cleaning the grates of my stove, my stainless steel sink, and I always have them handy under the sink.
SOS pads are steel wool pads so be careful when using them as you don't want them to mark your appliances.
18. Finish Rinse Aid
Whenever I washed my dishes in the dishwasher many of my glasses had water spots.
I tried using vinegar and that worked a tiny bit but I found using Jet-Dry Rinse to be the BEST at removing ALL water spots from my glasses.
You don't need a lot and this is super cheap since you it lasts you months and months!
19. Nitrile Gloves
I still have packs of these nitrile gloves from when the Pandemic started!
These are a LIFE SAVER and they save my hands from using all the chemical (and plant-based too) sprays.
They are not only great when cleaning the kitchen, but an essential for cleaning the bathroom.
20. Pledge for the Kitchen!
Yes –
You read that right.
I have a secret hack to share with you.
Over the years my twins have made a mess with my fridge. Sure, I can wipe them down EVERY. SINGLE.DAY….
But who has time for that? Not me!
Instead, I just spray Pledge on the fridge handles and it creates a seal for NO MORE smudges!
I like the lemon scent (it makes my kitchen feel like it's in a magazine!) but there are other scents like rainshower and orange scent.
21. Murphy Oil Spray
This is a definite essential in the kitchen!
This is literally the ONLY THING that works for getting grime off of my wooden kitchen cabinets.
Swap out all the harsh and expensive products in your kitchen cleaning supply list, because Murphy Oil Spray's can do the job for you.
Not only is this oil-based product more economical than other cleaners, but it'll even make all your sunshine-deficient surfaces gleam as if they saw the morning rays.
Add some wit to your spring-cleaning with Murphy Oil Spray and muster up the courage to tackle that gnarly fry pan.
This little bottle will go a looooong way so grab it in bulk and get cleaning like a champ!
I don't trust using the Magic Eraser and the Biokleen just doesn't give my wooden cupboards a nice finish.
Always have this handy in the kitchen!
My Top 21 Kitchen Cleaning Supplies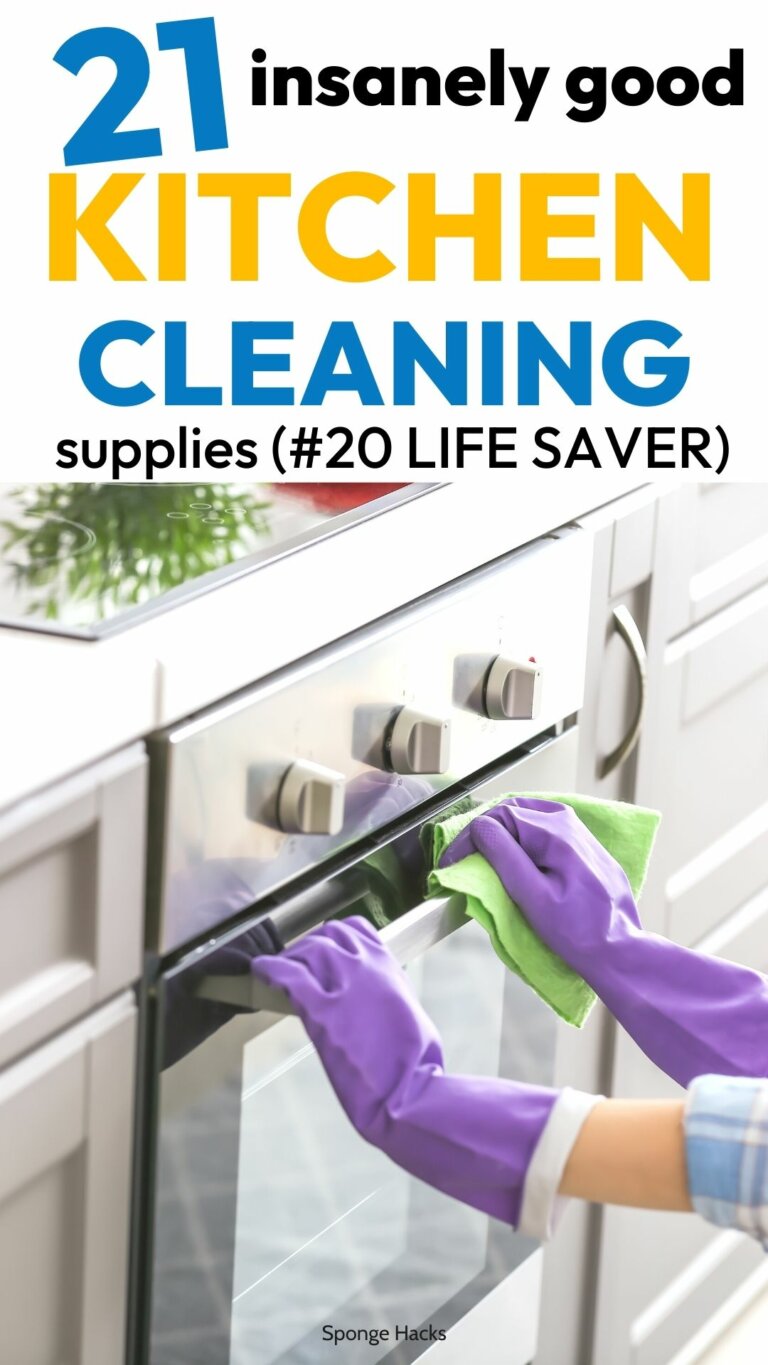 When it comes to the kitchen, there are a LOT of things that need to be cleaned, amIright?
From your stovetop and oven to your fridge and countertops, you'll want a variety of supplies on hand so you can tackle anything without having to run out for more products mid-cleaning session.
Being prepared is key when it comes to kitchen cleaning and that's why I have my kitchen essential cleaning supplies in my caddy, under my sink ready to go!
What are your must-go kitchen cleaning supplies? Did I get everything?
Remember to pin me!