It's time again to tackle cleaning those greasy cabinets from one end of your kitchen to the other.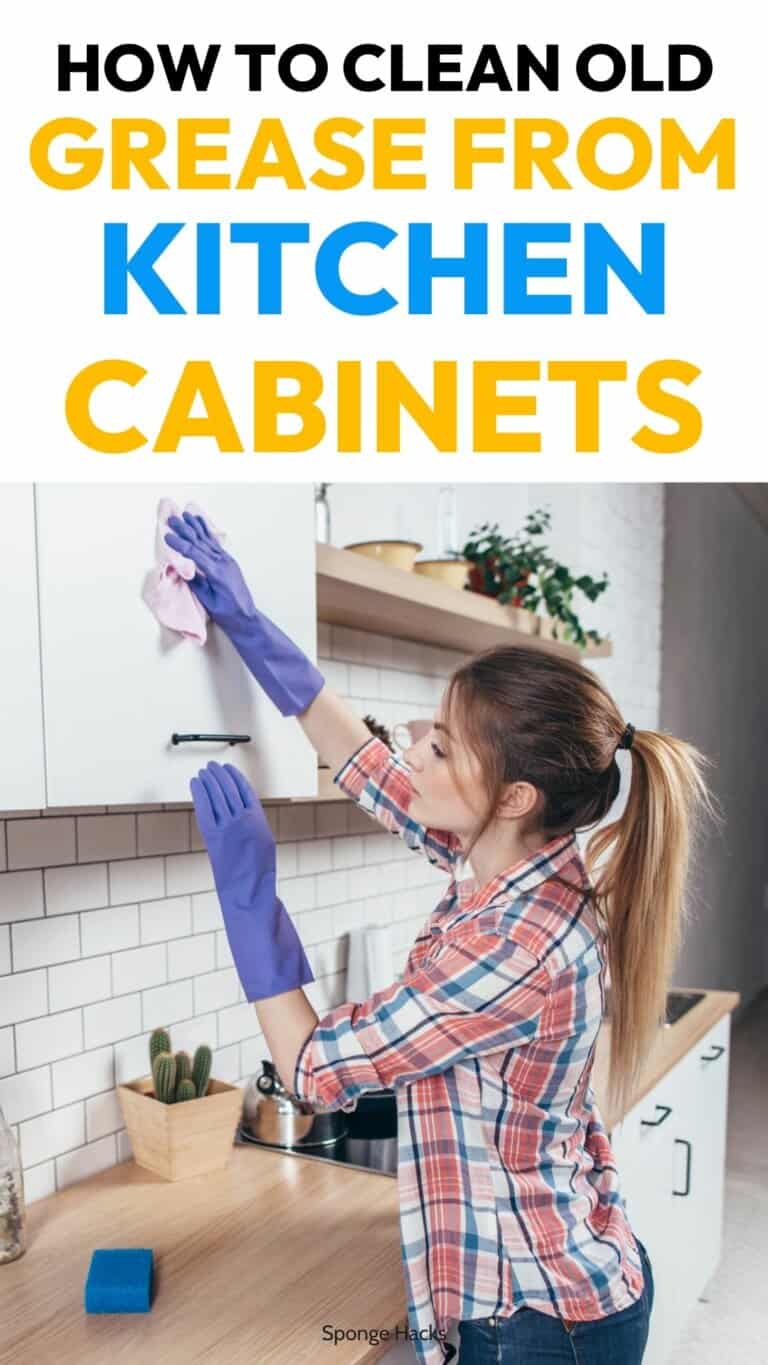 But unlike last time, you're going to knock out the work in record time!
Before I learned how to clean old grease from kitchen cabinets from my very first rental apartment, I tried dozens of tools and products.
But it took me a while to discover which ones actually worked and which ones didn't.
All day cleaning projects are NOT my hobby, so I had to find ways to clean that are quick and easy.
The sight of greasy cabinets in the kitchen is gross and a huge turnoff, right?
And, if it's the summer, smell-o city here!
Food looks and tastes better coming out of a clean kitchen.
I'm going to show you how to clean old grease from kitchen cabinets without it turning into a dreadful 3-hour cleaning project.
So let's get into what takes grease off of cabinets EASY.
Top Cleaners to Clean Old Grease from Kitchen Cabinets
Let's explore the BEST degreaser for kitchen cabinets.
Cleaning is tiresome and awful. Plus, it takes some muscle to really scrub the grease off your kitchen cabinets and I don't want to sweat while clean.
Using products that don't work or do a low quality job determines the amount of time, money, and energy we spend cleaning our homes.
Sticking to the pockets of time you've set aside to get your cleaning tasks done in your home is one thing.
But having the wrong products in your hands will make the job tougher than it really has to be.
Let's answer the big question –
What can I use to get grease off my kitchen cabinets?
I'm OBSESSED with these cleaners because they fight even the toughest grease buildup.
Be sure to add these items to your MUST HAVE list of tools and products you need in your kitchen.
Check out my personal top degreaser sprays and find the one that works for you!
1. Easy Off Specialty Kitchen Degreaser Cleaner – Best Overall
I can't say enough about this degreaser.
Want to get that grease off in SECONDS?
All you have to do is spray, wipe, and rinse.
Here's the one spray you need a that gets off tough grease without you working your arm off your body, LOL.
Pros: This product saves you a lot of scrubbing. It also doesn't require you to use half the bottle to clean a small area.
Cons: Some customers have claimed it works just like water, not removing grease at all.
2. Kitchen Cabinet Cream – Best for Wood Cabinets
It's going to take a lot more than soap and water to clean those beautiful wooden cabinets in your kitchen.
Parker and Bailey Kitchen Cabinet Cream works like MAGIC!
This kitchen cabinet degrease remover takes the grease right off so your cabinets look new again.
Just apply a small amount of the cream to a damp cloth and wipe. You may need to go over the area more than once to remove thick layers of grease.
Pros: This cream is free of waxes, silicones, petrochemicals, and harmful solvents. This solution cleans AND polishes your cabinets to a shine!
Cons: About 5% of Amazon customers claim this cleaner didn't do a quality job, or even remove grease at all.
3. Rejuvinate Cabinet Cleaner – Best for All Surfaces
Whether you have wooden cabinets, laminate or Formica this grease cleaner is for you.
What I LOVE about this cleaner is that it gets rid of EVERYTHING – dirt, grime, grease and scum on any wooden furniture.
Pros: This cleaner is gentle, yet effective on wooden cabinets. It'll even restore your cabinets to their original glow!
Cons: Different types of wood may be affected differently, and therefore you should spot test this product before using on all of your cabinets.
4. The Crown Choice Natural Cabinet Cleaner – Best Smell
What will take grease off cabinets?
If you haven't found anything beyond those basic multi-cleaners that keep disappointing you, give this a try.
This natural lavender scented cabinet cleaner will remove the grease and crud from your cabinets.
But OMG the aromatherapy is what hooks you!
Pros: This cleaner does an amazing job cutting through grease and grime and it's safe for animals too. Although it's pricier than other cleaners, it's worth the price and time you'll save using soap and water.
Cons: Based on the surface type of your cabinets, crayon and pencil markings may not easily come off. Some customers have also claimed this cleaner has altered the paint quality of their cabinets.
5. Bona Cabinet Cleaner – Best for Polished Look
Can old grease ever come off? Bona can help! And does a great job at it.
Just remember to only use this cleaner on sealed, untaxed wood, and laminate cabinet surfaces.
Pros: This product is non-toxic, biodegradable, and leaves no residue.
Cons: A minority of customers who've purchased this product claim it's just about as effective as using water.
6. Therapy Clean Cabinet Cleaner and Polish – Best for Older Cabinets
Ever wonder if there's any hope for your delicate 40 years old kitchen cabinets?
Well, THERE IS. They just need some Therapy!
Don't give up and let your cabinets go. Restore them to their original beauty and own your kitchen!
The time has come to end your search for how to get grease buildup off cabinets.
Pros: Easy to use. Doesn't leave streaks or residue.
Cons: In comparing this product to other cabinet cleaners, some customers weren't able to see a difference after use.
7. Goo Gone Kitchen Degreaser – Love the Brand!
Ever seen the really bad grease buildup that's actually turned black? Ewww. If you're trying to revive your cabinets from that stage in the game, use the Goo Gone Kitchen degreaser.
I LOVE the Goo Gone brand. I use the Original formula for any sticky surfaces – even if I have sticky fingers! This stuff WORKS.
Pros: Lifts grease easily so you're not scrubbing for hours. It breaks the grease down and all you have to do is simply wipe.
Cons: Returns are not allowed for this product.
8. Stanley Home Products Original Degreaser – Powerful Formula!
OMG this stuff works!!
Introduce this degreaser and your cabinets will thank you. You won't want to be without this once you see how AMAZING it is at taking away thick caked on grease.
There is no need for this solution to set! Just a capful of Stanley and a tiny bit of elbow grease and this stuff works like magic.
Pros: It has a pleasant smell and doesn't dry your hands out after use.
Cons: Unhappy customers have claimed this product doesn't cut through heavy grease. In other cases, some customers have had to put too much work into scrubbing the grease off while using too much solution.
DIY Solution to Get Sticky Grease off Cabinets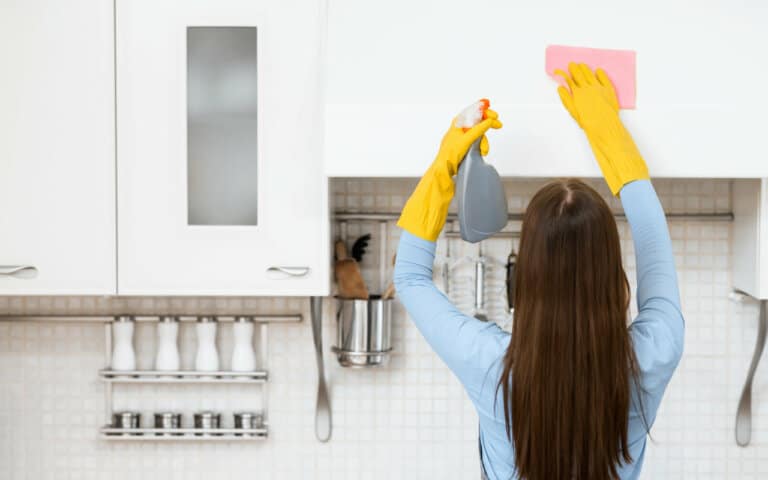 If a degreasing cleaner isn't something you want to try right now, maybe a DIY solution might do the trick. You can make your own cleaner from home that will do the job.
These solutions are easy to make, but also effective.
1. Use White Vinegar as a Degreaser
If you're taking cleaning seriously, you NEED to have white vinegar on hand at all times. It just works that good!
HGTV shared this cleaning hack, and it's real simple. Just pour some white vinegar into a squirt bottle and spray directly onto the greasy area. Give it about 30 seconds to work its magic.
Then wipe away with a damp cloth.
2. Form a Mixture of Baking Soda and Water
Can you guess what baking soda is good for?
Just about EVERYTHING when it comes to cleaning.
Make your own degreaser by mixing a paste that has 1 part baking soda and 2 parts water.
Use a tooth brush or a softer tool to apply the mix to the greasy area. Rub the area and wipe away with a damp cloth.
3. Soap and Hot Water
Before you knock hot water and soap as a good cleaner for grease, give this a try! Dawn dish soap is no ordinary cheap soap.
The Spruce recommends this method for cleaning your cabinets.
This is also one of the best I've found that actually does a great job cutting through surface-level grease.
Mix one cup of hot water with 1 tablespoon of Dawn soap until sop suds form. Then use a microfiber cloth to clean the greasy area.
4. Use a Castile Soap Mixture
Mom4Real has a great recipe for a DIY degreaser. You'll only need three ingredients for the mixture:
1 ¾ Cup of distilled water
2 tablespoons of Castile soap
20 drops of orange essential oil
A spray bottle
This DIY recipe does the job in SECONDS.
As long as you keep these basic items on hand in your home, you can whip up your own solutions to degrease your kitchen cabinets whenever you need to.
You AND your kitchen will feel amazing after you make progress with removing the grease stains that have built up.
But wait. Let's take it a step further.
Why not find a way to prevent all that grease buildup so you don't have to spend the time cleaning it!
Prevent Grease Buildup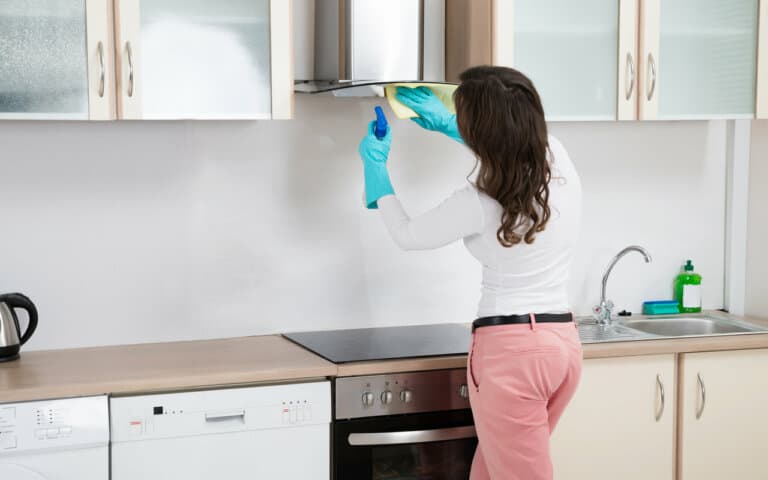 Now – cleaning grease from your cabinets is one thing. But wouldn't it be even better to prevent the grease buildup from gaining more ground on your walls and cabinets?
Is there a way? You bet!
Here are a few ways you can prevent grease buildup and spend less time cleaning grease off kitchen cupboards.
1. Wipe Down Your Cabinets and Walls at Least Once a Week
Did you know that kitchen grease buildup can also be a fire hazard?
To help prevent grease buildup, wipe down your cabinets and walls at least once a week with a grease-cutting cleaner or DIY solution of your choice.
You may also want to invest in some stainless steel wipes that are specifically designed for removing grease.
Be sure to keep your stovetop clean as a way to combat grease buildup. Wipe up any spills immediately, and don't forget to clean the area around your range hood.
2. Use a Splatter Screen when Frying and Sautéing Foods
Using a splatter screen when you're frying up food will help to keep your cabinets clean and free of grease buildup.
3. Clean Up Grease Messes Right Away Rather than Getting To it Later
It's also important to wipe down the cabinets with a damp cloth after cooking in order to remove any old grease or food.
If you let grease solidify and set, it will harder to remove it so don't wait until the next day, no matter how tired you are!
4. Monitor Your Food While You Cook to Avoid Grease Splatters
If you're careful about what you cook and how you cook it, you can help prevent grease buildup on your cabinets for good!
One of the biggest culprits of cabinet grease is meat.
When you cook meat, it tends to release a lot of grease and fat.
If you're not careful, this can splatter all over your cabinets and leave a greasy mess.
To avoid this, be sure to monitor your meat while it's cooking. Use a lid to contain the grease, and keep an eye on it so that it doesn't have a chance to splatter.
5. Wipe Down the Outside of Bottles, Condiments and Containers Right Away
A simple hack to help combat grease in the kitchen is to simply wipe down your bottles and condiments before storing them back in your cabinets. While you cook, grease can splatter on your soy sauce bottle or olive oil bottle so do everyone a favor and wipe them down!
These simple habits will help you keep old grease from building up over time. You've got this!
Have a Clean Kitchen Today!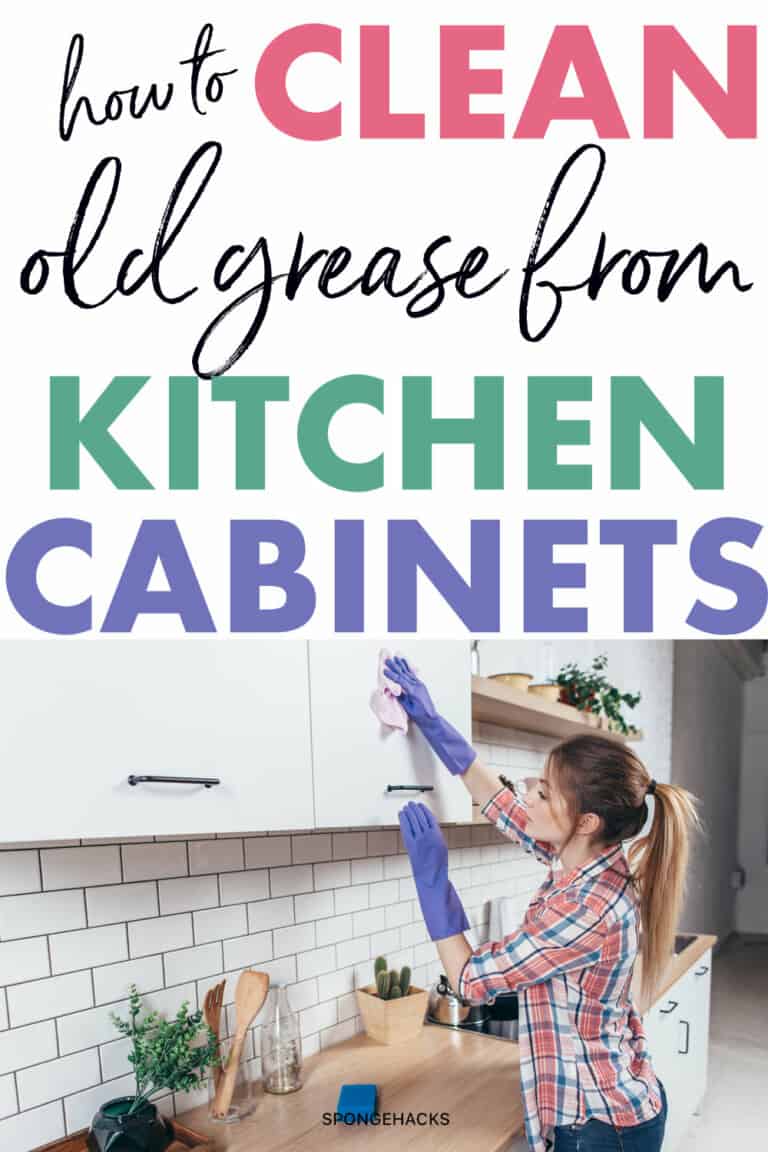 Gone are the days where you allow grease and scum to take over your kitchen cabinets and walls. Never again! These powerful cleaning products are INCREDIBLE.
Now you can break down this task of cleaning kitchen grease in as little as 10 minutes per day, or in your spare time.
Replace the products that aren't working with the ones that do.
It's time to make your kitchen sparkle and shine again!