We have such a love-hate relationship with laundry that it's not even funny anymore, haha.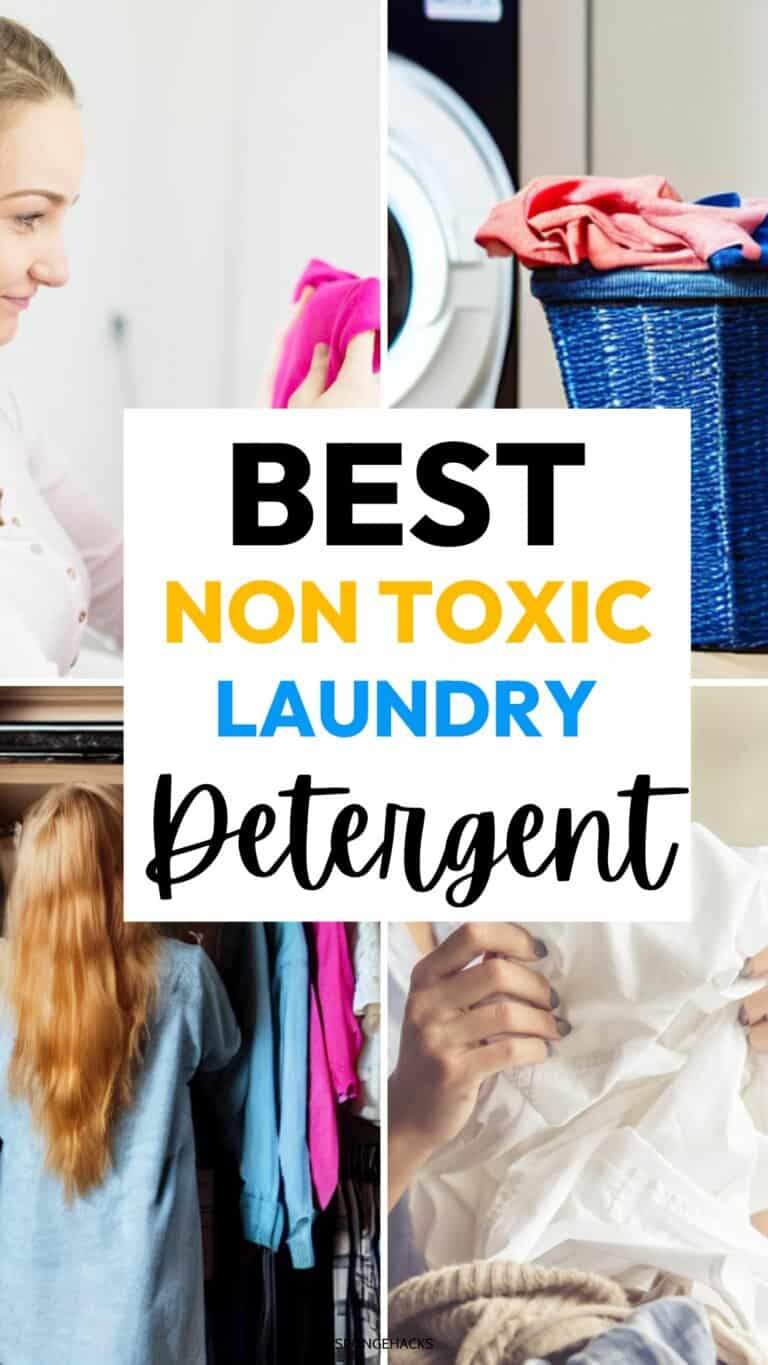 But y'know, there's a lot more to laundry than just throwing your pile of dirty garments into a giant machine and then *magic* just happening.
Have you ever actually done research on what exactly is in your laundry detergent?
Ever questioned if what you're using to wash your everyday clothing in is actually safe for you to use?
This modern era has brought about the rise of laundry detergents that claim to be natural, non-toxic, eco-friendly… and the list goes on and on.
What is the best non-toxic laundry detergent?
Or the best eco-friendly?
Or the most natural?
When I first started doing my own laundry, I didn't think much about whether I was using the best non-toxic laundry detergent, or any of these other questions either.
It took my son constantly having rashes all over his body with an allergic reaction because to some of the harsh chemicals in many laundry detergents to finally consider maybe there's a lot more to our laundry detergent than I ever really considered.
If you're like me and millions of other people, the literal thought of laundry day makes you want to throw your arms in the air and question your whole life.
We've made laundry day a dread and gloom day. *SOS*
BUT I'm here to give you another way to do laundry.
A more proactive approach!
Once I started becoming more and more involved in researching the best non-toxic laundry detergents, I started seeing laundry day in a whole new light (and I'm hoping, by the end of this post, you might, too!)
What is the Best NonToxic Laundry Detergent?
So, which is the best you say? It's all here PLUS I've compiled an oh-so-fabulous list of the runner-ups.
Ready to take laundry day to a whole new level? A'right!
Top Non Toxic Laundry Detergents
Best Non-Toxic Laundry Detergent
Let's check out some addicting-smelling laundry detergents that are actually healthy for you!
Unfortunately, many of the big name brands contain toxic ingredients that can cause skin irritation, respiratory problems, and even cancer.
The good news is that there are a number of safer alternatives available. Here are some of the best non-toxic laundry detergents you can start using and smelling today!
1. Molly's Suds Laundry Detergent Powder
Molly's Suds Laundry Powder took the ~ lead ~ as the best Non-toxic laundry detergent. It's safe and simple formula is perfect for those with sensitive skin and you only need just one of their pods for a full load of laundry.
It's also the best eco friendly laundry detergent!
Talk about efficient AND effective!
However, there were a few runner-ups that fell close behind Molly's.
2. Seventh Generation Natural Concentrated Laundry Detergent
Free and clear hypoallergenic detergent made for those with sensitive skin.
This non toxic soap does not contain any dyes or fragrances and the best part? The detergent consists of 96% plant-based ingredients.
3. ATTITUDE Hypoallergenic Laundry Detergent
If you're one of the many people who are allergic to harsh chemicals in laundry detergents – *raiseshand –, then you'll fall in LOVE with ATTITUDE's Hypoallergenic Laundry Detergent.
It's #3 on my list and it's the best smelling non toxic laundry detergent on the market!
Not many non toxic laundry detergent brands will come close to ATTITUDE's brand.
It's free of any harmful chemicals, so it's perfect for those with sensitive skin.
Plus, it's biodegradable, so you can feel good about using it knowing that it won't harm the environment.
4. Clean People Ultra Concentrated Laundry Detergent
When I first came across this brand, I'll admit that I was a bit skeptical to try it.
But, once I did, I was able to see why my friend continued to recommend it to me as one of THE BEST laundry detergents.
And another great thing?? There aren't any harsh smells to your laundry after using this product. Your laundry literally just smells… clean (haha.)
5. Charlie's Soap
This brand tends to be on the pricier side but with good reason.
Not only is this laundry detergent EPA-certified and hypoallergenic, it consists of literally only four ingredients! Talk about 'less is more.'
6. Mrs. Meyer's Liquid Laundry Detergent
It's hard to explain what " clean laundry " smells like, sooooooooo go grab yourself a pack of this eco friendly laundry detergent and lemme know what you think!
Infused with lovely lavender essential oils, Mrs. Meyer's has been a very popular brand (and not just with laundry detergents) because it promotes products that are cruelty-free, plant-based and affordable.
7. Puracy Natural Liquid Laundry Detergent
Puracy truly prides itself in reducing our footprint on the planet; its packaging is almost 100% plastic free (it actually feels… almost like a plastic fabric… it is so awesome-ly weird, haha.)
The brand also opts out of animal testing, which means that the ingredients are carefully chosen and all-natural to assure it is the best of the best, without the use of hurting other living beings.
It's great using products knowing you are doing a lot of good for the world just by, well, using this instead of that, if y'know what I mean.
8. LazyCoconuts Laundry Detergent Sheets
Can we just appreciate how adorable the brand's name is first??
This sulfate-free laundry detergent is composed of sheets (kinda like the ones you throw into your dryer) and, thanks to *science* and *magic*, [the] company has formulated a laundry sheet that not only leaves your clothing fresh and ultra clean, but is also great for travel and both packaging and strips are 100% plant-made.
This 'detergent' puts the A+ in 'lazy', haha.
9. Tru Earth Biodegradable, Zero Waste, Cruelty-free Laundry Detergent Sheets
OMG, the hype is all in the laundry sheets!
This is another brand with a wide variety of options for laundry sheets and the name pretty much sums up all that is good about this particular product.
'Nuff said.
10. Earth Breeze Laundry Detergent Sheets
Okay, by now, you're probably totally sold on the idea of laundry sheets.
But here's one more awesome option in case two was not enough.
I happen to looooove the idea of not having to constantly haul around a container of laundry detergent and STILL get the same powerful and effective clean for my laundry.
It's the old school vibe here!
What's the Best Smelling Non-Toxic Laundry Detergent?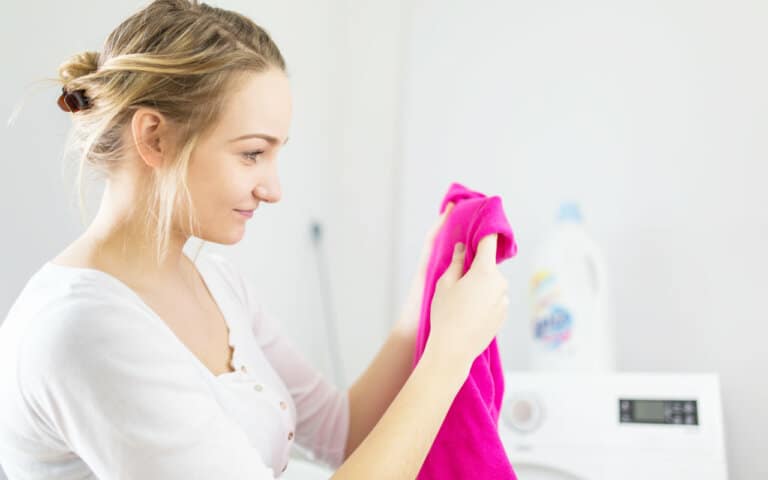 Ok, so a lot of the products listed so far are effective, safe-to-use and efficient.
But a lot of them are free of fragrance or simply leave your laundry smelling 'clean'.
What's out there for those of us (yes, I'm guilty, too) who actually want our laundry to smell like we're frolicking through a field of wildflowers BUT also want the same effectiveness of a non-toxic laundry detergent???
I've got a few options (:
11. ATTITUDE Liquid Laundry Detergent
This ATTITUDE liquid detergent is different from my top list but still gives you all the goodness of an eco-friendly, non-toxic product it's know for.
But, if you grab this bottle it will LITERALLY leave your laundry smelling like Gordon Ramsay's famous French Lemon Tart (sign me up!!)
Jokes aside, this brand has earned its way to the top as a reputable brand that creates great products with our health, and our planet, in mind.
12. ECOS Hypoallergenic Laundry Detergent
It's honestly nearly impossible to talk about safe, awesome laundry detergents without mentioning ECOS.
I loooooove this brand and just how clean my laundry comes out after a nice wash.
And that vision of ours? Of the field of wildflowers?
Yeah, the scent of Magnolia Lily from this detergent will give you that effect, haha.
13. GrabGreen 3-in-1 Laundry Detergent Pods
If you're lovin' the idea of your clothing and sheets smelling like a French bakery on an early Sunday morning, you're going to absolutely love this detergent smelling of Lavender Vanilla.
Not only is the scent oh-so-divine, it also leaves your fabrics feeling extra soft and clean.
14. Gain Botanicals Plant-Based Laundry Detergent
If you're wanting to look for a name brand but also want to keep your health in mind, this would be a great option for laundry detergent.
It's gentle on the skin and made from 65% plant-based ingredients!
The smell is irresistible and the detergent contains no dyes, phosphates or brighteners (aka bleach.)
15. Seventh Generation Concentrated Laundry Detergent
This brand deserved a second mention on the list because not only does this product leave your clothing and sheets smelling great and fresh, the brand truly prides itself in becoming a name brand in the world of non-toxic, eco-friendly laundry detergent.
Not only that, but they have a few other scents available, too!
16. Tide Purclean Plant-based, EPA, Safer Choice, Natural Laundry Detergent
Here's another product if you're looking for more name brand options.
And this laundry detergent comes in packaging that is 50% less packaging per ounce AND a neat dispenser.
17. GrabGreen Stoneworks Laundry Detergent Pods
Another awesome GrabGreen product with an immense power to clean your laundry all while leaving behind some unique scents.
From Olive Leaf to Rose Petals, there's a few options to try out to find which you like best! (psst… my favorite is the Free Rain)
18. Eucalyptus Laundry Pods by AspenClean
The smell from these laundry pods are so fresh and distinctive that everyone in my home knows when I've finished laundry because it literally fills the air with this smell.
It's infused with organic essential oils, which would explain the strong smell, contains no harsh chemicals, and has received a certified A-rating from EWG (Environmental Working Group) for being safe around your health, babies, kids and even pets.
It really goes above and beyond to put your family and health first.
19. Biokleen Laundry Detergent
This laundry detergent is definitely on the pricier side, but with good reason.
This detergent is 3x concentrated, meaning it will actually perform double the work for less.
It's got a lovely scent made from grapefruit seed and orange extracts and is 100% free of metasilicates, borax and caustics.
This means that it is basically safe to be used by those with skin sensitivities and allergies.
20. Planet A Fresh Linen Laundry Detergent Soap Sheets
I absolutely looooooove the smell of fresh linen and this laundry detergent satisfies that love.
It is super simple to use since it is just a sheet and all you literally have to do is *pop* it into your laundry machine AND is formulated especially for sensitive skin.
21. KIND Laundry Detergent Sheets
Some days, I really just want to feel like I'm floating out in the ocean on a beautiful sunny day and the salty smell is hitting me as a gentle breeze moves past me.
Those are the kinds of vibes I get when I wash my sheets with this anyway, lol.
I love how its says it can leave your mattress cover and bed sheets so soft, considering they may pretty bulky and don't worry… your sheets will smell fresh for up to 2 weeks!!
22. Clearalif Laundry Detergent Sheets
This product is honestly the best bang for your buck. Apart from being on the less expensive side, it still washes up to 160 loads AND is perfectly formulated to be safe for sensitive skin while being tough on stains (including red wine and coffee -my top 2 favorite beverages, haha!)
A Simple DIY Non Toxic Laundry Detergent You Can Try Out
There is NO WAY I can finish this post without including something DIY (I enjoy turning my kitchen into a science lab!)
Here's what you're going to need to:
Baking Soda
Washing Soda (essentially a laundry booster)
Plain, unscented Epsom Salt
Essential Oils of Choice
Measuring Cup
A Large Glass Container
Scoop
Directions: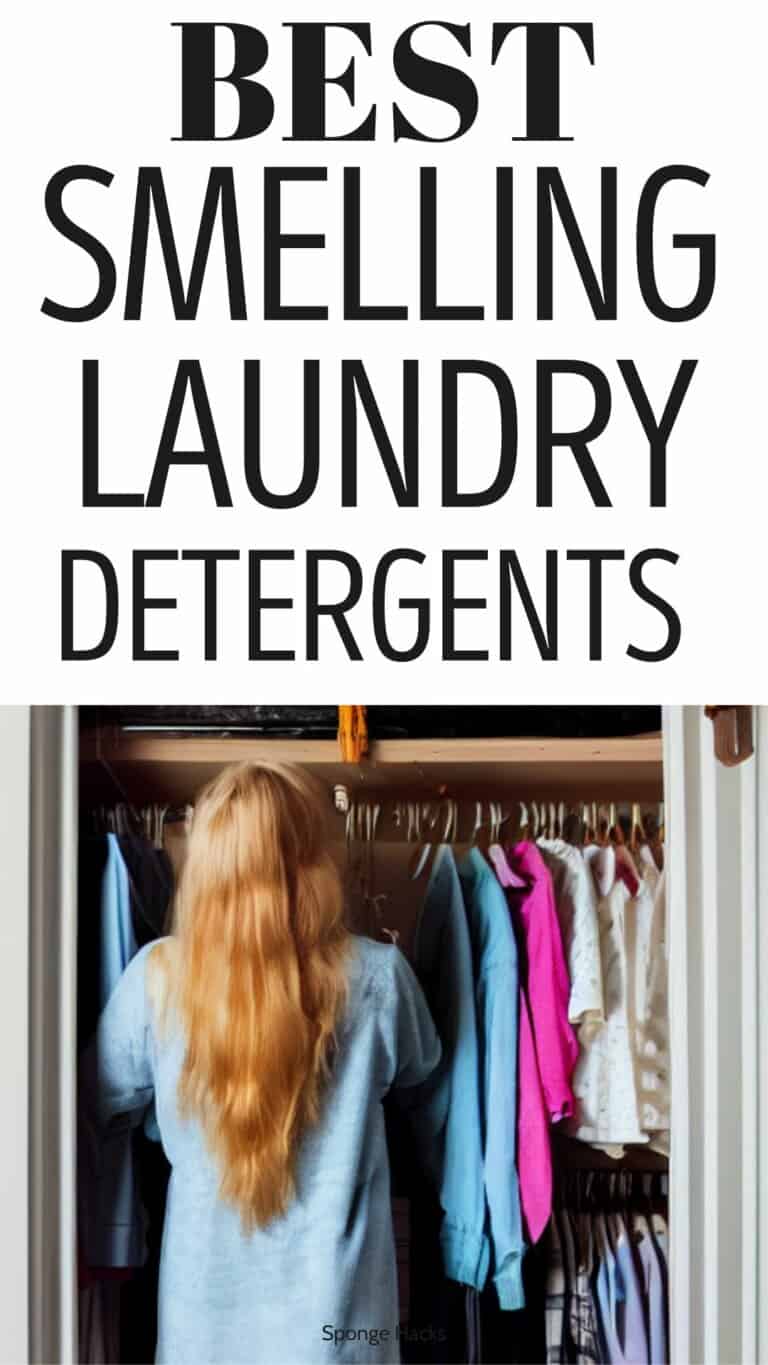 First, you start off with equal parts of Baking Soda, Washing Soda and Epsom Salt. This is dependent on the size of your container.
Add your essential oils.
Close the container and shake until thoroughly combined.
Use 1 tbsp of your mixture for regular loads and 1 ½ tbsp for larger loads.
So there you have it!
We've covered the BEST Non Toxic Laundry Detergent options out there PLUS a simple DIY you can try at home in case you're feeling ambitious, lol.
Have you used any of these laundry detergents mentioned in the list? I'd love to know what you think about it!