It's the most wonderful time of the year!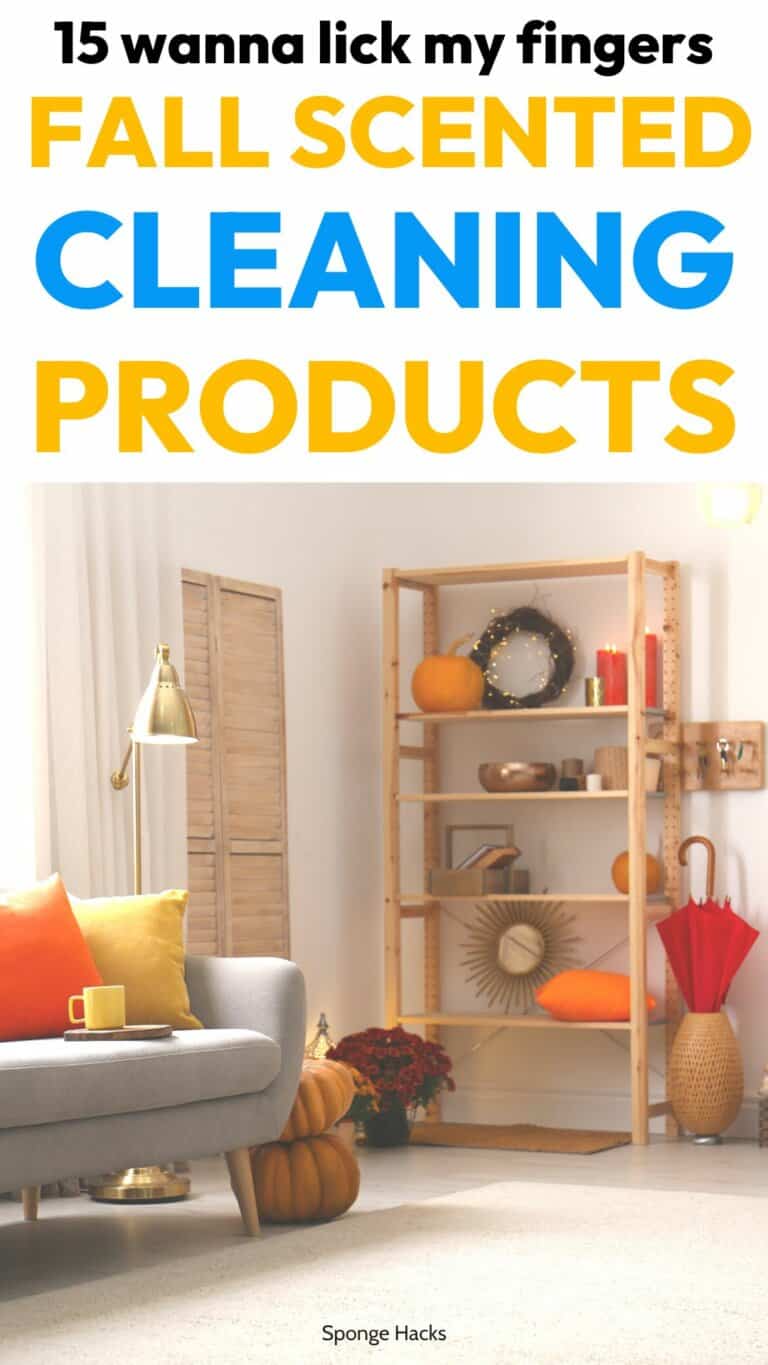 And, no, I don't mean Christmas!
It's Fall! Don't you just love when the leaves start to change color and the weather gets cooler?
I'll put on my coziest sweater and fill my house with fall scents. But, for this fall season, I thought, I can do better!
This fall, I want to ditch the harsh chemicals and go for something a little more natural and a lot more seasonal.
Drumroll……enter fall scented cleaning products! They exist for one purpose only: to put a smile on your face and make your apartment or home smell like an apple orchid or pumpkin pie!
Gimme gimme gimme!
From pumpkin spice to apple cider, these scented cleaning products will be the STAPLE…dare I say it? All. YEAR. ROUND.
And the best part? They're mostly all eco-friendly and gentle on surfaces.
So you can feel good about using them AND they'll make cleaning fun again.
Let's check out these best smelling cleaning products!
Fall and Pumpkin Spice Scented Cleaning Products
It's time for ALL of the pumpkin spice scented cleaning products you can get your hands on!
I love the smell of pumpkin spice, and it always makes me feel so cozy.
I also love how seasonal scented cleaning products make my home smell.
It's like I'm living in a fall candle!
There are so many great fall and pumpkin spice scented cleaning products on the market right now – let's check them out.
1. DIY Pumpkin Scented Cleaner
OK–
For the ULTRA eco-friendly cleaner, get a Pumpkin Pie essential oil and these cute labels – one for a vinegar bottle – and that's it.
Pour vinegar in a bottle, a squirt or two of Dawn dish soap, and a few drops of essential oil and now you have a safe and powerful cleaner.
Voila!
Pumpkin pie in a bottle.
2. Stonewall Kitchen Pumpkin Harvest Hand Soap
While this isn't Mrs Meyer Pumpkin Spice hand soap, this hand soap is a close second.
The scent isn't overpowering but you can definitely smell the nice pumpkin scent coming from your hands.
You'll want to lick your hands now!
3. Caldrea Multi-surface Countertop Spray Cleaner
This particular fall scented cleaning product comes in Gilded Balsam Birch scent.
Let me tell you – this scent is INTOXICATING!
People who come to your house will say to you, "What's that smell?"
The scent is woodsy (but not like a man's cologne), with notes of vanilla and a bit of cinnamon thrown in to give it the Fall feelsies.
4. Mrs Meyer's Apple Cider Cleaning Products
Get ready for some Mrs Meyers fall scents! I've always ADORED Meyer's cleaning products. They are eco-friendly, not tested on animals, biodegradable and all ingredients are plant-derived.
You can't get better than that!
Make sure to stock up on this limited Mrs. Meyer's fall scents – Apple Cider hand soap and the Apple Cider Clean Day Kitchen Basics pack.
This is the PERFECT seasonal product for August and September! Plus, wouldn't the bottles just look good on your kitchen countertop?
Loving it!
5. Method All-Purpose Cleaner Spray – Honeycrisp Apple Scent
Don't you just love ALL the Method cleaning supplies?
I do! And everyone else does too!
This Method Honeycrip Apple scent is one of the best smelling cleaning products around!
If you can't get a hold of this on Amazon, try Target or Walmart!
Getting a few of of these cleaner scent sprays will have you over the moon in delight!
I'm obsessed with the smell!
What's great about using Method, is when I'm done cleaning my kitchen it doesn't smell like I "just cleaned" with a harsh cleanser smell.
Instead, it's like I'm in my own spa – fresh scented with a hint of apple! Delish!
6. Mrs Meyer's Multi-Surface Cleaner in Acorn Spice
If apple or pumpkin isn't your thing, then this Acorn spice from Mrs Meyer's might be.
This will leave you intoxicated and you MUST try this for yourself!
This cleaner works well with stains, kitchen cabinets (to fight grease) and for general cleaning purposes!
7. Antibacterial Hand Soap – Pumpkin Spice
I mean – you can't go wrong with a jug full of the best cleaning scents around, can you?
Of course not!
This Pumpkin Spice hand soap smells heavenly!
Add it to your soap dispenser and use it in the kitchen and bathrooms and make your house smell yummy!
8. Fall Perfume with Poo-Pourri
I simply love this fall scents cleaning product!
If your bathroom doesn't smell good, Poo-Pourri will do the trick – now in Pumpkin spice scent!
This little bottle is extremely concentrated and you need very little as it lasts a long time.
9. Method Hardwood Floor Cleaner – Almond Fall Scent
This floor cleaner scent can be used year round – not just for the fall season!
This cleaner actually works and removes marks and stains from wood easily, and doesn't leave a yucky residue.
Plus, the scent is TO.DIE.FOR!
You just have to get a whiff of this almost fall scent!
10. Puracy Multi-Surface Cleaner Concentrate in Tea & Lemon
Okay –
This cleaner scent MAY not be fall-ish, but it's fall adjacent!
Puracy Multi-surface Cleaner Concentrate will save you money! You're not buying water, only the product!
Use your own bottles and a small amount of Puracy and clean away!
It does a fantastic job for every day general cleaning!
11. Mrs Meyer's Multi-Surface Cleaner in Orange Clove
Not only can you choose Apple Cider or Acorn for cleaning scents, but now there's Orange Clove!
This is a addicting fall scent that works like a charm!
Use it for your kitchen cleaning and around the house!
Fall Scents Air Fresheners (Plug Ins and Sprays)
Fall scented air fresheners are a great way to enjoy the seasonal smells of pumpkin, spice, and everything nice without having to bake a pie – I mean, who has time for that?
Plus, they're easy to use – just plug them in or spray them around your home and enjoy the aroma.
Best of all, they're relatively inexpensive, so you can stock up and enjoy the fall scent all season long!
Warning – these aren't actually eco-friendly so use them sparingly!
12. Febreze Air – Fresh Fall Pumpkin
Looking for a way to enjoy all the wonderful scents of fall without having to leave your home?
Then Febreze your home up and enjoy the soft-smelling pumpkin air that fills your lungs!
This fabulous air freshener utilizes the natural power of pumpkin spice to eliminate odors, leaving your home smelling fresh and inviting!
Annnnnd…Febreze also comes in Fresh-Spiced Apple scent! Yum!
13. Glade Apple Cinnamon Air Freshener Spray
Oh man! This is such an addicting smell!
Use it to air out your bathroom, spruce up your closets or just use it around your place!
You can't go wrong with Glade Apple Cinnamon spray!
14. Air Wick Scented Oil in Pumpkin Spice Plug In
Fool your friends and family when they come over!
After a short while you might hear them ask what that "lovely" or "that delicate" aroma is!
Ha! Just my have-to-have-it Pumpkin Spice Plug In!
15. Air Wick Air Freshener in Pumpkin Spice Fall Scent
Wow! This smell I tell ya….
Warm and toasty is what it is!
After you come home from work use this air freshener to warm your senses and make you go, "ah!"
They also have Apple Cinnamon in a plug-in air freshener!
Quick Ways to Make Your House Smell Like Autumn
There's nothing like the scent of fresh leaves and crisp, cool air to get you in the mood for the season.
If you're looking for ways to make your house smell like autumn (without cleaning products) here are a few ideas to get you started.
One easy way to add an autumnal scent to your home is to simmer a pot of water on the stove with some cinnamon sticks, cloves, and orange Peel.
This is by far my favorite way to get that Bath and Body Works or Pier One scent into my home!
You can also add a few drops of essential oils to really intensify the scent.
Another idea is to make your own potpourri using dried fall leaves, apples, and cranberries. Simply place everything in a bowl and let it sit out in a sunny spot for a few days – craft time!
The combination of scents will make your whole house smell like autumn.
Finally, you can use a candle! There are a bajillion fall scented candles – like this one Autumn wreath smell – you can use to create a fallish atmosphere.
Just be careful to light your candle away from flammables and to remember to blow it out after a while!
Fall Scented Cleaning Products You'll Want to Try Today!
Did I get you all excited for fall?
I hope so! I'm brimming with excitement over these fall scented cleaning products – you don't even know!
I love Method and Mrs. Meyer's and can't wait to try out all the fall cleaning scents!
Please Pin me!