I can't get enough of fall!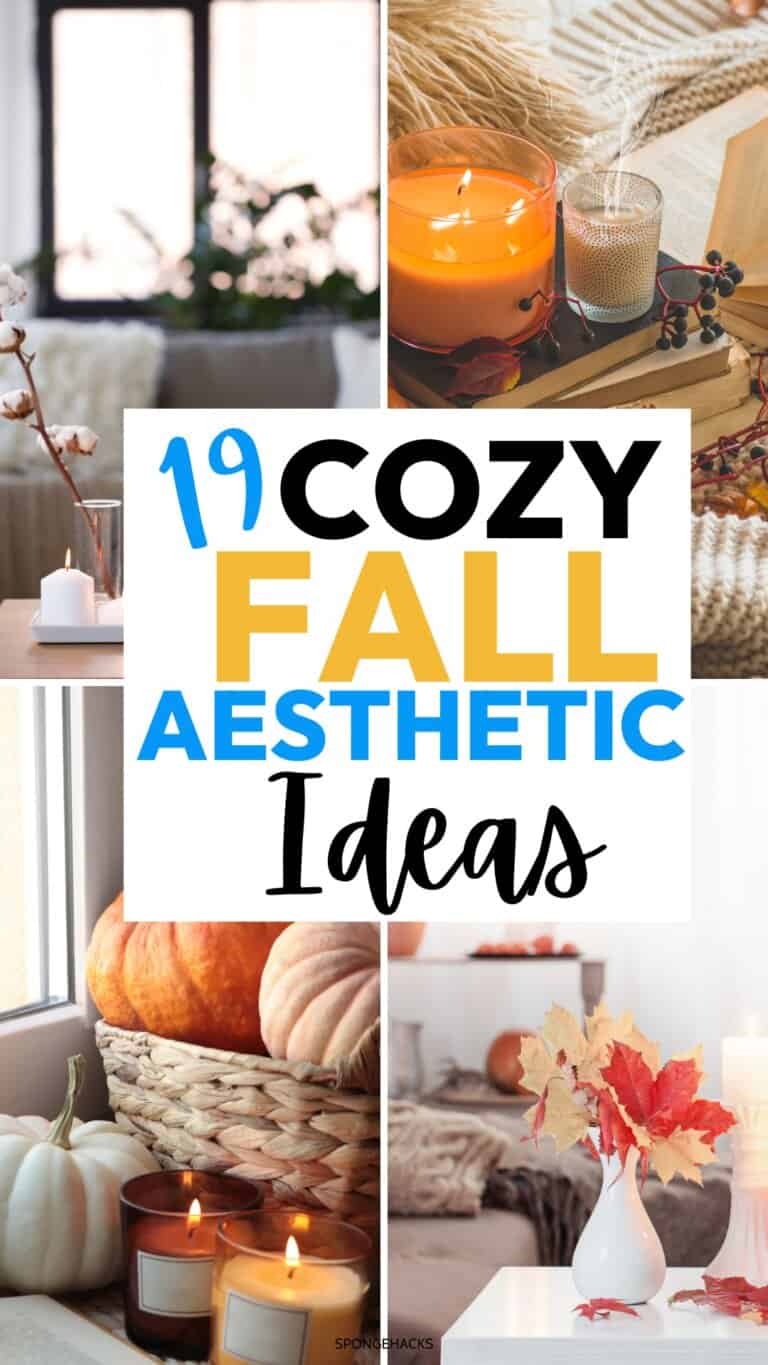 The bright oranges and yellows and the soft deep reds filling my skylines!
*Chef's kiss!
I'm all for the fall aesthetic and fall vibes happening now!
Are you?
Whether you go on Instagram, Tik Tok or Pinterest, you can't get past all the cute aesthetic ideas for autumn.
So, if you want more fall in your apartment or home, then make it happen with these ideas!
Fall Aesthetic Is Here
Let's embrace the fall aesthetic in your home!
Don't just settle for the basic blandness of the season – infuse it with your own sense of wit and creativity.
Playful throw pillows with fun fall puns, decorations that spell out cheeky phrases, and unexpected pops of color can all work to create a fall home that's all yours.
Enjoy the coziness and warmth that autumn brings, and get your decor on.
Fall Aesthetic Wallpaper
Look – Even if you're looking for some cute fall aesthetic wallpaper for your phone, I'm showing these for your home!
1. Boho Fall Wallpaper
I can't!
I'm in LOVE with this look! This peel and stick fall aesthetic wallpaper will go perfect in my home office.
I can easily swap out my spring wallpaper with this deep orange and fall scenery!
2. Fall Leaves
I'm just loving this cozy, fall leaves aesthetic look for my living room.
You can create an accent wall with this peel and stick fall wallpaper and make your room pop!
And why not make a fall aesthetic collage with these wallpapers too?
It'll definitely make the room more fall!
3. Vintage Fall
I'm OBSESSED with this vintage fall wallpaper!
Transform your living room into a whimsical wonderland this fall with vintage-inspired wallpaper!
There's no better way to bring a touch of nostalgia and warmth into your home than with a playful print that exudes an old-school charm.
So why settle for bland and boring walls when you can spice up your decor with a witty and fun statement piece? Don't be afraid to mix and match patterns and colors, because this is your chance to bring your unique style to life!
So what are you waiting for? Grab a cup of hot cocoa, snuggle up on your couch, and let the vintage magic unfold.
Dark Cozy Autumn Aesthetic
It's time to get all dark and cozy this season!
From dark romantic bedroom ideas to now some dark cozy autumn aesthetic ideas, your first apartment will be on trend for sure!
4. Chunky Blanket is IT
You can't do cozy fall aesthetic without your chunky blanket!
And there's no way to achieve that cozy vibe without a chunky blanket.
I mean, sure, you can try.
But without that chunky knit surrounding you like a warm embrace, can you really call it cozy?
I don't think so.
So go ahead, snuggle up with your chunky blanket, light some candles, and sip on some hot cocoa. It's the witty and fun way to embrace fall and all its cozy goodness.
5. Low Lights
Ready to cozy up your home this fall?
Want to create a fun and witty atmosphere that will have your guests feeling the warmth and comfort of the season?
Well, one easy way to achieve this is by incorporating low lights into your decor!
Yes, you read that right – we're talking low lighting, not bright and bold lights.
Think soft, warm, and inviting.
These fairy lights will add a relaxing and calming vibe to your living room or any space that needs a little fall aesthetic boost.
With flickering soft string lights, you'll have a space that's both inviting and charming.
6. Need the Autumn Smell Too
I absolutely love orange fall aesthetic candles!
These scents can create an ambiance and transform your home into an enchanted autumn paradise.
My favorite are pumpkin spice, apple cider, and warm cinnamon candles.
It's the perfect way to enhance your home's fall aesthetic and set the tone for some cozy nights in.
Plus, who doesn't want their home to smell like freshly baked goodies during this season? So light up those candles, snuggle into a blanket, and enjoy the magic of fall right at home.
7. Pinecones Make the Difference
When the leaves start to fall and the temperature begins to drop, you just can't help but crave a cozy autumn ambiance.
And nothing screams fall more than a roaring fire accompanied by a basket full of pinecones.
Not only is it a clever way to bring the outside in, but it also adds some rustic charm to your decor.
Plus, there's something satisfying about tossing a few extra pinecones on the fire and watching them sizzle and snap.
Get ready to sip on some hot cider, snuggle up with a good book, and bask in the warm and witty vibes of your new autumn oasis.
8. Bring Nature In
Create some fall aesthetic pictures with this set up.
Pumpkins of all shapes and sizes, brilliant autumn leaves, and even simple sticks can add that touch of rustic charm and warmth that we all crave this time of year.
It's a fun and witty way to update your space with all the colors and textures of the season, without breaking the bank.
Don't be afraid to get creative and mix and match different natural pieces to create a unique and eye-catching display.
9. Try a Lantern
Looking to add some spice to your home decor this fall?
Then try a rustic lantren!
Not only does it provide a warm and cozy glow, but there are so many possibilities for adding that perfect fall touch.
Plus, the added benefit of not having to worry about any messy candle drips. So grab your lantern and get creative! Your home will thank you for it.
10. Candles Create the Mood
Don't you just love this Pin?
The mood! Yass!
Not only do candles add to the ambiance of your space, but they also give off that warm, inviting glow that we all love.
So why not have some fun and get a little witty with your candle choices this season?
Light one up and watch as your home transforms into the ultimate fall aesthetic.
Fall Aesthetic Pictures
As the air gets crisper and the leaves start to change, there's no better time to spice up your living space with some fall flair.
Whether you prefer warm oranges and reds or deeper greens and purples, there are countless ways to incorporate autumnal touches into your home decor.
Channel your inner decorator and embrace the season with some witty and fun fall aesthetic ideas?
Get ready to spruce up your space and welcome fall with open arms!
11. Fall Front Porch
This is my front porch and this year I decided to decorate it for fall (and not for Halloween only).
I bought some fall mums and fake foam pumpkins and a leaf garland!
And when I put them all together, I have a fresh and fun fall porch idea!
My twins loved this look but really want to decorate for Halloween soon!
12. Fall Aesthetic In Kitchen
It's time to spruce up the kitchen with some autumn scenery.
A pumpkin, some dried wheat stalks, and a cozy candle can truly bring the "wow" factor to any kitchen.
Who says that the kitchen can't look as good as it smells?
With the fall aesthetic in full swing, let's embrace our inner witty and fun decorating prowess.
From pumpkin pies to spiced lattes, there's no better way to indulge your senses this fall than with a cute pumpkin, some dried wheat, and a candle. Love it!
13. Fall Aesthetic in the Bathroom
Fall is officially here and that means it's time to switch up your bathroom decor.
Creating a fall aesthetic in your bathroom is all about incorporating warm, inviting colors and playful decor.
Crochet pumpkins are the perfect addition to any bathroom looking for a little extra whimsical charm.
Combine them with fall colored towels and a lovely fall quote picture to bring the season's fun into your daily routine.
Not only will your bathroom have a new look, but it will also be the perfect escape from the chilly autumn air.
Get creative with your fall decor and embrace the new season with open arms!
14. Fall Entryway
Do you have a drop zone?
If you do, you can sprue it up with some fall decor!
Nothing screams autumn like a pop of pumpkin spice, fall-themed throw pillows, and a plant that adds some vibrancy to the cool season.
Start by adding a fun "Welcome" mat that sets the tone for the season.
Then, add a couple of pumpkins or pumpkin shaped decor accessories to your entryway.
You can never have too many, am I right?
Finally, bring in a few pops of color with fall foliage, some flowers, or a small plant.
Not only will it make you feel happy and brighten up the place, but it will also show visitors you have a very witty side.
15. Subtle Fall Living Room
You can still capture the essence of autumn with a few simple additions.
Think beyond the classic orange and yellow hues and add a pop of richness with burgundy pillows.
To truly complement your space, consider adding some deep red or burgundy fall plants.
This will add the perfect amount of warmth and sophistication to your living room.
With a few witty and fun touches, you'll have the ultimate fall living room that you'll never want to leave!
16. Fall Bedroom Aesthetic
What better way to do so than by adding some cozy orange blankets and an ottoman that screams "fall aesthetic?"
Not only will this playful combo keep you warm during those chilly fall nights, but it will also serve as a witty touch to your overall bedroom decor.
Imagine curling up with a book on that plush ottoman, wrapped in the warm embrace of those blankets, and feeling the fun energy of fall all around you. Trust us, it's a feeling worth experiencing.
Aesthetic Fall Outfits
It's time to start thinking about fall outfits that will capture the season's cozy vibe.
Whether you're in the mood for plaid pants or fuzzy sweaters, these looks are all about pairing comfortable pieces with bold accessories.
Get ready to embrace the layers and textures of autumn, while still bringing your own witty, fun personality to the table.
17. Chunky Sweater
What says "fall aesthetic" better than a chunky sweater?
These versatile tops can be dressed up or down, and they're the perfect way to stay warm and stylish through the changing seasons.
Whether you opt for a classic cable knit or a more modern oversized sweater, there's no wrong type of a good chunky sweater. Bonus points if you pair it with some witty accessories or fun statement pieces!
18. Fall Blazer
When it comes to fall fashion, nothing pulls an outfit together quite like a neutral blazer.
I love this look soo much because it's very versatile.
Whether dressed up or down, a blazer can instantly elevate your look and make you feel confident and put-together.
But who says dressing well has to be serious all the time?
Inject some wit and fun into your fall aesthetic by pairing that neutral blazer with unexpected pieces, like a graphic tee or chunky combat boots.
Add a pop of color with a bright scarf or fun statement jewelry and see how your classic blazer takes on a whole new personality.
Don't be afraid to experiment and play around – fashion is all about having fun and expressing yourself, after all.
19. Tall Boots
Try these pair of tall boots paired with cozy layers and knit accessories for fall.
Whether you prefer classic leather styles or bold printed statement boots, there is a pair of tall boots that will add the perfect touch to any outfit.
It's time to dust off your scarves, grab your pumpkin patch-ready flats, and let's step into fall with some killer boots and a smile.
Autumn Aesthetic Right Now
There ya have it!
I hope you liked these fall aesthetic ideas for your home and for your outfits!
Make sure to follow me on Pinterest for more seasonal home decor ideas, organizational and cleaning tips!