You know what's more exciting than PSL (Pumpkin Spice Latte, for the uninitiated) season?
Transforming your bleh office into a snuggly, fall-themed sanctuary. Oh yea!
It's time to think about bringing some cozy and stylish fall vibes into your office!
Whether you work in a corporate office or run your own business, a few simple changes can transform your workspace into a warm and inviting environment.
Because let's be honest, the office shouldn't just be where ambition resides; it should also feel like a cozy blanket of fabulousness.
Yass! So, let's look at none other than Pinterest fall inspired ideas for the office to get the mood going.
Fall Decor Ideas for Office
Fall is a beautiful time of year, with its warm colors and crisp air.
As the leaves change and the temperatures start to drop, ya know it's time to spruce up our homes or offices.
If you're looking for ideas, then check out these chic and stylish fall office decor ideas that are sure to impress your friends and even co-workers too.
1. Chunky Textiles Rule
This is TO DIE FOR!
A soft and plush rug doesn't just add warmth to the room, it's also the perfect spot to rest your feet when you need a break from Zoom calls.
And let's not forget about the ever-important comfy chair with an ottoman.
If your office chair and desk have become your personal torture devices, it's time to switch them up for something that's actually comfortable.
Adding soft curtains will not only give you some healthy privacy but also reduce the glare of the bright sun.
So why not add textile decor to your workspace this fall? Trust me, it will be all fun and no frump!
2. Give a Fall Makeover
Go ahead and swap out your year-round desk items for something more seasonally appropriate.
Whether you're working from home or at the office, adding some autumnal decor is the perfect way to bring a little bit of fun and personality to your workspace.
Why settle for boring when you can have witty and whimsical pumpkin decorations, mini scarecrows, and of course, some cozy candles to create the perfect ambiance?
Not only will these items make your workspace more inviting, but they'll also put a smile on your face every time you sit down to work.
3. Get Your Fall Scents On
While you might not be able to light a candle in a corporate setting (fire hazard shenanigans), you can still make your office smell like a Hallmark fall movie.
Reed diffusers with notes of cinnamon, vanilla, or apple will have your nose doing a happy dance.
If your workspace smells good, you'll feel good, and if you feel good, you'll work good—err, well. You know what I mean.
And of course, if you have a home office, this just gives you all the fall feels you need – plus, it's an easy office fall decor idea you can do.
4. Create a Cozy Section
I just LOVE this DIY fall decor idea!
All you need is:
Mini pumpkin
Faux fall leaves in a vase
5. Fill Your Office Shelves With Fall
As the leaves start to turn and the air gets cooler, it's time to spice up your home office – quite literally!
If you're looking for a way to bring some autumn charm to your workspace, why not spruce up your shelf with some witty and fun decorations?
Grab some mini pumpkins, some fairy lights, and some faux maple leaves, and voila!
In no time at all, you'll have a cozy little nook that's sure to make your workday a lot more enjoyable.
So go ahead and indulge in a little fall fun – your desk will thank you!
6. Keep It Simple
Sometimes keeping it simple works!
Use some lighthearted decor that will bring a smile to your face throughout the workday.
How about hanging a hilarious picture of spooky ghosts to celebrate Halloween?
And nothing says "fall" like a vase of bright and beautiful autumnal flowers.
This way, you can easily add some color and personality to your workspace without overwhelming it with clutter.
7. Change Out Functional for Fashionable
Switch out your regular office supplies for something more season-appropriate.
I'm talking copper paperclips, wooden pencil holders, and yes, even pumpkin-colored post-its.
Functionality can meet fabulousness, you just have to introduce them!
8. Have Fun with Your Cubicle
Look –
Working in a cramped cubicle can be depressing. With no window you are probably desparate for some nature!
Well why not create it?
With some craft paper, scrunch it up to make a tree with branches.
Glue some faux fall leaves and you got yourself a maple tree!
9. Use a Scarecrow
If your work environment usually isn't quirky and fun, well fall is the perfect season to make it fun.
Why not get a large scarecrow to have at one corner of your work station?
He can welcome your work friends and create a fun and festive fall atmosphere at work!
10. Make a Pumpkin Patch
Look at this fall office desk decor! Why not go ALL OUT with this pumpkin patch idea?
Get some bales of hay, real pumpkins, some scarecrows and baskets and there ya go!
A full-fledge pumpkin patch at work!
11. An Accent Pumpkin Makes All the Difference
I mean c'mon!
Look at this exquisite piece of fall decor for your home office!
LOVE IT!
With just ONE ceramic black pumpkin on you office desk, you can evoke spooky fall vibes.
You don't need anything else to make this work either.
No fall flowers or fall-scented candles to fairy lights!
Keep it simple and chic!
12. Light It Up
Natural light is wonderful, but not all of us have the luxury of an office with a view (or a window, for that matter).
If your lighting situation is a bit, let's say, subterranean, then string up some fairy lights around your workspace.
It adds a dreamy feel that will illuminate your area—and maybe even your brilliant ideas.
13. Use Fall-Inspired Removable Wallpaper
Why should your phone have all the fun with fall wallpapers?
Jazz up a wall with removable fall-themed wallpaper.
Use fall patterns or warm hues to transform your workspace vibe.
And if you're a bit commitment-phobic like me when it comes to decor, opt for some framed fall prints. Easy peasy pumpkin squeezy.
14. Add a Fall Wreath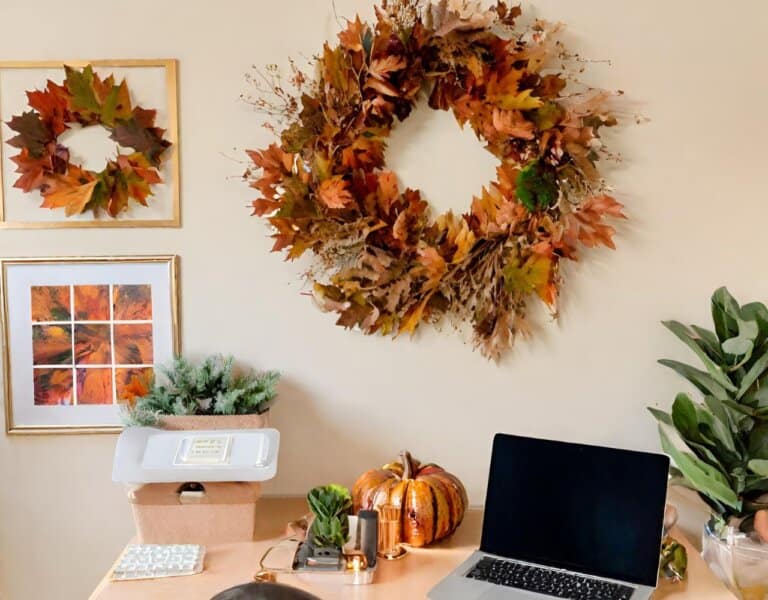 I always get a smile when I see a fall-themed wreath for the office wall or door.
Bursting with the warm colors of autumn, featuring pinecones, berries, and dried florals, it's an instant welcome every time you step into your workspace.
Heck, you might just start entering the room with a twirl!
15. Fallerize Your Bookcase
If you've got a bookshelf, it's time for a fall makeover.
Arrange your books by the colors of fall leaves for a seasonal spectrum.
Toss in some decorative baskets, cinnamon sticks, and faux fall leaves as bookends or accents. It's literary, stylish, and smells amazing!
Simple Fall Decor for Office
As September rolls in, with its cool breezes and the occasional pumpkin making a cameo at the local grocery store, many are tempted to break out the fall decor.
And why not? It's a season that's practically begging to be celebrated.
I mean that's what I'm doing! I'm bringing out all those Thanksgiving and fall wreaths out and using them EVERYWHERE!
If you're aiming to bring some of fall decor to your office, start with the basics:
foliage-inspired stationery
a rustic centerpiece for the communal table
some faux maple leaves scattered around your workspace
miniature pumpkins can serve as paperweights
earth-toned mugs can replace those summer pastels.
If you have a little corner, consider a cinnamon or vanilla-scented diffuser to bring in that nostalgic fall aroma without the fire hazard of candles.
Now, if you want your office to scream "I'm luxurious" rather than just "I love fall," here's the secret: It's all about materials and subtlety.
Opt for high-quality fabrics for any throws or cushions.
Think velvet or cashmere.
Instead of bright oranges, go for muted golds, deep burgundies, and rich chocolates for a more refined palette.
Metallic accents, especially in copper or gold, can make a space look instantly more upscale.
And here's a little golden tip: fresh flowers.
A bouquet of seasonal blooms in a stylish vase can elevate any room. Mums, anyone?
Whether you're just looking to add a touch of fall or turn your office into an autumnal luxury retreat, remember it's all about those personal touches.
After all, every leaf may be unique, but so is every workspace!
Fall Office Decor – DIY Version
If you're crafty, you may want to add some fall office DIY decor to the mix!
Try these out!
16. Leafy Luminaries
Collect some of those beautiful fallen leaves on your next walk.
Once they're dry, Mod Podge them onto mason jars. When you drop a tealight (or safer still, an LED candle) inside, you've got a cozy, glowing piece that screams fall!
17. Desk Garland
String together some acorns, dried orange slices, cinnamon sticks, and beads on a twine.
Drape this fragrant and festive garland across your desk or around your computer monitor for an instant autumnal touch.
18. Cork Pumpkins
If you've got a collection of wine corks (no judgment here!), you're in luck. Glue them together in a pumpkin shape, paint them orange, add a small twig as a stem, and voilà! A cute little desk buddy that won't die like real plants might.
19. Acorn Candles
Those acorn tops can become the base for adorable floating candles.
Melt some beeswax, pour it into the cap, and insert a small wick. Once set, you've got mini candles ready for a bowl of water on your office table.
Office Fall Decor For You!
I hope you enjoyed all these wonderful ideas for fall office decor!
I love fall and can't get enough of pumpkins, cinnamon and PSL!
For more home decor ideas, organizing and cleaning tips, follow me on Pinterest!