I love taking walks as the leaves turn to bright red and orange and see all the festive and beautiful fall wreaths.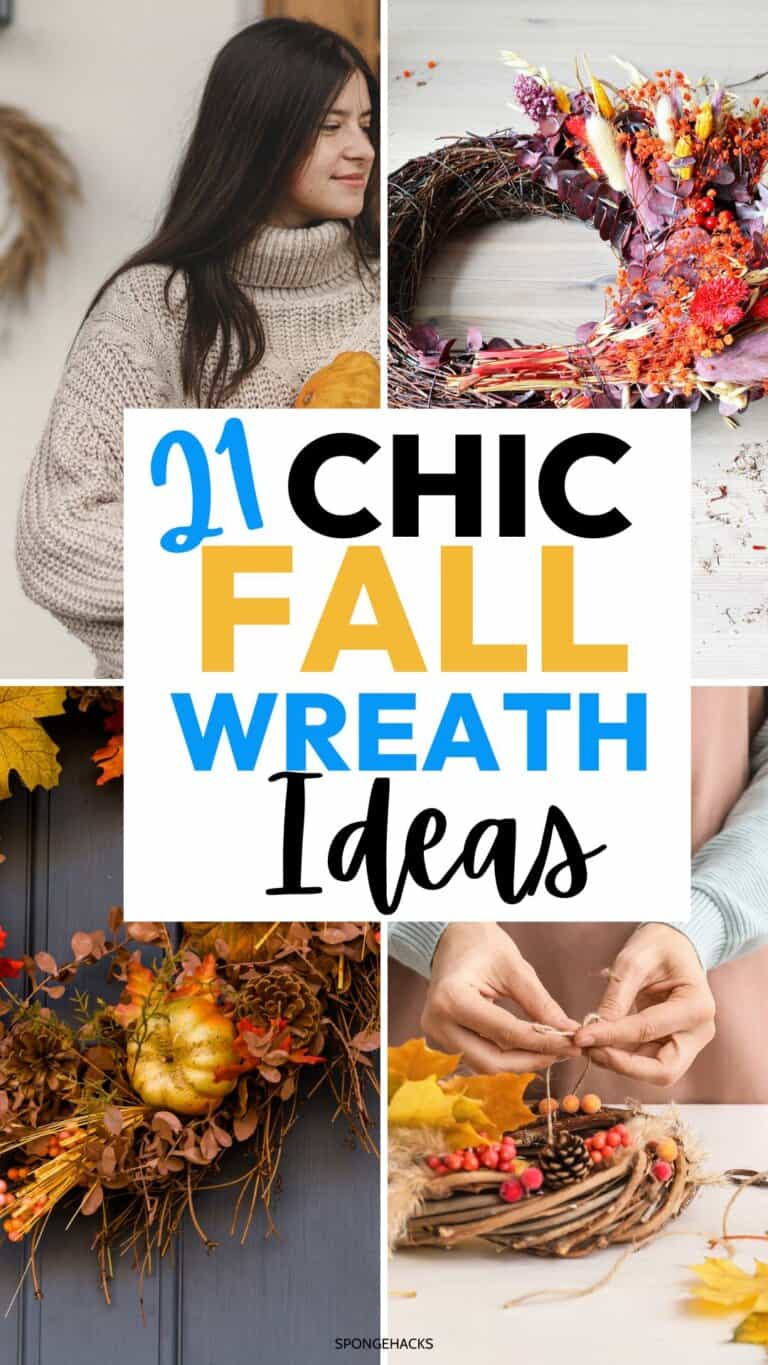 It sets the cozy vibes and rustic charm for me!
If you sit and think about how to decorate your front door with the best fall decor or you're just looking for ways to spruce up your front door or home, fall wreaths are the perfect way to embrace the changing season.
What I absolutely love about fall wreaths is their versatility!
These charming wreaths aren't just limited to one spot or style – you can easily blend them in with your own unique decor and put them wherever you want.
While your front door is the perfect place, you can hang them on your mailbox, in your entryway, or even lay them flat to create a unique centerpiece for your table.
No matter where you put one, there's no denying that a beautiful fall wreath is the ONE decor item you didn't know you needed!
So if you're ready to bring a touch of autumn into your life, here are some amazing fall wreath ideas you need to check out.
Front Door Fall Wreath Ideas
Your front door is the perfect place to display your fall wreathes. It's the very first thing that greets your guests (and you, too!) and sets the tone for your entire home's seasonal feel.
Just imagine stepping out on a crisp, golden morning, and the first thing that catches your eye is a cute fall wreath hanging on your front door.
If that doesn't scream pumpkin spice and cozy sweaters, I don't know what does!
So if you're looking for ideas for a fall door wreath, here are some that I absolutely love.
1. Farmhouse Fall Wreath
Check out this cozy farmhouse decor feel!
I LOVE this fall wreath for the front door.
This wreath is adorned with faux leaves, pumpkins, pinecones, and berries. It would definitely bring a touch of rustic charm to your door!
Recreate the look:
2. Fall Hydrangea Wreath
Welcome the autumn season with open arms using this hydrangea pumpkin wreath.
Crafted on a natural grapevine base, it features cream hydrangeas, mini florals, an array of greenery, mini berry stems, and an elegantly hand-painted cream pumpkin—a perfect way to greet your guests.
Don't you just love it?
3. Burnt Orange Outdoor Wreath
This beautiful fall wreath has burnt orange hydrangeas, wildflowers, fall berry sprigs, assorted greenery, and a pumpkin centerpiece. It's the ideal fall wreath for your front door, setting a warm and inviting tone for your outdoor space.
Recreate the look:
4. Pinecone and Maple Leaf Wreath
Isn't this perfect for Thanksgiving?
Simple yet charming, this wreath showcases the natural beauty of pinecones, maple leaves, and berries, creating a classic autumnal look that effortlessly captures the spirit of the season.
For a DIY wreath project, it's simple to put together too.
Small Fall Wreath Ideas
Sometimes, less is more, and this philosophy applies beautifully to fall wreaths.
Mini fall wreaths are soo cute and subtle, making them ideal for homes with limited space!
5. Wood Bead Sunflower Wreath
This handcrafted fall wreath is oh so chic, with a neutral-toned wood bead base that blends with your existing decor.
It's filled with a lifelike sunflower and burgundy and white floral accents, and it's the perfect rustic-chic addition to your front door.
Recreate the look:
6. Neutral Fall Wreath with Mini Pumpkins
Get your autumn on with this neutral-toned small fall wreath adorned with miniature pumpkins, artificial florals, and a whimsical grapevine twist.
Its understated simplicity captures the beauty of the season without overwhelming your space.
Recreate the look:
7. Simple Fall Wreath with Pumpkin
So gorgeous! I LOVE this look!
This minimalistic wreath is all about celebrating fall in its purest form.
With a round grapevine base, classic fall colors, and a single pumpkin focal point, it brings the essence of autumn to your doorstep in a beautifully uncomplicated way!
Recreate the look:
Large Fall Wreath Ideas
On the other end of the spectrum, we have the grandeur of large fall wreaths. These wreaths are bold, attention-grabbing, and perfect for homes with spacious entryways.
8. Forest Filler
Check out this forest-inspired wreath that's also great for Thranksgiving!
It's made with dried lotus pods, magnolia leaves, bittersweet sprigs, and Chinese lantern pods.
It's a texture and beautiful! It even has a fragrant finishing touch – sprigs of dried lavender.
Recreate the look:
9. Fall Peony and Maple Leaves Wreath
Fall has a new favorite accessory: this handmade wreath.
Packed with metallic maple leaves, it's the ultimate fall decor piece for your home or front door.
Get ready to invite the season in with open arms!
10. Mum & Sunflower Fall Wreath
Isn't this fall pumpkin wreath chic and sophisticated?
Bursting with fall-colored greenery, twigs, mustard mums, and white pumpkins, it's all about texture and dimension. Plus, there's a fit looks perfect against a black front door, so it's ready to shine.
Modern Fall Wreath Ideas
If you're all about contemporary aesthetics, don't fret—fall wreaths can be wonderfully modern too!
11. Leopard Print Pumpkin Wreath
Unleash your wild side this fall with a fierce leopard print pumpkin wreath filled with trendy leopard print pumpkins and stylish ribbon accents.
It's a modern twist on autumn decor that adds a touch of edgy flair to your front door.
Recreate the look:
12. Red Autumn Eucalyptus Wreath
Make those autumn vibes pop with a monochromatic fall wreath! Its moody burgundy hues scream sophistication, making it the perfect modern choice for fall.
Hang this simple fall wreath, and your door becomes the talk of the season.
13. Succulent Wreath
Elevate your space with the chic and low-maintenance succulent wreath.
Whether you choose real or faux succulents, this modern fall wreath effortlessly adds a touch of greenery and trendy decor to your home.
It's a favorite for those looking to bring a fresh, modern twist to traditional wreath designs!
Popular Fall Wreath Styles
Okay, now let's take a stroll through the world of popular fall wreath ideas and discover the perfect wreath that speaks to your style and adds that irresistible touch of fall magic to your home!
14. Fall Leaf Wreaths
This fall wreath is an Instagram-worthy post for sure!
Make your space instantly cozy-chic and ready for those crisp fall selfies with this fall wreath idea.
15. Fall Ribbon Wreaths
Add some fun and flair to your fall decor with a fall ribbon wreath.
Bursting with vibrant colors and playful ribbons, it's basically the emoji of fall decor. Hang it up, snap a pic for the 'gram, and let the good times roll.
Recreate the look:
16. Fall Grapevine Wreaths
I love the cool and rustic look of fall grapevine wreaths, don't you?
It's all about that natural, boho-chic vibe. The grapevines and earthy tones give your space an effortlessly stylish touch of autumn.
Recreate the look:
17. Fall Berry Wreaths
Bring a pop of autumn to your space with a fall berry wreath. These wreaths are all about celebrating nature's bounty with a burst of colorful berries.
18. Fall Eucalyptus Wreath
Fall eucalyptus wreaths add a touch of sophistication while making your space look trendy and on point.
It's like a designer piece of fall fashion for your home!
Recreate the look:
19. Unique Blue Fall Wreaths
Break free from the norm with blue fall wreaths.
These wreaths redefine fall with their cool blue hues and will show that you aren't afraid to put a fresh spin on tradition. It's the kind of decor that's as unique as you are!
20. Fall Burlap Wreath Ideas
Get that cozy, farmhouse-chic vibe with a fall burlap wreath. They're the Pinterest-perfect decor choice for those who appreciate a touch of rustic charm.
Recreate the look:
21. Fall Pumpkin Wreath
Say hello to fall in style with a fall pumpkin wreath. It's like a pumpkin spice latte for your front door, featuring an array of pumpkins that scream cozy vibes.
This fall outdoor wreath is the must-have accessory for your autumn aesthetic.
Where to Buy Fall Wreaths
Now that I've bombarded you with tons of amazing fall wreath ideas, where are you supposed to buy these beauties?
Luckily, you have several great options right at your fingertips!
Here are some places where you can buy a fall door wreath:
Online Marketplaces: The virtual world is teeming with fall wreath options, and you can't go wrong with places like Etsy, and Amazon. Find wreaths that suit your style without leaving the comfort of your home!
Local Stores: If you prefer a hands-on shopping experience, check out your local home decor stores and craft stores. As soon as the leaves even think about changing color, you know these stores will have their fall decorations on full display.
Facebook Marketplace: I bet there are a few talented individuals in your area making and selling fall wreaths. Support your local economy by checking out Facebook Marketplace for artisans in your community.
Of course, you may not want to buy a wreath online or otherwise, especially if you are looking for something truly unique.
So why not DIY a fall wreath?
How to DIY a Fall Wreath
Making your own fall wreath is a rewarding and creative endeavor that allows you to add a personal touch to your autumn decor.
If you're interested in how to make a fall wreath, here's everything you need to know:
The Perks of Going DIY
Making your own fall wreath comes with a handful of fantastic perks.
First of all, it's a fantastic way to express your individual style and creativity.
You're not limited to the mass-produced options you might find in stores – instead, you can design a wreath that perfectly suits your tastes and home!
Plus, DIYing a fall wreath can be a budget-friendly alternative.
You can often save a few bucks by sourcing materials yourself and avoiding the retail markup.
And there's something deeply satisfying about admiring a decoration you crafted with your own two hands.
Step-by-Step Guide on How to Make a Fall Wreath
Ready to dive into the DIY adventure? Let's break down the process into manageable steps:
Gather Your Materials: To begin, gather the essentials. You'll need a wreath base (either a foam or grapevine wreath works well), floral wire, wire cutters, a hot glue gun, and glue sticks. As for decorations, think about what screams "fall" to you – faux leaves, flowers, pinecones, or even miniature pumpkins.
Select Your Theme: Decide on the look and theme you want for your wreath. Whether it's rustic, minimalist, or with autumnal colors, having a clear vision will guide your design choices.
Base Layer: Start by attaching your base layer to the wreath. This could be a layer of leaves or any other material you've chosen as the foundation for your design. Use floral wire to secure it in place.
Add Accents: Next, get creative with your accents. Layer on additional elements like flowers, pinecones, or berries. Use the hot glue gun to affix them securely. Experiment with different placements until you're happy with the arrangement.
Personalize It: Add a personal touch with some customization. Consider incorporating a monogram, a seasonal greeting, or other decorative items that resonate with you.
Finishing Touches: Once you're satisfied with your creation, take a step back and admire your work. Ensure that everything is securely attached. Trim any excess wires or glue strings.
Where to Find Supplies
Now, you might be wondering where to source all these crafting goodies.
Craft stores like Michaels, Hobby Lobby, and Joann Fabrics are excellent options.
Online marketplaces such as Etsy or Amazon also offer a wide selection of wreath-making supplies.
So, there you have it!
DIYing your own fall wreath is a delightful way to embrace the season's spirit while showcasing your unique style.
Whether you opt for a traditional autumn look or put your own modern twist on it, crafting your fall wreath is a rewarding and enjoyable experience.
Happy wreath-making!
Enjoy These Fall Wreath Ideas
There is literally no better way to embrace the spirit of autumn than by adoring your home with a beautiful fall wreath.
Whether you grab one from a shop or make one on your own, fall wreaths are a must-have for Thanksgiving and beyond.
But did you know wreaths are not limited to the colder seasons?
That's right! You can enjoy wreaths in the summer months as well – check out my article here.
So if you're reading this in the spring or summer because you're just itching to put a wreath on your door, there's no need to wait until fall!
Anyway, I hope you fell in love with these wreaths as much as I did!
Make sure to follow me on Pinterest where I share home decor ideas, organizing ideas and cleaning ideas!