Have you ever been drawn to a blue sofa but skipped it because you couldn't figure out how to decorate around it?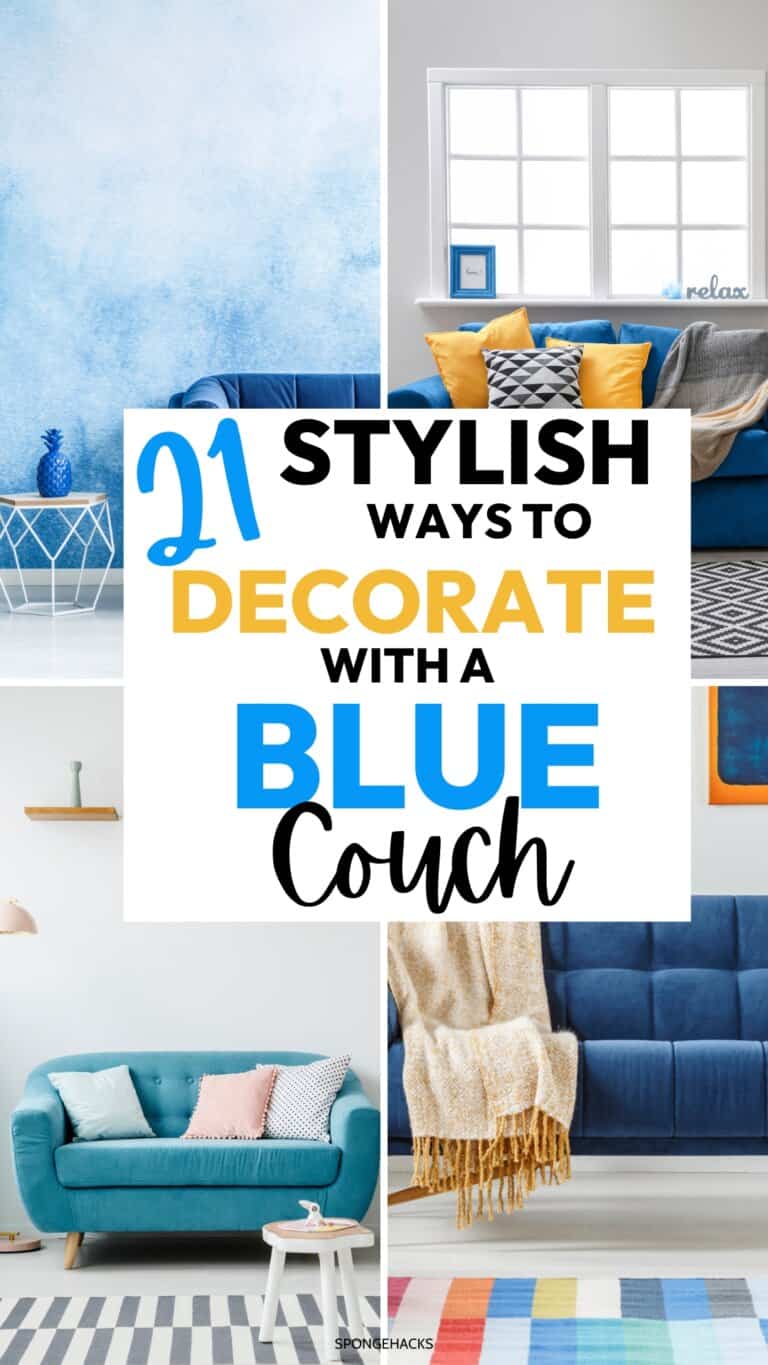 I mean it's soo bold!
Or do you have a blue sofa and want to transform your living room?
I have a love love relationship with blue sofas right now.
I've been seeing them EVERYWHERE in magazines, on Pinterest, on Tiktok and on TV shows!
So, now I'm wanting a blue sofa.
Blue sofas are super easy to decorate around, and I'll share some amazing colour schemes you can use to create a unique look.
I love the look of a blue sofa, whether it's navy blue or a softer shade because it looks so calming and interesting!
I mean, you could go with an off-white or grey sofa, but where's the fun in that?
Blue works so well with any colour scheme imaginable, and I know you'll have fun playing around with these colour schemes.
Let's get to it!
Decorating Around a Blue Sofa
Blue sofas have a certain je ne sais quoi about them, don't they?
They just scream modern and chic, like "Hey I'm gonna take your living room up a notch!" You gotta complement that vibe with the right decor and accessories.
Blue is a very popular colour and it makes sense that you would want to use it in your living room!
But there are a few things you should keep in mind when it comes to decorating around a blue sofa.
Add Texture
Decorating around a blue sofa involves more than just picking out colours.
To add depth and interest to your space, don't forget about textures!
Texture can be added to your living room in many ways, like the types of curtains you choose, blankets, pillows, and rugs.
Psst…I'll go what those items are later!
Texture can also be found in the materials you use to decorate, whether you choose wooden picture frames or metal lamp bases.
Both of which look absolutely fantastic next to a blue sofa!
Keep Your Walls Neutral
When it comes to wall colour schemes to go with a blue sofa, a good rule of thumb is to stick to neutral walls.
This doesn't mean you have to paint your walls white (unless that's part of the colour scheme you choose).
You can opt for softer shades of your favorite colours – this will allow your blue sofa to really stand out!
To bring colour into the space, use your decor and accessories.
Things like frames, rugs, pillows, and blankets are perfect for adding accent colours to your living room and complementing your blue sofa.
Think About Your Personal Style
I absolutely love blue sofas because they automatically add some colour to the room, and they are super easy to decorate around.
Which you'll see when you check out these amazing colour schemes I have for you!
That means that you can really express your personal style in your living room.
You don't have to stick to one colour scheme just because it looks "right."
You can absolutely create something unique that totally highlights the awesome person you are!
So before you grab a can of paint or start picking out curtains, really think about your personal style and the type of space you want to create.
Room Ideas and Colour Schemes to go with a Blue Sofa
One thing you should know about these room ideas and colour schemes is that you can totally decorate your living room around your blue sofa without spending tons of money!
Keep that in mind while you check out these colour schemes:
1. Gold & White
To create a luxurious look, you can use gold and white for decorating around a navy blue sofa.
The richness of a navy blue section or sofa is perfect for giving your living room an elegant feel!
Plus, gold and white are amazing colours that compliment navy blue.
To get this look, use an area rug with a pattern that includes gold and white, and add these colours to other fabric pieces in your room, like throw blankets and pillows.
You can also hang paintings in gold frames behind your sofa.
Recreate this look:
Check out your local thrift stores for some unique pieces – and if the frames aren't gold, you can always paint them!
Or take a look at buying prints that have gold and white in them, so you don't have to worry about frames.
2. Black & White
For a more contemporary and modern look, you can pair your blue sofa with bold colours like black and white.
Add in a splash of red (which is opposite from blue on the colour wheel), and your decor will really pop!
I would really only recommend this if your sofa is a bolder blue and not a softer tone. Otherwise, it could get lost in all the colour.
When it comes to decor pieces, metallic accents add some shine without going overboard on the bling factor.
You can also add some geometric patterns on pillows or with a rug and in artwork to bring some order to the room.
To recreate this look:
Clean lines and minimalistic furniture make this a great living room colour scheme to go with a blue sofa, and it works well in small spaces too.
3. Oranges, Yellows & Browns
If you want to create a natural and organic atmosphere, oranges, yellows, and browns are a beautifully warm living room colour scheme to go with a blue sofa.
You can choose how strong you want these colours to be.
For example, bolder shades of yellow, orange, and brown are the perfect colours to compliment a navy blue sofa.
On the other hand, if your sofa is a more muted shade of blue, you can opt for softer shades of these colours and incorporate earthy tones like green with a grey undertone.
To recreate this look:
If you want to add a pop of colour to your space, consider using purples to coordinate with the natural shades and compliment your blue sofa.
4. Pink & Ivory
Just because you have a blue sofa doesn't mean you can't make your space soft and feminine and a cool bachelorette pad!
When choosing pink as part of your living room colour scheme to go with a blue sofa, the colour doesn't have to be loud. A soft pink goes perfectly with any shade of blue, especially a navy blue sectional or sofa.
Use ivory as a neutral to complement the pink. It's not as bold as white and will give your room that soft and feminine feel.
To recreate this look:
However, if pink just isn't your style, you can sub it out for a soft shade of purple (which would look absolutely stunning next to your blue sofa!).
As for decor, add some flowers on top of tables or cabinets around the room to give your space a super elegant vibe.
You can use fresh flowers or create long-lasting arrangements out of fake flowers.
Think about using light fabrics for your curtains and soft plushy blankets and pillows for your sofa.
5. Blue Living Room Ideas
If you want to make a super bold statement with your blue sofa, go all out with blue!
Use varying shades of blue to decorate your living and create an amazingly contrasting look.
You can use navy blue colour schemes to go with your blue sofa.
So, if your sofa is a lighter shade of blue, use darker shades for things like curtains and accessories.
And vice-versa if you have a navy blue sofa.
By going darker or lighter than your sofa, you can create a striking and eye-catching look for your living room.
To recreate this look:
However, if you are looking for something more subtle, stick to shades that are a touch lighter or similar to your couch and add in an accent colour like purple or yellow.
If you use the accent colour sparingly, you can create a bold but not over-the-top look for your living room.
6. Blue & Grey Living Room Ideas
If you love the idea of sticking to blue tones to create a bold look, but you want to add in a subtle neutral, consider using grey!
One of the hottest trends in living room decor right now is painting your walls grey and using blue to decorate your space.
The grey will allow your blue sofa to stand on its own colour-wise without creating too much of a contrast.
To recreate this look:
Then, just like with the blue living room idea above, you can add little pops of colour like red or yellow to create some interest in the space.
Living Room Ideas With a Blue Sofa
With color schemes out of the way, let's look at some inspirational living room ideas with a blue sofa.
7. 80's Inspired Living Room
When decorating around a blue sofa with an 80's inspired living room, go for the full nostalgia vibes.
Get your mitts on an old-school telephone, grab a 70's or 80's wooden coffee table, and get that shag rug real low.
Throw some frames with iconic stars from the 80's up on the walls and unleash your inner wild child.
Oh yeah – don't forget to crank that Madonna while you're at it!
8. Funky Living Room Vibes
Spice up your living room with some funky blue sofa vibes.
Brighten up the space with a daring purple wall color and complement it with loud black and white curtains for contrast.
Add in some lovely retro lamps and an end table for a hint of vintage chic.
Then take your decor lavishness to the next level by laying down an art deco rug – one sure way to make your guests double-take!
With these decorations, you'll keep that fresh and stylish blue sofa looking "on fleek."
9. Nautical Living Room
If you're looking for a sure-fire way to bring some beachy vibes into your living room, look no further than decorating around that beautiful blue sofa with nautical inspired accents.
Whether it's a few sailor items pictures on the wall, or shiplap walls to lend a ship-shape appeal – you can transport yourself (and your guests) to the seaside in no time at all!
Don't forget about finishing touches like throw pillows and rugs with stripes, and handmade boats and seashells on the mantelpiece – dadgum, you'll be feeling like a captain of your own vessel when it's all said and done!
10. Wood and Metal Living Room
It's all about the swag – amirite?
You've got a blue sofa that you wanna swank up and good news, you've already got the perfect pieces to do it.
Embrace those exposed wood beams, use the wood mantle to display mementos with pizzazz and top it off with some glam gold metal and glass end tables.
Get ready for folks to come in and be like "yaaaaas queen" – don't forget to take a selfie when they do!
11. Sophisticated Rainbow Living Room
Move over grey and beige – it's time to go bold with a sophisticated rainbow living room!
By introducing a blue sofa into the mix, you can liven up the entire space in no time.
Anchor the look of your new abode with a rainbow rug – now that'll definitely give your guests something to talk about.
With fresh green plants draped around, you're sure to get some serious outdoorsy vibes rolling in.
Light blue accents on the couch add a peaceful yet vibrant touch that is oh so delightful.
If you want to take it up a notch, why not add some flare with heaps of Indian art pieces?
You will be hosting all your friends before you know it!
12. Accent Wall Room Idea
Decorating around a blue sofa doesn't have to be tricky – why not show it some serious love with an accent wall?
Pick something wild in your favorite shade of cool blue and make that wall the center of attention.
To really make it pop, set the mood with some citrus art and decor.
Before you know it you've got yourself a party-ready pad, equipped with a statement rug shaped like cute little squares.
And if all else fails?
Throw more blue things at the room – always works for me!
13. Showcase Pretty Art With a Blue Sofa
Adding showstopping art to your living room decor not only brightens up the space, but it also brings an air of sophistication and style.
And if you have a blue sofa, why not lean in to it?
Show off that beautiful shade with some bold and colourful artwork.
Be sure to choose pieces that stand out and make a statement – the last thing you want is for your artwork to blend in too much!
From modern abstracts featuring slashes of all different blues or a large-scale piece draped of tints of turquoise, your walls never looked better.
So go big or go home: showcase pretty art around your blue sofa and make a statement!
14. A New Traditional Living Room Idea
Turn your living area into a modern take on classic style by mixing the deep sea blues of your new sofa with unexpected white accents.
You'll have a unique – and totally Instagrammable – space with snow-white walls, curtains and blooms.
Fresh flowers will provide the perfect pop of color inside your living room while drawing attention away from the standard navy hues associated with traditional spaces.
All in all, it's a simple way to bring warmth and life to your home that won't cost a mint!
15. Try Turquoise Instead!
Not sure what to do with your blue sofa?
Well, go ahead and try turquoise instead! With a comfy turquoise couch, you get all the benefits of a blue sofa without the boringness.
Plus, there's way more fun pairing options when selecting pieces to go with it.
Spice up your living room look by adding some beige vases and add a splash of color with some beautiful turquoise art.
There's no doubt you'll have an eye-catching space that everyone will admire – so why not give it a try?
16. A Fun Apartment Living Room Idea with a Blue Couch
Small, cramped and not a lot of ways to decorate your place?
Well, you can with this combo!
With a blue couch, you can have some fun when it comes to decorating the living room.
A few blue decorative trunks sure do set the mood and will make anyone that walks into your home be wowed.
You can take it up a notch by adding some animal prints to your pillows – zebra or leopard patterns suggest a chic vibe.
And if you want to add a lively pop of nature, bring in a big fiddle-leaf fig tree and watch how your room starts to come alive!
Seriously, don't forget the fiddle-leaf fig tree, as this little addition is literally giving life to your apartment's living room…and giving any guests of yours more than enough reason to say "yeah, this place looks awesome!"
5 Perfect Decor Items to Work With Your Blue Sofa
17. Bold Colored Ottoman
I don't know if you know, but I'm totally OBESSED with the tufted ottoman.
If I could, I would have one in every room of my apartment!
Bold is beautiful when it comes to choosing an ottoman for your blue sofa, because you don't want to just blend in – you want something that stands out and makes a statement.
Whether it's a bright red circular seat or a sleek grey boxy one, having a bold ottoman with your blue sofa will ensure neither of them have to play second fiddle.
So go get yourself the most outrageous ottoman you can find, and make those blues pop!
18. White Curtains
You NEED white curtains for your blue couch living room!
It's the perfect way to add color in other places. I have white curtains for my living room, my primary bedroom and my children's rooms too!
And, I LOVE THEM!
19. Modern Artwork
Adding a few modern abstract art pieces to your room with a blue sofa is guaranteed to be a sure-fire winner.
Whether you're in the mood for some artwork that adds an edgy pop or something cool and calming, modern abstract art fits the bill.
If you want your room to look like it jumped out of the pages of a slick interior design magazine, this style of art will definitely get you there.
Perfect for making a statement without screaming at everyone who enters your place, abstract art has a quiet confidence about it that speaks volumes.
Best of all?
It will complement your blue sofa – and any other accent pieces that already live in the space – like nobody's business!
20. Accent Colored Blankets
The best thing about your living room?
Netflix and chill! Oh yea!
But you need that blanket and why not make a statement with this orange blanket against your blue sofa!
Sweet!
21. Stylish Floor Lamp
Not all floor lamps can stand up to a blue sofa.
You're gonna need something really special if you want to make it work, and that's where this little number comes in!
Check out this stylish floor lamp – it has the perfect retro vibe for any living room looking for a throwback touch – and it even rocks the perfect shade for your blue sofa, so you know it's gotta be made for your couch.
Plus, with its adjustable arm, you can point the light in any direction depending on what type of ambience you are aiming for.
It will be just like magic – your space is guaranteed to look totally awesome!
FAQs
Who knew there was so much you could learn about decorating around a blue sofa? LOL
But there's more!
Here are some frequently asked questions to help you out.
Is decorating around a navy blue sofa any different than another shade of blue?
When it comes to the colours in your room, not really.
But for things like blankets and pillows that you are using directly on your sofa, navy blue is best suited for bold colours, while lighter blue sofas look amazing with softer shades of neutrals and pastels.
What are some colours that compliment navy blue?
If you have a navy blue sofa, you have an awesome opportunity to add in some beautifully bold colours!
Some of the best colours that compliment navy blue are:
mustard yellow
cherry red
bright pink
metallic gold
What are some colour schemes to go with a light blue sofa?
Light blue sofas work well with dark green and dark grey tones and other shades that match or contrast with your sofa.
Again, soft pastels and neutrals work well here, but darker tones make a bolder statement.
What if I want to change my living room decor in the future?
This is why I think it's important that you use neutral shades on the largest area of your room, mainly the walls.
Things like curtains, rugs, pillows and other pieces of decor can easily be replaced if you decide to change the look of your living room.
And with all of these amazing colour schemes that go with a blue sofa, you won't run out of ideas!
I don't like my blue sofa anymore! What can I do?
Oh no!
Has your blue sofa worn out its welcome in your living room?
Don't worry!
You can easily change the look of your sofa without replacing it by using a sofa cover.
These slipcovers come in a variety of colours and patterns so you can really create a unique look for your living room.
Just don't forget to measure your sofa so you get the right size!
Your Living Room is Going to Look Amazing!
I hope these tips have inspired you to make your living room look awesome!
Whether you've chosen to own a blue sofa or you just got stuck with one, there are so many ways you can use this colour to create an amazing space.
Just think about your own personal style and the mood you want to create in your living room – then go for it!
This is your home and you deserve to make it a space you can relax in and enjoy.
Have fun decorating around your blue sofa!
And please follow me on Pinterest for more home decor tips, cleaning and organizing tips too!