Moving into your new apartment is one of the most exciting #homegoals accomplished.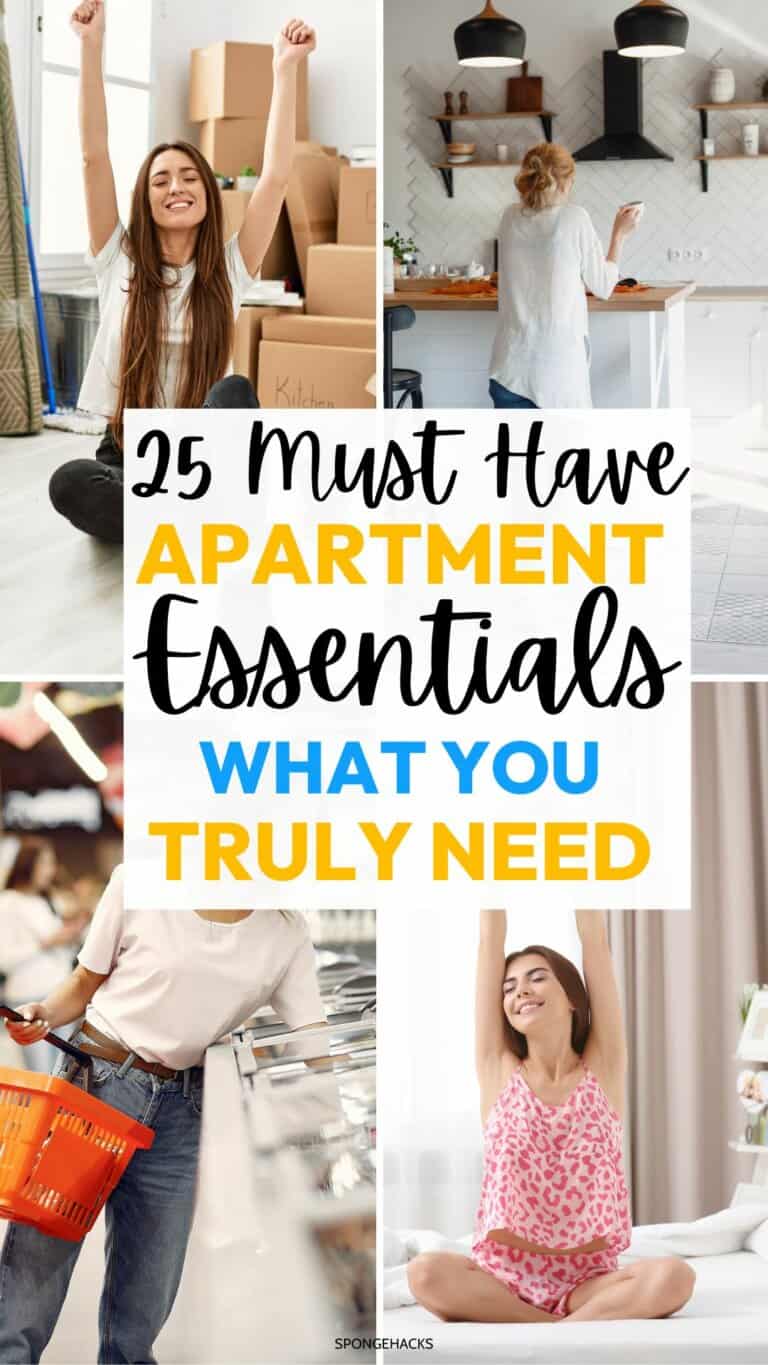 You've got the pricing within your range and you're just a short walk away from your favorite coffee shop.
You look through your checklist of what you need to buy for your new place… *Enter panic mode*
How in the world are you going to know what to get for your first EVER place?!?
Time to adult now!
I've been there…
I was really looking forward to moving into my apartment, so I had to come up with a better option than spending hundreds of dollars on a set of matching pillows for the couch WHILE still keeping the space in style with cute decorations and a cozy, yet modern apartment look to it.
My apartment was a small space, so I had to be intentional with HOW I used the space and looked for furniture that would best suit a small apartment.
Enter the apartment essentials list that is a MUST HAVE for any college student with their studio apartment or any one who is moving for the first time.
This list of essentials for moving into a new apartment is exactly what I needed when I first moved into my apartment!
Now you have it!
List of Apartment Furniture and Essentials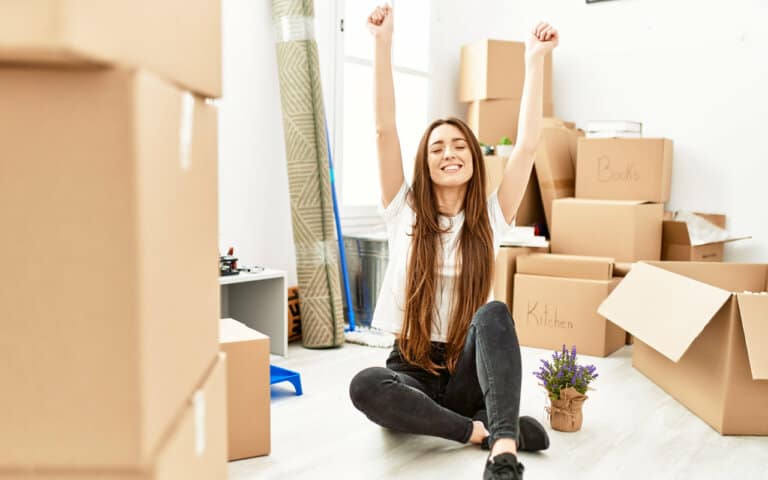 One of the biggest misconceptions about purchasing furniture for your apartment living is that it has to be BIG, BOLD & EXPENSIVE.
In comes the modernized idea of #budgetdecor.
Y'know, for those of us that have normal bank accounts that can't spend thousands on a wooden coffee table.
The idea of purchasing a matching set of pillows for the couch that cost hundreds of dollars is just not feasible nor is it realistic, especially when you've just put down 3-months worth of rent in advance in order to even move into your new apartment. #homesweethome
And it isn't just finding decorating ideas on Pinterest (no judgment here! I spend more time than needed on Pinterest, too.).
You also don't want to be purchasing something that, turns out, you don't really need at all.
One of the biggest questions I get from someone wanting a list of essentials for a new apartment at college is how to make the space seem, well, not so small.
Here are the list of apartment essentials for furniture:
1. Small Cozy Apartment Sofa
Potted plants and framed pictures can make ANY room feel like a home.
But choosing the perfect seating arrangement for you and your guests is crucial for any home, big and small (though I'm also all up for bean bags if that's what works, haha!).
2. Cute Matching Side Tables
Can we take a moment to appreciate the simplicity and convenience of side tables?
(My morning coffee can attest to that)
Not only do they serve in functionality, but they are a great opportunity to add a few more finishing touches *cough* even more house plants *cough* to your living room. 🙂
These black side tables look super chic and this pair of beautiful glass tables would help accentuate any small living space.

Maybe a small, minimalistic lamp would serve your living room well, like this simple, super cozy one that sets a low key mood.
3. Ottoman
This stylish ottoman is perfect for a small place and should be included in your apartment essentials list!
Not only is it a coffee table (when you use a tray) but you can store your throw pillows and blankets and use it for extra seating when you have friends come over! Win-win!
But, if you are eyeing a coffee table, just go for it!
Even in a small apartment living room, a coffee table can work wonders in bringing everything all together and can be a great asset when clutter is kept under control (yes, I'm quite guilty of using flat surfaces to house random objects BUT I'm working on it – the magic of minimalism).
If you're anything like me, these nesting coffee tables are a MUST!
I am in *love* with my matching set and it is so convenient to have the smaller table just nestled underneath the taller one when I don't need both. It's great for small living room spaces!
4. TV Stand
This TV stand has shelves so you can store you video game consoles, books and any other gadgets you have.
Remember, this is a small place and you want to organize your small living room so that it looks BIG.
5. Small Area Rug
If your new apartment has carpet or hardwood, then it's a good idea to get an area rug in case of spills and messes.
I absolutely LOVE this area rug. The design on it makes it easy to hide any spills!
6. Plants!
Okay, I'll admit it, I'm a total sucker for indoor plants!
I mean, not only do they beautify ANY indoor space, there are a TON of health benefits to having indoor plants too!
From reducing stress levels to improving overall air quality, indoor plants offer more than just something nice to look at.
According to this post from HealthLine,
"Indoor gardening relieves stress, boosts creativity, productivity, and focus, and promotes recovery."

HealthLine
So consider this your "go for it" post on getting that second (or fifth, haha) potted plant for your small apartment
List of Kitchen Essentials for Your First Apartment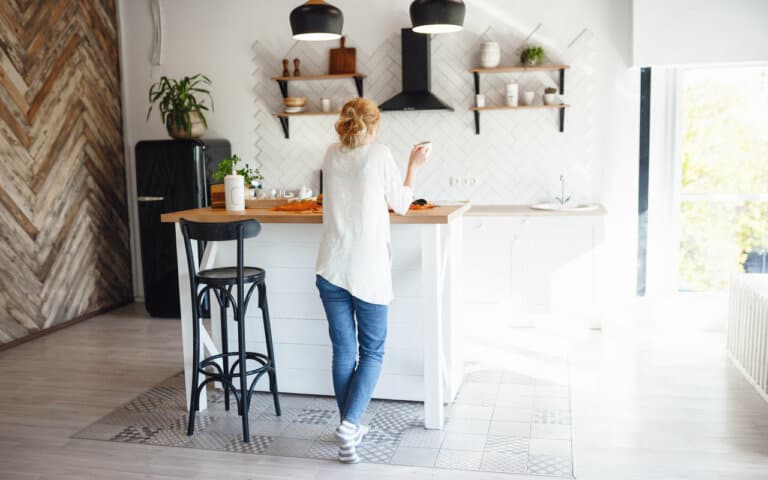 There are many essential items you need for the kitchen apartment. I'm not going to lie!
I list them all out in my first apartment checklist, but if that's too overwhelming this essentials list will only cover the MUST -HAVES.
So, let's get to it!
7. Complete Dish Set
What I LOVE about this dish set is that it comes with coffee cups (gotta have my coffee every morning!) and different sized bowls.
Also pick up some cups – these unbreakable ones are handy to have – and plastic containers for left overs.
8. Ovenware
Even if you feel you aren't going to be cooking much, it's best to get some ovenware like:
Also pick up some measuring spoons/cups for baking.
9. Pots and Pans
I really like this set because it comes with some cooking spoons like the pasta spoon and slotted spoon.
But, make sure to grab some spatulas as well for your apartment essentials list!
10. Kitchen Cleaning Supplies
Part of a complete new apartment essentials list are cleaning supplies for the kitchen.
All you really need is one all purpose cleaner and something to wash your floors. Of course, make sure you have bleach for handling raw meat and a broom to sweep up any messes (like spilt cereal).
Essentials for Your Bedroom and Bathroom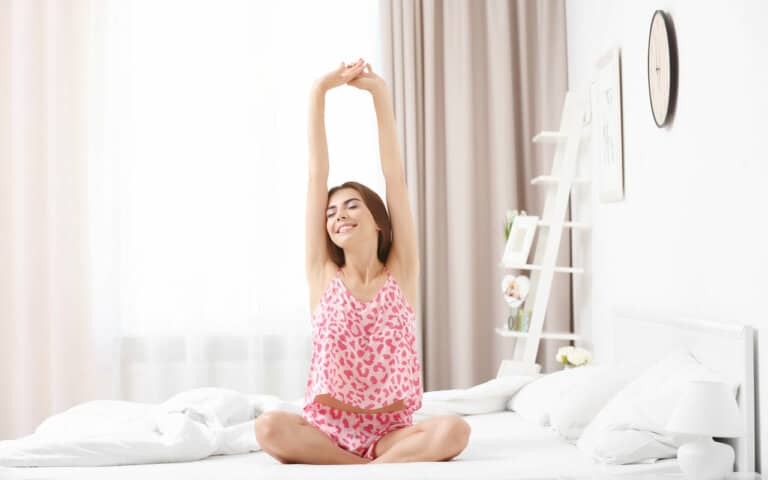 Having a 1-bedroom apartment is adulting!
You get more than one room to YOURSELF!
But, that doesn't mean you can throw your pants on the sofa or place your purse on the kitchen counter.
Nope!
You have a bedroom for those items. Organizing a small bedroom means knowing how to maximize space!
To kick this off, let's consult the household essentials list for a new apartment!
11. Mattress and Bed Frame
Hands-down the best mattress for your money is this memory foam mattress. This is perfect for college students who may have to pull an all nighter (yes, that's you!) and are tired throughout the day.
You NEED good sleep and this mattress will solve all those problems and more!
And for more adulting, get a proper bed frame! This one is simple, modern and cute!
12. A Laundry Hamper
A quick organizing tip: every item has a home and if one doesn't you make a home for it.
There's no excuse now to place worn clothes in the hamper!
13. Dresser
This dresser is perfect for dorm living too!
It's small enough for a small bedroom and closet. Use it to hold your clothes and other items like sunglasses and purses!
14. Closet Organizer
I can bet your new apartment has a small closet, right?
Most rental 1-bedrooms have a small closet or small walk-in closet!
That's okay because you can dress it up with a closet organizer.
This one has bars and cubby shelves for your sweaters or pants.
And to save MASSIVE room in your closet, opt for these special hangers that hang up to five hangers!
15. Vacuum
Don't forget to pick up a good quality vacuum.
They can be pricey but it's a good investment as they can last years!
The one I SWEAR by is the Shark Rocket Cordless Vacuum.
I show using it in my Story Pin.
Essentials for Grocery List in a New Apartment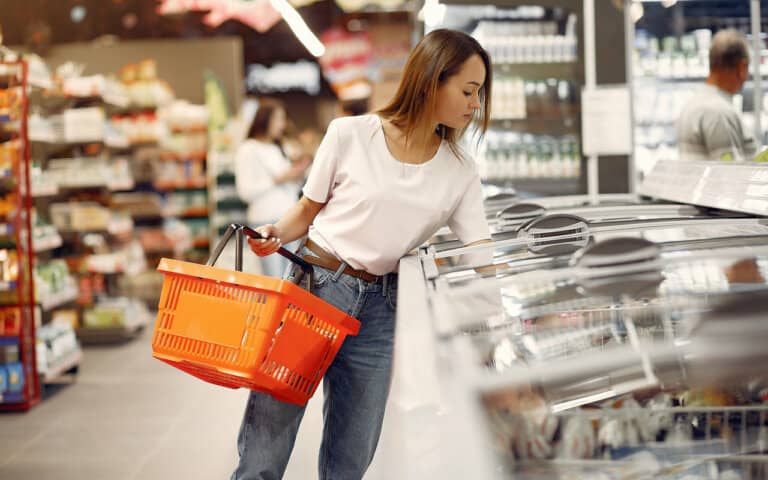 Okay!
You are closer to furnishing your new apartment! Yay!
But, wait –
You need eat now!
What is the best apartment shopping list essentials?
Or what about a list of food essentials when moving into a new apartment?
Let's get our food on and check out the MOST essential items you need for your grocery list.
16. Spices
Look –
If you don't want to splurge on spices that's okay. Get your parents to send you a care package with spices!
17. Flour and Sugar
For baking, pick up some flour and sugar to stock your pantry. You never know when you'll need these items! I also put these into air tight containers.
Flour has a tendency to get moist and sugar might clump as well.
Get some air tight containers to fix this problem!
18. Paper Towels
Don't forget paper towels, tissues and toilet paper!
Make sure to stock up on these paper products because there might be shortages (don't remind me of all the memes of the toilet paper shortage of 2020!)
19. Cases of Water
Yes, be THAT person!
Stock up on water too. With more water advisories and shortages, you can't be too prepared!
20. Bread, Eggs, Butter
BBE everyone!
The staples of food essentials!
Essentials to Put on a Wish List for Your First Apartment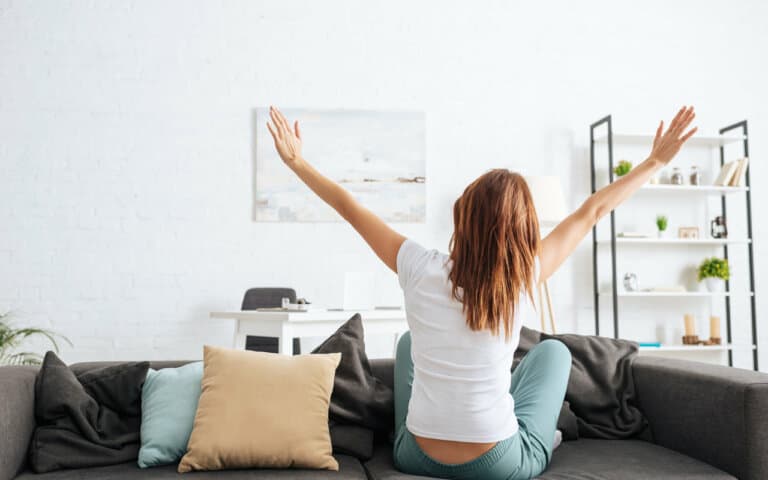 What about your wish list?
What are the things you want for your first apartment?
Let's explore some fun wishful essentials!
21. Cookbook or Two
These beginner style cookbooks are perfect for college students and those with their first apartment. This would be an awesome apartment gift to give and have!
22. Slow Cooker
Did you catch the last cookbook in my list?
A slow cooker is a GAME CHANGER.
It turns a novice cooker into a professional one that always has good tasting food!
This was at the top of my apartment wish list!
23. Set of Chef Knives
If you love to cook, wouldn't it be the BEST to get this knife set?
From Cuisinart, this set is high quality and you won't be needing to sharpen these knives that much!
They are sharp and long lasting!
24. Shower Caddy
One item you might be missing is a shower caddy. Add this to your essentials wish list for your first apartment!
I like the ones that can hold many bottles and shower sponges!
25. Keurig
I don't know about you, but I LOVE LOVE LOVE my single cup Keurig.
I use it every day and as long as you wash your Keurig regularly, it'll last years!
Your Apartment Essentials List
I hope you enjoyed this list of the must haves for your first and new apartment!
Make sure to check out my other apartment guides:
Please follow me on Pinterest!