You've just graduated from college and landed your first job!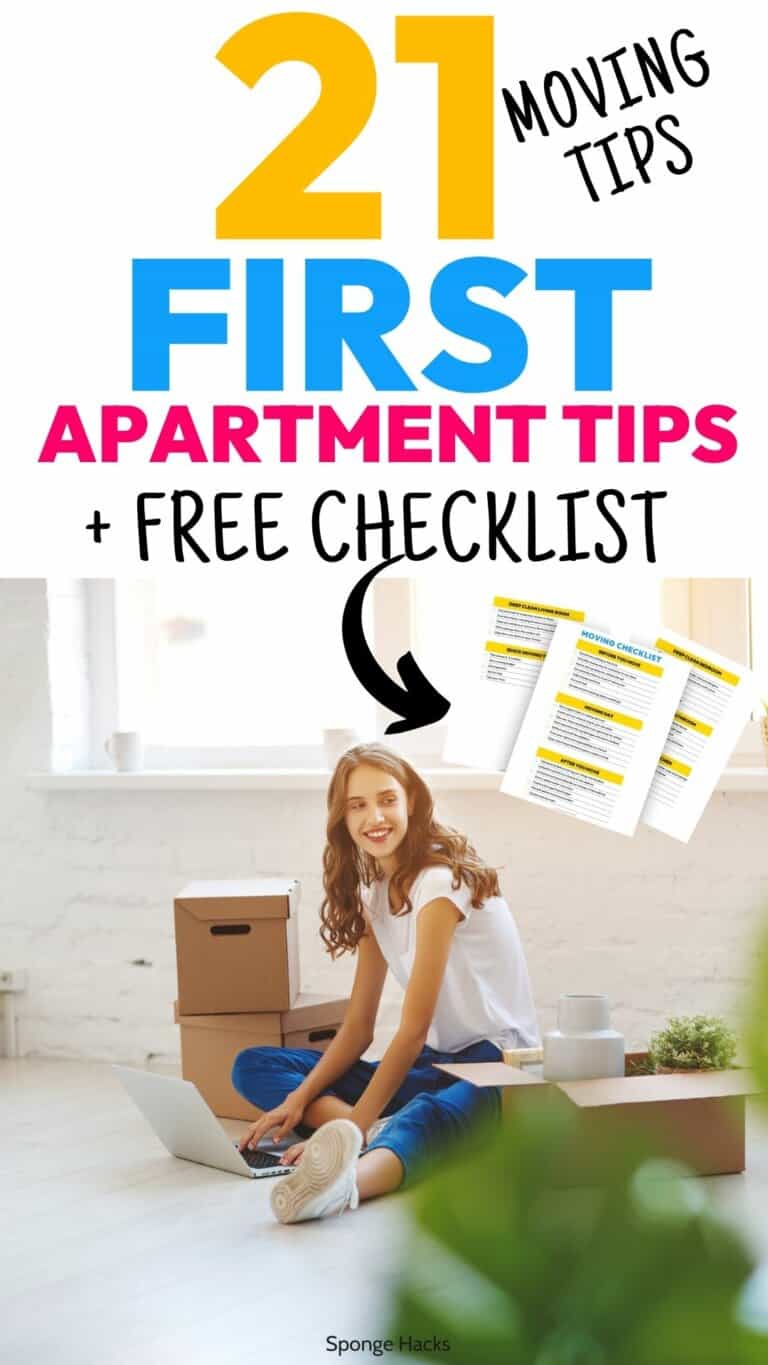 Yay! I remember when I moved into my first apartment. I just moved into a new city, and stayed with a friend while I found my first apartment as an official adult.
It was a thrilling experience for sure but there was a lot of apprehension, confusion and worry too!
You're ready to start your new life, but you don't know where to start when it comes to finding an apartment.
You've heard horror stories about people who have moved into the wrong place and ended up losing a lot of money (I also heard this!).
You definitely don't want that to happen to you when moving into your first apartment.
It's a big step! You want to make sure you're prepared for everything that comes with moving into an apartment for the first time, so don't worry! I'm here to help dish out some first apartment advice.
I've did and done that and more and well, hindsight is 20/20, right?
In this post, I want to help you before you move into your new place. I'll also give you expert tips on how to move into your apartment (so you fit everything and don't hurt yourself either), and finally, help you create a first apartment budget.
Ready?
5 First Apartment Tips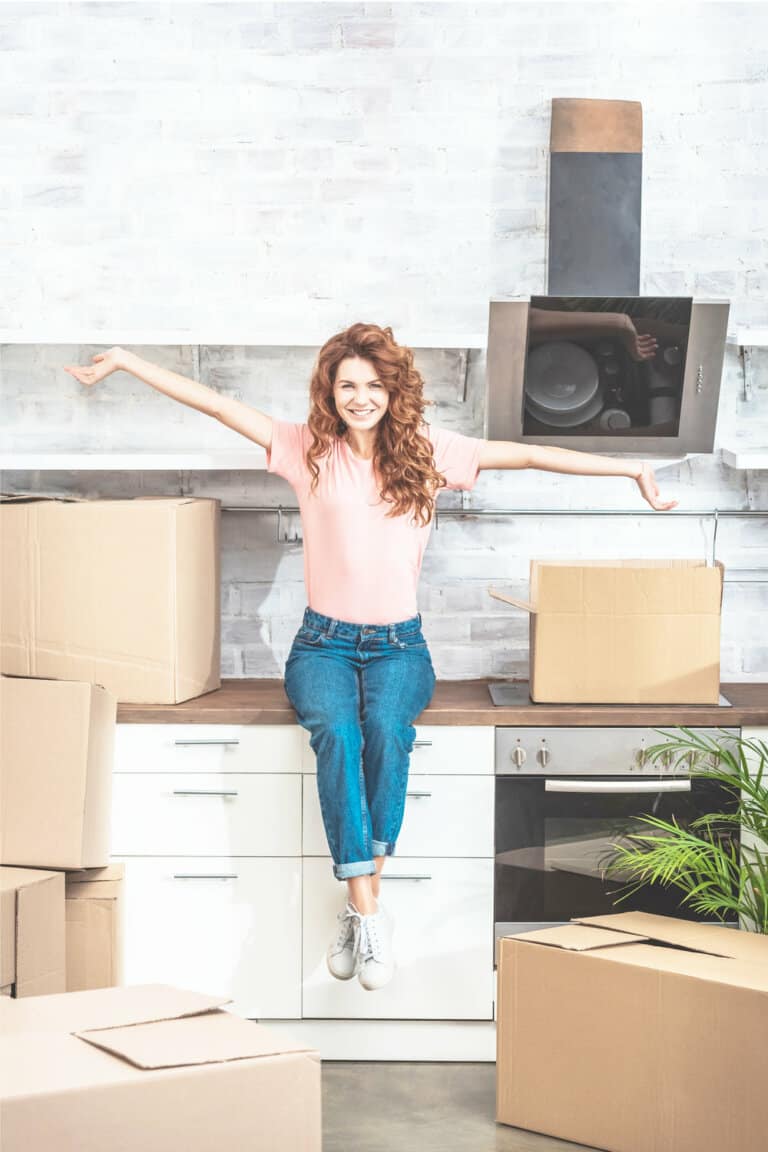 So you're about to embark on your first apartment-living experience. Maybe you're a little intimidated – after all, it's a big change from living at home or your college dorm. But don't worry, with a little bit of preparation, you can make the move a smooth transition.
Learn what to know BEFORE moving into an apartment!
1. Prepare to Move (With a Checklist!)
The most important thing you can do to prepare for your move is to have a moving checklist.
You're in luck – I have a FREE Moving Checklist for you!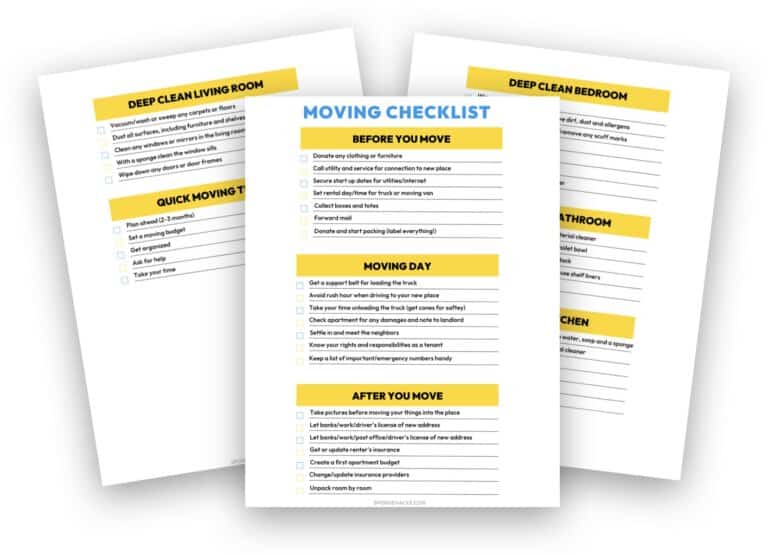 This moving checklist will help you keep track of everything that you need to do and make sure that you don't forget anything important.
My checklist will also include both big and small tasks.
For example, you'll want to remember to pack your clothes and personal belongings, but you'll also want to remember to cancel your utilities at your old place and set up new ones at your new place.
You should also start collecting boxes and packing materials well in advance of your move.
This will make packing easier and less stressful.
You can usually find free boxes at grocery stores or other businesses in your area.
Just be sure to save them for a few weeks before your move so that you have enough.
Packing can be a big job when moving into your first apartment, especially if you have a lot of stuff.
To make it easier, start packing a little bit each day.
This will help you get through the process without feeling overwhelmed.
Be sure to label all of your boxes – I love using this label maker – so that you know what's inside of them. And, when possible, try to pack heavier items in smaller boxes and lighter items in larger boxes. This will make moving day easier.
2. Find the perfect location
When you're looking for your first apartment, it's important to find a location that's safe and convenient for you.
This might be hard if you are moving into a new city. For my first apartment, I moved into a new city and had no clue which places where "good" and which ones were more transient.
What helped was talking to people, and relying on my friends who lived in the city I was moving into.
Fortunately, I found the perfect location with bus routes that I could use to get to work.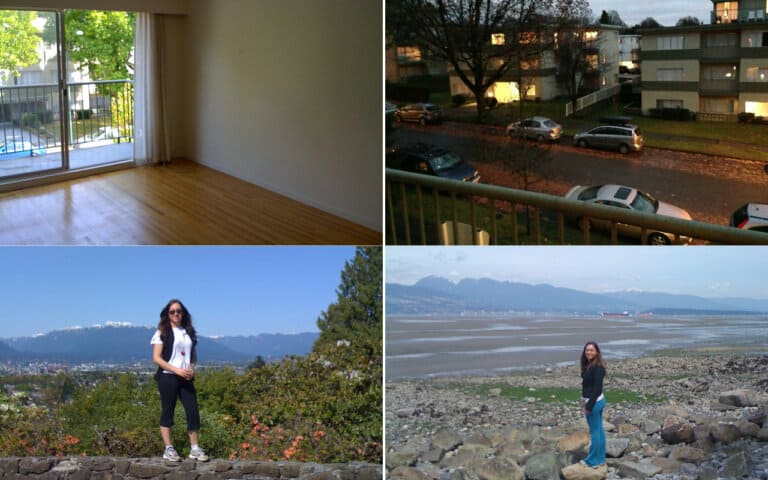 You'll want to also be close to public transportation, work, and other places that you frequent. Again, this may be difficult depending on where you are moving to.
I moved to a big city that relied heavily on public transit. It was easy to take the skytrain or busses around town, and I didn't need a car, which also meant I didn't have to pay for parking or have a parking spot as a requirement for my first apartment.
You'll also want to make sure that the area is safe and has low crime rates. You can find this information online or by talking to people who live in the area. This is important!
Every city will have areas where it isn't safe but have affordable housing. Talk to people or look at forums online!
3. Find affordable housing (in your desired location)
Look –
Sometimes you can have everything you want for your first apartment.
Sometimes to get the place you want, you need a roommate or you need to rent out a room in a house.
Finding affordable housing in a good location isn't always available.
That's okay! There are a few things that you can do to increase your chances of finding an affordable place in a good location.
First, start your search early. The sooner you start looking for an apartment, the better. This will give you more time to find a place that meets your needs and budget.
I suggest you start in May to get ahead of people moving to go to school in that area.
Second, be flexible with your move-in date.
If you're able to be flexible with when you move, you may have an easier time finding an affordable place. For example, many apartments have move-in specials during the summer months.
Finally, don't be afraid to negotiate.
If you find an apartment that you like but it's out of your price range, try negotiating with the landlord. They may be willing to lower the rent if you sign a longer lease.
This is what I did and I was able to lower my rent by $60 because I didn't need a parking spot or a storage locker.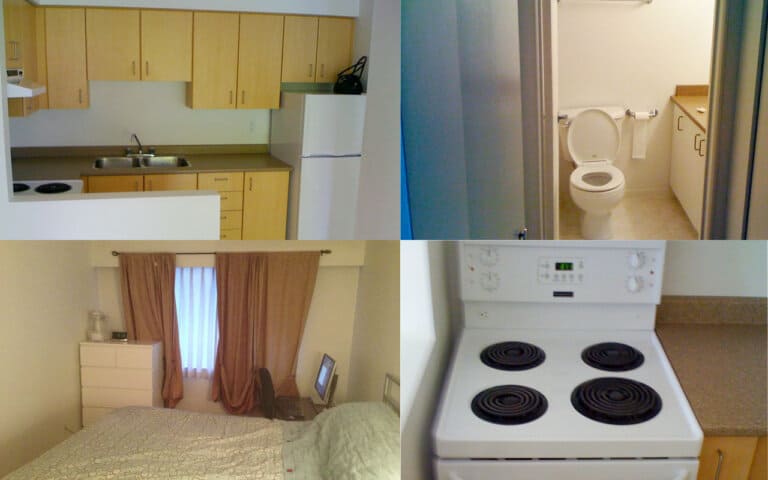 4. Utilities and connections
Once you've found your first apartment, you'll need to set up utilities and other connections.
This includes things like electricity, water, gas, internet, and cable.
Be sure to contact each company at least a week before you move so that everything is set up and ready to go when you move in.
This will help avoid any headaches or problems down the road!
5. Deep clean your new apartment
The most important thing you MUST do before moving into your first apartment is to give the entire place a deep clean!
Not just a sweep and wipe down, but a thourough deep clean for every room and space of your first apratment.
You don't know who has lived in that place before and with COVID-19, you gotta be safe.
This will help you get rid of any dirt, dust, or other allergens that may be lurking in the corners. A deep clean is also a good way to make your new place feel like home.
Here's a short list of the general cleaning you need to do for deep cleaning.
I'll also include this list in my Moving Checklist!
Bedroom
Wipe down walls with a damp cloth and a mix of bleach and water to remove dirt, dust or allergens
Scrub walls with a Magic Eraser to remove any scuff marks from prior movings
Clear the closet of anything stored in it (past tenants often leave things like old paintings, clothes or other items)
Dust the furniture (cabinets, dressers, etc) and sweep any excess dirt under them. If you have carpeting in your bedroom, be sure give it a good vacuum.
If there's carpet in the bedroom, after the vacuum, clean the carpet with the Little Green Machine. This is the perfect small carpet cleaner for apartments or small homes!
Bathroom
Disinfect all surfaces with an antibacterial cleaner
Use a toilet brush on the inside of the toilet bowl and work from back to front when cleaning so that no residue is left on the surface
Make sure to use the Fabuloso Toilet Hack to have a nice scent every time you flush the toilet.
Clean out drawers and cupboards and use shelf liners in case the wood isn't protected.
If there is a shower curtain – replace it!
Kitchen
Clean out the fridge and freezer with warm water, soap and a sponge.
Wipe down all surfaces with an antibacterial or all-purpose cleaner
Scrub the stovetop, oven, and sink until they're sparkling clean
Dust and wash any cabinets or shelving that you have in the kitchen
Sweep and mop the floor to remove any dirt or crumbs – the Tik Tok mop is small, compact and perfect for your first apartment!
Consider getting a sponge holder to keep your cleaning sponges and clothes in order.
Living room
Vacuum/wash or sweep any carpets or floors
Dust all surfaces, including furniture and shelves
Clean any windows or mirrors in the living room
With a sponge clean the window sills or balcony door tracks (a Magic Eraser works well here!)
Wipe down any doors or door frames in the living room
These are just my first apartment advice to help you get started on cleaning your new apartment.
Be sure to take the time to deep clean your new place. I spent all day cleaning my first apartment and even though it was old and had old wood floors, after I cleaned it, I felt it was my own!
And that feeling was priceless!
5 Steps to Move Into an Apartment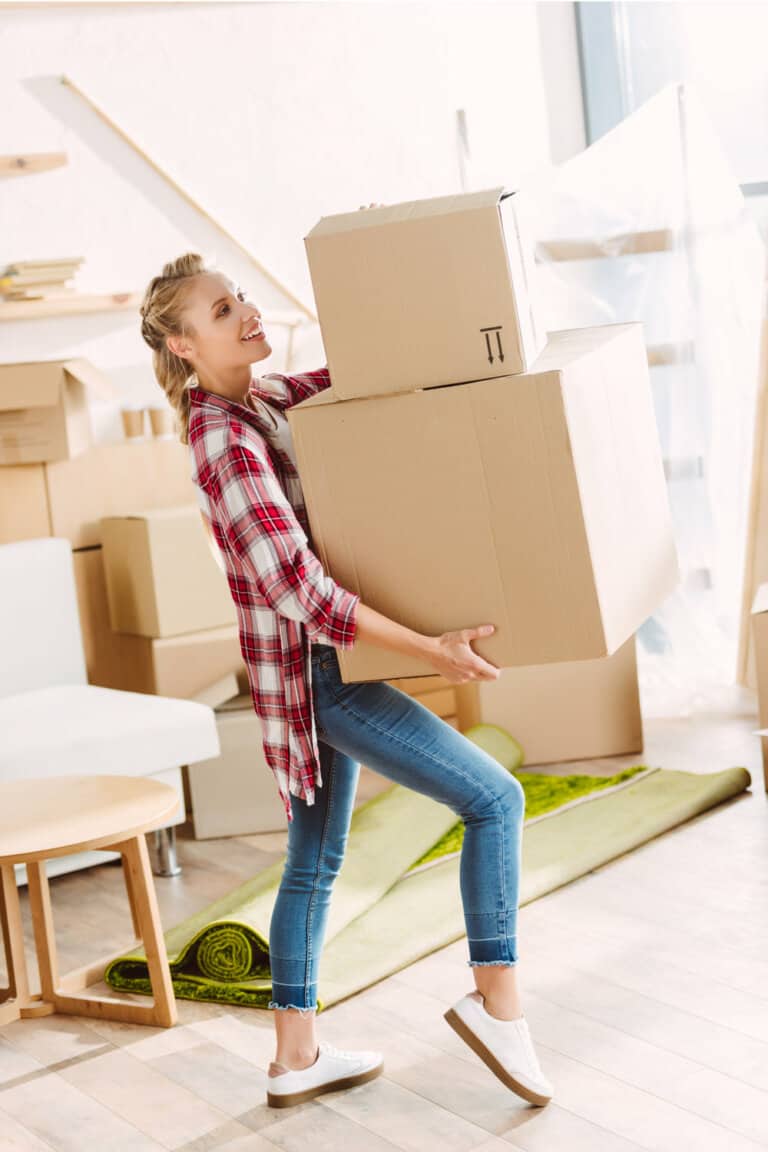 Moving into your first apartment can be a daunting experience, but with the right preparation, you can make the process go as smoothly as possible.
Here are some helpful moving tips to make the process easier.
Moving into a new city AND a new place is thrilling but scary too! I was doing this all myself (well, I had friends to help of course!) but the planning and execution was all me!
These are the five things to do BEFORE moving into an apartment.
6. Plan ahead
One of the most important piece of first apartment advice I can give you is to remember that when moving you gotta plan ahead. Expect to plan your move several months in advance.
This will give you time to save up money, shop around for apartments, buy new furniture (or source second-hand) and narrow down your list of potential places to live.
Make sure to grab the FREE Moving Checklist to help you plan your move!
7. Set a moving budget
The cost of moving to your new place can vary depending on a number of things.
For example, the cost of moving truck rental may be different depending on the size of the truck and the distance you're traveling.
In addition, the cost of hiring movers may vary depending on the number of rooms in your new apartment.
It's important to factor in all of these costs when budgeting for your move.
That said, there are a few ways to save money on your move:
Rent a smaller truck than you need. This will save you money on fuel costs.
Ask friends and family for help with loading and unloading the truck.
Pack everything yourself to save on packing supplies.
I saved a lot of money by packing everything myself. And, since I didn't have big furniture to move (only a coach and bed), my friends were able to help me move it all.
8. Get organized
The key to a successful move is organization.
Make a list of everything you need to do and when you need to do it.
This will help ensure that you don't forget anything important, and it will make the process less overwhelming.
Some things you'll need to do before moving into your apartment include:
Changing your address with the post office
Transferring utilities to your new address
Notifying your bank of your move
Collecting keys from your landlord
Getting phone numbers of the landlord and anyone else
9. Ask for help
Moving can be a lot of work, so don't be afraid to ask for help.
Friends and family can help you with tasks like packing, loading the truck, and unloading. If you're hiring movers, be sure to ask for references and read reviews before making a decision. You're letting strangers handle her personal possessions!
10. Take your time
Finally, remember to take your time when moving into your first apartment. This is a big change, and it's important to adjust to your new life at your own pace. Explore your new neighborhood, meet your neighbors, and make yourself at home.
Moving Into Your First Apartment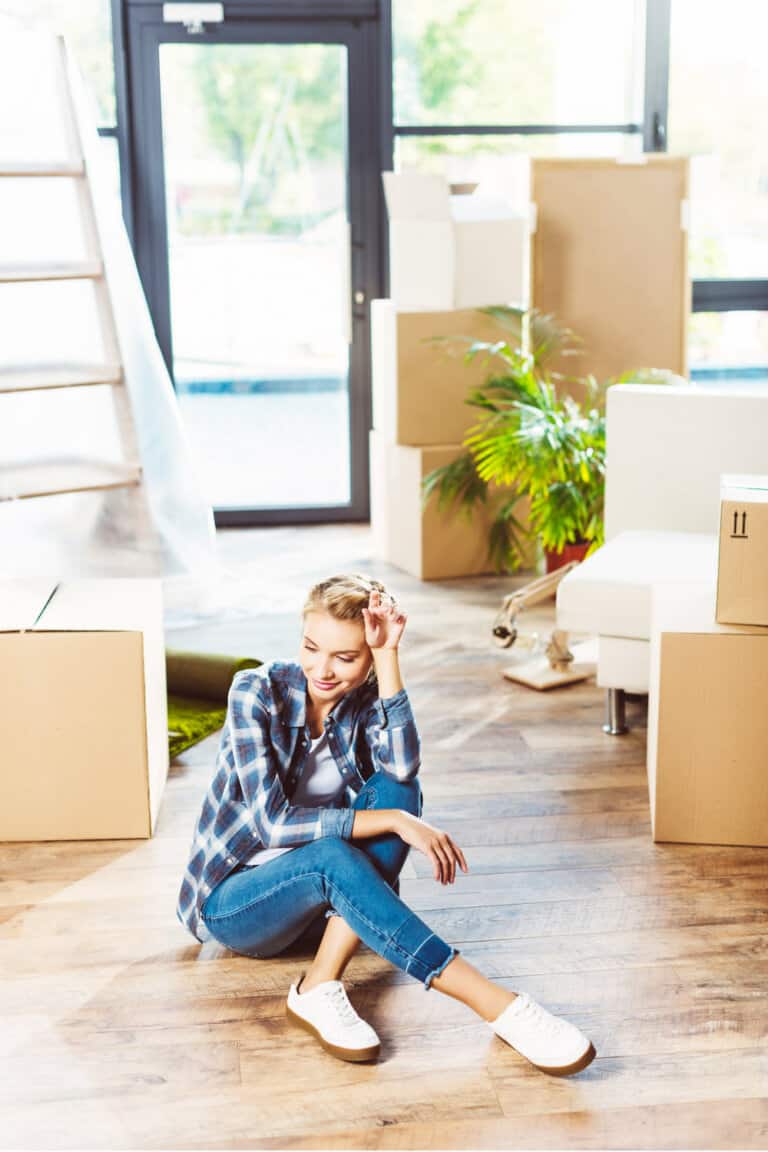 Yay! It's moving day!
It's time to move into your first apartment. This is an exciting day but it's also one of the busiest and most stressful days you'll have.
Whether you're moving across town or across the country, there's a lot to do and not a lot of time to do it.
If you're moving into your first apartment, here are some tips to help make the process easier.
11. Loading the truck
If you are loading the truck yourself or with family, its a good idea to get a back support belt.
This will help you avoid injury while lifting heavy boxes. It's also helpful to have someone else around to spot you while you're lifting.
Before loading the truck, make sure to measure the dimensions of your furniture and boxes. This will help you determine how much space you need and how to best utilize the space in the truck.
Start by loading the heaviest items first and working your way to the lighter items. This will help keep the truck balanced and prevent items from shifting during transport.
Some extra tips:
Pack a separate bag with all of the essentials you'll need on moving day: toiletries, snacks, water, etc.
Make sure all boxes are clearly labeled with your name and new address.
Use furniture pads or blankets to protect your furniture from scratches or damage.
12. Driving to your new place
When driving to your new place , be sure to allow yourself plenty of time.
If you're driving a long distance, plan for rest stops along the way. You should also avoid driving during rush hour if possible.
For my move, I was moving into a busy city so I had to do everything early morning – 6 a.m. to avoid rush hour at 9 a.m.
If you're renting a moving truck, be sure to familiarize yourself with the truck before hitting the road. This includes knowing how to properly adjust the mirrors and use the turn signals.
When parking the truck at your new place, be sure to park on level ground and use the emergency brake. You should also put out traffic cones or flares to warn other drivers of the truck.
This was something I didn't do and the landlord actually came out and told me I had to get cones! So don't forget!
13. Unloading the truck
Once you've parked the truck at your new place, its time to start unloading.
Congrats! Give yourself a pad on the back for driving the moving truck and making it to your apartment!
If you're working with family or friends, be sure to have a plan in place before starting.
For example, meeting up at the same time or having each bring something like boxcutters, workmen gloves and water!
This will help make the process go more smoothly.
Start by unloading from the front to the back.
It's also a good idea to put all of the boxes in one room so you can unpack them later.
If you have furniture, be sure to use furniture pads or blankets to protect them from scratches or damage.
14. Checking out your new place
Once everything is unloaded, its time to start exploring your new place!
You may even meet your neighbors too!
Make sure to be friendly as they could help you out in a pinch later on!
Start by checking all of the rooms and closets to make sure everything is in good condition.
Be sure to take note of any damage so you can report it to your landlord.
This is IMPORTANT! You don't want to be responsible for damage you didn't do!
If you have any questions or concerns, be sure to reach out to your landlord right away. They should be able to help you with anything you need.
15. Settle in
Now that you've moved into your first apartment, its time to start enjoying your new life.
Be sure to explore your new neighborhood, meet your neighbors, and make yourself at home.
With a little bit of planning, moving into your first apartment can be a breeze.
Here are a few extra tips:
Get to know your new neighborhood: explore, meet your neighbors, find the best places to eat, shop, and relax.
Make your apartment feel like home: personalize your space with photos, plants, and other cherished items.
Be prepared for anything: know your rights and responsibilities as a tenant, and keep a list of emergency numbers handy.
Having Your First Apartment Budget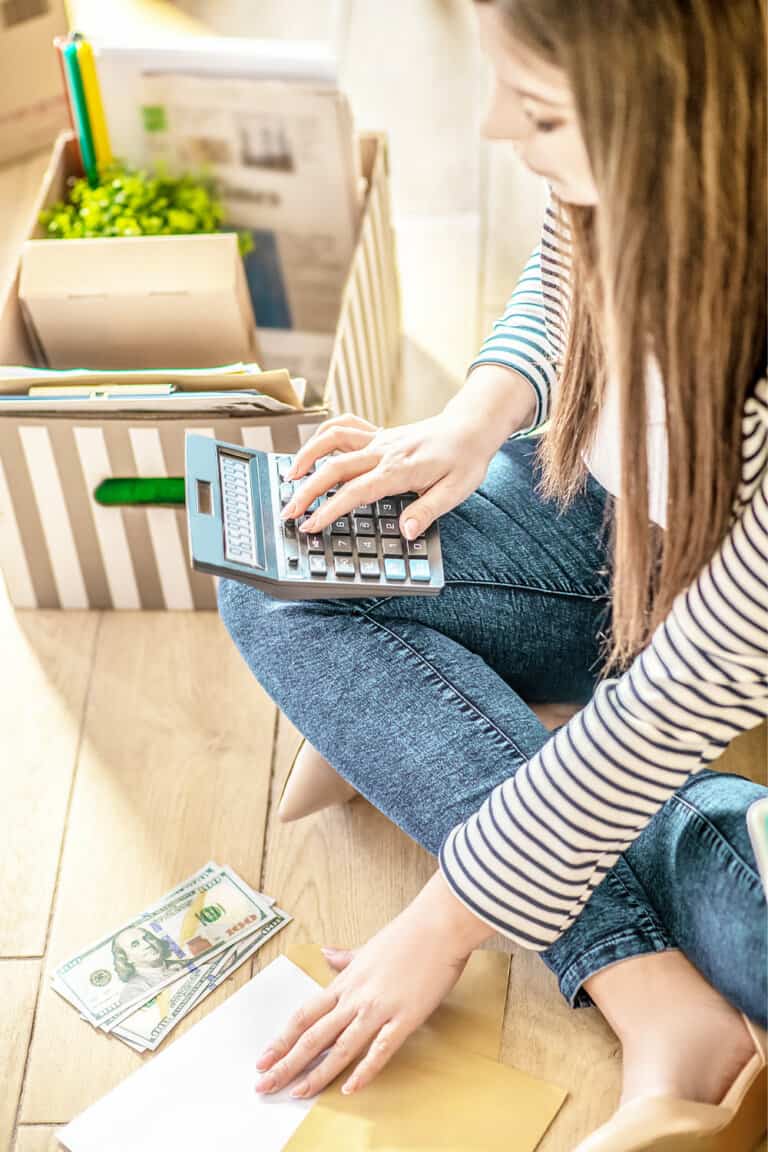 Rent is due at the first of the month, and you're already scrambling to come up with the money.
Oh no!
You've been meaning to start a budget for months, but it always seems like there's something else that needs your attention first.
This month, you decide, is the month you're finally going to get your finances in order.
To help you out here are five tips to help you create your first apartment budget.
16. Start by tracking your current expenses to get an idea of where your money is going
When tracking your current expenses, it's important to be as accurate as possible.
This means recording everything from rent and utilities to groceries and entertainment.
Once you have a good idea of where your money is going, you can start making adjustments to create a more sustainable budget.
This might include cutting back on certain expenses or finding ways to reduce your overall costs.
It's also important to be proactive about your finances.
This means setting aside money for savings and emergencies, as well as making payments on any outstanding debts.
What I did was set aside $500 in a savings account for repair funds and any other emergencies.
17. List the top 50 items you spend money on
To help you see what you spend money on, list the top things you spend money on. This might be things like food, transportation, rent, utilities, and entertainment.
Make sure to include common expenses and ones that you do frequently like hitting Starbucks for your morning drink or any online subscriptions you may have.
18. Create a budget that includes all of your monthly expenses, including rent, utilities, groceries, and transportation
Now that you have a good idea of what you spend each month and what your fixed bills are, it's time to create a monthly budget.
Once you have a your first apartment budget in place, stick to it as best you can.
This means being mindful of your spending and making adjustments when necessary.
If you find yourself struggling to stick to your budget, reach out for help from a financial advisor or counselor.
19. Make a plan to gradually increase your budget as you get more comfortable living in your apartment
After a few months of living in your first apartment, you may find that you're able to save more money than you originally thought.
When this happens, it's time to start increasing your budget.
This might mean setting aside more money for savings or investing in higher-quality furniture or appliances.
No matter what your financial situation is, there are always ways to save money when living in an apartment.
Some ways to save money include:
Cooking at home instead of eating out
Buying used furniture or secondhand items
Carpooling or using public transportation
Bundling services like internet and TV
For me I saved a lot of money cooking at home. I didn't do the bar scene or go out much and I learned a valuable skill that has carried on to cooking for my family!
20. Be sure to have some fun
Even though saving money is important, don't forget to have some fun and enjoy your new life in your first apartment. This might include going out with friends, exploring your neighborhood, or trying new things.
Saving money doesn't have to be boring. There are plenty of ways to have fun and save money at the same time. For example, you could:
Have a potluck dinner party with friends instead of going out to eat
Have a movie night at home with popcorn and snacks instead of going to the theater
Explore your city on foot or by bike instead of taking public transportation
21. Make payments on any outstanding debts
Go school debt? Car debt? Outstanding credit card balances?
If you have any outstanding debts, it's time to make payments on them as soon as possible.
This will only help you avoid late fees and interest charges, and it will also help improve your credit score.
You're an adult now and you want a clean slate so to speak.
Some ways to make payments on your debts include:
Refinancing your debt at a lower interest rate
Get a credit card with a 0% introductory APR and use it to pay off your debt
Consider doing gigs for extra money to put towards your debt
Moving Into an Apartment for the First Time
Moving into your first apartment is a big moment in your life, and with the right preparation, you can make the process a fun and memorable experience.
Because after all, at the end of a long moving day, you have your own place! Celebrate that!
Make sure to grab my free moving checklist and please pin me!
Follow me on Pinterest for cleaning tips and room essential tips.