You could always count on your mom for advice about how to clean. Nowadays though, we have TikTok cleaning hacks that will make any household chores easier.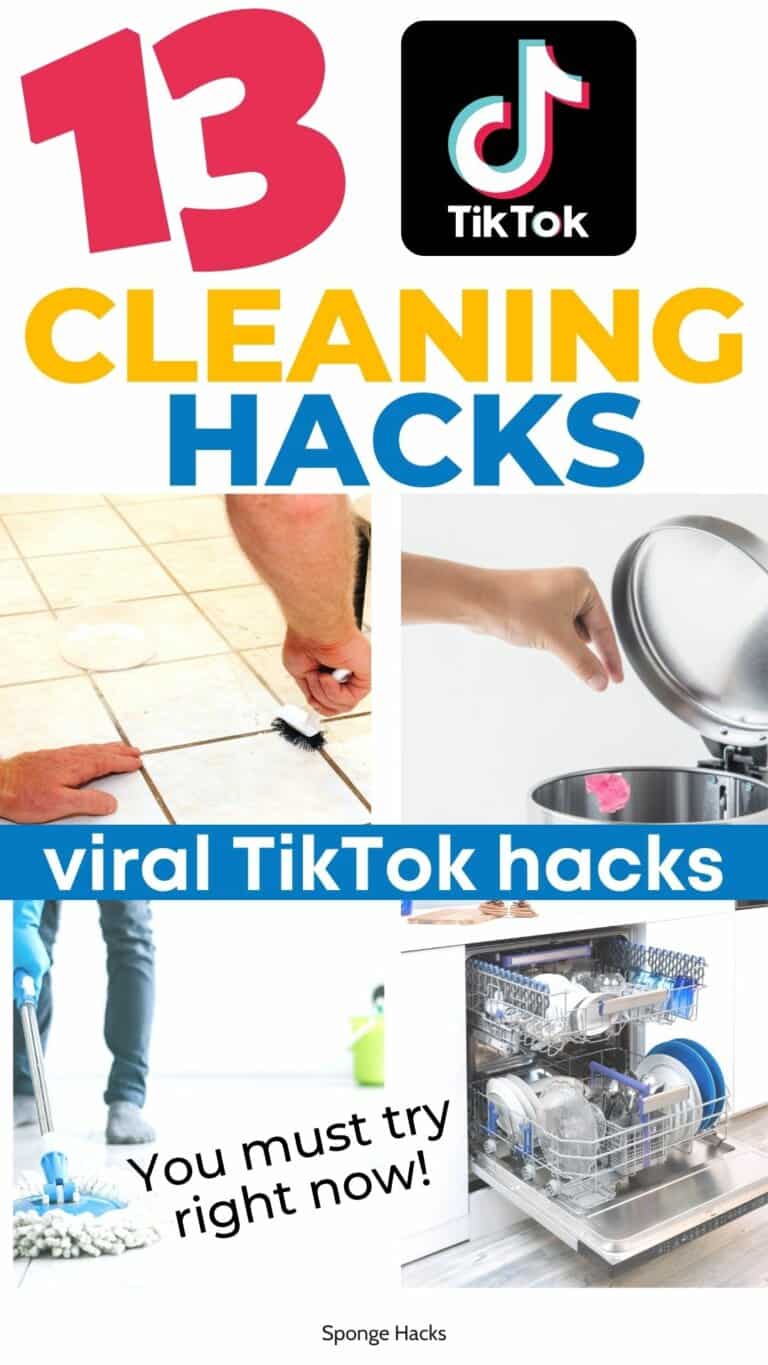 I know what you're thinking – TikTok is only for music and dancing.
Well, not anymore! You can find TikTok hacks for studying, writing, cleaning, organizing, cooking and more.
And I found out about cleantok too! (Psst…heard of the Fabuloso toilet hack? I'll share that hack in a bit)
Thousands of TikTok hacks to clean your bathroom to your kitchen to your blinds and more!
I decided to check out TikTok and I ended up finding 13 amazing cleaning hacks you MUST TRY right now!
One thing I want to note is make sure to test these TikTok cleaning hacks for yourself. Just because you see it on TikTok doesn't mean it will work. I did my best to try all of these but your experience might be different from mine!
Get ready to try some easy TikTok cleaning hacks!
13 Viral TikTok Cleaning Hacks
Cleaning is never fun. But it's especially daunting when you don't know where to start.
And that's where these amazing TikTok cleaning hacks come in handy!
These TikTok hacks will make cleaning so much easier – and dare I say, even fun?
So check them out and get started on your spring cleaning today!
If you like any of the TikTok cleaning hacks, just click on the image to get the supplies you need!
1. Fabuloso Toilet Hack
There are many Fabuloso hacks on TikTok but the Fabuloso toilet hack by far has to be the most viral TikTok cleaning hack there is!
There are 562 million views on this toilet hack – that's brilliant!
All you need is the Ocean Paradise scent of Fabuloso and a knife!
Just cut a slit in the bottom of the bottle (in the front) and place the bottle in your toilet bowl in the corner.
Now, whenever you flush the toilet, a little bit of Fabuloso leaks out and gives you a nice Ocean Paradise scent in your bathroom – even 6 days later!
2. A Simple Trick to Eliminate Dust
Out of all the TikTok cleaning hacks, this ONE I COULDN'T BELIEVE!
I always use a duster to dust my furniture but I recently learned that I'm just sending dust into the air and that dusters just MOVE dust around, not eliminate dust all together!
One area of the house where I have a hard time dusting are my Venetian blinds.
The more I tried to jam my duster in between the slits, the more damage I ended up doing to my blinds!
Well, here comes TikTok to the rescue!
A simple trick to eliminate dust is to wrap your tongs with socks!
LIFE CHANGING!
Now I can easily dust my blinds with this unusual dusting hack!
3. TikTok Grout Cleaner
I couldn't believe the before and after of using this simple recipe for a grout cleaner.
No wonder this is a viral TikTok cleaning hack!
Take:
Pour some baking soda onto your grount and then drizzle peroxide on it until it bubbles.
Here comes the fun part – get a cleaning toothbrush and scrub the grout for a few minutes.
Wipe away with a microfiber cloth and you'll be AMAZED by how clean and lighter your kitchen floor grout is.
One thing to note is if you have a dog, just make sure they aren't around or licking that area for a while. The peroxide will make your dog sick!
4. Freshen Up Your Trashcan
We keep our trashcan in the kitchen by the oven. It's not under the sink or hidden, but that means we can smell the trash if it accumulates over a few days.
Not a nice smell to have in the kitchen, especially if you already have a dirty kitchen you need to clean!
Well, I saw on TikTok an unbelievable cleaning hack and it totally works!
Take the Lysol click gel toilet bowl cleaner, and use one for your trashcan!
GENIUS!
Simply stamp it to the inside of your trashcan, then add your trash bag and I tell you, even after four days I can smell the Lysol gel!
5. TikTok Carpet Cleaner
I just love "cleaning TikTok!"
Every product I purchase because of TikTok has been fabulous and suddenly necessary to clean!
And this Bissell Little Green Machine is EVERYWHERE on TikTok.
It is the TikTok carpet cleaner!
It removes spots not only from carpet, but from car seats, couches, mattress and so much more.
The Bissell Little Green Machine is one of the top ten best-selling carpet cleaning machine of ALL TIME! You won't be dissapointed!
6. DIY All Purpose Cleaner
I love my Dawn dish spray, but the refills can be a little expensive. But I saw on TikTok how I can save money by using the empty Dawn dish spray bottle and making my own cleaner.
All you need is:
An empty Dawn dish spray bottle
Water
Dish soap
Fill the empty spray bottle with water about 3/4 full.
Then put in some Fabulouso – about a 1/4 cup full.
As an addition you can also add a bit of rubbing alcohol.
Add a generous squirt of Dawn dish soap.
Close it up and give it a gentle shake. Use as a multi-purpose cleaning spray!
7. TikTok Air Freshener Hack
I love DIY crafts and DIY projects! And this TikTok air freshener hack is easy and cheap to make – and smells good too!
You can place this deodorizer in closets, your laundry room or under the sink (if that's where you keep your trashcan).
All you need are three things:
Place one cup of rice into the mason jar and 10 drops of essential oil. Place the lid on and give it a little shake.
That's it! This sent lasts weeks and if you notice the scent fading, just add a few more essential oil drops!
Give it a try!
8. Get Your Dishwasher Sparkling Clean
When we moved into our house we had to get a new dishwasher.
Well, a few months later I noticed it was starting to get grimy around the sides.
I made sure to wash all that suff out and clean the drain from all the guck and food and decided to use this TikTok cleaning hack I saw the other day.
This cleaning hack will make your dishwasher sparkling clean.
All you need is to put a bowl full of vinegar on the top rack of your dishwasher.
You then set your dishwasher to sanitize and a few hours later you have a sparkling clean dishwasher!
I've also used this trick WITH a full dishwasher and ran it on my regular cycle to wash dishes and that worked great too!
For more help, check out my kitchen cleaning supplies list here!
9. Make Cleaning Easy with the TikTok Mop
Have you seen the TikTok mop?
When I got my hands on this mop, I feel in love INSTANTLY!
The O-Cedar microfiber mop is self-ringing, and does such a good job cleaning my floors.
It doesn't make the floor too wet and doesn't leave streaks or water marks once everything is dried!
It's perfect!
10. TikTok Shower Cleaner
Have you seen this TikTok shower cleaner hack?
Not only is this on TikTok but it's all over Youtube now!
The trick to make this actually work is to get THE RIGHT soap dispenser brush.
If you don't get the right one, this won't really work that well.
Fill the soap brush with a few squirts of dish soap and then pour some vinegar to fill the bottle.
Place it in the shower and use it once a week or more often (I found doing it every three days works WONDERFULLY!).
I actually use it while I TAKE a shower! Oh yes, multi-tasker mom here!
Some people say it doesn't work and it could be because of the wrong soap dispenser brush OR they have very hard water where they live and dish soap isn't going to cut it!
In that case, fill it with Fabuloso! 🙂
11. TikTok Lint Roller
This TikTok lint roller is satisfyingly good!
This cleaning tool removes lint from furniture without damaging it and even brushes your pet's hair all in one!
What's awesome about this TikTok lint roller is that it beats having to lift a heavy vacuum to clean the car seats or your living room coaches or to other areas of your house.
Now you just carry this little tool around and it does a way better job than any vacuum can with removing hair and lint.
What are you waiting for? Grab this portable lint roller!
12. TikTok Hat Cleaning Hack
Got stinky hats?
Don't want to wash them in the washing machine for fear of ruining them?
Well, TikTok has got you covered.
Here's a TikTok hat cleaning hack that's gone quickly viral.
All you do is fill your sink or laundry tub with hot water and mix in:
Dish soap
Liquid laundry detergent
Powdered laundry detergent
Stir this up and add the hats. Let them soak a good 20-30 minutes.
Remove and squeeze out excess water and hang to dry.
Doing this removes the sweat and stains from hats.
Give it a try!
13. 20-Second Soap Scrum Cleaning Hack
With twins and a husband (and only one bathroom) our bathtub gets its fair share of use.
In a week, I already see soap scrum build up on the bathtub ring.
And with that problem, you know where I'll go – to the depths of TikTok!
Yes, and TikTok never fails me. I found this amazing 20-second cleaning hack that actually works for soap scrum on non-slip bathtub floors!
You just need the Scrub Daddy PowerPaste and the Scrub Daddy Eraser Sponge.
That's it!
Add some PowerPaste to the eraser sponge and scrub for 20-seconds and watch the scrum disappear and a white tub appear!
Using this TikTok cleaning hack with the TikTok shower cleaner hack is the perfect combination to a clean tub with minimal effort!
Viral TikTok Cleaning Hacks That Actually Work
Cleaning your home can be a boring task, but it doesn't have to be.
These 13 viral TikTok cleaning hacks will help you get the job done quickly and easily – and they actually work!
My favorite by far is the Fabuloso toilet hack though!
What's your favorite?
From using tongs to clean your blinds to using a toilet bowel gel clip to deodorize your trashcan, these tricks are sure to make your cleaning job much easier.
So what are you waiting for? Give them a try!
Please remember to Pin me!