So, whenever I go down the cleaning isle, I don't know about you, but most of the smells that emerge are gross, yucky and just not pretty.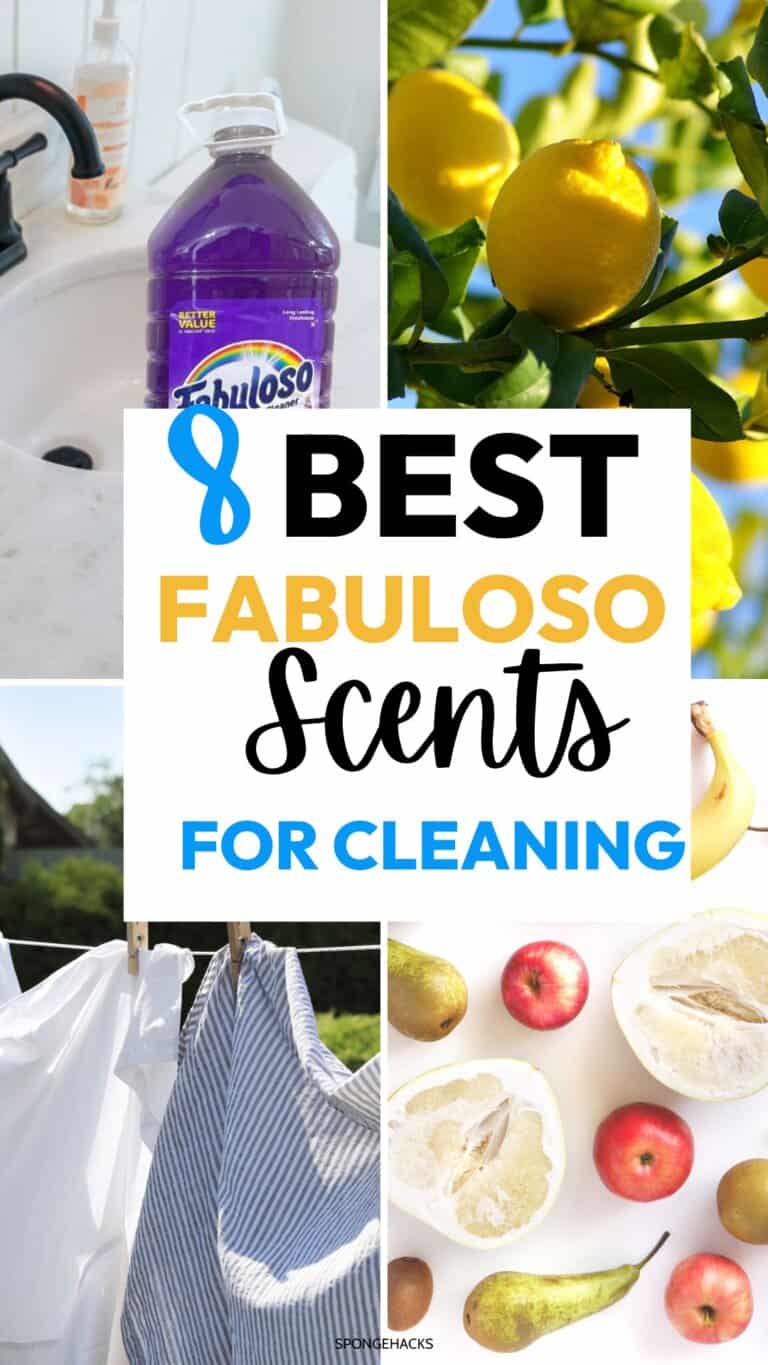 Why would I want to make my entire apartment smell like a car air freshener or the sterile smell of a doctor's office?
Nope, nada, not me!
That's why I go ga-ga over Fabuloso…it's jus sooo fabulolistic!
I'm sure you've seen the bright purple bottle at your local grocery store, or you've been mesmerized by the many Fabuloso cleaning hacks that are popping up on TikTok.
*raises hand*
Fabuloso is an up-and-coming contender in the world of household cleaners.
But instead of running to your grocery store and shoving bottles of Fabuloso to your nose, I'm going to run through some of the available scents and tell you what they're all about.
I'll also give you suggestions on how you can use each one to make your home smell amazing!
Are you ready to get started? Let's go!
Okay, So Why Fabuloso?
Fabuloso is the HOLY GRAIL of cleaning products that can be used to clean most hard surfaces.
It's a multi-purpose cleaner with a multi-action formula that can be used all through your apartment to remove grease and dirt and leave your space smelling absolutely amazing.
Fabuloso has a ton of products, from regular multi-purpose cleaners to concentrated cleaners and disinfecting wipes.
The best part?
Fabuloso comes in some AMAZING scents!
If you're like me, you like to use different scents in different rooms in your apartment or home.
There's something about having calming lavender in your bedroom and the smell of ocean breezes in your bathroom that's just *chef's kiss.*
But if you're not sure what Fabuloso scents are available or where to use them in your home, I've got you covered!
Here are the yummiest Fabuloso scents you need to smell:
Fabuloso Scents Your Nose Will Love!
1. Lavender Fabuloso Scent
Lavender is definitely one of the most popular Fabuloso scents!
It's the signature look and smell of Fabuloso.
It has a sweet and floral smell with a hint of herb and woodsiness. A lot of people say it has a soft and powdery smell as well.
Because lavender is such a relaxing scent, you can use it in your bathroom, bedroom, and even laundry room.
Anywhere you want to feel relaxed, really!
You can even use it on your floors throughout your home to create a peaceful and calm space.
2. Passions of Fruits Fabuloso Scent
This fruit combination of scents includes the crisp and clean smells of pears, apples, and more.
Fruity scents are perfect to use in your kitchen or dining room.
Did you know that the way a room smells can affect the taste of food? I didn't!
They say that floral scents can interfere with the taste of the food you are eating, but fruity scents complement food aromas and can also neutralize annoying cooking smells.
So definitely use Fabuloso's Passions of Fruit to clean your kitchen counters, dining room floors, and more!
3. Citrus and Fruits Fabuloso Scent
Just like Passions of Fruits, Citrus and Fruits can heighten the vibe of your kitchen and dining area.
Or the living room, if that's where you end up eating like most of us. LOL
The citrus in this Fabuloso scent also gives off a really clean smell, so you can use this in rooms that need it, like bathrooms, laundry rooms, and around litter boxes (if you have some furry family members).
Fabulosa's Citrus and Fruits cleaner includes baking soda, which helps eliminate gross and stubborn smells.
4. Ocean Paradise Fabuloso Scent
Do you ever wish you could be swept away to a warm beach near the ocean so you can leave your cares behind?
Okay, maybe this Fabuloso scent can't physically transport you to the oceanside, but it can certainly make your home smell as refreshing as an ocean breeze!
You can use this scent in any room, but if you want to create a spa-like atmosphere, definitely use it in your bathroom.
Ocean-based scents are fresh and airy and can help eliminate certain smells in your bathroom (you know what I'm talking about).
5. Cool Mist Fabuloso Scent
Fabuloso's Cool Mist has an awesome eucalyptus and camphor combination that will leave your home smelling absolutely spotless.
Eucalyptus is a scent that is known to reduce stress levels, and camphor has a spicy and earthy smell that can stimulate you and make you feel more energetic.
I think this Fabuloso scent would be perfect in your living room or study/office – anywhere that you need to concentrate and be productive!
Put it in a spray bottle to wipe down your coffee table, desk, and shelves, or use it to clean the floors in these areas.
I LOVE the micro spray bottles that I can "hide" throughout my place!
6. Spring Fresh Fabuloso Scent
Omg, nothing beats that smell you smell when you open your windows for the first time after a long soggy winter!
You know the one I'm talking about – the soft, sweet, and musky smell of spring!
It has that fresh airy smell with a hint of flowers that come from spring blossoms.
Picture laundry drying in the sun vibes!
Anything with a floral undertone can definitely heighten the mood of a room, especially when you have that springness to go along with it.
Use Spring Fresh in your bedroom or living room to give these spaces a fresh and clean feel. The muskiness of this scent will also give off a grounding feel so you can rest and relax.
7. Floral Burst Fabuloso Scent
If you're looking for a light, fresh smell, then you need to get your nose on Fabuloso's Floral Burst!
It has a beautiful floral smell that lasts for days and is perfect for any room in your home (except, of course, where you eat – we don't want to compete with yummy food smells!).
Floral smells are awesome for bedrooms or anywhere that you want to create an intimate environment.
8. Refreshing Lemon Fabuloso Scent
Just as it sounds, Refreshing Lemon has a fresh and clean scent that will make your home smell fabulous!
Or Fabuloso, am I right? LOL
Lemon is a natural disinfectant, so it's no surprise that it gives off such a clean scent. The smell itself can also boost your mood and energy while clearing your mind and reducing stress.
Lemony smells are perfect for your kitchen, and you can use this cleaner to wipe down your fridge, stove, sinks, and counters for a clean and refreshing zing.
Fabuloso FAQs
Fabuloso has a lot os smells and it's hard to choose,right?
If you're totally new to Fabuloso, don't worry!
Check out these frequently asked questions.
What can I use Fabuloso to clean?
Everything. Literally – EVERYTHING!
It's a multi-purpose cleaner, and you can use it to
Clean floors
The walls
The bathrooms
Living rooms
Your fridges
The stoves
Toilets
And more
I use it mostly for my floors and to get the grease off of cabinets.
Is Fabuloso safe on wood?
Okay, maybe not EVERYTHING. You should definitely stick to using Fabuloso on sealed wood surfaces.
I wouldn't use it on expensive wood furniture or items unless I tried it on test space first.
Can I mix Fabuloso with bleach?
Yeah, I wouldn't do that.
This creates a very toxic gas that can be extremely harmful and toxic.
But, the Spring Fresh Fabuloso scent has bleach in it!
Awesome Fabuloso Hacks
Here are some awesome Fabuloso hacks you can use to make your home look and smell amazing.
1. Clean Your Toilet
This is definitely the most famous Fabuloso hack you're going to find on TikTok, and you're about to learn why…
Take your favorite Fabuloso scent, or pick one that I recommended for your bathroom.
Carefully poke holes in the bottle with a knife (hold it upside down and poke near the bottom).
Stick it in a corner of your toilet's tank.
It slowly releases in the water, cleaning your toilet and making it smell AMAZING!!!
2. Glow-Up Your Drains
Take some Fabuloso in your favorite scent and pour a few teaspoons down your drain and leave it.
It's going to make your entire home smell absolutely AWESOME!
3. No Scrub Cleaner
Do you hate scrubbing your shower and tub as much as I do? Who has time for that?
Just mix your favorite Fabuloso scents with Lysol cleaner in a spray bottle (¼ full of Fabuloso and ½ Lysol) and spray down your shower and tub after you're done.
No need to scrub or rinse!
4. Wash Your Clothes
Yup, you can wash your clothes with Fabuloso by adding ½ cup to your regular load. Imagine how amazing your clothes, towels, and bedding will smell!
Don't Try These Hacks!
You're going to see a bunch of Fabuloso hacks on TikTok, but you 100% need to steer clear of these ones:
Don't boil Fabuloso. Boiling cleaning products will release chemicals into the air.
Don't put Fabuloso in a drinking bottle. Little ones may think this is a tasty drink!
Don't use Fabuloso as a disinfectant. It's a multi-purpose cleaner, but it does not contain antibacterial properties to kill germs.
To see more super cool Fabuloso hacks, check out my post here!
How Excited is Your Nose?
I know mine is going crazy just thinking about all of these yummy Fabuloso scents!
When you're buying your Fabuloso cleaners, I would suggest starting with two scents: classic Lavender and Lemon.
Definitely something citrusy and fruity for the kitchen and something floral or fresh for the rest of your home.
But get whatever tickles your olfactories!
With so many great scents to choose from, I know you'll find something perfect for your home.
Remember to follow me on Pinterest!