You're finally living on your own!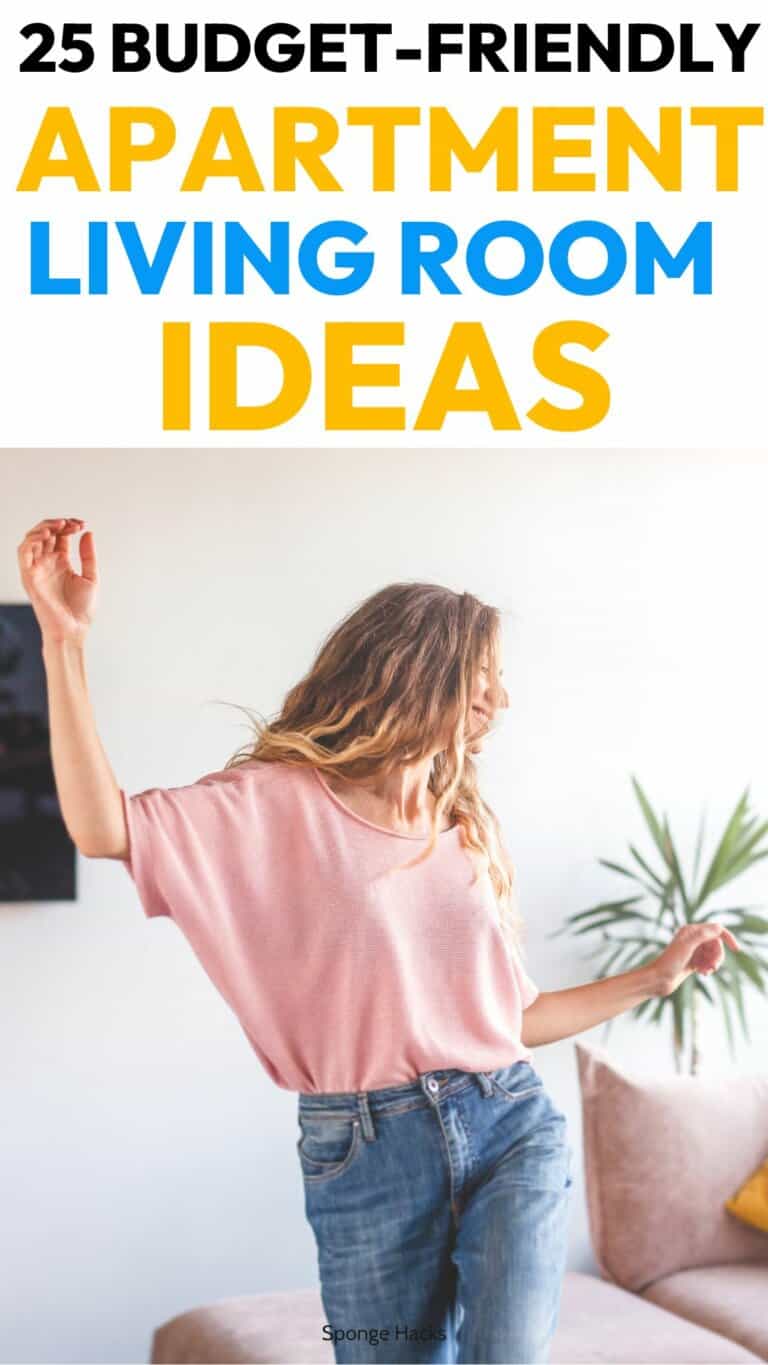 Yay!
I bet you are super excited about decorating your first apartment.
But wait, you're living in a rental. UGH!
Decorating an apartment living room on a budget can be tough.
With a rental, you are stuck with the existing walls, floors, cabinets, and other finishes.
So how do you decorate so it feels stylish and uniquely yours?
I remember when I moved into my first apartment like yesterday.
I sat down on my couch, looked around, and took it all in.
It was at that point, I noticed how bare and BORING my apartment was.
I needed to decorate asap!
I wanted my first apartment to be perfect but I didn't want to spend all of my money on furniture and decor.
And let's be honest, most of us are on a budget when it comes to decorating our living rooms, but that doesn't mean that our living rooms have to look budget!
There are plenty of ways to get creative and make your living room look so fabulous – without spending a lot of money, that it will impress all your friends.
In this post, I'll give you some budget-friendly ideas for decorating your apartment living room.
Yes, these are awesome apartment budget apartment living room ideas for you for sure.
So whether you're looking to save some coins or just want to get creative, keep reading for some ideas for decorating.
Best Apartment Living Room Ideas (On a Budget)
Living on your own is a great experience.
But now comes the hard part: decorating your new place on a budget.
Whether you first apartment is spacious or feels smaller than a walk-in closet, you can still find both stylish and affordable home decor that will help you create the perfect space for relaxing and entertaining.
To get you started here are the top and most popular items you can get for your rental apartment!
1. Wood Shelf
Even though this is a rental, you are allowed to hang some wood shelves!
Later in the post I'll share some awesome floating shelves so just get into the mood of this living room idea!
2. Glass End Tables
These are TO DIE FOR!
So chic and stylish! And, the are trending too!
Get these end tables rounded and get different sizes to place around your living room!
Instant storage for those cute vases and cups!
3. Apartment Sofa
You gotta have an apartment sized sofa!
Don't get those standard ones that your family members want to peddle off to you!
No way! You want to MAXIMIZE space in your tiny apartment and and easy way is to just get an apartment sofa!
4. Black End Tables
Another highly popular living room idea are black end tables for the living room.
If you think glass isn't for you, then make sure to pick up these cute end tables!
Simple Budget Apartment Living Room Ideas
Simplicity goes along way especially when you are on a budget.
The best way to spruce up a boring apartment on a budget is with wall art.
Decorating your walls is both fun and a great way to show off your personality. These products are affordable at best but make a statement.
5. Tropical Removable Monstera Stickers
These wall decal stickers are EVERYTHING!
Love plants or want to turn your urban home into a jungle oasis, try these super affordable and stylish monstera wall decals, add a few live (or faux plants) and voila, you will be living your best green life!
6. Metallic Gold Leopard Peel and Stick Wallpaper
This wallpaper screams DIVA!
If you aren't shy about bold patterns, this metallic gold leopard wall sticker is for the loud proud fashionista in you and will make you living room decor the envy of all your friends.
7. Living Room Wall Decor Home Sign Letters Mirror Wall Stickers
OMG! Mirror wall stickers are so in right now! And for obvious reasons.
They are elegant, sophisticated, easy to apply to your walls and remove if necessary, and they just look so darn good!
Most Affordable Wall Art
If you're looking for some affordable wall art for your first apartment, there are several things to keep in mind.
First, think about the style of your apartment.
Is it traditional, contemporary, or something in between?
This will help to narrow down your choices.
Next, consider the color scheme of your apartment.
Are you going for a light and airy look, or something more dark and moody?
Again, this will help to narrow down your choices.
Finally, don't forget to measure the walls before you purchase anything!
You don't want to end up with wall art that is too small or too large for the space. With these tips in mind, let's look at the most affordable wall art!
8. 3-panel Wall Art for Living Room Canvas Print Boho Wall Art
Loving this Boho Wall Canvas art.
It's giving me all the Boho vibes.
Wall decals are great and affordable but there is something about a beautiful canvas photo that makes your living room decor standout on a budget.
9. Botanical Prints Wall Art for Living Room
Can't have a wall art list without beautiful botanicals!
There is something purely beautiful about floral, botanicals, and natural scenery.
It's a simple minimalist reminder that we live in such a beautiful world, why not have a piece of it in your home.
10. Rustic Wall Sconces Mason Jar Sconces Handmade Wall Art
These charming mason jar scone wall art pieces are a must have when considering apartment living room ideas on a budget with a rustic theme!
Not only are these cute decorations but hello they scream rustic farmhouse if that's your thing!
Cozy & Modern Apartment Living Room Ideas On a Budget
Here is a collection of cozy and modern apartment living room ideas on a budget.
Whether you're looking for inspiration or just need a little help getting started, we hope you'll find what you need here.
11. Constellation Pattern Foil Printed Curtain
I am totally gushing over these constellation pattern curtains!
Lunar and constellation prints are all the rage right now and the beautiful gold foil look add a touch of elegant glam to your modern apartment without breaking your budget.
12. MIUCO Semi Sheer Curtains – Love this Brand!
These semi cheer curtains will give your first apartment a light airy feel even on the hottest of summer days. You can choose from 10 different colors to match your style.
Don't let the affordable price fool you, these curtains are QUALITY, have a beautiful texture, and can be hung separately or paired with Miuco blackout curtains.
13. Sage Green Throw Pillows – Affordable and Trending
These sage green throw pillows are decorative extremely soft and comfortable to the touch and lay on.
And the best part, these are beyond affordable and will add a unique touch to your living room decor.
14. Decorbay Decorative Throw Pillow
These decorative throw pillows have an awesome design!
With simple Geo patterns printed on linen fabric these fabulous pillows easily fit right into your budget AND your home decor and make your home more inviting.
15. BAYKA Floating Shelves for Living Room
Talk about style!
Bayka floating shelves are so worth the price for this level of decor.
Made up of solid Paulownia wood boards and matte metal brackets, these floating wall shelves are great decoration ideas and will add a decorative touch to your wall while also creating versatile storage space to store and reorganize small item on a simple budget.
16. Canupdog Corner Floating Shelves
Love love love these floating shelves!
From boho chic to modern industrial to rustic farmhouse, not only do these corner floating shelves look gorgeous but also create limitless storage.
17. VASAGLE Round Side Table
Minimalism lovers, this gold side table is for you!
Simple yet elegant design, coupled with gold and white colors, makes this side table the epitome of less is more.
Sometimes your first rental apartment might come with uneven squeaky floors, but that's not a problem with these glass end tables. This side table comes with adjustable feet, protecting floors and helping compensate for the slight unevenness of floors!
18. Meihua Glass Top End Table
Spacious and modern, this glass top end table is perfect for your modern apartment while staying on budget.
Pick one up for both sides of your sofa and you'll have a cozy apartment!
How Do You Decorate a Living Room on a Budget in an Apartment?
To help you out even more, here are my best tips for decorating on a budget!
19. Use Curtains!
Curtains are a great home decorating idea for anyone on a budget.
They're a super affordable way to add color, pattern, and texture to any room, and they can be used to create a variety of looks.
And if you don't want to drill any holes in the wall of your apartment, opt for these no drill curtain rod brackets!
They really work!
For a sophisticated look, pair curtains with an area rug and accent pillow.
For a more casual look, try hanging curtains from a tension rod above the window.
And for a fun and funky look, use different patterned curtains in the same room. When your decorating your first apartment curtains are a great way to add style on a budget.
Remember – hang your curtains high on the wall to really maximize your space!
20. Go With Floating Shelves
When looking for small apartment living room ideas on a budget, think floating shelves!
They're affordable, stylish, and they don't take up a lot of space – and I showed you three options!
You can use them to store books, plants, pictures, and anything else you want to display.
And if you get bored of the way they look, you can always change them out for new ones.
21. Use Rugs
Try using inexpensive rugs to add color and pattern to the room.
Rugs can be a great way to define different areas in a large living space, so you can chill comfortably while looking at the latest TikTok trend.
22. Take Advantage of Vertical Space
Take advantage of your bare wall space and make it pop by adding some wall art or photos of your family and friends.
This is a great way to make your apartment living room feel cozy.
23. Use Throw Pillows – Everywhere!
Throw pillows are an easy and affordable way to add color and style to your small apartment living room.
They can be used to brighten up a neutral sofa or to add extra comfort to a hard chair. Plus, they're easy to switch out when you want to change up your look.
If your apartment's living room is on the small side, opt for throw pillows in light colors or with small patterns.
These will help to make the space feel bigger and brighter. And don't be afraid to mix and match different textures and materials – a velvet pillow can look great paired with a wool throw blanket.
24. Occupy Negative Space
One way to make your living room look larger on a budget is to embrace negative space.
Negative space is the area of the room that is not occupied by furniture or other objects. It can be empty wall space, floor space, or even ceiling space.
For example, you might want to consider hanging a large mirror on one wall.
This will create the illusion of more space and also reflect light, making the room appear brighter.
25. And Don't Forget Accessories!
These little added touches make a world of difference and will keep you on budget when decorating your small apartment.
Things like candles, vases, and lamps can really help give a room a larger than life personality just like your favorite TikTok influencer.
Have an Awesome Apartment With These Budget Living Room Ideas!
Ok, so we've covered A LOT on how you too can decorate your small apartment living room even while on a budget!
It goes to show that having limited space and not a whole lot of $$ doesn't mean you can't have a nice environment.
Remember that no matter which room you're focusing on right now, you deserve a home that feels like, well, home and having limited space and not a whole lotta' funds doesn't mean you can't have a nice one.
And if you haven't moved in yet and are still in the initial stages, you can check out this post here for some tips to consider when you're in the process of getting your first apartment.
And remember, the most important thing with any decorative project… HAVE FUN!!
Please follow me on Pinterest for more organizing and cleaning ideas!