Are you tired of searching for small bedroom organization ideas that won't cost you an arm and a leg?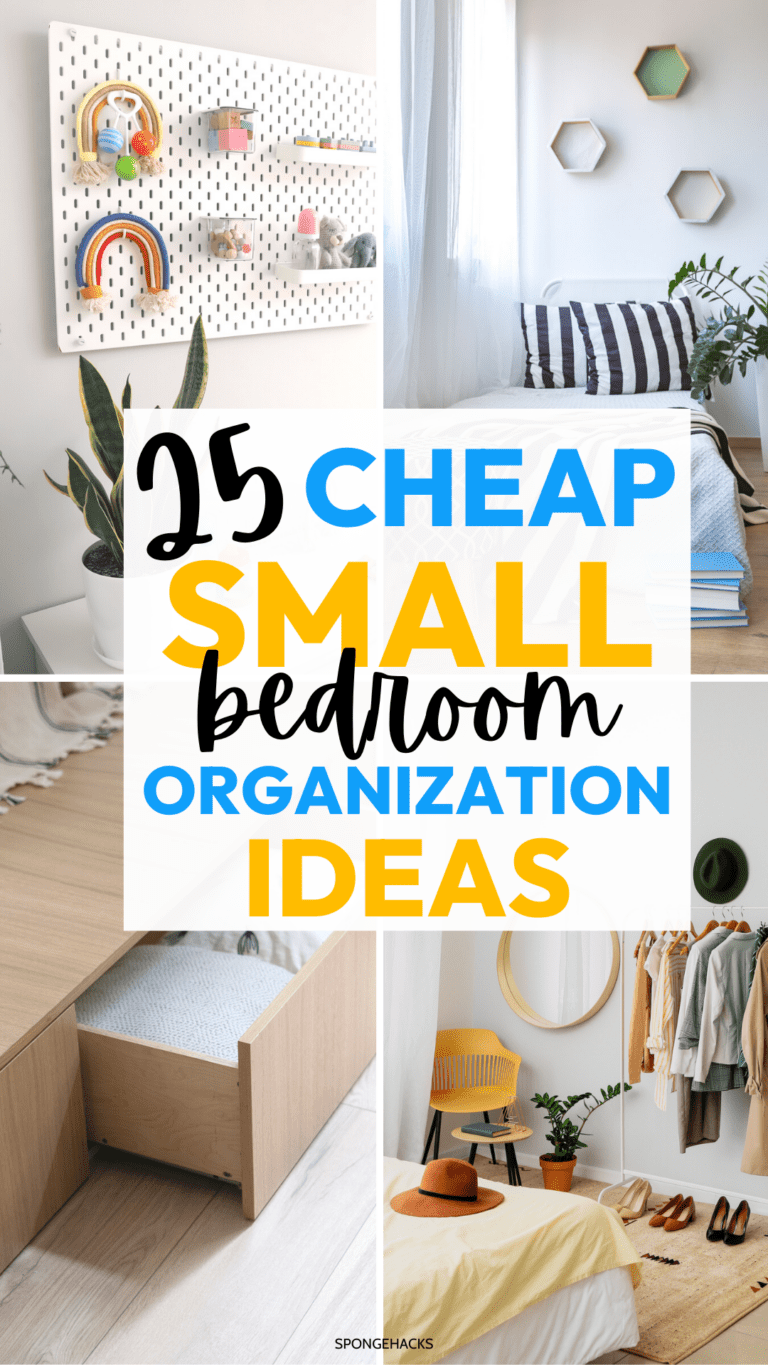 With limited space, I bet you're wondering how to maximize your space without it looking too cluttered.
I know I was when I moved into my first apartment.
Just thinking of how to position your bed, dresser, and how to organize the many items in your closet can be an overwhelming thought.
More of us work from home these days, which adds yet another piece to the puzzle.
Where is there room for a work desk?!
Where do I put my phone, glasses, jewelry and everything else?
Well before you give up and surrender to the chaos, let me give you my best organization ideas for ANY small bedroom.
I've found that there's not only one (but several) organization hacks for just about every problem you'll experience.
REALLY!
These small bedroom organization ideas are cheap and provide an atmosphere where you can FINALLY relax in the comfort of your bedroom.
And they are cute and functional to boot!
Cheap Bedroom Ideas for Small Rooms – Organization
We've all have at least one spot in our bedroom where we toss things that don't have an official place to go.
But no more!
From now on, every single item in your room needs to have a specific place to be.
First, it's time to let your imagination take over.
Forget how your room looks now.
Think about how you want it to look and feel when you're in it.
Do you want your room to feel comfy? Spacious? Minimal? Bright?
Once you have an idea of the look you're going for, you're on your way!
Getting good bedroom storage that reflects your wishes is the next step.
Here are MUST-HAVE small bedroom organization ideas to check out.
1. Clear Bins for Organization
These bins make up a cheap small bedroom organization idea.
Don't you just LOVE these clear bins!! They can be used to store just about anything!
It's not over the top to buy dozens of them at a time because having these around makes staying organized easy peasy.
I don't know about you, but I get tired of seeing my winter items all summer long.
I love being able to tuck them all away and hang up all my summer clothes.
If your bed doesn't come with storage, no worries. It's super easy to find storage that'll do the job.
2. Desk Organizer
To really maximize the space you have with such a small bedroom, use a chic desk organizer to free up room on your work desk.
This way you can have a place for your laptop, paperwork, pens and other office supplies without taking up valuable space on your desktop.
I'm OBSESSED with the look of this desk organizer. It has so many spots for your paper, bills, post-its and more!
Plus, it looks great too!
3. Use Storage Bins
I'll admit, I go WAY over the top and use storage bins in just about every room in my place!
Once you have them in place and labeled, staying organized is as simple as sorting items into their assigned bins.
Whether bras, underwear, or socks…you need to dedicate a specific place for every item in your bedroom.
4. Back of the Door Storage
Did you know you can store things in the most unlikely places?
The back of your door is THE PERFECT place to store those items you're struggling to find a place for.
You can store anything from fragrances to purses, to books.
This is also a great way to store those things you don't want to forget when leaving the house.
This sturdy pegboard wall organizer allows you to free up floor and closet space and make your room appear far less cluttered.
5. Under the Bed Storage
It's time to put all that space under your bed to good use. Instead of finding lost clothing items, why not organize it and use it as a functional space?
Opt for some bed storage to store seasonal clothing, extra hand bags, bedding and more.
This will save you a ton of space in your closet and dresser.
The best part of storing items under your bed is that the items are accessible, yet not visible.
6. Dresser Organizers
Do you have more things than you know what to do with?
Do you shove it all into your dresser? Or worse, do you store socks and underwear in plastic bags?
Dresser dividers will solve that problem.
These just right for organizing your underwear, socks, bras, scarves, and just about anything!
They are super easy to put together, lightweight, and easy to transport.
7. 3-Tier Organizational Rolling Cart
Here's a SUPER simple way to store a little of this..and a little of that.
You can park this cart right at your bedside or anywhere in your room that feels right. Here are some ideas for things you can store on it:
Medical, art, or office supplies
Books, plants, or makeup
Misc items such as phone chargers, sunglasses, snacks, or jewelry
Its mobility makes it easy to move from room to room, making certain items accessible if you're in recovery it just need the convenience.
8. Combine your Desk and Bedside Table
Again, if you work from home…it may seem (and actually be) impossible to fit a decent desk into your tiny bedroom if you have too many other items. But, there's still a solution!
Use the same piece of furniture for both your bedside table and your work desk.
9. Bedside Caddy
That extra few minutes you spend searching for your phone charger, your tv remote, or your highlighter for that great book your reading are not fun after a long day.
Or when's the last time you had a great idea late at night but stumbled around for too long looking for a pen and paper to write it down?
It doesn't have to be that way when you can have it all in one place with a bedside caddy!
10. Use Floating Shelves
When you're running out of space, you just have to add more yourself!
Floating shelves could be used for storage, but are more so used for decorative purposes.
Photos, plants, souvenirs and collectibles now have a special place in your room.
Plus, they are easy to take down and move around.
11. Bedroom Wall Hooks
If you're going for a stylish, unique look…you can skip the jewelry box all together!
Hang your jewelry on your wall.
No more tangled necklaces. And no need to spend too much time searching through every drawer in your jewelry box in search of the perfect piece to wear with the days outfit.
12. Hanging Hamper
To save even MORE room in your small bedroom, why not have a hanging hamper for your laundry?
It gets it off the floor and since there's typically two doors in a bedroom (the main door and closet door) you can hang your hamper on one and your pegboard organizer on the other!
Win-win!
13. Separate Your Jewelry into Beautiful Bowls
Categorizing your rings and other jewelry into different glass bowls gives is a stylish way to keep them organized AND make you feel like your room is your palace.
The bowls don't have to be fancy or expensive.
But it's a step up from the typical jewelry box. And besides, gals gotta feel special when she reaches foe her finest gems and treasures.
14. Use a Storage Ottoman
Ottomans are PERFECT for small bedrooms because they have more than one function.
They are the most versatile pieces of furniture you can have in your bedroom (or any room for that matter).
And that's exactly what you need to get the most out of the space in your small bedroom!
You, or your guests can sit on them.
But it also provides even more out of sight storage for anything from throws and pillows to extra blankets and linens.
Because let's face it, seeing too many things out in the open isn't a good look.
15. Use a Coat Rack
When I was living in my small apartment, I used a coat rack for my every day wear. I would put my coats and sweaters and clean shirts and pants on my coat rack.
These weren't dirty and they weren't right from the laundry so it made sense to me to put them on a coat rack.
Plus, this saves room in your small closet if you end up getting new clothes.
16. Wall Mounted Wire Baskets
These wire baskets make an attractive and functional wall decoration for your small bedroom!
No matter if you use them to organize your small bedroom, or in your kitchen or bathroom, these are highly versatile and you can put anything from perfume and makeup to cleaning products, books, succulents and more.
Small Bedroom Closet Organization Ideas
Have you been searching for organization ideas for your closet, but nothing seems to work?
The closet (of all places) can feel like a lost cause.
Simply because there doesn't seem to be enough space in that tiny place to store all your belongings.
And there IS hope.
Let's explore several small bedroom storage ideas that can TOTALLY bring organization to your small bedroom closet.
17. Stackable Shelf Dividers
Separate items within your closet so you can easily see at a glance what you have.
Your whole routine will change when you're no longer spending your precious time digging for things in your closet.
And, if you have a small closet, there are dozens of things you can do to find more room for your clothes!
18. Hanging Shelf
When it comes to your closet, mixing and matching hanging and folding clothes can free up a little more space on your closet rack to place a hanging shelf.
It's doesn't take up a lot of closet space and you can store just about anything in it.
19. Paper Towel Jewelry Holder
What do you know?! You may have an extra one of these laying around your home somewhere.
A metal paper towel holder makes for an excellent (and cheap!) jewelry holder.
20. Cube Storage
No matter what colors or themes you've already established in your room, neutral colored cube storage is an MUST HAVE item for a small bedroom!
If space feels flat and is lacking style, these will help! I wouldn't store super heavy objects on here. But it is great for your lighter objects.
21. Belt Hangers
Need a special place for all those belts (that isn't all over the place)? LOL
Belt hangers give your belts a place to live in your closet without taking up much space at all.
22. Pants Hooks
This is LITERALLY the best way to store your pants and bottoms.
I mean, C'mon. How much are you really loving folding all of your pants?
This look screams clean and organized!
Plus you'll be able to see your pants easier without having to dig through dresser drawers.
And, psst…what you use for your belt hangers are the same as the pant hooks!
Check out this post for more organization ideas for your small bedroom closet.
DIY Organization Ideas for Small Bedroom
Now that you have the perfect items to decorate your small bedroom, what's left?
Well, organizing everything so it doesn't look cluttered!
Here are a the BEST DIY organization ideas for your small bedrooms.
23. Make a Magnet Board
If it's taking you too long to get ready in the morning because you're digging through TWO makeup bags, don't you think it's time to try a new approach?!
This magnet board is fun and makes a lot of sense.
24. DIY Scarf Hanger
OMG! I love scarves but for many years, I had no idea how to store them.
Since they didn't have a dedicated space, I found myself searching for where I'd left the last.
This DIY scarf hanger is THE cutest I've come across in quest for how to store my scarves.
25. DIY Shoe Ladder
When it comes to heels, this is the best and most attractive storage option I've seen out there.
As you know, heels, boots, and other footwear can take a up a TON of space and get totally out of control. Put an end to it by making your own storage for all of your footwear.
Organize Your Small Bedroom Today!
You always knew there was more potential for your small bedroom.
I hope these ideas shift your view on what's possible when it comes to organizing a small bedroom.
Now that you're inspired you to create a space you're happy to call your own, go ahead and get started!
After all…it's not the size that matters, but how you organize and decorate the space that ultimately determines how you good you feel living in it.
Change things up and don't forget to have fun doing it!