You wake up in the morning and head to your small closet.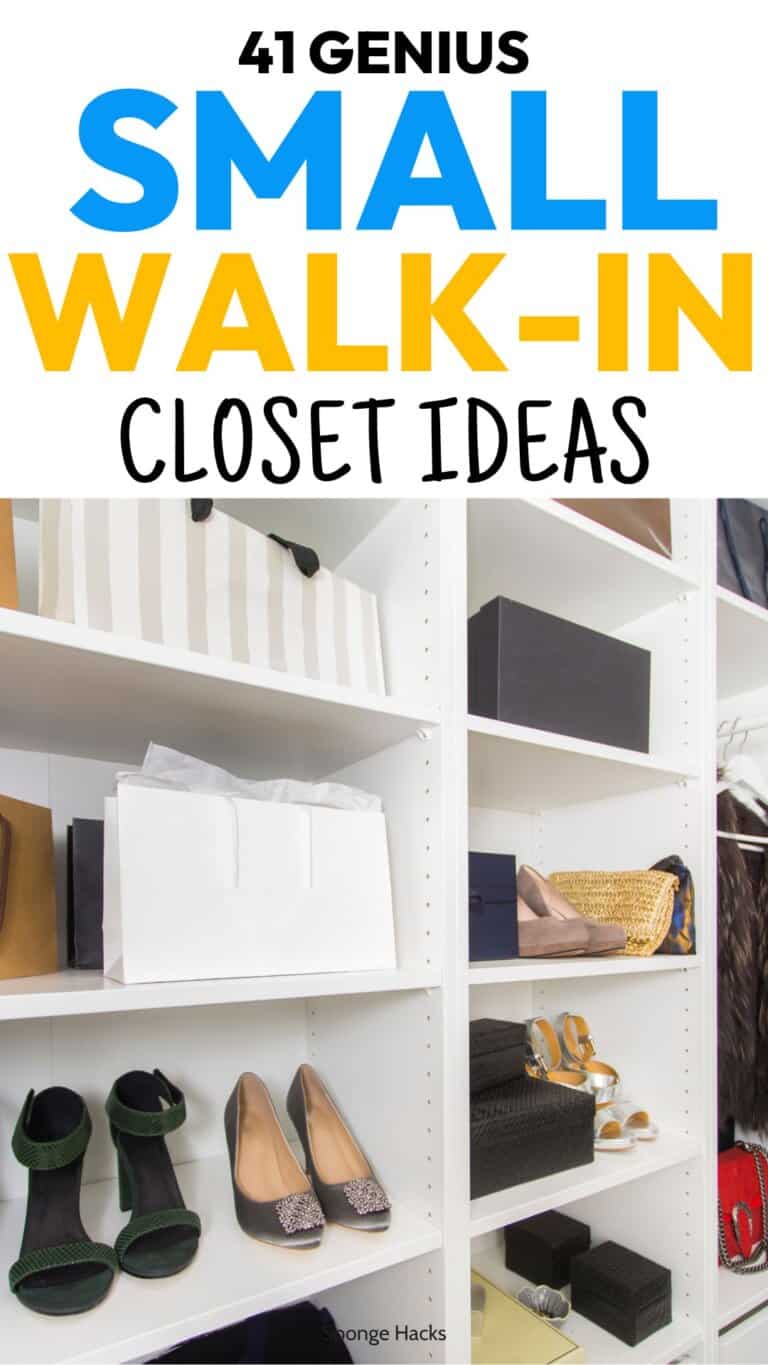 When you open the door, it's so full of clothes that you can't see past them. So you take a step back and close the door to your small wardrobe.
As you sigh as you think about how nice it would be to have such a small walk-in closet like some people do!
You scroll through Pinterest for small walk-in closet ideas on ways to make your small room feel much bigger than it actually is.
And then suddenly, an idea pops into your head – maybe if you had more space for storage, things wouldn't seem so cramped!
There are plenty of clever solutions out there with creative tips from home decorators who know what they're doing, and all it takes is time and effort to turn the tiniest bedroom with a small closet into a luxurious feeling with a small walk in closet.
So, with a little bit of creativity, you can turn your small walk-in closet into a storage space that is both functional and stylish.
Here are forty-one genius small walk-in closet ideas for the tiniest bedrooms.
Before you check out these amazing ways to store your beautiful clothes in a very tiny closet, here's the absolute things you NEED to turn your chaos closet into a sanctuary walk in paradise!

– Gotta have a pants organizer to remove the bulk instead of getting rid of your clothes
– Expandable storage unit in case you even don't have a closet for your clothes and shoes
– Get these shoe storage boxes so you can store your shoes up high or on a wall for some added decoration
Small Walk-in Closet Ideas
Interested in different chic and modern small walk-in closet ideas?
If you're dealing with a small bedroom and need some extra storage space, read on for some inspiration!
First, let's go over some things you can add to your small closet to turn it into a walk in closet, even if you have the tiniest of bedrooms!
1. Add Shelves for an Instant Closet Makeover
An easy way to add more room to a small closet is to add a tension shelf rod.
Go chic with a chrome rod.
This dubs as a shelf and a place to hang your clothes.
2. Create a Custom Look on a Budget
All over Pinterest you'll find beautiful custom-made closet organizers for a small closet design.
If this is your first apartment, it's just not feasible to hire a contractor to build you a modern small walk in closet.
Instead, create it yourself with:
3. Use the Closet Door
There's wasted space behind the closet door, so why not use it!
Place a shoe organizer and you instantly save room in your small walk in closet!
You can even use your closet door to store your hand bags. Check out this small walk in closet idea!
You can even use a stylish soft fabric closet door organizer too!
Any one of these options creates more space for that small walk-in closet you have!
4. Make Room With Acrylic Shelf Dividers
Want that Pinterest worthy look for your small walk in closet? Why not get some acrylic shelf dividers to add more to your shelves and move things from the floor up to clear space when you walk into your closet.
You can also use metal wire closet shelf dividers too to complete your closet makeover!
5. Free Up Space In Your Small Closet
Whether this is a teen room, dorm room or a small room in your first home or apartment, you don't need to store certain items on a daily basis.
This includes things like seasonal clothing, extra bedding, and out-of-season shoes.
By storing these items in a dresser or under your bed, you'll free up space in your small walk-in closet for things that you use more often.
6. Add a Chic Mirror to Make Your Small Closet Feel Luxurious (and Bigger)
Out of all the small walk in closet ideas out there, I simply adore this one!
Level up your bedroom closet with a mirror! You can quickly see your outfit or fix your hair while using your small walk in closet!
Plus, a mirror makes your small closet look bigger!
These are my top favorite small closet mirrors:
7. Use a Jewelry Organizer to Free Up Dresser Space
Instead of using a jewelry organizer for the dresser that takes up space, opt for a jewelry peg board you can hang on the wall.
This one has customized inserts to match your style! I'm obsessed!
8. Store Items Up to the Cieling
When designing your first apartment or new home, the recommended space to have from your closet organization to the ceiling is one foot.
But, for your small walk-in closet, you can save massive amounts of space simply by storing items up to the ceiling.
You can even use a wire shelving add on too!
9. Use Cascading Hangers
I simply LOVE these cascading hangers for my small walk in closet. They save SOOOO much space and leaves room for even more clothes if you want!
Make sure to pick up these types of hangers for your small closet design.
10. Cascading Pants Hangers
Don't forget to pick up some cascading pants hangers too! You'll turn a full closet into a lean space with tons of space.
Narrow Small Walk In Closet Ideas
A walk-in closet needs to be at least 4ft wide by 4ft deep.

Home&Garden
For your narrow walk in closet dimensions make sure you follow the recommendations from Home&Garden if you're trying to DIY a small walk in closet.
If have a narrow closet, let's check out some narrow small walk in closet ideas.
11. Maximize Only Two Walls
There's no space with a narrow walk in closet to build a closet organization system on either side of the closet.
Instead, maximize one main wall and an end wall.
Adding a narrow cabinet closet system in your small closet design works fantastic in small apartment walk-in closets.
12. Don't Ignore the Corners!
With a narrow walk in closet, every square inch is precious! Use a corner closet organizer by having a lazy suzan or corner unit for storage.
Here are some narrow small walk in closet ideas for the corner.
13. Make Use of Shelves
On Pinterest, I see a lot of narrow small walk-in closet ideas around adding multiple shelves or small closet shelving.
You can DIY this look with multiple narrow bookcases and stackable shelves.
14. Use a Wall to Hang Things
Since you maximize two of your walls in your narrow small walk in closet, for the remaining wall, put a wall-mounted coat rack (or two) as well as any other things you can add such as a jewelry peg board.
15. Make Use of Drawers Under Hanging Clothes
To get the most out of walk in closets, under your rod of hanging clothes, while you can have another rod for clothes, you can hold more items with a drawer system.
16. Use a Stool Instead of a Chair
This narrow walk in closet dimensions is only 25 sqft.! Can you believe that?
This is a walk-in closet right? So you need a place to sit. Instead of using precious space with a big ol' chair, opt for a sleek stool instead.
17. Use Purse Hooks
If this is your first apartment there isn't much room to store items like your handbags.
You might be tempted to store out of season ones in a tote but a better option is to use your small wardrobe.
Get some purse hooks so you can store your handbags along with your clothing, freeing up space in other areas of your apartment or house.
18. Add Personality with Wallpaper
With such a small space, by adding fun removable wallpaper, you instantly make your narrow small walk-in closet appear bigger. Plus it adds a whole lotta personality!
19. Use an Over the Door Shoe Rack
As with any small room, utilizing the door is a fantastic way to use what space you have. I simply love this over the door shoe rack. It's durable and easy to set up.
20. For More Storage, Use a Wardrobe
If you find that your narrow small closet is just too small to hold all of your items, it's a good idea to have a metal rack wardrobe organizer you can place on a wall in your bedroom or guest room. This gives you added space to store the rest of your items.
Small Walk in Closet Lighting Ideas
One of the easiest ways to turn a small closet into a modern small walk in closet is with lighting.
Yes, the light fixture you use can impact the feel and mood of your bedroom closet.
Let's look at some small walk in closet lighting ideas you can use for your design!
21. Modern Chandelier
Is this circular chandelier gorgeous?
When I saw this on Pinterest I had to save it to my board! This looks chic in a small walk in closet!
22. Farmhouse Chandelier
If you are into the farmhouse decor look, then this chandelier is perfect for your small closet. It's rustic looking and it's the shape of a birdcage!
23. Splurge With Something Fancy
Isn't that light TO DIE FOR? I simply adore it!
Spending a little more on the perfect light will bring a smile to your face each morning and might even give you a pep in your step too!
I like this circular chandelier and this feather light too!
24. Rustic Country
For a country feel to your small walk in closet design, this rustic chandelier will set the mood for you!
For an updated country chandelier, check out the one I like here!
25. Opulence Is Here
This opulent pendant light for a small closet is beautiful, chic and feminine.
Here are two other pendant lights I'm seriously obsessed with.
26. Crystal Sphere Chandelier
I don't know about you, but this crystal sphere chandelier instantly turns your small walk in closet into a luxurious experience.
It's sleek, sophisticated and sparkles!
For a different, but equally chic look, is the crystal flower chandelier and raindrop chandelier.
27. Geometrical Light
Add some angles to your small closet wardrobe with a gold square ceiling light.
28. Track Lighting Might Do the Trick
For a simple look that screams a low key vibe for your small closet try modern track lighting. These are great for a masculine feel or a gender neutral or closet.
29. Exposed Light Bulbs to Complete the Look
I know you've seen the rave with exposed light bulb lighting. They add a brightness to any small walk in closet idea and they look modern. Here are my favorite three looks:
30. Under the Shelf LED Lighting
If a pendant light or chandelier just isn't your jam, then opt for these under the shelf lighting strips.
You can even try motion detectable lighting too.
Small Walk In Closet with Window Ideas
What if your closet has a window? How do you style and organize your modern small walk in closet? Let's check out some small walk in closet with window ideas.
31. Make the Window the Focal Point
If your window faces you as you enter your small walk in closet, why not make it the main focal point?
I like how this design uses modern window trim to match the small closet design.
32. Use the Space Under the Window for Storage
Use a small dresser for closet to fit under your window! You can store out of season clothing.
33. Create a Window Box
Instead of a stool or chair, make a window seating box under your closet window! It's cute, functional and is a relaxing way to start your morning!
34. Build Around the Small Walk In Closet Window
Don't you love this look?
This small closet design goes up to the ceiling maximizing space and even has a hidden shoe rack under the window! Genius!
35. Invest in Some Solid Blinds
If you're going to change and dress in your walk in closet, you better get some sturdy and solid blinds. These are the ones I have.
Small Walk In Closet Organization
One of the best ways to make use of a small walk-in closet is to organize it properly. By taking the time to learn how to organize a small closet, you can ensure that you have enough space for all of your belongings.
An organized closet will make it easier to find what you're looking for when you need it.
Here are six tips for small walk in closet organization ideas.
36. Make Use of Garment Organizer Tags
A great way to learn how to organize a small closet with lots of clothes is to simply make use of garment organizer tags.
I know what you're thinking –
Garment organizers? Like, what they use in stores?
Yes, exactly!
These will help you save time when trying to find something to wear and it's a great way to organize your wardrobe!
37. Use Stackable Clear Closet Organizer Bins
Since your walk in closet is small, it's a good idea to use stackable clear bins with lids so you can see what you have.
Grab a few of these bins to store sweaters, handbags, camisoles and more.
38. Use Cubbies
Create a custom look on a budget by using a cube shelving unit.
You can display your purses or shoes and use the top to store your jewelry.
39. Store More With Thin Hangers
Isn't this genius?
I love this idea so much! Instead of using traditional bulky hangers, opt for these thin hangers to free up room in your small walk in closet!
40. Add More Space By Hanging Your Shoes
Mind-blown!
I love this idea!
41. Finish Your Small Walk In Closet With a Statement Rug
Complete your walk in closet with a statement rug or soft, chic rug. Whatever you choose, adding that pop of personality will make your small walk in closet shine!
Amazing Small Walk In Closet Ideas
I hope you enjoyed these ideas!
For more space saving ideas check out these posts:
Please pin me and follow me on Pinterest!