Did you know that the kitchen (along with the garage and home office) are the MOST cluttered areas of the home, according to a MOEN survey?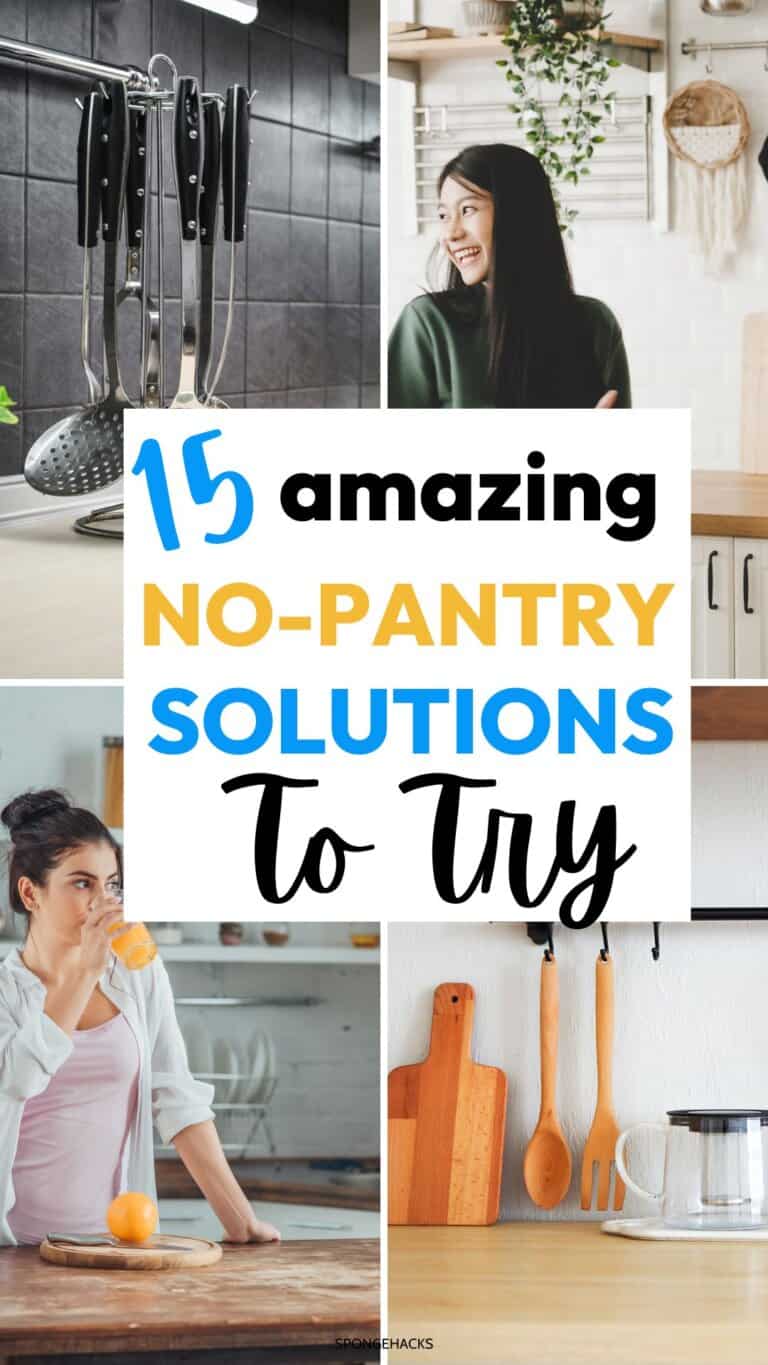 Wow!
Ya' don't need to tell me twice!
Your kitchen is the heart of your home, and if you don't have a pantry, how do you expect to keep it clean and organizd?
I have a secret to share….
My home doesn't have a pantry!
Yikes! I know…
And I have a family too! It's definitely not ideal.
That's why I set out to find the no pantry solutions that actually work for an apartment or small place.
So, if you also don't have a pantry in your kitchen then pay attention!
Here are fifteen no pantry solutions for you!
15 No Pantry Solutions To Try
While many of these ideas cost money, they are well worth the investment.
I'm currently using #7 on this list and it's been a literal LIFE SAVER!
So, take a look at this list and find the ones that will work for your space!
I bet many of these will!
1. Magnetic Spice Racks
I've got some spice-tacular news for you!
Magnetic spice racks are my absolutely FAVORITE way to organize a kitchen if you don't have a pantry (which my current kitchen doesn't have).
You can have them on one side of your fridge or under cabinets.
With magnetic spice racks, you can keep all your favorite spices within arms reach and make cooking a nightly thing (cuz adulting…ya' know).
Each rack comes with individual containers that hold herbs and spices of various sizes, from salt and pepper to larger jars of oregano and basil.
You can easily organize these containers however you want: alphabetically by name, by type (i.e., Italian seasonings), or even by color if that's what floats your boat!
Plus, since each container has its own lid to help keep things fresh, you don't have to worry about spilling anything while trying to cook up a delicious dinner!
2. Over-the-Door Pantry Organizer
How's this solution for a no pantry apartment?
I absolutely LOVE LOVE LOVE this over-the-door pantry system.
Not only does this door hanger provide more storage space than traditional pantries, but it also looks stylish and modern.
Plus, if you have limited counter space in your kitchen, you can hang the organizer on the wall or inside a cabinet door without taking up any extra room.
Another great thing about using door organizers is that they help keep all your food items organized and within easy reach, because I don't know about you, but I'm L-A-Z-Y!
Instead of having to rifle through bags of groceries or rummage through boxes in search of what you need, everything will be neatly stored where you can see it at a glance!
Not to mention, if there's something perishable in the organizer like eggs or milk, it'll be kept away from potential sources of contamination like raw meat or seafood.
You can always add multiple units side by side or stack them vertically for even more storage space. BAM! How's that for more storage? You're welcome!
This way, everything will stay neat and tidy while freeing up countertop space for meal prep or entertaining guests.
3. Lazy Susan Organizers
Do you ever feel like your kitchen is just too cramped for all your cooking extravaganza?
If you have a small apartment without a pantry, you might think that you have to give up on having an organized kitchen.
But you don't! There's still hope – the Lazy Susan organizer!
These are PERFECT to store many items in small cupboards or cabinets.
You can use it to store spices, condiments, or even canned goods.
The best part is that it takes up very little space and can be mounted on the wall or even placed on the countertop.
To use a Lazy Susan, start by measuring the area where the Lazy Susan will go so that you get one that fits perfectly in your space.
Then decide what items will go into the Lazy Susan – this could include canned goods, spices, condiments, etc.
Finally, place it in your cabinet and fill it with all of your chosen items!
That's all there is to it!
4. Stackable Bins
Like a pantry, these stacakble bins offer easy access to your food and kitchen essentials while keeping your items in one convenient location.
You can store anything from onions and potatoes to canned goods and cereal without taking up too much space. They come in various colors so you can find the perfect fit for your kitchen needs.
Plus, these stackable bins are affordable and easy to assemble!
If you don't have room for a standing bin section, you can use them for your cabinets or cupboards or place them in another area of your apartment.
5. Wall-Mounted Shelves
These moon-shape wall shelves are sooo cute!
And, they're perfect for storing cans, EVOO or produce like onions and garlic.
Plus, with this kitchen pantry hack, you're taking advantage of vertical space, and that's what you gotta do if you live in an apartment.
This set comes in three sizes:
10 inch wide
13 inch wide
16 inch wide
The smallest shelf fits perfectly in any narrow space, like in between your wall and backsplash.
6. Repurpose Furniture
Why not repurpose a bookcase from your bedroom or from your parents?
When I first moved into my first apartment, this is exactly what I did.
I went to the Goodwill and found a cute 70's style bookcase that was sturdy and somewhat heavy!
I measured it and it was a perfect fit for my kitchen wall with nothing on it.
I brought it home, plopped it into the kitchen and used it to store my plates, cups, cans and anything else I needed to!
It was perfect for my incredibly small kitchen.
7. Microwave Cart
This is the microwave cart I got for one of my first pieces of furniture.
And, you know what? I still have it! I love this microwave cart. It looks chic and stylish and it's durable!
I store snacks for my children (easy for them to grab and at their height) and I also store my blenders and storage containers.
8. Slim Storage Cart for In Between Fridge
A slim storage cart is perfect for those spots in your kitchen that are too small to do anything with.
Well not anymore! Isn't this just a darling to look at?
So cute and functional. Slide it in between the fridge and counter and store your canned goods. Then, when it's time to cook, just roll the cart over to the oven and boom! You have all your ingredients right there!
Win-win!
9. Magnetic Knife Holder
Do you have a magnetic knife holder in your kitchen?
It's the perfect no-pantry solution since your drawers and cupboards may be filled with pantry items.
Using vertical space in your kitchen is just smart thinking.
I have a drawer in my microwave cart for my cutlery but I am definitely switching to this knife holder because my draw is overflowing!
10. Use the Top of Your Fridge
Are you using the top of your fridge?
If you aren't, you gotta do it now! Store cereal, medicine, extra plates, plastic wrap and anything in between!
It's the perfect spot for all those items you can't store in a pantry.
I also use this spot for items I don't want my kids finding or using!
11. Command Strips
Command strips are a MUST for any kitchen, amiright?
These come in handy soo often during the day, I can't believe there was a time these weren't invented!
The great thing about command strips is that they're super affordable.
This means that if you're on a tight budget, you can use them to organize your kitchen without breaking the bank.
For example, if you have a set of spices that always seems to get lost in your cupboard, try using command strips to hang them up on an empty wall in your kitchen – this will save space and make it easier for you to find them when needed!
You can also use command strips for hanging utensils or even small plants – adding some greenery into the mix will instantly make your kitchen look more homey and inviting.
12. Wall Mounted Racks
Wall mounted racks are super versatile and can be used to store all sorts of things; from kitchen goods like pots and pans to towels and toiletries in your bathroom.
Plus, aren't they chic looking? I love the farmhouse look these wall mounted racks give.
Plus, many options come with baskets which are great for storing items like sponges or cleaning supplies out of sight but still within reach when needed.
They take up minimal space (bonus!) but still provide ample storage for all your things.
Easy installation is key – all you need is a few screws, a drill, some wall anchors and voilà!
Plus, most wall mounted racks come ready to assemble with instructions that make installation a breeze.
13. Stackable Shelf
If you're like me, you don't have a pantry and your kitchen is tighter than a pair of skinny jeans.
But don't worry, because stackable shelves are the perfect solution to the no pantry kitchen!
With a stackable shelf, you can turn any space into the perfect pantry and maximize your storage potential.
The great thing about stackable shelves is that they can be placed anywhere–on top of counters, in corners or even tucked away behind doors. That means less mess and more room for the things that really matter in your life.
A neat and organized kitchen equals a happy life!
With stackable shelves, you can organize food items by type (cereal, snacks, etc.) which makes it easier to find what you need quickly and efficiently. You can also label each shelf with whatever category fits best so there will never be any confusion about where something belongs.
No more rummaging around trying to find that one snack item–you know exactly where it is now!
14. Corner Shelf Organizer
Why didn't I think of this when I wrote about kitchen counter decor ideas????
This corner shelf organizer is perfect for your kitchen countertop!
And, doesn't this set-up just look the cutest? I am OBSESSED with this kitchen counter look right now!
Store your oils, salt and pepper and place it close to your oven for easy cooking!
15. Use a Jewelry Organizer
I know….I know…
This is a little unconventional, but you never know, right?
A jewelry organizer can hold lots of kitchen pantry things like plates, mugs, bottles of ketchup and more.
Just find the one that would work for this situation.
Try Them Out Today!
All in all, whether you're living in a tiny basement bedroom or an apartment with limited storage, these 15 no pantry solutions are worth trying!
With a little creativity and organization, you can wave goodbye to cluttered pantries and maximize space for your life goals.
A major key to success here? Peace of mind.
The less time you spend stressing about your stuff, the more time you have for getting things done! Put these tips into action so you can chill hard like nothing ever happened.
Make sure to follow me on Pinterest!