Are you moving in to your first apartment and want to make sure you have everything you need?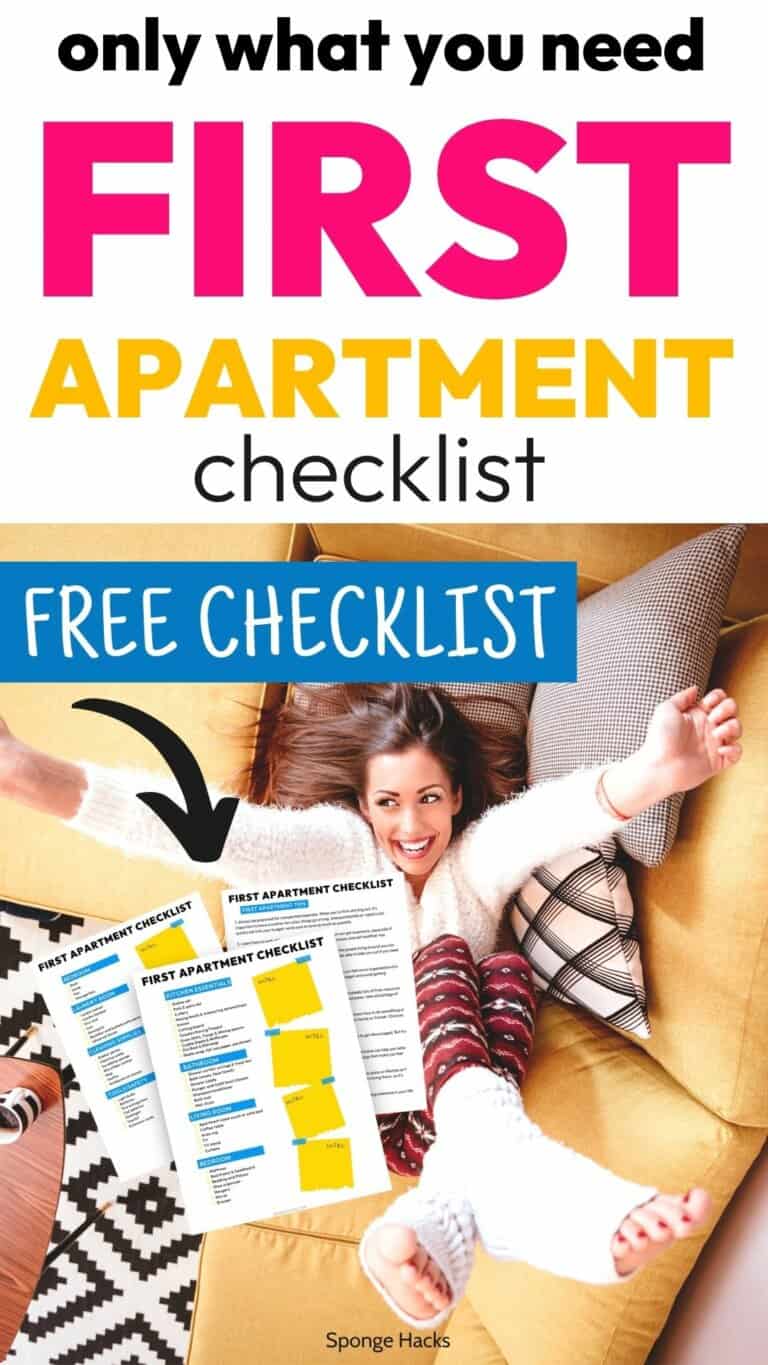 Having your first apartment is a big milestone in anyone's life.
I remember when I moved into my very first apartment.
I was finally an adult!
I moved from my parent's home to a new city and new place to start college.
It was new chapter and a new adventure in my life.
Having your first apartment – before or after college – also is a time when you need to be organized and prepared, so you don't miss anything important, amiright?
From bathroom essentials to cutlery and even bedroom sheets and cleaning supplies, knowing all the apartment furnishing items can seem like a lot!
That's why having your first apartment checklist is crazy important.
Everything you need – and things you didn't know you needed – will be in my apartment move in checklist!
There are so many things to think about when moving into your first apartment.
You need to figure out what you're going to need and what you can do without.
But don't worry, I've got you covered. Below is a comprehensive apartment checklist of everything you'll need to buy for your new first apartment.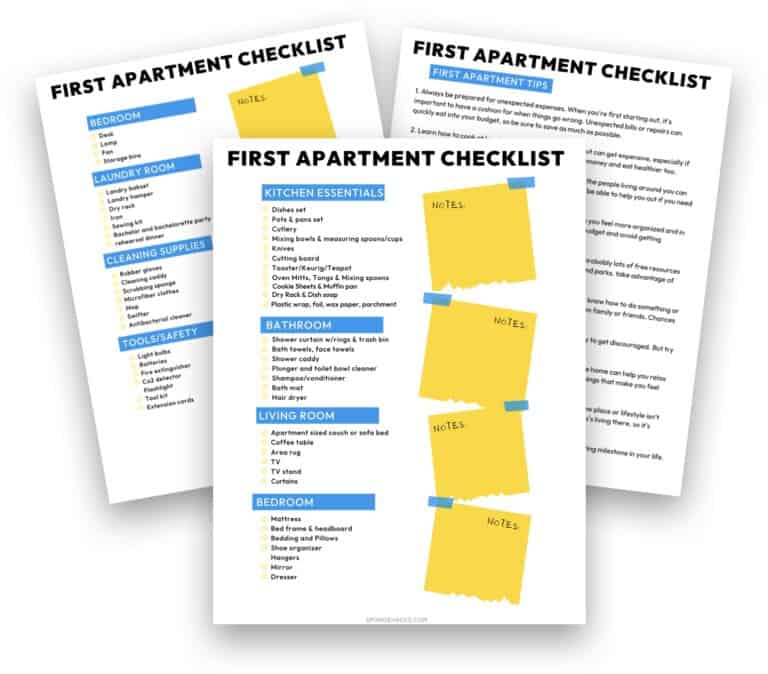 Don't forget to download my first apartment checklist PDF to make it easy once you move into your new housing.
My checklist also has an area to jot down any notes you might have as you start moving and settling into your new dwelling.
Simply click on the link or the image and download the apartment checklist just like that! No email required!
4 Things to Consider When Buying Things for Your First Apartment
When buying home essentials, there might be some things you never thought of to save money, find good deals and things like that. Here are some tips to help you navigate your first adult task – things you need for an apartment.
1. Use a credit card with a rewards program to earn points or cash back on your purchases
Using a credit card with a rewards program is a great way to earn cash back on your purchases.
Many credit cards offer cash back rewards for spending money on qualifying items.
This can be a great way to save money when moving into your first apartment.
Be sure to compare the terms and conditions of different rewards programs before choosing one.
Some programs have annual fees, while others have no fees at all.
Make sure the program you choose offers cash back on the types of purchases you are likely to make.
2. Shop online for the best deals
When shopping for items for your first apartment, it is often a better idea to shop online.
This is because online retailers generally have lower prices than brick-and-mortar stores.
Online retailers also often have sales and discounts that you won't find in stores.
So, if you're looking to save money when furnishing your new home, be sure to shop online for the best deals.
I personally love to shop on Amazon to get lower prices and I get to use Amazon prime so I can get my first apartment essentials right away.
3. Try to avoid buying unnecessary things
Before you start shopping online, ask yourself if you really need something before purchasing it. For example, you really don't need a box spring, or a vanity, a grill or even a patio set.
Apartment complexes are strict on what you can put out on your balcony so it's better not to buy these unnecessary things.
4. Look for sales and clearance items
Many stores have sales throughout the year, so be sure to check online and in store flyers before making any purchases.
5. Save money by using second hand furniture
Seriously, when I moved into my first apartment, my sister gave me her old dresser and dining room table to help me out. And believe me! It was such a great help getting second hand items.
So, before you move into your apartment, see what used items you can score so you can save money!
First Apartment Checklist
Apartment Kitchen Items
The kitchen has the most items than any other room in your apartment. Because of this you will buy multiples of many things like bowls, plates, knives and cutlery. In my first apartment checklist I only give you what you REALLY need so don't worry, you aren't going to buy things you don't need!
1. Dishes Set
Now, hear me out –
The organic wheat straw (eco-friendly) dishes set is unbreakable and a MUST HAVE apartment item.
I can vividly remember taking a bowl out of the microwave and accidentally misplacing it on the counter where it fell and shattered into a million pieces!
And you would think I would learn right? Nope!
The almost same thing happened again two years later! So let me give you some advice – you don't need a fancy dishes set for your first apartment. You just need a place to put your food on and these unbreakable and reusable plate set for your apartment kitchen is perfect!
But you can pick which one is best suited for you!
2. Pots & Pans
You will need a good set of pots and pans for your every day cooking – and yes you should cook your meals to save money when you move into your first apartment!
A versatile pots & pans set is one that's nonstick. But, be warned, these types of nonstick ware don't last long and they can be easily scratched when stacked on top of each other!
On the other hand, using a stainless steel set will last you years but you'll need to know how to cook with these types of pots and pans because food does tend to stick and the pans aren't the best for every day use (cooking eggs for example).
3. Cutlery
There are many cutlery sets available and one item I suggest you get second hand (from your parents. I'm sure they have a spare set). But, incase you want your own set, the three I listed here are the top rated sets and are very budget-friendly!
4. Mixing Bowls and Measuring Spoons/Cups
Okay –
You may think you will NEVER need a measuring spoon or measuring cup or even some steel bowls, but you WILL!
Trust me!
Want to make brownies at 2 am?
Or make a big bowl salad for lunch?
You'll need some big steel bowls and a measuring set with microwavable Pyrex glass for baking.
5. Knives
You may not think you need special knives for your first apartment checklist but I'll be honest here –
Many new apartment owners aren't thinking about these things.
All they think about to get for their first apartment is cutlery and a dishes set.
No!
You NEED steak knives – these are serrated for cutting tomatoes and tough food – AND you will also need some larger cutting knives – because you don't want to use your every day serrated knives for chopping herbs, onion or garlic!
6. Cutting Boards
Make sure to pick up some cutting boards too. You can definitely get by with plastic ones but you can jazz it up with these bamboo cutting boards!
Pro tip: Reserve a cutting board for raw meat, one for onions and one for bread. You don't want to mix and match cutting boards!
7. Toaster
Some new apartment essentials has to be a toaster or toaster oven!
It's really up to you what you prefer. When I moved in, I bought this Black+Decker toaster oven because it can do toasting AND it can cook cold pizza, pizza pockets and other frozen foods!
Sure, you can use your oven, but that's a waste to heat up such a big thing when you can use a toaster oven!
8. Keurig/Tea Pot
Out of all these items, all I need is my Keurig! I got this in a home warming first apartment gift basket from my parents and I swear – I CANNOT use anything else!
It makes coffee and tea and I used reusable kpods instead of buying refills!
Having an electric tea pot comes in handy too! I often used my tea pot for heating up water for my Cup-O-Noodles!
9. Oven Mitts, Tongs & Mixing Spoons
With anything you cook on the stovetop or bake in the oven you will need these three things!
10. Dry Rack & Dish Soap
My first apartment did NOT have a dishwasher!
You might be more lucky then me but before you move into your new apartment, check to see if there is a dishwasher. If not, then get yourself a dry rack and some dish soap.
If you do have a dishwasher, then make sure to pick up some dishwasher liquid!
11. Cookie Sheets & Muffin Pan
Another great thing you can get are these cookie sheets and a silicone muffin pan.
You can make easy sheet pan dinners, and with silicone, you can freeze your muffin pan for some frozen desserts!
12. Kitchen Essentials
You can definitely get these first apartment essentials at Walmart or Target but just don't forget to pick them up!
Other random things are:
Pro tip: If possible, buy in bulk! These will last a long time if you are cooking for one, but they come in handy for other projects (painting, crafting, using as a shelf liner, etc.)
First Apartment Checklist
Apartment Bathroom
Your apartment bathroom won't need many things but to make sure you don't forget to get anything. Here is my first apartment checklist for the bathroom.
1. Bath Towels
If you can't get hand-me-down towels from your parents, then make sure to pick up a few large bath towels and face towels.
When I moved into my apartment, I totally forgot to get face towels, and it wasn't fun washing my face with a large towel!
Pro tip: Buy larger rather than "normal" sized bath towels. A larger size comes in handy (like for when you forget to buy a bath mat!)
2. Shower Curtain & Rings and Trash Bin
I grouped these apartment essentials because that's how you'll find them at Target if you buy from there instead of online!
3. Shower Caddy
This is a no-brainer buy!
A shower caddy is an apartment essential and will be on my first apartment checklist (make sure to download it! No email required!)
And the apartment you rent will not have a place to store your shampoo, conditioner, razors and anything else you use in the shower.
I learned this the hard way the first time I took a shower in my new apartment!
I had to lean outside the shower to grab my shampoo, and ended up getting my bath mat soaking wet!
If you don't like those choices, why not try an acrylic shower caddy?
4. Plunger & Toilet Bowl Cleaner
Don't forget to get a plunger and toilet bowl cleaner!
You gotta clean the toilet one of these days!
First Apartment Checklist
Living Room Items
You're probably going to spend a lot of time in your living room. So don't leave this room to the last minute. In my first apartment checklist, I've included only the necessary things so that your place is practically move in ready!
1. Couch
One of the bigger investments you will make is a coach. You have a choice: to get an apartment sized love seat or opt for a sofa bed.
Both types have their appeal. The smaller couch will fit in most small-sized apartments.
This is the exact type of couch I purchased, and it lasted me all through college and my first home! You can't beat that, eh?
A futon, or sofa bed, is also a good investment if this is our first apartment, and you want to be sort of move-in ready.
You can sleep on the sofa bed before your bed gets to your place, and if anyone needs to crash, you have accommodations!
2. Coffee Table
Depending if you want to use your coffee table as a foot rest, a decorative piece or a storage table, there many to choose for your new place.
My first coffee table had a bottom shelf, and I was able to put a bowl full of potpourri to make my place smell sweet and nice!
3. Area Rug
Some people may think this is an unnecessary purchase, but hear me out!
Many rental places have carpet or old hardwood/laminate.
The carpet in rentals can be a little gross, so you wouldn't want to run around barefoot – that's why an area rug would help.
And with hardwood or laminate, it can get slippery walking around and a rug can stop that.
4. Curtains
One thing I NEVER thought of was to buy curtains! I had a huge balcony window as my main window for my 1-bedroom apartment.
I also had a smaller window in my bedroom! That first night I didn't get any sleep!
So, don't forget to grab a pack or two (depending on how wide your window is) of curtains to block out street lamps and other lights.
4. TV
TVs are always on sale at stores, so keep an eye out for a good TV from a reputable brand. I buy all my electronics from Samsung or Sony.
5. TV Stand
Depending on what type of TV you get, you can opt for a streamlined approach or have a traditional TV stand! Either one works great for your first apartment.
First Apartment Checklist
Bedroom Essentials
Your apartment bedroom only needs a few essential items. This will be the room you will probably study in, so having an "office" is important. As well, moving into adulthood means having a headboard and not just a frame with a mattress on it!
1. Mattress
You're going to need a good quality mattress, so don't skimp on this purchase! Big stores usually have sales on mattresses so compare prices, and find the best deal for a good quality foam memory mattress.
Pro tip: Every season, flip your mattress around. If you can't flip it over, then just turn it around. This will help the integrity of the mattress and you will get more out of it!
2. Bed Frame & Headboard
You're an adult now and that means –
A proper-looking bed!
I was so excited when I found the perfect bed and headboard for my first apartment. It was the first piece of apartment furniture that made me feel like I was really an adult, and not under my parent's roof anymore.
Whether you like the upholstered look or the vintage look, there is a headboard for you!
3. Bedding, Comforter & Pillows
Don't forget to pick up pillows and a comforter set!
Grabbing sheets only is okay, but having a comforter looks nice and it keeps ya warm!
4. Shoe Organizer & Hangers
You can never have enough hangers or shoes!
Save space with a behind-the-door shoe organizer and make sure to pick up hangers for your closet and – if you have one – for your entrance way "mudroom" closet. You know – to hang coats and things.
5. Mirror
It's a good idea to grab a mirror for over your desk or dresser or a full length (if you have room!).
6. Dresser
Listen –
You will probably do better in finding the dresser you want at a furniture store! So made sure to shop the deals to find one that you like!
7. Desk
If there's room in your apartment bedroom, it's probably a good idea to fill that space with a desk to study on.
Studying on your couch or bed just isn't the best way to study if you are in college!
A desk is also just a good place to have your laptop and other tech things – or a lamp!
Laundry Room Must Haves
While you probably won't have your own washer and dryer in your first apartment, you will have a community laundry room. But that doesn't mean you can't have any laundry items!
1. Laundry Basket & Hamper
It's a good idea to get a laundry basket to bring to the laundry room rather than haul your bedroom hamper (germs an' all!).
2. Dry Rack, Iron & Ironing Board
For clothes that can't be dried, use a dry rack and grab yourself an iron and ironing board, too.
It's a good idea to also get a portable sewing kit for clothing repairs.
Pro tip: Wash your clothes in cold water. It does a good job washing your clothes and it's better for the environment.
First Apartment Checklist
Apartment Cleaning Supplies
Creating a cleaning shedule will totally help you have a clean and organized apartment. I know – it can be tough.
When I first moved into my new apartment, I did NOT have a routine and clothes would pile up, hair would be all over the bathroom and dirty dishes would be in the sink. Yes, it's horrible thinking about this now!
But it's because I didn't know what cleaning supplies I REALLY needed! So, after years of trial and error, here are my top – and necessary move in apartment essentials
Tools/Safety Items
10 First Apartment Tip You Need to Know
1. Always be prepared for unexpected expenses
When you're first starting out, it's important to have a cushion for when things go wrong. Unexpected bills or repairs can quickly eat into your budget, so be sure to save as much as possible.
2. Learn how to cook at least a few basic meals with a crockpot
Eating out can get expensive, especially if you're doing it often. Learning to cook with a crockpot can help you save money and eat healthier too. Check out these easy crockpot meals everyone loves!
3. Get to know your neighbors
Building relationships with the people living around you can make your new place feel like home faster. Plus, they may be able to help you out if you need something or if something goes wrong.
4. Create a routine and stick to it
Having a routine can help you feel more organized and in control of your life. It can also help you stay on top of your budget and avoid getting overwhelmed.
5. Make use of free resources in your community
There are probably lots of free resources available to you in your community, like libraries, museums, and parks. take advantage of them!
6. Don't be afraid to ask for help when you need it
If you don't know how to do something or you're feeling overwhelmed, don't be afraid to ask for help from family or friends. Chances are, they'll be happy to lend a hand.
7. Keep a positive attitude
When things get tough, it can be easy to get discouraged. But try to stay positive and focus on the good things in your life. It'll make the tough times a little bit easier to bear.
8. Create a comfortable space for yourself
A space that feels like home can help you relax and de-stress after a long day. Make sure to personalize it with things that make you feel comfortable and at ease.
9. Don't be afraid to change your mind
If something about your new place or lifestyle isn't working for you, don't be afraid to change it up. You're the one who's living there, so it's important that it works for you.
10. Enjoy every moment!
Moving into your first apartment is an exciting milestone in your life. Embrace it and enjoy every moment, even the challenging ones. These tips will help you get through the tough times and make the most of your new home.
Apartment Must Haves
So, you're moving out of your parents' place and into a new apartment. Congratulations on this exciting step!
Taking the leap from living at home to being an adult can be daunting but also fun. The first few months are crucial for setting up your new space so that it suits all of your needs as well as provides comfort in every room.
If you find yourself overwhelmed by the process or need some help getting started, use my first apartment checklist with everything you'll need!
Remember to pin me!