I don't know about you but when the weather slightly gets warmer (or there are more days with sunshine) I can't help but become this declutter and organizing queen!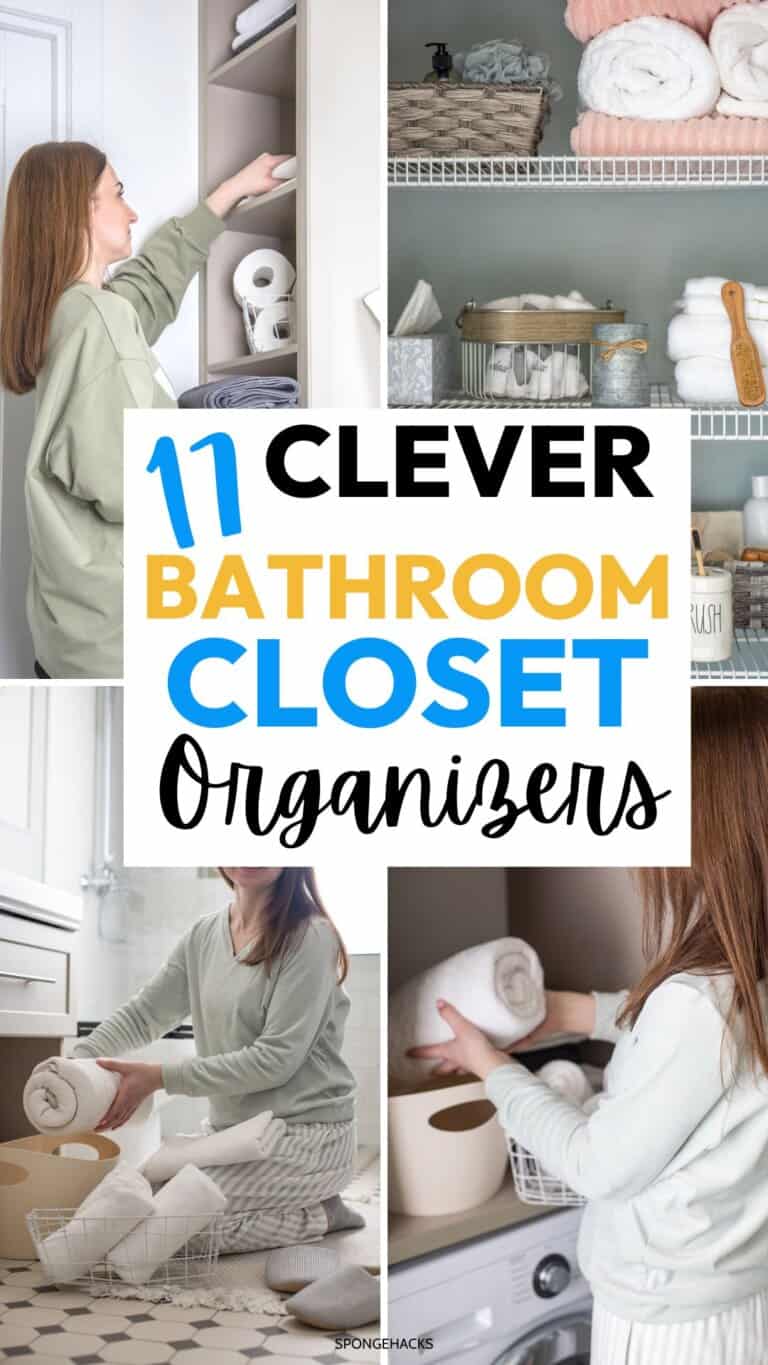 Downsize, throw away and repurpose!
Whether you do this as part of your spring cleaning efforts or just have an itch you need to scratch, when you move into your first apartment, it's hard to organize.
HELLO!
What are you suppose to do with micro closets that can barely hold your Fenty makeup?
Bathroom closets then become a dumping ground for clean towels, half-used lotions, and an open package of Q-Tips that always seem to spill all over the place.
Amiright?
Instead of spending your time picking up dozens of cotton swabs, take the time to try these clever bathroom closet organizer ideas!
No matter how big or tiny your bathroom closet is, or even if you don't have a bathroom closet, these ideas are going to help you make the most of your space and keep your bathroom organized.
Let's get to this!
Bathroom Closet Organizing Ideas
One thing you'll notice I can't seem to live without are baskets.
They're great for decluttering your closet, for your entrance way, and even when you don't have a pantry in your kitchen!
So, if you don't have baskets or bins, now is the time to get them and actually use them!
1. Wicker Baskets
Wicker baskets are the #1 way to organize your bathroom closet!, I tell ya!
If you are a visual organizer, these bad boys allow you to sort items and have them readily accessible without having to dig through your closet to find what you need.
All you do is pull the basket out and grab your soaps, first aid kit, and towels without making a mess in your bathroom closet.
Win-win!
Plus, wicker baskets come in all shapes, sizes, and colors, so you can create a super fun vibe while adding functionality to your closet.
And grab some sectioned wicker baskets to organize smaller items!
2. Wire Mesh Baskets
OMG! Black is soooo in right now!
I absolutely LOVE LOVE LOVE black and white. It's minimalist, chic and oh so sleek.
To see everything you have in your bathroom closet, go for wire mesh baskets all the way!
Or, combine both styles of baskets for a really cool and eclectic look!
Another reason I adore wire mesh baskets are because you can see exactly what you have and can grab the whole basket when you need it.
So if you store all of your cleaning supplies in one basket, you can take out that basket and have everything at the ready.
White mesh baskets have a really clean look, but black mesh baskets really give off a modern, farmhouse-type vibe.
Not that it really matters if your bathroom closet has doors, but you're allowed to make the thing you have to look at look amazing!
3. Labels, Labels, Labels!
No matter how you organize your bathroom closet and what you use to store your item, you can make your life a whole lot easier if you slap labels on everything.
Seriously – I'd lose half my things if there weren't labels on them!
Just grab a handy label maker and label your baskets and containers so that you know exactly where everything is.
And labeling everything is a great way to teach your little ones where everything goes and how to find things to help build their independence.
So not only are labels a crucial bathroom closet organizing idea, but they are educational too!
Bathroom Closet Shelf Organizers
If you have room in your tiny bathroom closet, the best way to maximize it is with a shelf.
Check out three ways you can use a shelf to organize your bathroom closet like an organizing queen!
4. Adjustable Shelves and Rods
Look –
If your bathroom closet is lookin' more like a hoarder's paradise, it's time to get yourself some tension shelves.
These bad boys will give you the extra space you need to store all your bathroom essentials, from towels to your straightener.
And the best part?
They're removable and adjustable, so you can get creative and make your closet look lit AF.
So, don't be basic. Instead, get yourself some tension shelves and make your bathroom closet Insta-worthy.
If you need to create more space in your bathroom closet, check out these tension closet shelves!
5. Shelf Organizer
Ladies, are you tired of feeling like your bathroom closet is a never-ending black hole of clutter?
I know I am!
Say goodbye to the chaos and hello to organization with a shelf organizer that stacks and expands!
These cute shelves will give you all the storage space you need without taking up valuable real estate on your floor.
Plus, they're super easy to move around, so you can reorganize your closet whenever the mood strikes.
So, don't settle for a cluttered space, elevate your bathroom closet game with a shelf organizer that stacks and expands!
6. Shelf Dividers
Acrylic shelf dividers are an awesome bathroom closet shelf organizer – especially if outta sight is outta mind!
You can use them to divide shelves to hold different-sized towels and facecloths, as well as other bathroom items.
They're clear, so they won't look that obvious in your closet, but will make a huge difference when you're folding and stacking towels that keep falling over.
These ones slide right onto your existing shelf, so there are no adhesives or sticky gunk that will make a mess inside your bathroom closet.
Bathroom Closet Organizer Drawers
Another place you can use to organize your bathroom are your drawers. You may not not have a lot of drawers to use but with the right bathroom organizers, you can maximize the tight space.
7. Clear Drawer Bins
If you're looking for a bathroom closet shelf organizer that takes advantage of vertical space, you can always use clear drawer bins to store smaller items.
I like these ones because they are open at the top to hold taller items, like bottles of lotion or shampoo.
And they're long enough to hold brushes, sponges, and more.
Just open your bathroom closet doors and haul out a drawer to get what you need – easy!
8. Storage Dresser
Don't let a cramped bathroom closet bring you down!
If you've got the space, upgrade your storage game with a cloth storage dresser.
Not only will it give you a designated spot for all your towels and linens, but it also provides extra space on top to store baskets and all the other bathroom essentials you've been eyeing.
And the best part?
The drawers are removable, so you can grab and go with ease.
So, whether you're storing hair products, first aid items, or anything in between, a cloth storage dresser is the ultimate bathroom closet game-changer!
9. Drawer Organizers
If you plan on adding a dresser or if your bathroom closet already has drawers, these handy drawer organizers will help you keep everything organized!
You can use them to keep track of your facecloths, hair ties, scrunchies, and really anything you can think of.
You can also use them on your bathroom closet shelves to keep things organized – they don't even have to go in drawers.
Small Bathroom Closet Organization Ideas
Now look –
You might have an extremely small bathroom closet and can't fathom what you can put in it.
I should now! For my first apartment, I basically had one shelf and a shallow bathroom closet to work with!

Seriously, if I had known these next three things, it would've been a game-changer for sure!
10. Over-the-Door Storage
For smaller bathrooms, especially those without a closet, you can always use over-the-door storage to organize your space.
Over-the-door towel racks are perfect for holding folded towels, while a hanger with baskets and hooks is great for storing all kinds of bathroom items.
You can use it to hold extra rolls of toilet paper (so that no one runs out!), facecloths, and drying towels. You can even add some decor to spruce up the back of your door!
Using over-the-door storage is also a great way to free up your bathroom closet if it's small and not able to hold a lot of stuff.
11. Over-the-Toilet Rack
Another awesome way to free up space in your small bathroom closet, or organize your bathroom if you don't have a closet, is to use an over-the-toilet stand.
You can keep spare toilet paper handy and use the shelves to hold other things like face clothes, soaps, lotions, and more.
Some even have a bar along the top where you can hang hand towels.
While some over-the-toilet racks need to be installed into the wall, you can find ones that are freestanding, so you don't have to damage your bathroom.
12. Countertop Organizer
This list is all about organizing your bathroom, especially when you can't fit everything into your closet!
That's why these small bathroom closet organization ideas are all about maximizing the space you have.
I'm seriously OBSESSED with this countertop organizer because it has two shelves for storage along with a holder on the side for your toothbrush and toothpaste.
It's black, so it has that farmhouse feel, but it's also available in white.
You can keep all of your soaps, lotions, perfumes, and makeup on hand right on your bathroom counter.
And clear up space in your small bathroom closet!
Bathroom Linen Closet Organization Ideas
If all you have is a linen closet for your bathroom items, then there is still hope!
Check out what you can do maximize every square inch you have!
13. Roll Your Towels
Sometimes bathroom closet organizing ideas involve some life hacks to help you maximize and organize your space.
One thing you can do to organize your linen closet is to roll your towels instead of folding them.
You can either fold the towel into thirds and roll it up or tuck it into a triangle and roll it up.
You can stack your rolled towels, tuck them into a basket, place them in a bin with dividers, or even use a wine rack to store them!
14. Learn How to Fold Fitted Sheets
I'm sorry, but if you want amazing bathroom linen closet organization ideas, you're going to have to learn how to fold a fitted sheet!
Yes, this is an adulting task for sure, but you gotta learn it!
I know that my generation has certainly given up on the notion that folding fitted sheets is necessary.
I mean, what's wrong with rolling them up into a ball? They'll smooth out when you put them on the bed.
Unfortunately, folding your fitted sheets is going to make your linen closet so much more organized and create space for other things.
15. Rolling Hampers
If your linen closet is big enough to hold your hampers, consider getting ones that roll to make hauling them out easier.
You can get a sectioned hamper to help keep dirty clothes and towels separated or individual colored hampers for each member of your family.
Many sectioned hampers have laundry bags that are easily removable and close with a drawstring, making it super easy to get your laundry to your laundry room!
Even if you don't have enough space in your linen closet, this would be an amazing way to keep your bathroom or laundry room organized.
DIY Bathroom Closet Organization Ideas
On a budget? No shame!
You can get by with some DIY organization ideas for making a poppin' bathroom closet!
And, you don't need a garage or fancy tools to make it happen either
16. Bathroom Mirror Storage Case
If you're more of a DIY-er, there's no reason you can't make your own bathroom closet organization solutions!
This bathroom mirror storage case provides tons of storage for your bathroom as well as a full-length mirror.
If you have experience in woodworking or if you're up for trying something new, this project isn't all that difficult.
So, if you don't have a bathroom closet, just make one yourself!
17. Contact Paper Bins
Check out these super cute bins that you can easily make with a plastic bin and contact paper!
Contact paper comes in a huge variety of patterns, like white marble or even old barn wood.
You can even use cardboard boxes if you want to recycle what you have lying around.
Simply stick the contact paper to the bin or box, and you have an adorable DIY bathroom closet organization idea that matches your decor.
Tons of Bathroom Closet Organizing Ideas!
Are you ready to take your bathroom storage to the next level?
With these bathroom closet organizing ideas, you can make the most of your storage space and enjoy a stress-free experience whenever you need to grab a towel, lotion, or one single cotton swab.
So, stop spending time digging through your bathroom closet and give these ideas a try.
You'll thank me later!
Follow me on Pinterest for more home hacks to make your life easier.