When you live in an apartment, you don't have a whole lot of space, right?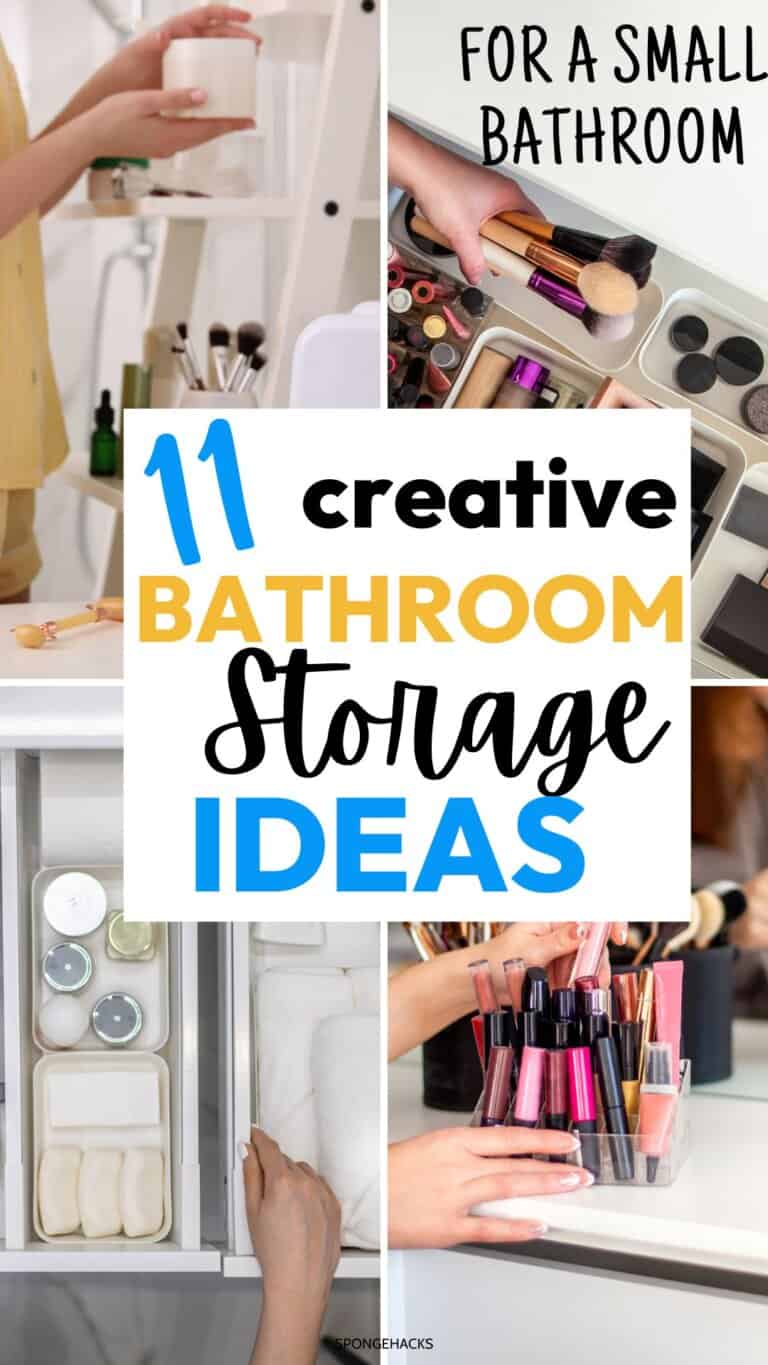 It's your very first apartment and a studio or 1-bedroom is just enough for you.
But because you're saving money or trying to be an adult, finding ways to store your items is a real struggle.
So when it comes to storing your makeup, you have to be creative!
There are tons of ways for you to declutter your vanity or bathroom countertop and keep your makeup all in one place.
I know doing this every day can seem like a big chore, but organizing your makeup can help you get through your morning routine so much easier….and create a habit so you're not even thinking about it.
I mean, who wants to add even more struggle to their mornings?
Luckily, there are some great ways you can turn your small bathroom into a makeup storage haven!
Let's check them out.
1. Use a Makeup Fridge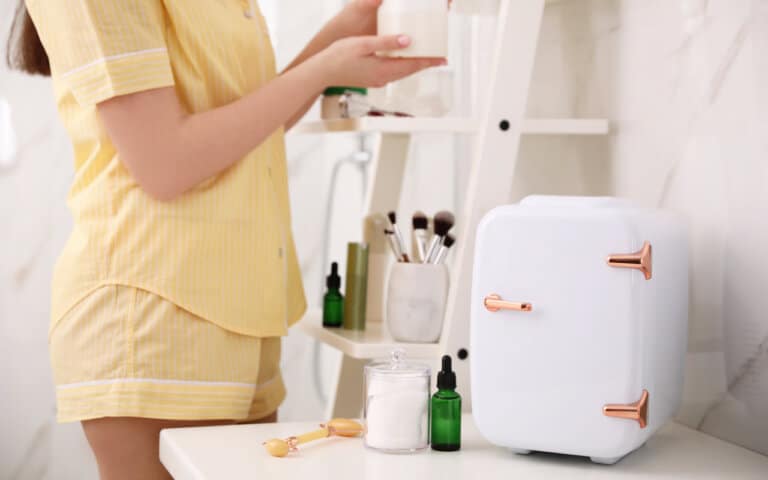 I'm OBSESSED with these ultra cute and chic mini makeup fridges!
I mean, c'mon! Look at them!
If you have skincare products that need to be chilled or cooled, then why not use this space saving fridge?
You can store it in your small bathroom, under the sink or even in your bedroom.
This mini fridge comes with drawers and areas to for your :
face masks
cold creams
clensing balms
eye creams
hydrogel creams
I just can't get enough of this fridge! LOVE IT!
2. Store Your Makeup Behind the Door
When you have a small bathroom, you have to take advantage of every space you can – even the vertical ones!
You can store your makeup and hair products behind your door by hanging an organizer on the back of the bathroom door.
Look for one that has hooks for hanging makeup bags, brushes, and other items like hair ties and bobby pins.
(Yeah, I know we're talking about makeup, but why not organize your hair stuff too???)
Shoe organizers are best for storing makeup since it has separate compartments that you can use as makeup storage for a small bathroom.
3. Put Your Makeup in a Vanity Organizer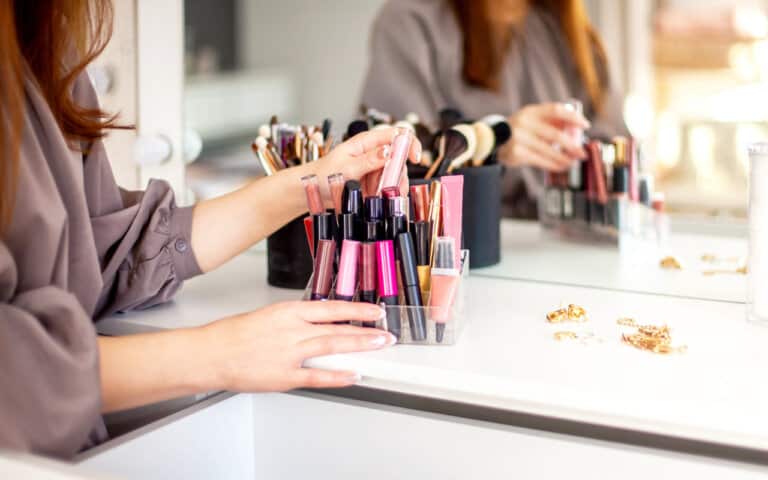 If you don't have drawers or space on the back of your door, you can always use a vanity organizer to hold your makeup and organize your bathroom.
You can buy a plain box or a makeup box designed specifically for this!
Makeup vanity organizers are usually square or rectangular and come in different sizes.
They are perfect if you have extra room on your counter or a shelf above your toilet.
When choosing a box or container to hold your foundation, eye shadow palettes, and brushes, look for something that's sturdy so that it doesn't get knocked around your bathroom.
Who wants to stop their makeup routine to clean up a mess?
4. Use a Cosmetic Box
If you're looking for a super cute and accessible way to store your makeup, then what about a cute cosmetic box!
You know, the ones you probably had back in high school! Well, they work for your apartment bathroom too!
Not only is it convenient, but it's also super stylish.
Inside these makeup kits, there are several shelves and drawers that make organizing your cosmetics easy.
You can store everything from makeup brushes to eyeshadow palettes without having to worry about them getting mixed up or disorganized.
And since most makeup boxes come with a handle or latch, it's easier than ever to carry your favorite beauty products around with you when traveling.
Plus, many of these boxes are designed with safety in mind; they often come with secure lids and locks that keep your items safe and sound even when on the go!
So, glam it up with a cute makeup case!
5. Use a Drawer Organizer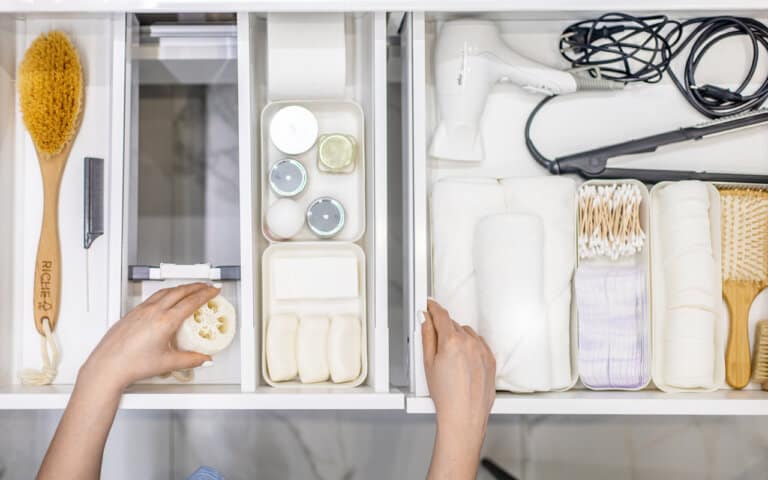 If you have a drawer in your bathroom, but let me guess –
Everything is thrown in there with no order, rhyme or reason.
But an easy way to fix this almost INSTANTLY is to get plastic drawer organizers.
Keep all of your makeup organized and in one place!
And, you know what?
It's my secret obsession to get ALL my DRAWERS organized like a BOSS!
Here are my tips for using a drawer organization:
Make sure that the drawer organizer is large enough to hold everything you need.
Make sure there are no gaps between the drawers or dividers. This will keep everything organized and prevent your makeup from falling out of place while it's being stored.
If possible, choose a drawer organizer with removable compartments so that you can easily remove them when it's time to clean or rearrange.
With removable compartments, you can even grab the whole thing instead of hauling out all of your makeup.
You can put all of your eyeshadow in one compartment, all of your foundations and concealers in another, etc., and pull them out while you're putting together your awesome look!
6. Use a Medicine Cabinet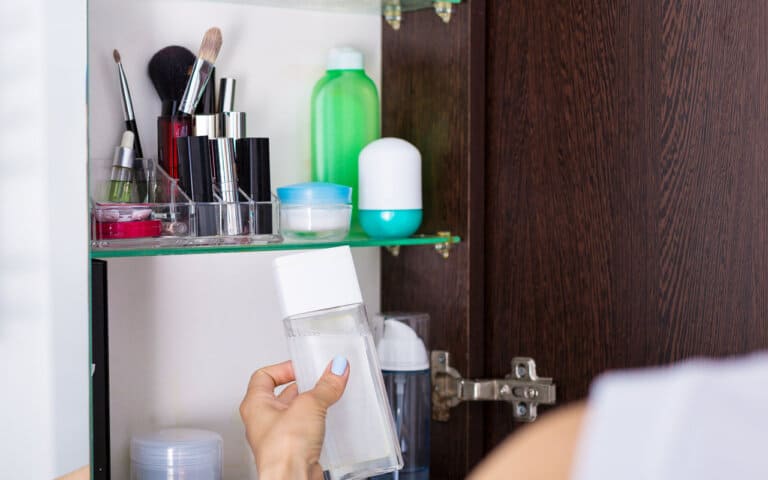 If your bathroom has a medicine cabinet mirror above the sink, why not use that small to store and organize your makeup?
You can easily store your "medicine" and other items that typically go in these cabinets in a storage box under your sink – your makeup needs the limelight!
Putting your makeup in a medicine cabinet makes it easy to see and grab.
Group your makeup together by type, like all of your lipstick together and all of your brushes together.
It may be hard to store smaller eyeshadow palettes vertically in a medicine cabinet, so you may have to use small containers to keep them from falling out.
But if you have bigger eyeshadow palettes, they should easily rest upright inside.
7. Grab a Tiered Organizer
A tiered organizer is one of those plastic organizers that have little compartments on top and small drawers.
This is perfect for makeup storage for a small bathroom!
And, I think it looks stylish next to your towels and soap!
You can easily fit it onto your counter or near your sink.
You can store things like lipstick, mascara, creams, and blushes on top in the little compartments.
The drawers are perfect for smaller eyeshadow palettes and other flat beauty products.
Plus, it's clear, so you can easily see everything you have!
Especially if you get one that spins so you can easily access all of your makeup while saving space. in your bathroom.
If you don't have room around your sink, you can always put it under your sink or in a closet and take it out when you need it.
8. Use Magnets!
OMG, this idea is so cool!
You can organize your makeup on a magnet board and use the wall to save space in your tiny bathroom.
Just grab a magnet board or use a cookie sheet. Hang it on the wall somewhere that's easy to reach.
(I would probably avoid putting it anywhere above the toilet in case you drop something!)
Then, glue small magnets onto the backs of your cosmetics and stick them to the board or sheet.
Or grab some magnetic makeup cases instead if you don't have the time to craft!
I love this idea because it's super cheap and lets you lay out all of your makeup without using up space in your bathroom.
You can easily find small magnets at the dollar store, so you won't be spending tons of money when it comes to adding new makeup to your magnet board.
9. Use a Slim Rolling Cart
If you have just the tiniest bit of space in your bathroom, then you can use a slim rolling cart to store and organize your makeup.
These carts are usually three-tiered and have wheels so you can roll them around your bathroom.
So even if you have to tuck it into a corner, you can wheel it out to do your makeup.
You can also stick some drawer dividers into each basket of the cart to separate and organize your makeup and other beauty items.
Oh, you can put your makeup on top and your hair stuff on the bottom!
How's that for super small bathroom organization?
10. Spice Rack
Another cheap way to create makeup storage for a small bathroom is to use an acrylic spice rack.
Yup, just hang some spice racks on the wall in your bathroom and use them to organize your makeup.
It's kind of like having an open medicine cabinet, but you have those little ledges to keep things from falling off.
Spice racks are inexpensive, and you can paint them to match your bathroom decor!
What I love about using spice racks and some of these other makeup storage ideas is that you can see everything you have.
Laying it all out means that you can keep track of the makeup you own, what you're using, and what you're not using.
11. Use a Makeup Toiletry Bag
I don't know about you, but while I love me a rolling cart or makeup box, sometimes just having the basic toiletry bag does the job.
I mean, if you gotta quick travel arrangement, your makeup and toiletries are already packed!
LOVE IT!
Actually, we're going to talk about cutting back on your makeup to create more space in your bathroom:
Cutting Back on Your Makeup – What Do You Really Need?
Even with these makeup storage for small bathroom ideas, it's possible that you have too much makeup!
I know the thought of tossing any of your makeup is probably making you cringe right now, but hear me out:
You could clear out so much space in your bathroom and more easily store your makeup if you weed through what you have.
Start by looking at expiration dates and see what products are past their prime – these should definitely be tossed!
Also, take a look at any palettes you haven't used in forever.
Do you have a friend who would rock those colors you've been ignoring? Pass it along!
But if you're feeling totally overwhelmed by the amount of makeup you have, let's go back to basics and look at what you need at a minimum:
Primer
Concealer
Foundation
Blush
Highlighter
Mascara
Eyeliner
Eyebrow pencil
Lipstick
Eyeshadow palette
Brushes
Sponges
Makeup wipes
This is all you need to create an amazing makeup look, whether you wear makeup daily or want to glam it up for a night out!
I'm not saying you should dump your favorite makeup just to make space, but take a good look at what you have and what you can get rid of because it's old or you don't use it anymore.
Small Bathrooms Are No Excuse For Messy Storage!
Trust me, I know what it's like to live in a tiny space, but there are always ways to keep things clean and organized.
So if you have a small bathroom, don't let that be an excuse for messy makeup storage!
The point is that you can make your small bathroom look great by using these makeup storage ideas.
If you have lots of makeup and other beauty products, keep them organized and tidy while also keeping them close at hand when you need them. And of course, don't forget to have a handy bathroom cleaning checklist nearby!