Bathrooms are one of filthiest rooms in the home.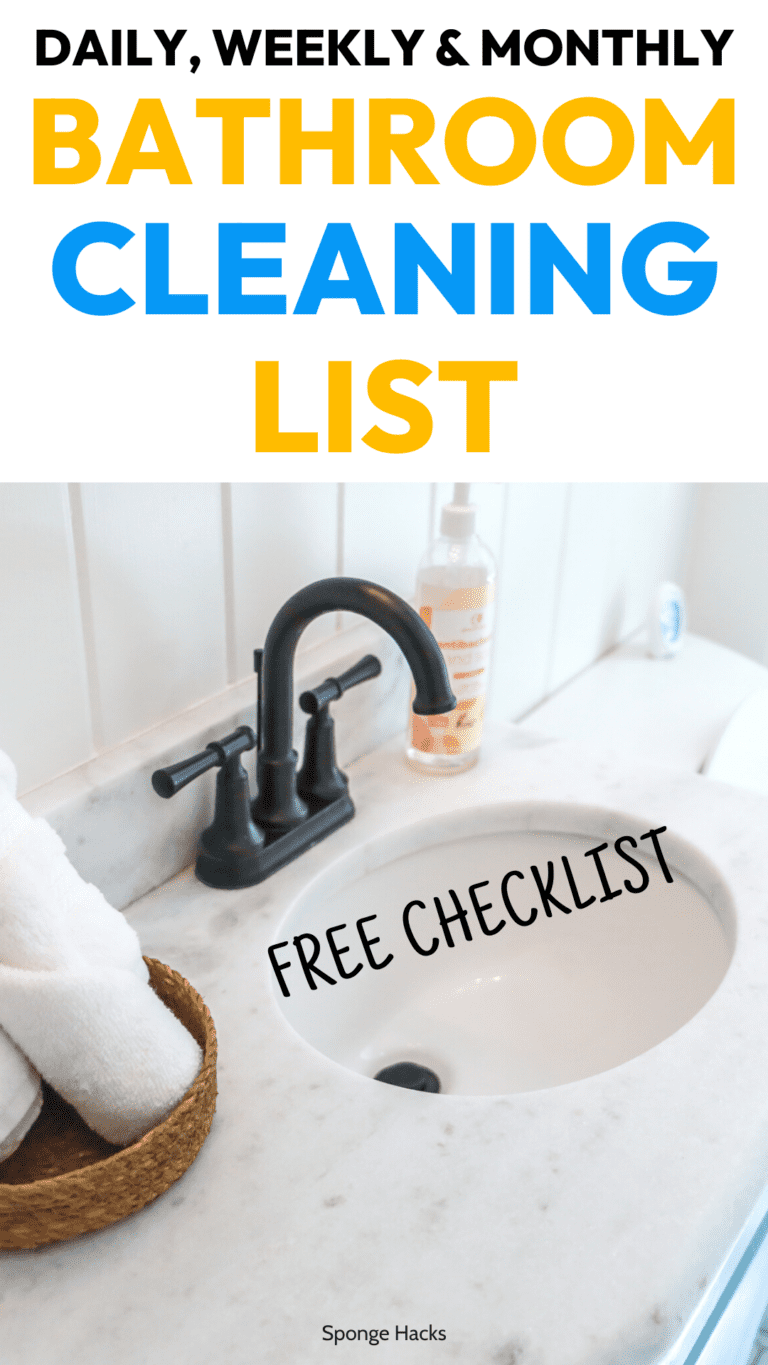 Scum and bacteria build up in just about every nook and cranny.
Eww, gross and no thanks!
But, I know if you don't clean this often and properly, this germ room can pose a serious risk to our health.
And oh, the clutter!
Don't get me started!!!
It can be pretty embarrassing when your guests see and smell things that will haunt them long after they've left your home.
Don't tell, but this has happens to me more often than not!
Cleaning expert Gretchen Rubin reminds us that "Outer order contributes to inner calm."
Forget the dozens of cleaning routines you've tried in the past – you know, the Tik Tok cleaning hacks – that did nothing but overwhelm you.
Who has time for that? I know I don't with my busy schedule.
Let's go back to the basics – no crazy five-step cleaning routine with thirty tiny time saving hacks!
Not for me!
So, to help you out, I've broken down the bathroom cleaning projects into daily, weekly, and monthly tasks.
BOOM! It's THAT easy!
And I've made a handy free checklist for you!
Don't forget to download my FREE Bathroom Cleaning List (Instant Download)!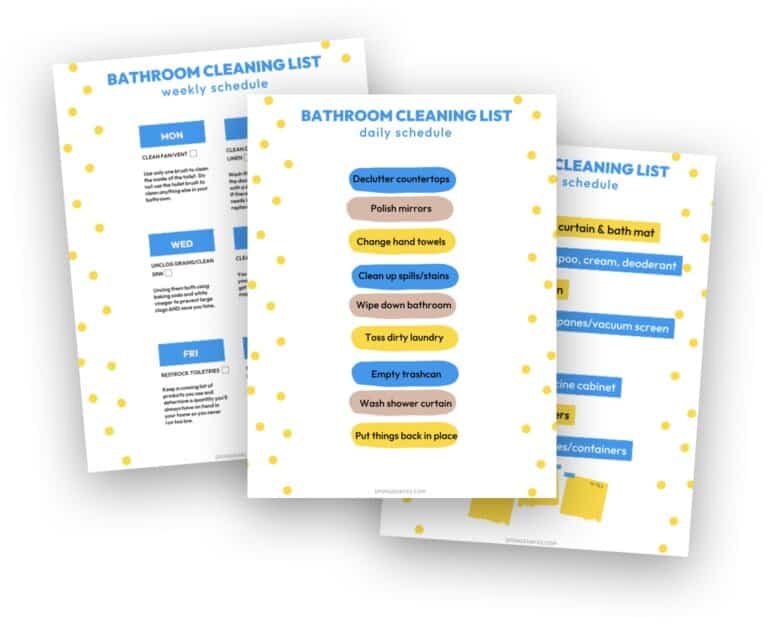 Give this bathroom cleaning checklist to your family and hold them accountable!
Now, with this daily, weekly and monthly bathroom list, keeping your bathroom clean and fresh will always be a breeze no matter how busy you are or how much you've hated cleaning it!
So make sure you click on the link and instantly download this FREE bathroom cleaning list (no email required!).
Daily Bathroom Cleaning Checklist
Look, not everyone enjoys cleaning bathrooms.
I mean I don't, but over the years, I've found the easiest and simplest way to clean a bathroom is to make it a routine and live by it.
For me, I add it to my core six daily tasks that I do seven days a week.
It's a lot less stressful when you're not standing in the middle of the room wondering where to begin, when you'll finish, or putting it of altogether!
Although you're probably super busy, you can still transform your bathroom by cleaning for ONLY 5-15 minutes per day. Even if you're tackling 2 bathrooms!
Fast and easy, right?
These are easy tasks you can do each day to make sure your bathroom stays clean after each use.
Declutter countertops
Polish the mirrors
Clean spills and stains right away
Wipe down bathtub after each use – I like to use these to wipe down my bathroom quickly
Toss dirty laundry in the laundry basket – I'm OBSESSED with this laundry system.
Empty the trash in the waste bin
Allow shower curtain to full air dry to prevent mold
Put all items back in their proper place immediately after use
Bonus time!
If you have a few more minutes left, go ahead and wash your vinyl shower curtain!
I show you how I do wash my shower curtain in my Story Pin.
It will make your bathroom instantly smell clean and fresh!
Give it a try and don't forget to save my Pin!
And, one other thing that is a LIFE SAVER in my bathroom is to have a small dehumidifier.
This helps dry the wet towels, wet curtain and just the dampness in the bathroom much faster, lessening the chances of mold build up or a stinky smell!
Doing these tasks will help ensure your bathroom stays tidy and also clean.
You'll avoid letting clutter build up that will later take more time to clean up.
Keeping the bathroom clean will take less effort overall if you focus everyday on cleaning as you go rather than leaving things to put away later.
I know it may seem like a lot to do every single day, but it should only take you ten minutes or less to get it all done!
This might mean planning to give yourself and additional 10 minutes before heading out for work or going to bed.
Weekly Bathroom Cleaning Checklist
For longer tasks and ones that don't need attention daily, try putting them on a weekly cleaning routine.
But, be flexible with this checklist.
For example, if you have guests or playdates frequently in your home, I'd adjust and clean more often.
Especially with more viruses floating around. Ahem- COVID.
Before we get into the weekly bathroom cleaning tasks, here is a short list of cleaning products you will need.
Sunday:
Clean the toilet – Make sure there's only one brush you use to clean the inside of the toilet. Do not use the toilet brush to clean anything else in your bathroom. Check out this chrome black toilet brush cleaner! TO DIE FOR!
Monday:
Clean the fan/ vent – Use a disinfectant solution to clean any build-up debris using a cloth or feather duster.
Tuesday:
Clean the door + replace linen – Yes, even the door can become layered with bacteria that's invisible to the naked eye.
Wash the front and back of the door and door knobs with a disinfectant.
If there's dirty linen that needs immediate attention, replace it with clean linen.
Wednesday:
Unclog drains + clean the sink – Rather than wait until your tub and sink drains are super slow….stay ahead in the game. Unclog them both using baking soda and white vinegar to prevent large clogs AND save you time.
This means not having to wait those extra minutes before cleaning out your tub after you've used it.
Thursday:
Clean your floor – Your cleaning preference will likely depend on the size of your bathroom. If it's small, you may want to get on your hands and knees to get the job done.
If you have a larger bathroom (or more than one), using a mop could make it a lot easier.
Check out these simple Fabuloso hacks for cleaning your floor!
Friday:
Restock toiletries – Avoid running low on items you need in your bathroom by doing inventory during the restocking process. Keep a running list of products you use and determine a quantity you'll always have on hand in your home so you never run too low.
If you explore new brands and products you want to keep using, add them to the list. This cuts down on shopping trips.
Saturday:
Clean your bathtub and shower – Bon Ami is the BEST product for cleaning and scouring your tub. It's the eco-friendly alternative to Comet and works just as well.
You should be cleaning your bathtub daily, but once a week you should clean the tile and grout.
This goes a step further than your daily tub cleaning because it requires deep cleaning.
Focus on reaching high where dirt splashes up from hair washes on the walls of the shower.
You can't always see the dirt, but it's there!
Can it really be that simple?
The answer is yes!
As long as you follow the daily routine mentioned above in addition to each of these weekday tasks, you'll be on a roll.
You also call that a routine. Oh yea! Oh yea!
Monthly Bathroom Cleaning Checklist
Tackle these monthly cleaning chores to top off what you're doing daily and weeky.
I found that scheduling the time to do these cleaning tasks on your calendar holds me accountable to actually DOING THEM!
Otherwise, it can be easy to slip back into chaos….and it does happen!
Choose what day you'll do your monthly cleaning ahead of time.
Don't rely on how you feel. For example, you could choose the 15th of every month, varying days, or the last Sunday of each month. Just stick to it!
Wash items like the bathroom rug, shower curtain liner, and shower mat. I like this one because I can throw it in the washing machine!
Refill and restock things that are low or empty (shampoo, hand soap, toilet paper, air freshner, tampons and/or feminine pads and plastic bags for female guests, etc)
Clean trash can
Clean window panes
Vacuum rugs
Organize medicine cabinet
Organize drawers
Get rid of anything that you don't need, use, or love!
Don't wait months or even a year before deep cleaning your bathroom.
Do a 30-day purge to clean and get rid of things that just don't give your bathroom the vibe you want.
This will take your bathroom from feeling like an old garage to a tranquil room you enjoy stepping into everyday.
And, if you commit to the daily bathroom cleaning tasks, your monthly cleaning tasks will be a breeze!
Win-win!
6 Bathroom Cleaning Tips I Swear By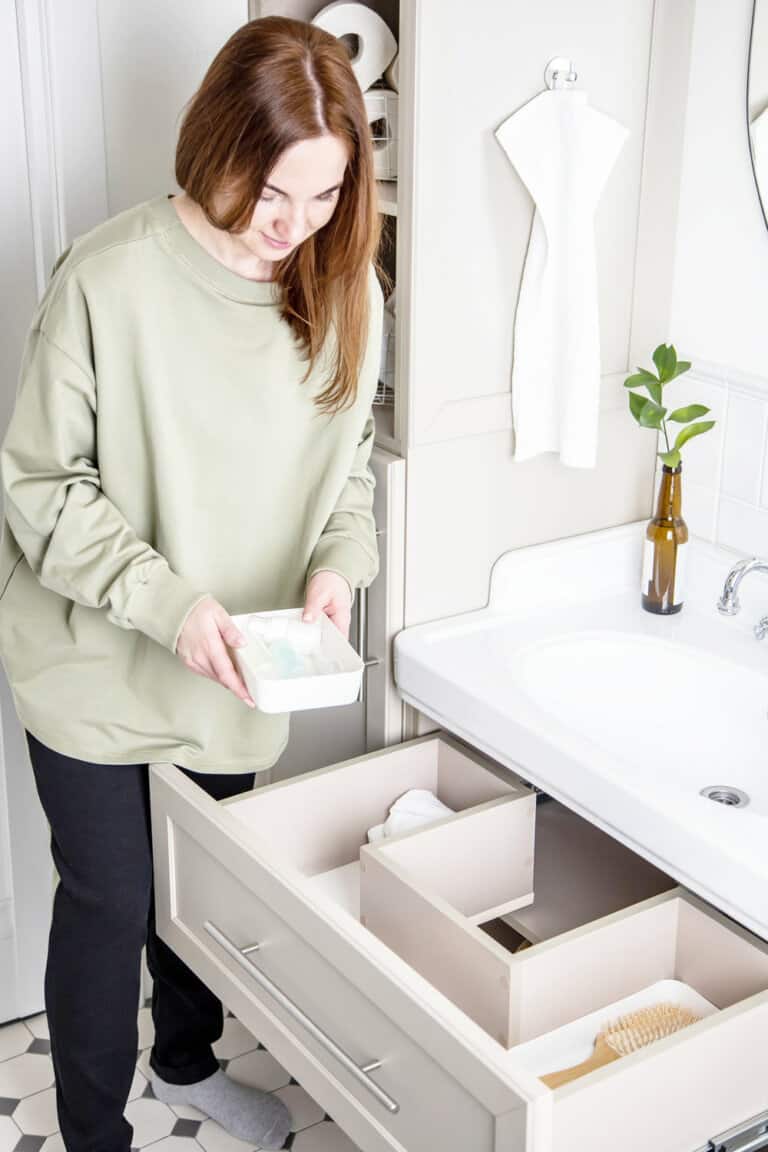 "When home feels out of control, no matter what the reason, unsettledness and anxiety can seep in, and then the chaos becomes internal as well as external." -Myquillyn Smith, "Cozy Minimalist Home: More Style, Less Stuff"
I've experienced this reality many times. The internal and external chaos and disorder feed off of each other and creates mental fogginess.
Getting organized and settled on the outside helps a TON with regulating your inner peace.
Getting the right bathroom cleaning tools in your arsenal is EVERYTHING.
I'm here to pass on my favorite go-to tools and best tips.
1. Use a Magic Eraser to Clean Your Shower
OMG!
Have you tried this on your shower?
Magic erasers are tough on stains, and with very little elbow work! It really is like….magic!
Make sure to do a spot test on the surface you intend to clean because it's not safe to use on every surface.
2. Use Chopsticks for Cleaning
Would you have guessed that chopsticks are the perfect tool for getting in those hard to reach places? Get in the cracks of tile, in the crevice of the sink and many other tiny places.
Just wrap the end of the chop stick in a thin cloth and begin working on the troubled area.
3. Use an Old Toothbrush as a Cleaning Tool
It's small enough to do the job, and does it pretty darn well.
Just make sure to label the toothbrush and keep it separate from the one that goes in your mouth.
4. Use Shaving Cream to Prevent Foggy Mirrors
Can't stand foggy mirrors after you shower? Me either! Apply a small amount of shaving cream to your mirrors and shower doors and wipe it away. And viola! No more foggy mirrors.
5. Create a Natural Air Freshner
Like baking soda, rice naturally absorbs odors. Creating your own air freshner saves you money by not having to purchase and replace the store-bought ones.
6. Shine Your Faucet with Lemon Juice
All you need is to do is cut a lemon in half and squeeze the juice on your faucet. Then take a microfiber cloth to polish it to a shine.
Grab Your Free Bathroom Cleaning Checklist Today!
It's time to love the space you're in!
From today, you can finally be done dreading cleaning your bathroom.
Your bathroom is more than just a place to go in and out. See for yourself how it's very easy to maintain a clean and organized bathroom space to bring peace and calm in your home.
Your days of cleaning your bathroom are gonna be sweeter with your bathroom cleaning checklist.
So don't forget to download it now!
Follow me on Pinterest!