At the end of the day, all I want to do is relax. But, before I can do that I HAVE to check TikTok.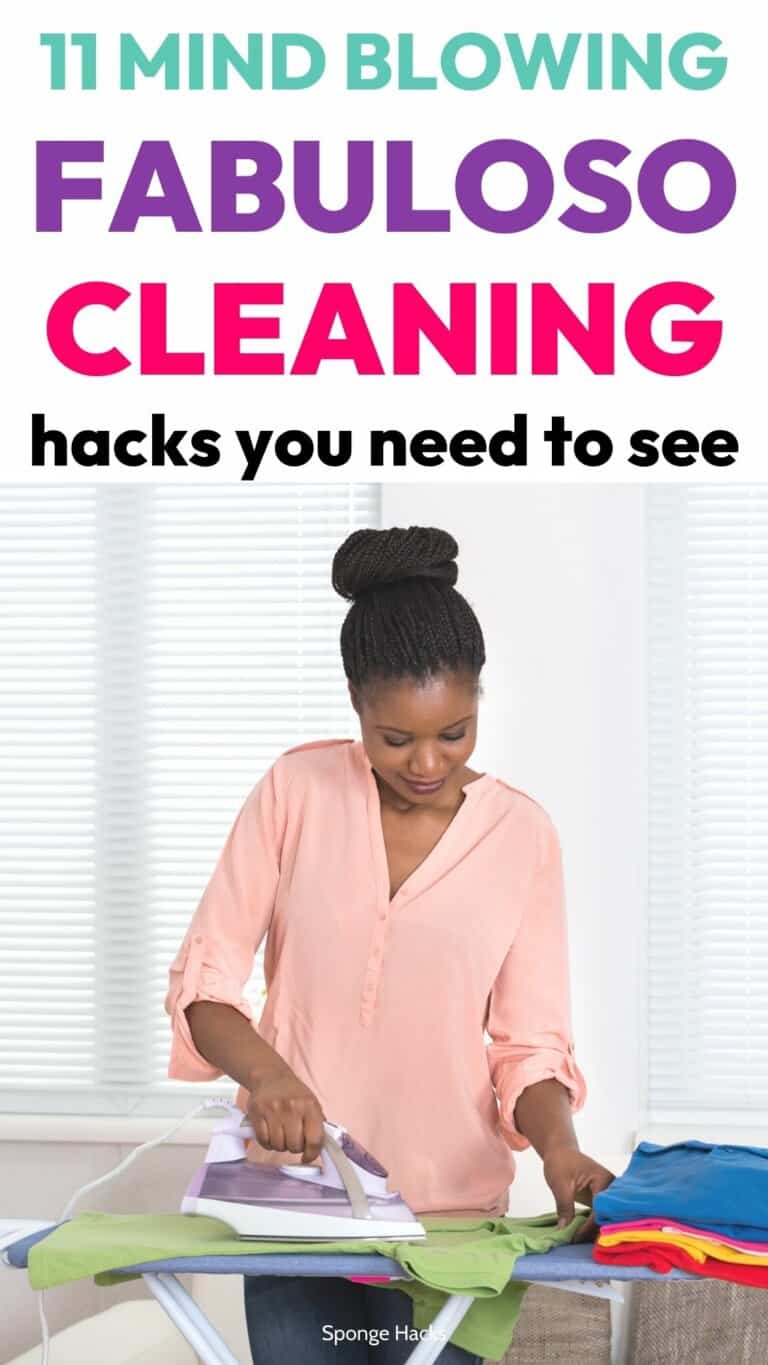 Are you the same?
I'm always on the hunt from some amazing cleaning hacks I see on TikTok, and lately I've been obsessed with Fabuloso hacks.
I mean do you know about the Fabuloso floor cleaner hack? Mind Blown!
Don't worry, I'll show you what it is later on in the post!
Call it #Fabulosocleaning or just some good CleanTok, but I want to share some of the best viral Fabuloso hacks that cut the grime, make your house or apartment smell delicious and just blow your freakin' mind!
So let's get to them.
What is Fabuloso & How Do You Clean With It?
Fabuloso is a multi-purpose general cleaner. It's best on hard surfaces and it helps cut the grease and grime you would see from buildup but it's safe to use every day.
You can use Fabuloso with a sponge or a microfiber cloth.
Many of the cleaning hacks dilute Fabuloso with other things like water or baking soda so you don't need a lot of this multi-purpose cleaner.
Work it into your general cleaning routine and have fun choosing a scent you like!
Fabuloso Cleaning Hacks You Gotta Check Out
Whether you want to find the best cleaning supplies to do the job or you just want a product that does everything from the toilet to the kitchen counter, once you smell and try Fabuloso, it WILL be a staple cleaning supply for you!
1. The Most Popular Fabuloso Toilet Hack
I've already shared this amazing toilet cleaning hack, but I'll share it again because it's GENIUS.
Here is what you need to make this work:
This Fabuloso cleaning hack helps keep your bathroom smelling amazing for weeks.
2. Fabuloso in the Drain
Out of all the Fabuloso cleaner hacks I came across on TikTok, this one was new to me!
All you do is take some Fabuloso and pour a few teaspoons down your drain and….leave it there!
It will LITERALLY make your ENTIRE house smell delicious!
3. Fabuloso Suds Really Clean!
A step up from the Fabuloso in the drain cleaning hack is to use a sponge (I like the Scrub Daddy) on top of the drain and pour some Fabuloso on the sponge.
Squeeze the sponge a bit to make it sudsy and clean the entire sink this way.
4. Disinfect With Fabuloso Antibacterial Cleaner
Fabuloso now has their version of an antibacterial cleaner.
Use this for your kitchen counters, toilets, doorknobs and anything else that needs to be disenfected.
5. Paint Roller + Fabuloso = Wall Cleaner
I love this Fabuloso cleaning hacks tip from TikTok!
With a fresh paint roller, dip it in a mixture of Fabuloso and backing soda and wash your walls it it (remember to ring the paint roller).
You have an instant wall cleaner spray…well, roll, but they act the same!
It's a fast and easy cleaning hack you can try and that really works!
6. Fabuloso Floor Cleaner
OMG!
When I saw this on TikTok I couldn't believe what I was seeing!
First, let me tell you there are a lot of different Fabuloso floor cleaner recipes.
I did learn that while many use laundry detergent, I suggest you stay away from those Fabuloso cleaner hacks.
Tide or some other laundry detergent will leave a thin film over your hardwood or laminate and it just doesn't look or feel good. Instead, use this Fabuloso Floor cleaner recipe:
That's it!
Pour it into your Cedar Mop (AKA TikTok mop) and you're good to go.
And yes, you can mop hardwood floors with Fabuloso!
7. DIY Cleaner With Fabuloso
Follow Tiktoker @sheiskd_ and use her recipe to make your own antibacterial cleaner.
Fill the spray bottle with 3/4 of Fabuloso and squirt a few drops of Dawn into the container. Mix and you're ready to clean!
This is the perfect disinfectant cleaner when learning how to clean a toilet.
8. Use Fabuloso as a Bathroom Deodorizer
One of the easiest toilet hacks with Fabuloso is to simply pour a 1/2 cup of your favorite smelling Fabuloso cleaner and let it sit until the next flush!
Yes, put Fabuloso in the toilet!
Doing this will instantly make your entire bathroom smell amazing! A great bathroom deodorizer.
9. No Scrub Shower Cleaner (No Soap Scum, Mildew or Mold for a Month)
Get ahold of this amazing Fabuloso cleaner hack idea!
If you don't want to scrub your shower for an entire month all you need is:
Fill up the used spray bottle with about a 1/4 full of Fabuloso and 1/2 full of Lysol or so.
Mix it up and after you shower, spray down the shower with your DIY cleaner.
No need to rinse, but you will have streaks.
Do this each time and for a month you will have no mold, mildew or soap scum at all!
GENIUS!
10. On the Go Fabuloso
A cool cleaning hack is to always have Fabuloso on you!
Grab the Fabuloso Complete Wipes to store in your car, purse or gym bag!
Or, use them around the house for some quick kitchen cleaning. What I like about these types of cleaning wipes is that there is no chemical smell to them!
Each towelette is large enough and wet enough to do your entire kitchen counter or kitchen table and doorknobs for disinfecting!
Are you sold yet?
11. Fabuloso in the Laundry
You can wash your clothes with Fabuloso along with your laundry detergent to make them smell great!
Use a 1/2 cup Fabuloso to a regular load of towels, or sheets, or work clothes or anything that needs a heavy duty washing.
Your clothes will smell amazing!
Harmful Ways of Using Fabuloso
All over TikTok will see amazing cleaning hacks but just be careful!
Not all Fabuloso hacks are right or good for the house.
Please don't do these things with your Fabuloso:
1. Don't Boil Fabuloso
This is a big no-no.
Jill Michels, director of the Palmetto Poison Center in South Carolina, says,
"Cleaning products have chemicals in them that aren't meant to be boiled," Michels said. "When you boil them, they're vaporized into the air and it could cause a lot of irritation for people. Especially people with breathing problems like asthma and COPD."
2. Don't Put Fabuloso In a Drinking Bottle
There are TikTok videos of people putting Fabuloso into a plastic water bottle or Gatorade bottle but this isn't a good idea!
The vibrant colors of this cleaner makes it look like juice or Kool-aid, and that means if the bottle gets in the hands of a child, they may just drink it.
Opt for putting Fabuloso into a used cleaner bottle.
3. Don't Treat Fabuloso As a Disinfectant
Is Fabuloso a disinfectant?
Fabuloso is considered a multi-purpose general cleaner.
It does not contain antibacterial properties to kill germs (unless you buy the specific Fabuloso for that).
So, if you're in the kitchen, I advise to first clean your counters with an antibacterial kitchen cleaner (I like this one) and then use Fabuloso as a deodorizer if you cooked recently.
4. Don't Put Fabuloso in a Plug-In Air Freshener
If you have an empty Glade plug-in air freshener, don't replace it with Fabuloso.
Fabuloso is a multi-purpose cleaner, not an air freshener. It won't work as an air freshener because it's not oil-based and it can't be heated.
It's Time to Clean With Fabuloso Hacks!
There ya have it! Eleven awesome Fabuloso cleaning hacks you just have to try!
It's not only for the toilet!
Interested in if Fabuloso is better than Pine-Sol? Find out here!
Please Pin me!