Okay, so it is neeeeearly impossible to NOT notice #CleanTok is becoming a hot topic all over TikTok.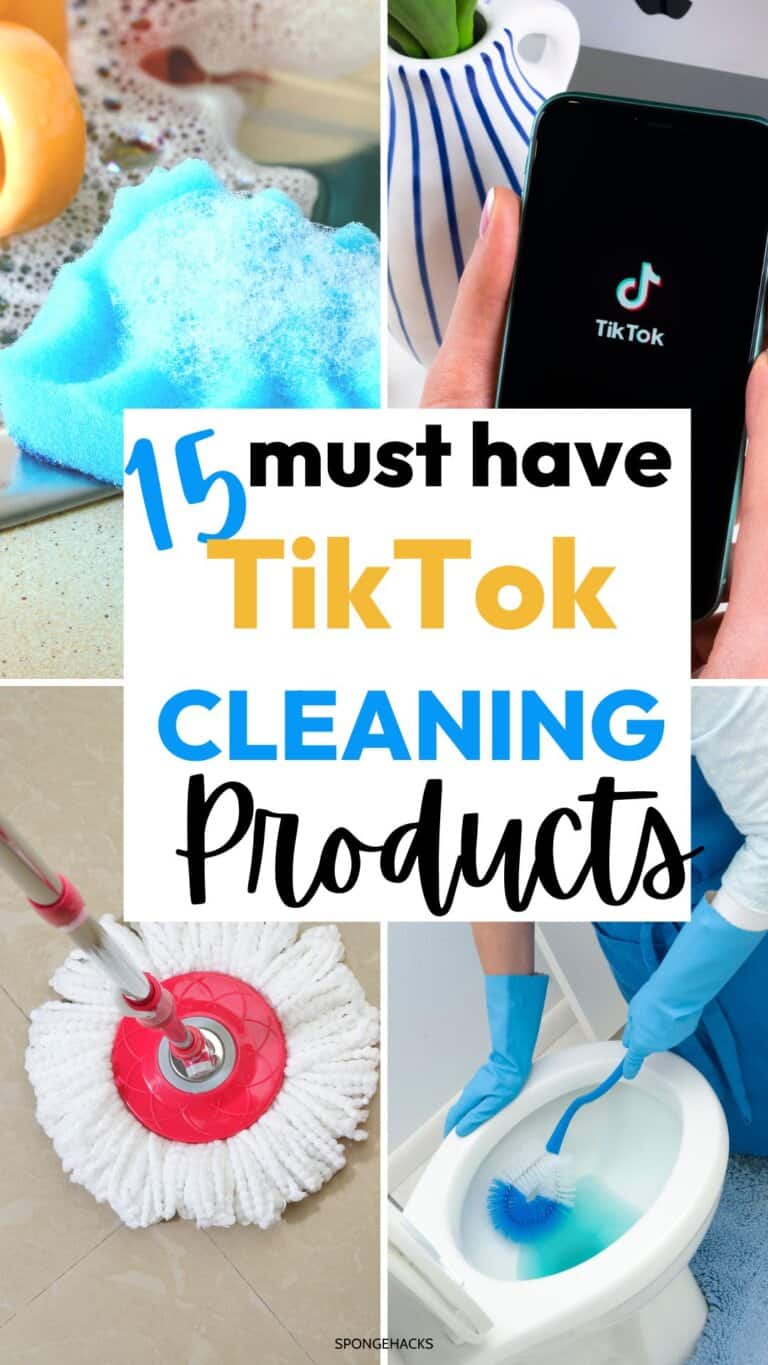 With billions of views and climbing, this up-and-coming social media app has taken clean to a whole new level!
So, naturally, I had to create a post just to specifically compile all the best, viral TikTok cleaning products that we could find – literally eeeeveryone is raving about them!
I've found fifteen of the BEST TikTok cleaning products that will leave you questioning every cleaning decision you've ever made in your life (in a good way, of course, haha).
Viral TikTok Cleaning Products
I found literally hundreds of different products – and even tried countless of them – and put together this list of some of the most popular and most effective TikTok cleaning products we could find.
Let's get to it!
1. The Pink Stuff
Of course, it's hard not to kick off this list of viral TikTok cleaning products WITHOUT mentioning *drumrolls* the Pink Stuff.
This pink paste has been known to remove even the toughest of stains off of hard surfaces, including white walls.
The company, Stardrops, actually offers a variety of different product types of the Pink Stuff, including a foaming spray.
TIP: You can actually create a homemade DIY version of something similar using baking soda, cream of tartar, liquid castile soap, water and essential oils.
2. Scrub Daddy Scrubber Sponge
So… I know we're supposed to be talking about how ScrubDaddy sponges are one of the most viral TikTok cleaning products out there, not to mention they are scratch-free and can pretty much resist anything building up in the niches of your kitchen, including mold…
BUT can we just talk about how utterly adorable these sponges are???
I mean, look at them!!!
How can you NOT want a cute, smiling sponge to help you tackle the mountain of dishes currently piling up in your kitchen sink??
Check out what they can clean on TikTok!
3. Desktop Vacuum Cleaner
This cute little desktop vacuum cleaner has taken TikTok by storm.
It's adorable and practical for helping clean counters and tabletops of dust particles, crumbs and even pet hair.
And, it barely takes any room on your desk or countertop!
You can even store it in your kitchen drawer!
Here it is on TikTok!
4. O-Cedar EasyWring Microfiber Spin Mop
I've personally not used another mop since I tried the O-cedar about a year and a half ago.
It is sooooo effective at picking up tiny particles and deeply cleaning my floors that I honestly cannot imagine NOT having this mop in my toolbox for cleaning my home.
Not to mention that it works wonderfully on a variety of hard floors and the easy wringing ability just makes life that much easier when it comes to cleaning your home.
Check it here on TikTok!
5. ColorCoral Cleaning Gel
Adult play-doh that ALSO doubles as a cleaning product?!
Take my money!!
I love sensory cleaning products like this gel!
Check it in action over on TikTok!
TIP: You can actually make your own version of cleaning slime by mixing together 4.6 oz of clear Elmer's school glue, ½ teaspoon of baking soda, and 1 ½ tablespoons of multi-purpose contact lens solution.
6. Drill Brush Set
I love seeing videos on this viral cleaning idea being used because whomever honestly came up with this idea of using a drill deserves an award, haha!
Okay, jokes aside, this is honestly pretty genius for tough-to-tackle cleaning situations.
One of the best examples I can think of is the grout that builds up in between the tiles.
I don't know about you but this is such a pain to properly and thoroughly clean.
This kind of tool is PERFECT for tackling this predicament. 🙂
7. Bissell Little Green Multi-Purpose Cleaner
If this is not one of the most satisfying cleans of all time, then seriously, I am not sure what is!
This handy dandy little machine, known on #cleanTok as the #littlegreenmachine, is probably one of the greatest inventions ever made and I say that with good reason.
The effectiveness of this little cleaner is so good that it will seriously leave you wondering why you hadn't bought this sooner.
It's great for cleaning up simple spills to down right hard to clean stains on your rug! Seriously! You're gonna love this little green machine.
See it on TikTok!
8. Bar Keeper's Friend
You know that amazing feeling you get after giving your kitchen counter and sink a good – and I mean a reeeeally good – clean??
Yeah, there's a reason Bar Keeper's Friend has the literal word 'friend' in the name and with good reason, haha.
Once you start using this product to clean the hard surfaces in your home, it's difficult switching to any other product honestly.
Their cooktop cleaner is perfect for cleaning my ceramic oven top!
9. ChomChom Roller
If you share your life and space (and just about everything else) with a furry pet, this may be your one-stop ticket from finally relieving yourself of all the unwanted pet hair off your couch and carpet.
Of course, vacuuming is great, but there are times where you just need a good, simple, quick clean up of pet hair without having to take out that vacuum.
I get it.
BUT this pet hair remover has literally been Godsend!
My friend has Huskies, so if aaaaaaanyone understands the literal essence of pet hair shedding, she does.
I don't think there is a single corner of her home that doesn't have pet hair.
Thankfully, ChompChomp and her have become new buddies, and he is helping her get her home tidied up and rid of pet hair shenanigans.
I just got a kitty so NOW I am going to need this very soon!
See it on TikTok!
TikTok Bathroom Cleaning Products
So #CleanTok has yet to disappoint (and I clearly spend way too much time hanging out in that corner of the internet), BUT, I will say, that cleaning products for your bathroom deserve a spot all of their own on this post.
10. Pine-Sol
It's nearly impossible to have a post about fab cleaning products and not include Pine-Sol.
I swear this stuff is like magic sent down from the heavens to help make my life easier and smell divine, haha.
And it's one cleaning product I religiously use!
The thing is a lot of people see Pine Sol as simply being a floor cleaner and, what they don't know is, Pine Sol can be used on just about any hard surface you can think of.
From countertops to sinks and even your wall could use a good Pine Sol clean!
Check this cleaner in action over on TikTok!
11. Scrubbing Bubbles Mega Shower Foamer
I love this product for cleaning bathroom floors and tubs.
The smell isn't too chemically and it leaves my bathroom sparkling clean.
It's great for getting the grime and scum from ceramic tiles, fiberglass, shower curtains and more!
Here it is on TikTok!
12. The Pink Stuff Cream Cleaner
This Pink Stuff is just so good that we have to mention it a second time!
This here is the creamer version, which is just a more convenient option of the Pink Stuff with the same effectiveness and great smell.
You'll literally wonder why you hadn't tried this sooner.
13. Silicone Toilet Brush
If you me IRL, you will know just how obsessed I've become over silicone tools!
So when I came across this silicone toilet brush, I HAD to check this one out.
And I must say that I am not disappointed with what I see!!
It's super easy to clean in those hard-to-reach nooks and crannies when it comes to cleaning your toilet.
Since the silicone bends easily, you're able to get into those spaces underneath the toilet rim that a normal, everyday brush couldn't reach.
Super hygienic and easy to hide away so that you aren't left with an eyesore sitting in the corner of your bathroom.
See all the amazeness with this silicone tool on TikTok!
14. Lysol Toilet Bowl Cleaner
I loooooooove using my Lysol Toilet Bowl Cleaner when I am planning a bathroom deep clean, or simply because my toilet is needing a freshening up.
This product leaves such a fresh smell, and leaves my toilet super sparkly clean.
You do need to make sure that you follow the instructions on using this product to assure that it works as efficiently as possible and, after that, just enjoy the wonder of sitting on a like-new porcelain throne, haha.
My favorite is that it comes out blue so it's easy to see what you cleaned!
15. Pumice Stone Toilet Bowl Cleaner
Okay, I had to leave this for last because it is one of the coolest tips I came across when it comes to cleaning my bathroom.
Hard water rings (that yellow-orange stain you get in your sinks, bathtubs and showers, and toilets) are soooooooooo annoying to get rid of!
I mean, I hadn't actually found a solution to them until I came across the pumice stone toilet bowl cleaner….on none other than TikTok!
Don't get fooled by the name though – you can use this to treat hard water stains on multiple different surfaces, including your bathtub.
Best TikTok Cleaning Products You Should Try
I hope #cleanTok has not only motivated you to get into the cleaning mode, but given you some ideas on different products you can try for tackling different cleaning predicaments.
I know it's extremely easy to get sucked into the world of mindless scrolling when using TikTok, BUT, sometimes, it truly does get me in the hype of getting some cleaning done in my apartment.
Oh! Liked this post and interested in knowing EVEN MORE cleaning hacks?? Check out my post on TikTok cleaning hacks to find other cleaning tips, tricks and hacks from TikTok.
Okay, so I know what you're thinking…time to hop onto TikTok for a bit…maybe for 5 minutes….no, make it 20 minutes!
Have fun exploring!
Remember to follow me on Pinterest!