Y'know how sometimes you come across something at the store that just literally screeeeeeam that you HAVE to buy it??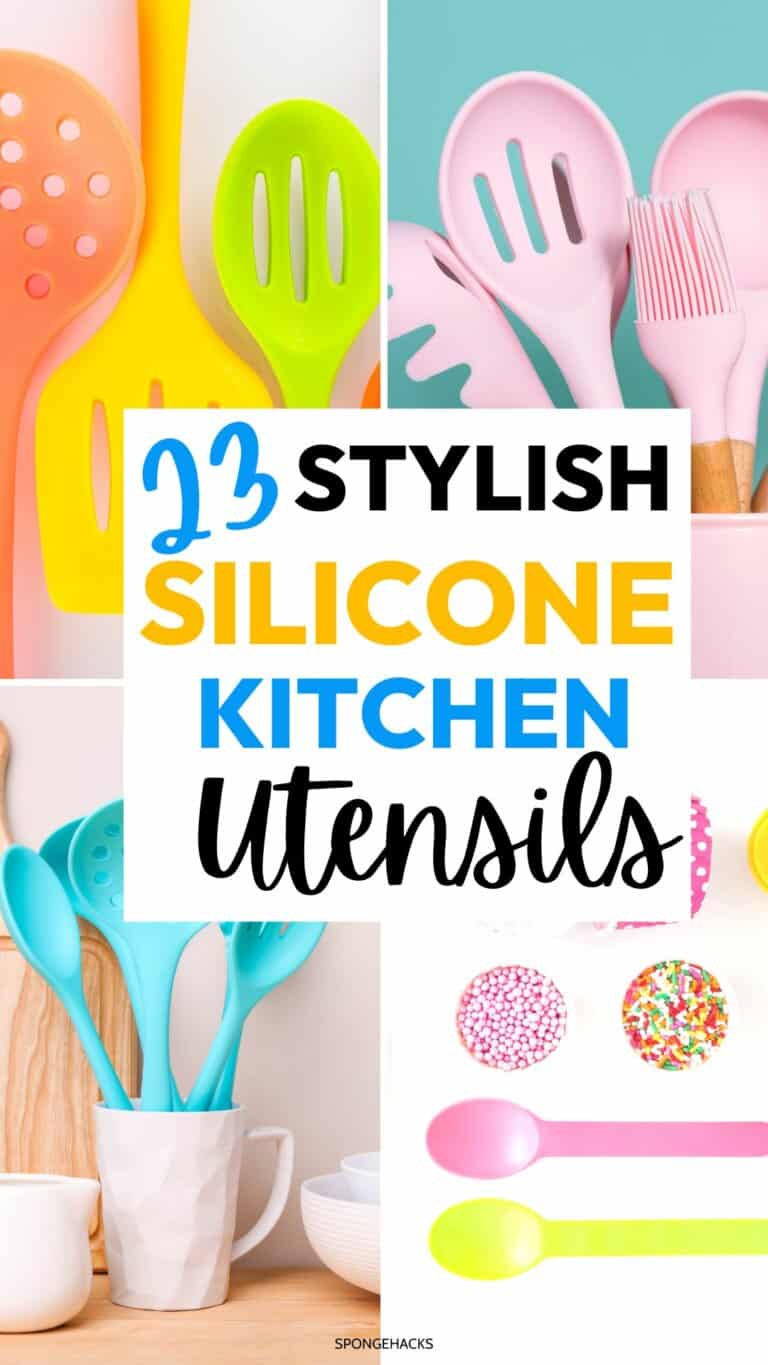 *cough – me at the Target Dollar Spot – cough*
That's pretty much my hype right now with silicone cooking utensils and these crazy awesome silicone sponges!
Oh. My. Gosh, you guys…
This is legit a whole new level of cooking tools and I'm so excited to share my oh–so–fabulous findings with you (haha)!!
To be even more specific, I've been obsessed with finding not only the best silicone cooking utensils, but also ones that are high-quality, safe, and non-toxic.
I've put together this list of THE best silicone cooking utensils PLUS a handy FAQ on all things silicone cooking tools at the end.
OK OK, I get it, you're obsessed.
What Are the Best Silicone Cooking Utensils?
I've gone ahead and broken down this list into two categories: sets and individuals.
I oh-so-love a nice new matching set of cooking utensils, but sometimes, you're just looking to buy one or two individual tools instead of a whole set.
I've added a few of those too!
Get ready…set…and go ga-ga!
Best Silicone Cooking Utensil (Sets)
1. Miusco Non-Stick Silicone Kitchen Utensils Set
Apart from the fact that this brand focuses on delivering products that are both high-quality and BPA-free, I HAVE to point out the beautiful choice of wood for the handles of this silicone cooking utensils set.
Not many silicone utensil sets focus on the quality of its handles!
It looks so natural and extremely light weight and just so elegant in any kitchen.
2. Hotec Rubber Spatula Set
This set from Hotec includes 5 different kinds of spatulas that are dishwasher-safe and BPA-free.
Spatulas have many uses so it helps to have some variety on your spatulas handy to tackle the different number of tasks in your kitchen.
3. Redwood Best Silicone Spatula Set of 2
I love all things simple and this set of spatulas fits that bill to a T.
You have the option between red or black and these specific spatulas come with a stainless steel core, meaning it can resist higher heat (up to 600 degrees F!!) and won't break easily like the cheaper plastic ones would.
A great option is you're looking for a sturdier option.
4. HIMAAT 6-piece Silicone Cooking Utensil Set
This set keeps the buyer's safety in mind and has safe silicone cooking utensils.
Each piece comes with a small slot to help prevent burns to your hand by keeping the tool from slipping through your fingers.
Ergonomic design allows for these bad boys to be lighter in weight than traditional utensils while maintaining a smooth, sleek look and feel.
5. Suntchen 9-piece Silicone Cooking Utensil Set
I am in *LOOOOOVE* with this set, especially the adorable pink whisk that came with it ~ bring on the cookie baking ~
And – wouldn't this set just look amazing on your kitchen countertop?
6. 5-pack Mini Spatulas
The simple fact that these mini spatulas are, well, mini, has been enough of a reason for me to buy them.
I mean, how can you NOT want to??! *Yes, I'm a sucker for miniature versions of everyday normal things*
7. Silicone Spatula Set with One-Piece Design
No need to worry about the head of the spatula detaching from the handle anymore!
This set prides in being a seamless design and being able to resist temps of up to 600 degrees F!
Now this is the absolute BEST silicone cooking utensils on this list!
8. Acacia Hardwood Spatula Baking Utensils
Chic. Sexy. Beautiful color design. *and it has a whisk!!*
They would look so cute with your kitchen dish towels, wouldn't they?
Enough said.
9. Seamless Silicone Set
I find tongs to be some of THE most useful kitchen tools on the face of our planet Earth.
You can literally do just about anything with them and this set brings it in silicone?? Yes, please!
10. Stainless Steel Silicone Cooking Utensil Set
If you're not interested in opting for a full-fledged silicone set, this stainless steel one with silicone handles and heads may be an option for you.
It looks modern and sleek and would look great in a kitchen full-on with stainless steel appliances.
Modern and clean look all around!
11. Rebekah Heat Resistant Silicone Set
I'm seriously diggin' the color palette for this adorable silicone cooking set from Rebekah.
I mean, you can't go wrong with this color in your kitchen!
12. Ultimate Kitchen Gadget Tool Set
This super stylish silicone utensil set is fully loaded with just about everything you could need in a kitchen gadget set.
Apart from being non toxic silicone cooking utensils, it also comes with a handy container so that you can keep your new toys organized.
Best Silicone Kitchen Utensils (Individuals)
Alright, we've covered a fabulous array of options for high quality silicone cooking utensils.
What about some individual tools to consider?
There's a huge variety of silicone kitchen tools out there that you maybe had no idea whatsoever even existed!
So let's look at the top rated silicone cooking utensils from the individual point!
13. Silicone Oven Mitts
Your oven mitts just got an upgrade.
Check out these flamin' mitts that are just perfect whether you're BBQ-ing for a weekend family gathering or taking a fresh batch of cookies out of the oven.
14. Pasta Spatula
If you're a lover of all things cheesy and carb-filtrated, then you've DESPERATELY NEEDED a silicone pasta spoon, like, yesterday.
15. Potato Masher
You can't go wrong with having a potato masher on hand.
It seriously helps make the job of mashing potatoes THAT much more efficient.
16. Measuring Cups
Adorable & collapsable. No more of your spatulas or tongs sticking out of your kitchen drawers because of your measuring cups.
Can't get any better than that!
17. Funnels
Okay, I can't be the ONLY one that has stuff spill all over the place.
(Psst… if you're like me, you NEED to be sure you invest in high-quality and efficient kitchen towels and kitchen cleaning supplies to help with those messy kitchen accidents.)
Whether you use these as fun project tools with kids or to just simply make your life easier, funnels just have a way of making any task a bit more, well, fun.
Here's a set that is also collapsable like the measuring cups mentioned previously.
18. Silicone Cutting Mat
OK OK, I honestly had no idea this was a thing a few months ago… but my obsession with silicone kitchen tools has finally led me to this side of the internet and I just can't get enough!
I love that these silicone cutting boards look hella' sturdy and I especially love that this particular set comes along with multiple board sizes.
19. Pasta Strainer
I mean, you didn't seriously expect me to mention a pasta spoon for our delicious pasta dinners WITHOUT mentioning an awesome pasta strainer to go with it. #IWantIt
20. Tongs
This kitchen tool was mentioned in one of the silicone kitchen utensils sets, but it honestly deserves its own spotlight as being one of the most versatile kitchen tools ever to come into existence.
21. Deep Soup Ladle
I was surprised that not many of the sets brought a ladle, which is great for when you make soups and stews.
22. Ice Cube Tray
Don't forget to grab this silicone ice cube tray for anything from ice cubes to dessert cups, to filling them with almond milk for your smoothies!
23. Muffin Tin Cups & Tray
Have a muffin tin and cups handy in the kitchen for hot and cold items! You won't believe how often you'll use these kitchen utensils!
Are Silicone Cooking Utensils Safe?
This is probably your biggest question at the moment: Are Silicone Cooking Utensils safe to use?
It isn't enough that silicone cooking utensils are stylish and lightweight, they have a few other benefits as well.
"Food grade silicone is very safe to use in any type of food. [Unlike some other materials], silicone does not react with food and beverages or produce any hazardous fumes." – according to this article written by ChinChin, who holds a B.S. in Food Technology.
Silicone has a very high heat-resistance, meaning it can withstand a TON of heat power and, if you're anyone like me, you won't have to worry about forgetting that spoon inside the pot of boiling water.
But, what about which is safer nylon or silicone cooking utensils? Both materials are scratch-resistant so they won't ruin your frying pans but silicone is overall the better choice!
They are non-toxic and can withstand high temperatures, making them the prefect cooking utensil to have around!
So it is safe to say that silicone tools are 100% safe to use in your kitchen.
So go craaaaay on styling up your kitchen with it!!
FAQs On Using Silicone Cooking Utensils
By now, you have a great idea of your options for the best, most top-quality, non-toxic kitchen cooking utensil options out there.
But you probably have a million questions floatin' about in your head about silicone and just how great it really is.
And that's great! It's important to be conscious and aware of what you're bringing into your home, much less what you're using with the food and drink you consume.
Here are the answers to some of the most common questions about silicone cooking utensils.
1. How Do I Clean White Residue from Silicone Cooking Utensils?
In this article from The Spruce, it talks about a whole lot of different approaches to cleaning your silicone cooking tools.
To clean white residue from silicone cooking utensils (this can result sometimes if you live in an area that has hard water and the minerals leave a white residue on silicone), you're going to soak the silicone pieces in distilled vinegar for about 30 minutes.
Vinegar is a powerful cleaning solution and it will ultimately cut through the mineral deposits.
Make sure to rinse your silicone pieces well and dry them with a cloth.
2. How High of Temperature Can Silicone Cooking Utensils Get To?
Silicone tools can withstand temperatures of up to 600 degrees Fahrenheit.
3. Do Silicone Cooking Utensils Melt When Using in a Skillet?
Silicone cooking utensils won't usually melt if you accidentally leave them in a pot or pan while cooking. (*cough* totally not talking from experience *cough*)
4. How Do You Clean Silicone Cooking Utensils?
I've have a post on some kitchen cleaning supplies that come in handy even when cleaning your silicone cooking utensils.
But for more help, check out this Youtube video!
So now you not only have a ton of options to add to your silicone shopping list, you also now have important information regarding these fabulous and best kitchen gadgets you maybe didn't know before.
Feel free to share some photos on your new handy kitchen silicone gadgets in the comments below!!
You can find a ton more information and resources on my Pinterest