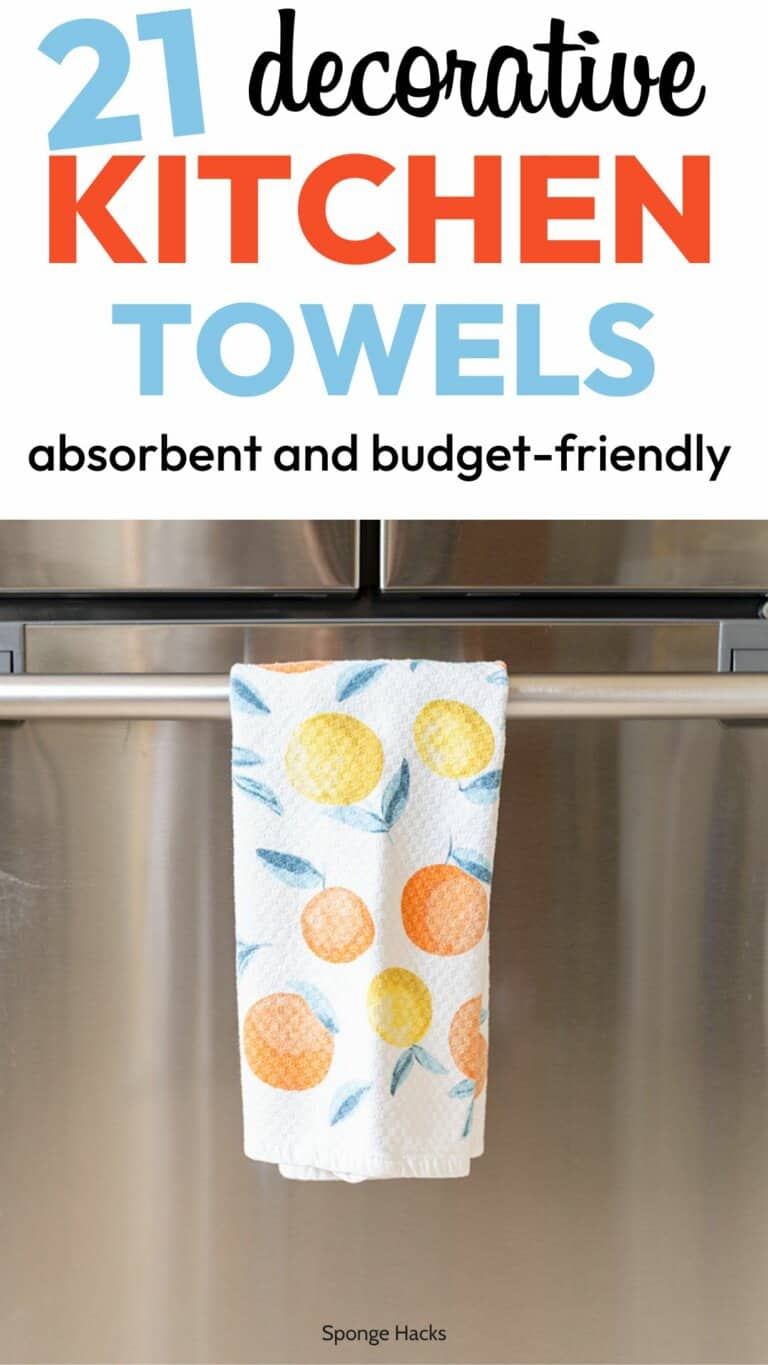 Look –
I am not spending more time than I need to in the kitchen to dry my dishes. I need something easy and quick to get the job done.
Basically, I want the best kitchen towels for drying dishes fast.
I don't always use my dishwasher and I enjoy washing dishes with my kitchen rag, but drying dishes by hand takes a long time.
I need the best kitchen towels for quick dish drying so that I can get it done as quickly as possible. I'm a busy person, and I don't have time to stand around and wait for dishes to dry. And, I'm sure you feel the same too, amiright?
Which kitchen towels and dishcloths could help speed up the dish drying process?
In this post I share what the best kitchen towels are for drying dishes. This means how absorbent and thick (or thin) they might be. I'll also share what type of laundry detergent to use too!
The Best Kitchen Towels for Drying Dishes
Are you wondering what the best kitchen towels to use are?
To answer this question, we need to know the different materials dish towels are made of.
Tea towels are generally thin towels while terry kitchen towels are thicker, so finding which towel to do what job can be confusing.
Let's look at the most common and most popular materials used for your kitchen towels.
Cotton dish towels
Linen dish towels
Microfiber towels for the kitchen
Bamboo dish towels
Each type of dish towel has its own strengths that can make drying dishes faster and easier.
1. Best Cotton Dish Towels
KAF All Over Kitchen Towels are so cute, right?
This kitchen towel set is everything!
They're beautiful, absorbent, and they won't thread or wear down washing them over and over again. I found each kitchen towel is relatively wrinkle-free even when left in the dryer for a bit.
I also love all the colors and design choices! The colors are crisp and attractive, and they'll add a touch of style to your kitchen. They make my kitchen just pop when the sun comes in!
Plus, they're the perfect size for wiping down counters, drying dishes, or cleaning up spills.
So if you're looking for decorative kitchen towels, this kitchen towels set is for you.
This is the set I have and they have many patterns to choose from.
You need these in your life. Trust me!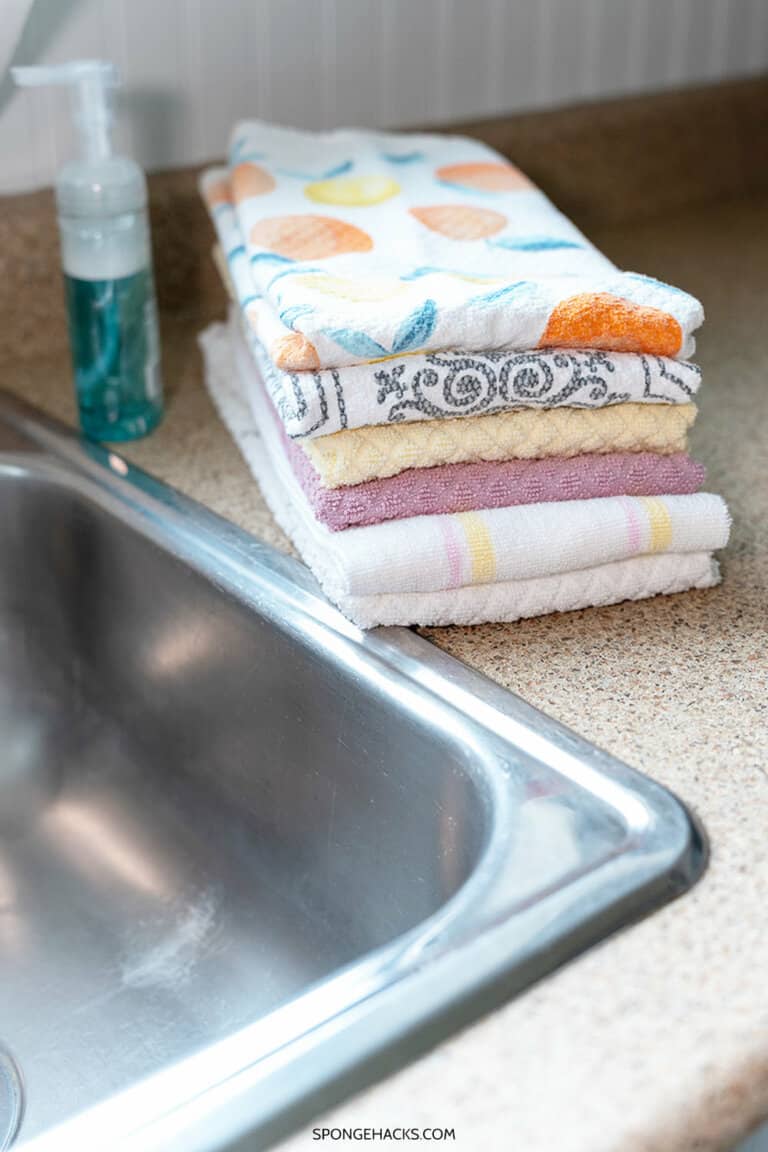 2. Best Linen Dish Towels
I'm obsessed with these linen dish towels!
They're so soft and absorbent, and they dry my dishes so much faster than cotton towels.
Each set comes with 13 of these towels which is a good thing as you'll never have to go looking for a clean kitchen towel (because all of them are in the wash!).
You can use them for the kitchen and bathroom but they're also great at the gym, for makeup and for your car for unexpected spills!
Plus, they're odor-resistant and more absorbent than cotton towels, so you can keep your kitchen smelling fresh and clean.
3. Best Microfiber Towels for Kitchen
Who doesn't have microfiber cloths in their linen closet? I know I can't live without these versatile dishcloths.
These kitchen towels are perfect for cleaning windows, kitchenware, cars, and even your glasses!
I LOVE these microfiber cloths for the kitchen so much and I use them ALL-THE-TIME.
They're also lint-free, making them ideal for streak-free cleaning. Whether you use them with or without water, these microfiber dish towels will make your house sparkling clean in no time.
4. Best Bamboo Kitchen Dish Towels
Have you ever tried bamboo kitchen dish towels?
These dish cloths are even more absorbent than cotton dish towels…and I had no idea!
Bamboo towels have a higher water absorption, so you can easily clean up your dishes without any detergent.
They are also soo soft and absorbent, rinsing well and staying odor-free even if they are left wet or moist for the night.
I've heard these are some of the best dish cloths around, so I'm sure you'll love them too!
Best Absorbent Kitchen Towels
While you just viewed the best types of dish rags in different materials, let's look at the best absorbent kitchen towels. You might be surprised which ones are in this list!
5. Swedish Dish Towels
Have you heard of these miraculous dish towels?
OMG!
What have I been missing here? This is news to me. These are the BEST absorbent kitchen towels on the market.
One of these dish towels equals 15 paper towels! Wh-what????
Made from super absorbent material, these dishcloths are perfect for wiping and cleaning in the kitchen or bathroom.
And want to know a cool thing about these Swedish dish towels?
They're reusable too – just throw them in the washing machine with your other towels after use and they'll be good as new.
Whether you're cleaning up marble, stainless steel, tile or wood surfaces, these powerful Swedish dishcloths will get the job done quickly and easily.
Plus, they're perfect for scrubbing dishes, cups, mugs, sinks, tubs and showers!
And, the come in fun vibrant colors!
6. Urban Villa Dish Towel Set
If you want some modern looking and stylish kitchen dish towels, then check out these Urban Villa dish towel set.
These will stand up to repeated use yet are still soft enough to avoid scratching your plates and pans.
Highly absorbent and quick-drying, these towels will help you keep your kitchen clean and bacteria-free. This is something that's important to me!
Plus, they're made from natural materials and free from harmful chemicals, making them safer for you and your family.
Just throw them in your laundry and machine wash and tumble dry on low for best results.
Make sure to wash this set separately on the first use in order to minimize lint.
7. Cotton Waffle Weave Dish Towels
Oooo! These look so soft!
These are definitely one of the best kitchen towels and dishcloths around.
This set is made with a cute honeycomb design making them clean up grime easily for any kitchen cleaning chore – from wiping up spills to drying dishes or wiping down your counters.
Plus, they get softer with every wash, so you can be sure they won't scratch your pots or pans.
Best of all, they're easy to care for – just machine wash in cold water and tumble dry low.
8. Bar Mop Towels for the Kitchen
Along with my KAF All Over Kitchen Towels I bought a set of these mop towels for my twins.
They often spill their juice or make a mess with their crafts (making slime) and I found these bar mop towels the perfect size for little hands.
These bar mop towels are awesome for wiping down surfaces, washing hands, and even for baking bread. They're super absorbent and durable, so you'll be able to use them over and over again. Plus, they're machine washable for easy care.
Whether you're a busy mom or a professional chef, these bar mop towels are a MUST HAVE kitchen item for keeping your kitchen clean and tidy.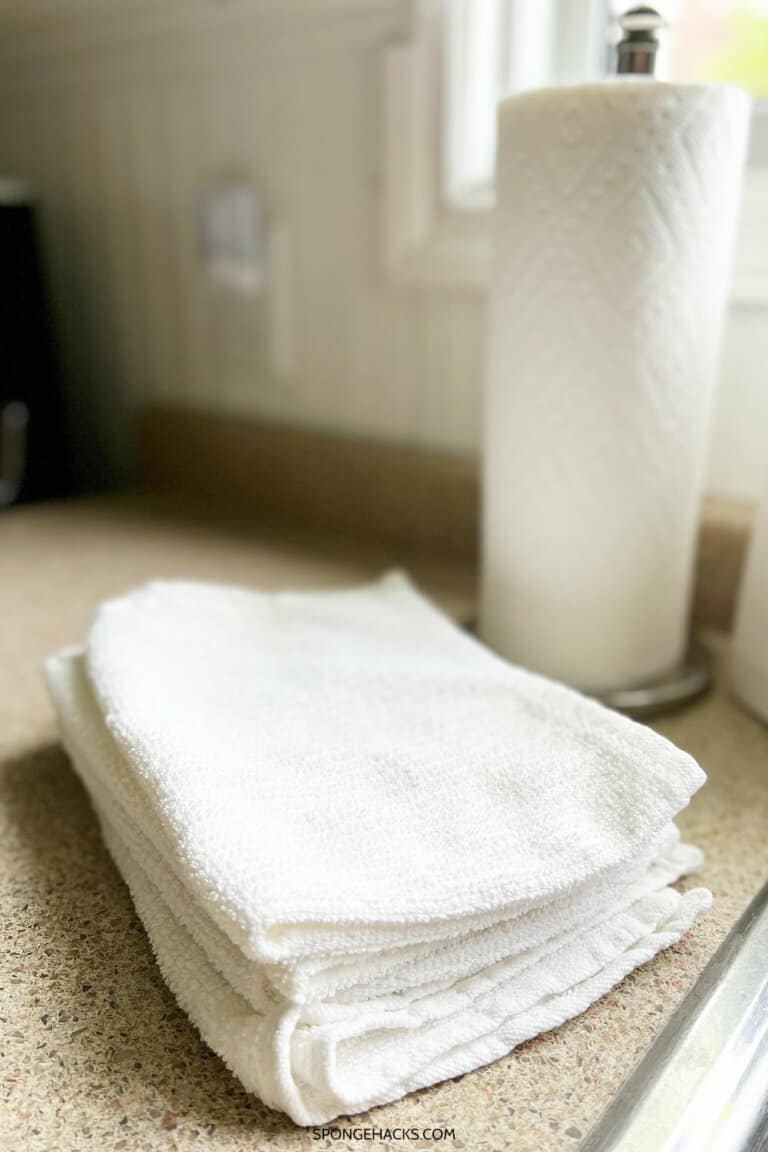 9. Utopia Towels
If you're looking for a large pack of dish towels, then grab this great deal of Utopia towels. In this pack you get 15 towels – black and white waffle design – to have on hand.
I like purchasing big sets so I can store some in my kitchen, bathrooms and upstairs.
10. A Set of Mixed Materials
OMG! This is perfect for when you just want a few terry towels and a few tea towels and cotton towels.
This premium set offers just that!
In this set you get two thinner towels – great for wiping and drying your hands – two medium thickness towels – perfect for wiping up spills or appliances – and two thicker kitchen towels – great for drying your dishes fast.
I find the thinner ones are some of the best hand towels I've seen!
Best Microfiber Towels for Kitchen
Let's move over to microfiber towels. While I did mention my favorite already in my list, here are some other ones that are equally absorbent, durable and great for every day use!
11. Kimteny Cloth Dish Towels
Look at these! The holy grail of kitchen dish cloths!
These are the perfect size for small hands (AKA women's hands) and they do great as a kitchen rag for washing dishes because these mighty microfiber kitchen towels hold a lot of soap.
These are super absorbent and soft to the touch!
These might be one of the best dishcloth out there!
12. Striped Microfiber Kitchen Towels
For what you get, these are a great budget-friendly pack of kitchen towels.
These striped microfiber towels are ultra absorbent, so they'll make quick work of any spills or messes your partner might do (or family).
They're also a great size for when you use them in the kitchen. Sometimes when you buy kitchen towels they are humongous and too big. You end up folding them over and just wasting the material.
And because they're made from microfiber, they're durable and will stay in good shape after multiple washes.
13. Polyte Ultra Premium Microfiber Kitchen Towels
These microfiber kitchen towels look soo absorbent, right?
A set of these towels are perfect for everything from drying dishes and polishing hard surfaces to cleaning countertops and glass.
And because they're made with microfiber, they will last hundred's of washes and uses.
So whether you're cleaning up your home, office or vehicle, these microfiber kitchen towels help dry your dishes fast – and leave them streak free and shining!
14. Fixsmith Microfiber Dish Towels
For a large set of microfiber dish towels, grab this Fixsmith set.
For less than $25 you get a set of 50 durable and easy care dish cloths that are highly versitle.
I can never get enough microfiber cloths for cleaning!
Funny Kitchen Towels
The kitchen can be a stressful place, right?
I know for me, if I'm cooking several things on the stove and I have chicken in the oven, I have to make sure everything is ready on time.
This makes me stressed out!
That's why having some funny kitchen towels to look at while cooking can ease off the stress and just make cooking go by a bit faster!
Note: these types of kitchen towels are mostly decorative as they are too thin to use (mostly a tea towel) and just too stylized to WANT to use. These funny kitchen towels would make for great gifts though!
15. Kitchen Towels with Printed Designs
Oh, I love the saying on these funny kitchen towels! The set comes with some cheeky and funny sayings for the kitchen!
You can hang these on your oven handle or even modify them by sewing a button and hanging them on a fridge handle!
16. Alexa, Do the Dishes
I like this funny kitchen towel!
If only Alexa COULD do the dishes, that would be amazing!
While you might want to do dry your dishes with this funny towel, it's best to use it as a decorative piece in the kitchen!
17. Honey Dew Gifts Funny Kitchen Towel
Looking for a dish towel that will make your friend smile?
And get a kick out of the funny saying printed on it – "If you have to ASK, if it's too early to to DRINK, you're in AMATEUR and we can't be friends."
This would make a great gift for a close friend or family member who could use a good laugh!
Decorative Kitchen Towels
If you're looking for some more decorative kitchen towels than what's in this list, then check out my top picks here.
18. SKL Home by Saturday Knight Ltd.
For a country look, check out the dozens of designs by SKL Home.
What's great about this decorative towel set is that they are highly absorbent and work well as a dish rag to dry dishes fast!
Check out other designs:
19. Embroidered Hand Towels
Whenever I think of embroidered kitchen towels I think of Christmas. I have a darling Christmas towel set that are all embroidered and I love decorating with them.
Here's a cute southern home country kitchen towel set perfect for your kitchen.
20. Spring Floral Kitchen Towel
If you're looking for a versatile dish towel set, then check out this spring floral design.
People use these towels for:
the bathrooms
as arm rests
as placemats for pets
This design also comes in a shower curtain and bath mat.
21. Chenille Hanging Hand Towel Set
I just had to save the BEST for last!
OMG! Don't you just LOVE these chenille animal-inspired hand towels?
If you have children or pets then make sure to check out this set. They are darling and pets love them as chew toys and children just want to sleep with them!
Best Laundry Detergent for Kitchen Towels
So, what's best laundry detergent for kitchen towels?
For me, I wash all my dish towels and bathroom towels together with OxiClean.
OxiClean is the perfect stain remover for all my dish towels. Since I have a set of bar mop towels they are constantly being stained from paints, spills and more.
But, with OxiClean (and some other things I'll share) they look good as new!
To make sure all the stains are removed I do the following.
1. Use Bleach
At the start of my wash cycle I pour some bleach (up until the fill line on my front load washer).
2. Use OxiClean
As mentioned, I'll use Oxiclean for all my:
Kitchen towels
Tea towels
Dish rags
Bathroom towels
3. Use the Hot Water Setting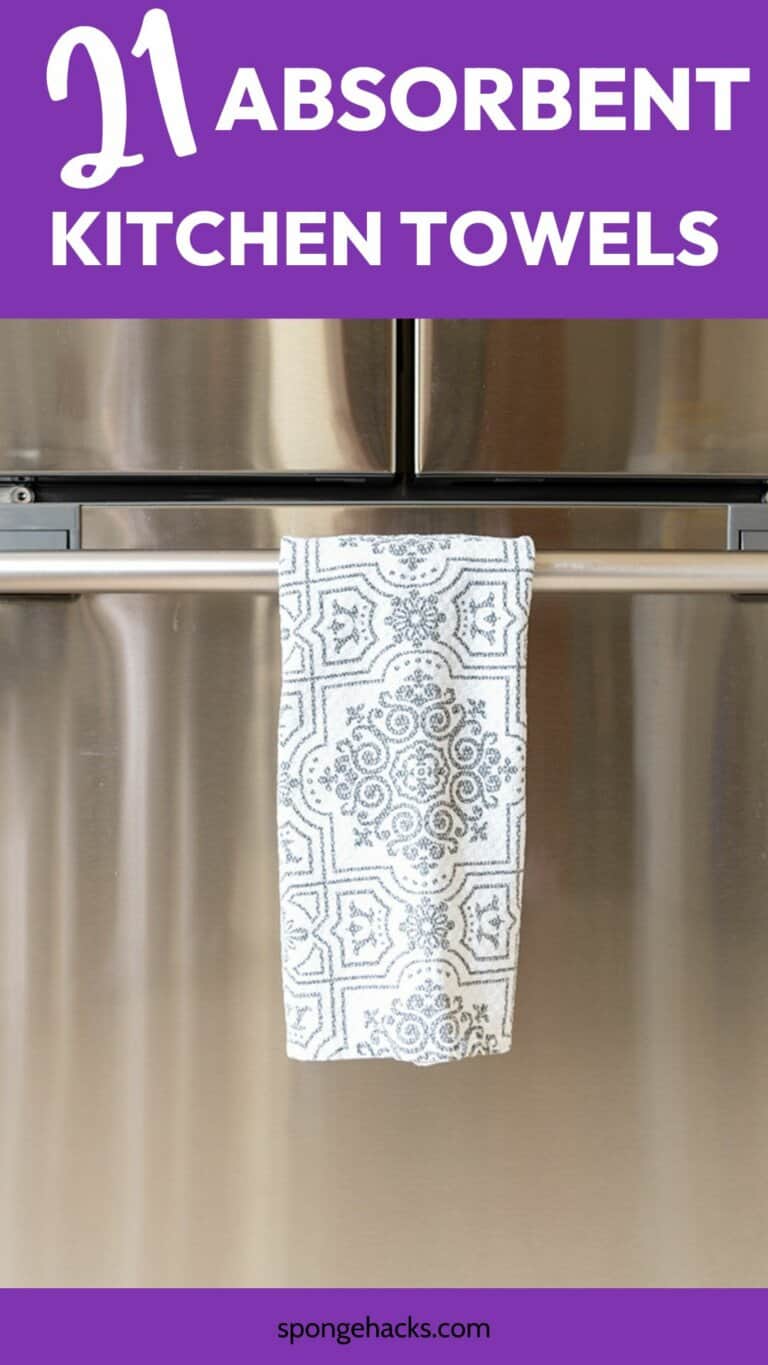 I make sure to use hot water when washing them as this helps with getting all those tough stains out. I try not to wash with hot much as cold water is effective but just for my towels, it seems to work better.
Which One Do You Like?
I hope one of these sets are the best kitchen towels for you!
While I find my sets work well, I'm eager to try some of these other kitchen towel sets in this list!
Which one will you try? Let me know!
And, don't forget to follow me on Pinterest!