Wanna know my recent obsession right now?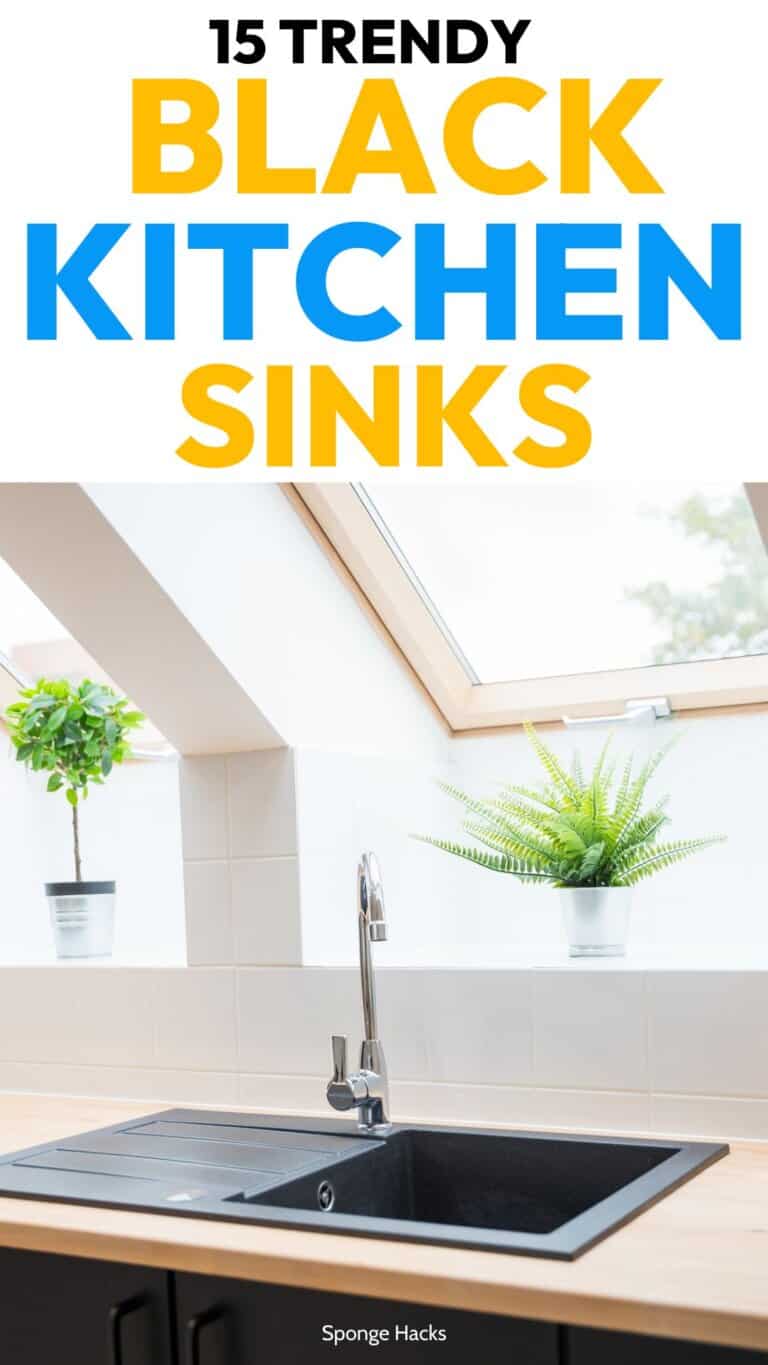 It's Wednesday Addam's gothic look on Neflix!
Everything BLACK, BLACK, BLACK!
Or, Wednesday would prefer, obsidian!
And this obsession got me thinking: black kitchen sink!
One word comes to mind when I think of a black kitchen sink: elegance.
Most households opt for the traditional steel-colored sink and some people just don't ever bother thinking about even changing their kitchen sink.
I mean, when you think of a black kitchen sink, it most probably just seems rather untraditional and unusual as an option.
Buuuut… my goth obsession may change that, haha.
There's just so many different routes to take when it comes to choosing your new black kitchen sink.
And once you do have your beautiful, chic new black kitchen sink, you can work on decorating the rest of your kitchen to help amplify the ambiance that a black brings about.
Add-ons like luscious plants, modern kitchen runner rugs, and beautiful tabletop decor all can play crucial parts in amplifying the attention towards your sink.
'Cuz, I mean, who wouldn't want all eyes on their sexy new goth-looking kitchen sink? 😉
Let's break down the process of choosing your new sink PLUS give you some beautiful options to consider for your new sink.
7 Black Undermount Kitchen Sinks To Check Out
Some of the most common types of kitchen sinks are undermount sinks. These sinks are essentially attached underneath the countertop.
This eye-catching option will instantly give your kitchen an upgrade, whether you match it with other black accents or go the full monochrome route. – 'cuz I wanna do that!
Check out these chic black kitchen sinks!
1. Kohler Kennon Kitchen Sink
YASS! So me right now!
Very few finishes offer richness of color like a matte finish.
This black sink also comes with an option to buy a sink rack that fits perfectly.
All you need to complete the look is a chic sponge holder!
2. KRAUS Belluci Workstation
This workstation from KRAUS is quite unique in design and comes with custom accessories that save space on your kitchen counter.
Aside from the actual sink, this kit includes a heavy-duty cutting board, a roll-up dish drying rack, and a drain assembly with a strainer.
Talk about getting your money's worth!
You don't need anything else for your kitchen sink!
3. Undermount Farmhouse-Style Kitchen Sink
LOOK at this design!
A design with practicality in mind, this kitchen sink offers extra depth for large cookware and is made for easy-drainage, with a slight slope in the center so you don't have to worry about water sitting inside your sink….and getting moldy…and smelling…yuck!
This is another sink that comes with accessories with the intention of 'using space wisely.'
Modern and freshly designed and oh so easy to clean!
4. Ruvati Granite Composite Undermount Sink
Sophistication is here!
This single-bowl sink is made in Italy and is made up of composite granite.
So posh and what a sight to see!
This means that it can withstand the test of time with extreme durability and strength.
5. Monsinta Undermount Kitchen Sink
A beautiful, black stainless steel option, this undermount kitchen sink is the kind that would impress your guests by its practicality and beauty.
Love it!
6. Ruvati Undermount Granite Composite Midnight Black Sink
I had to add another Ruvati product because, well, what's not to love about these kitchen sinks??
Just like the other Ruvati black sing, this single-bowl kitchen sink is also made in Italy and is composed of 80% crushed natural granite, which allows these particular sinks to maintain durability and their strength, even after years of use.
And look at how they paired it with a gold faucet!
GENIUS!
7. Ufaucet Undermount Stainless Steel Undermount Kitchen Sink
Simplicity at its finest – and looking better than ever before!
This beautiful design has a nano titanium plating finish, which creates a protective barrier that is point scratch-resistant and oil-proof.
If this black sink wasn't fabulous enough, it is also sound insulated to help dampen noises within the barrier of the sink itself.
Pretty amazing!
5 Modern Black Kitchen Sink You'll Love
Black kitchen sinks aren't just the latest trend in kitchen beautification.
There are actually benefits to opting for black kitchen sinks!
According to this article by Victorian Plumbing Co. in the UK, "The rich dark finishes of black kitchen sinks make them far easier to keep clean when compared with their white ceramic counterparts. This will ensure your sink maintains its appearance for longer, keeping your kitchen contemporary for years to come."
Like many others, they believe black kitchen sinks are here to stay.
So we've seen some pretty chic and beautiful sinks already.
Are you ready to check out some more, though??
Haha, of course you are!
8. AguaStella Gunmetal Black Bar Sink
This heavy-duty beast of a sink is not for the faint of heart!
With a simple and contemporary look, this bad boy is made of stainless steel material with a ceramic nano coating, giving it that sleek look to it.
The company suggests pairing this black kitchen sink with this matte black kitchen sink faucet for a complete, finished look.
9. Hotis Black Farmhouse Sink
I personally loooooove seeing the front of the undermount sink exposed like this.
There's something unique to this approach to kitchen design that just makes my heart skip a beat!
This stainless steel, scratch-resistant beauty has a commercial grade premium satin finish, which gives it that shine and in-your-face personality that it so totally deserves!
This kind of finish prioritizes protection of the sink's color to help preserve it for a lifetime.
This sink also comes with accessories, including a stainless steel dish grid.
So if you're opting for a black farmhouse kitchen sink, this is one that should go near the top of your list!
10. Kraus Quarza Kitchen Sink
Not only is this black sink resistant to bumps and scratches, it's resistant to thermal shock as well!
This means it can withstand temperatures as high as 650 degrees!
This sink offers a 'drop-in design', meaning it fits into any kind of kitchen counter and is super easy to install!
11. Waterfall Kitchen Sink
This beauty speaks for itself really.
Opting for a black stainless steel kitchen sink is great because they tend to be extremely durable and easy to clean.
The great thing about this particular product is that it comes with the black kitchen sink faucet included, creating a flawless design made to impress!
12. Topmount Drop-In Stainless Steel Black Sink
This black matte sink is a little on the pricier end but it deserves credit for being made with some of the finest materials.
Annnnd, it comes with a lot of accessories too!
Having a Black Sink in a White Kitchen – Inspiration!
The beauty that lies in the contrast of a black kitchen sink in a white kitchen is to die for.
Here, you'll find a few more options to consider for your new black kitchen sink PLUS some inspiration for that dream kitchen of yours!
13. Ruvati Gunmetal Matte Black Stainless Steel
Ugh! Don't you just ADORE the white marble next to the matte black sink? So gorgeous!
The black matte finish gives hints of stainless steel so that it looks very similar to black stainless steel appliances.
Heavy duty sound proof undercoating and thick rubber padding make this particular black sink unique in how it focuses on the smaller details.
Matte texture adds to the beauty of the finish and resists fingerprints and stains.
This sink comes with accessories as well.
14. CELAENO Black Undermount Kitchen Sink
Don't you just LOVE deep sinks?
This deep dark sink is can hold large cookware like stockpots and baking sheets, which is handy when you love to cook and bake!
The sloping bottoms and X-grooves design make it fast draining and prevent water from staying in the sink.
A major plus in my books!
15. BoomHoze Undermount Black Stainless Steel Kitchen Sink
This neat little black sink has ledges in the front and back that provide a track for sliding the built-in accessories.
It has a black nano-PVD finish for high stain and scratch resistance, easy cleaning, and long-lasting durability!
Still craving more?? Check out these Pins for some more inspo!
Monochromatic Look
So gorgeous! Any one of the undermount sinks in this list would look perfect in an all white kitchen!
Black and Stainless Steel – Perfect Combo
Yass!
This is my kitchen inspiration!
Farmhouse look, black steel appliances and a friggin' black sink and faucet!
Simple & Classic Looking
The black sink is an under statement for sure!
And when it's paired with stone, chef's kiss!
Gorgeous White and Black
You gotta commit to even having the black cabinets with this look! Gotta love it!
A Very Clean Look
So perfect and clean looking!
Simple design to make your kitchen stand out!
Commit to White
Even with white cabinets and steel appliances, the black sink matches perfectly!
How to Clean a Black Kitchen Sink
A few of the sinks we mentioned in this post were simply stainless steel, which does not require much care.
However, a few others are made of composite granite, which requires a bit more care.
Let's go through how to clean your black kitchen sink.
How to Clean a Black Stainless Steel Kitchen Sink
The steps include
Use a vinegar solution
Rinse out the sink
Dry the sink
Use a Vinegar Solution
Mix equal parts water and distilled white vinegar and add to a spray bottle.
Spray the solution on the area(s) you want to clean. Use a soft clean cloth to work the solution onto the sink.
Rinse out the Sink
Use cool or lukewarm water to rinse out your sink after using the solution.
Dry the Sink
Use a microfiber cloth to gently dry your sink.
Cleaning a Black Composite Granite Kitchen Sink
It isn't hard to keep your granite sink clean. Just be careful when cleaning to be gentle and to clean it daily.
Keep Your Sink Dry
Keeping your composite sink dry will help ensure that it won't discolor, not to mention the limescale and hard water spots it is likely to get from water being left to sit in the sink.
Clean Your Sink Daily
Use a 50/50 ratio of water and white distilled vinegar daily to give your composite sink a good clean.
This is the best way to ensure the durability and lifespan of your beautiful kitchen sink.
Use Simple Dish Soap
There is no need to bring in harsh chemicals when it comes to cleaning your black kitchen sink.
Make sure your regular dish soap is free of bleach, then simply add a small amount to a rag and give your sink a good clean.
Removing Limescale and Hard Water Spots
Mineral buildup, such as hard water spots and limescale, show more visibly on black sinks than just about any other sink.
There is only one solution to tackle this kind of problem: baking soda!
Go ahead and sprinkle just a little bit on top of that mineral buildup and let it sit for about 30 seconds before rubbing it with a soft cloth.
Rinse it down with lukewarm water and dry your sink completely.
Make It Shine!
It's normal for your composite sink to look worn over time and it may even lose a bit of that 'new sink' look to it.
BUT, here's the good news: this has a simple, easy remedy!
After completely drying your sink, add about a tablespoon of mineral oil onto the sink and, using a rag, buff it into the finish of your sink.
It is recommended to do this every 4-6 weeks to keep your kitchen sink looking as sexy and beautiful as possible.
Get Your Goth Inspso Here!
Alright, so I hope this post gave you some fabulooooous inspo on that brand new black kitchen sink you've been dying to get!
And I know Wednesday Addams would simply love an all black kitchen!
Remember to refer to the kitchen sink cleaning tips, depending on the type of black kitchen sink you get, and, honestly, just have fun with it!
I have no doubt that your new black kitchen sink will look extraordinarily divine in your beautiful kitchen.
Aaah, I see it now! Haha
And remember to follow me on Pinterest!