Kitchen runner rugs.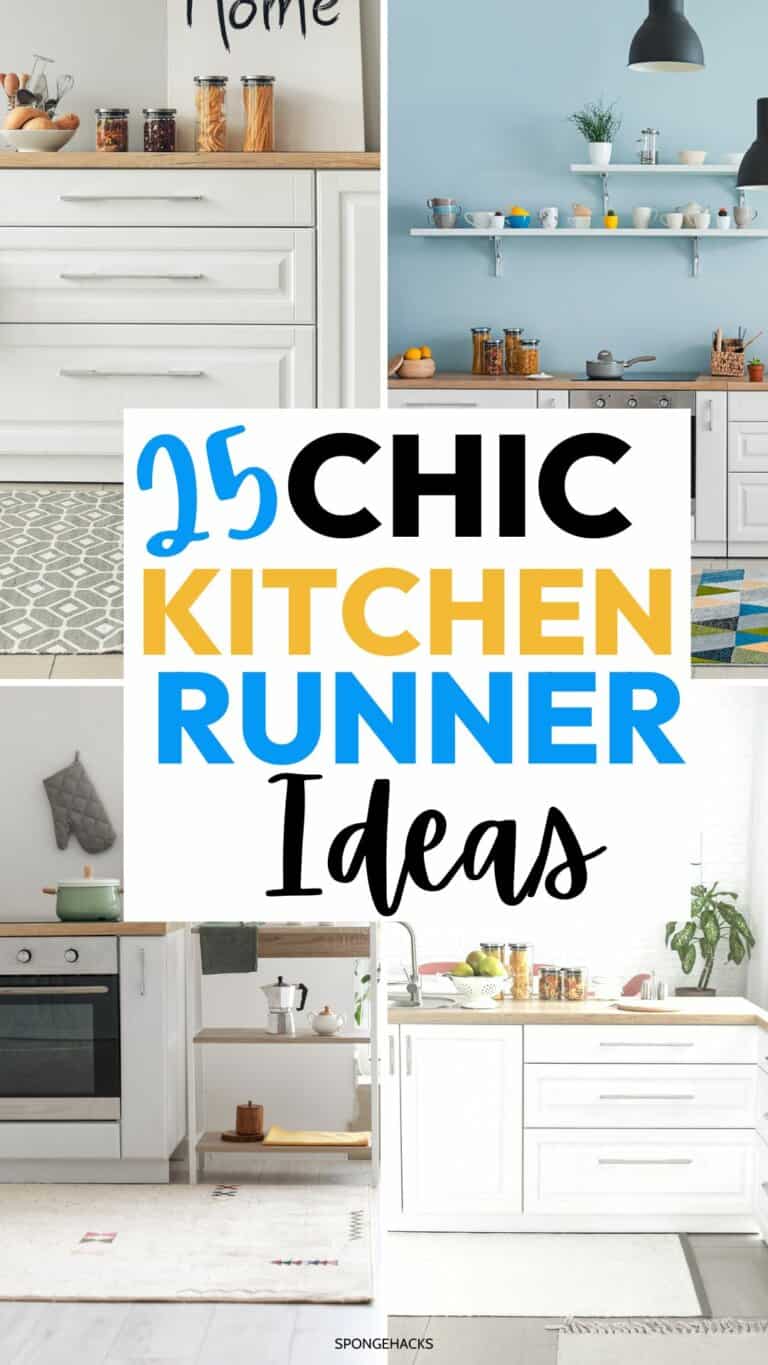 Stylish.
Chic.
And perfect for giving your kitchen the personality of the century.
Kitchen runner rugs are one of my most favorite decorating items and the best part?
There is soooooo much variety out there that you can have your kitchen match whatever vibe you're feelin'!
Finding the best kitchen runner rug is no walk in the park.
BUT… you're in luck because I've put together this fab post just for you to help you find that perfect kitchen runner rug!
Runner Rugs for the Kitchen
Kitchen runner rugs are a great asset to add to any kitchen.
There's so much variety out there that it can be a bit overwhelming choosing which one to buy for your kitchen.
Blue. Red. Non-skid. Washable. Green. Oriental. Etc.. etc.. etc.
(Psst, just as a little side note, you can make any kitchen runner rug non-skid with rug tape. But I get that some people would rather just buy kitchen runner rugs that already come as non-skid so I've added them to this list as well. 🙂)
Here's a compiled list of the best kitchen runner rugs to help you make your decision!
Blue Kitchen Runner Rugs
Who doesn't like blue? And how it compliments your kitchen decor? Ooo!
Check out these chic and durable runners to complete the Pinterest-worthy kitchen look!
1. Mattitude Kitchen Mat (2pcs)
This kitchen mat is waterproof and the PVC materials used help the mat keep its shape and durability.
The material also helps repel water, oils, liquids and even helps prevent stains.
Other than that, and the fact that it brings not just one, but two rugs in the pack, it's also extremely comfortable as it is ergonomically engineered. * cue heavenly music 'cuz we're all about anything that puts our comfort and health in mind in 2020's*
2. Super Area Rugs Braided Rug for Kitchen
I'm totally in *** love *** with this braided rug.
It's such a beautiful material to use in the home (especially when paired with some adorable kitchen towels) and gives your kitchen some nature-y vibes (*cough* now you just need some plants 😉 *cough*)
3. Wonnitar Bohemian Medallion Runner Rug
A beautifully bright boho-style rug, this particular runner rug for your kitchen elevates the ambiance of any room and is perfect for any transitional space.
Gimme, gimme, gimme!
4. Jinchan Area Rug
The abstract wash on this rug is divine and ideal for any kitchen wanting more of those lovely beach vibes.
This kitchen runner rug comes in a variety of sizes and colors, so you're able to mix and match depending on what you are looking for.
Black Kitchen Runner Rugs
Now, c'mon, black is sooo stylish and it's in right now!
Uh, black kitchen anyone? Or black kitchen accessories?
I have black door knobs, black faucets, you name it, I'll probably have it in black.
And now, black runners? Sign me up!
5. nuLOOM Runner Rug
This rug is known for being both kid – and pet-friendly, meaning it's water resistant and easy to clean.
The natural hues of this rug are meant to blend seamlessly with any of your current decor and made with durable fibers to help it last for years to come.
6. iOhouze Boho Runner Rug with Tassles
These boho-style rugs are becoming a favorite on this list! Not only are they suuuuuuper chic and stylish, they're also just absolutely beautiful.
7. Galmaxs7 Kitchen Mats
It has plants. 'Nuff said.
8. Unique Loom Sofia Runner Rug
This vintage-style kitchen runner rug will transform any kitchen into a travel destination! Fancy visiting France, anyone?
The pattern for this rug is super unique and offers your kitchen some personality with a capital P.
9. Cosy Homeer Kitchen Mat Runner Rug
I'm a huuuge fan of the simplicity of this rug.
It's a nice dark black color and actually comes in a wide variety of other colors. This rug is lightweight and quite durable, so it will not break down or compress over time.
What's awesome about this particular runner rug is that it is machine washable!
Modern Kitchen Runner Rugs
If you're anything like me, your kitchen is the heart of your home, amiright?
It's where you entertain guests, cook up feasts, and gather with family and friends.
And just like any other room in your house, it deserves to be decked out in style that compliments your kitchen.
Enter: the modern kitchen rug.
Not only do they add a touch of luxury to your space, but they also protect your floor from spills and stains.
Plus, they come in a variety of colors and patterns to match any decor!
Let's check them out!
10. ReaLife Machine Washable Rug
This beauty of a kitchen rug is made from premium recycled synthetic fibers and is extremely durable and easy-to-clean.
Obsession!
11. Black and White Striped Rug Runner
This modern-looking runner rug is carefully woven with cotton fibers and UV treated to help reduce fading.
It's black-and-white striped pattern is clean, simple and classy while giving your kitchen a modern feel to it.
See? Black is in!
12. ReaLife Abstract Modern in Beige, Gray and Ivory
This color palette is neutral yet divine.
Another rug from ReaLife, this runner rug is also made from recycled materials in the interest of preserving the environment and sustainability. This rug is flat woven for a lightweight yet durable finish that withstands high foot traffic.
13. RugShop Contemporary Modern Abstract Runner Rug
Another abstract-style rug that would sit perfectly in any modern kitchen. The splashes of ocre offer this rug some personality without being all up in your face about it.
I'd love hanging out in my kitchen with a rug as lovely as this one. (-:
14. Libaoge Kitchen Rugs – Set of 2
I just love this diamond pattern and color palette!
This style of kitchen runner reminds me of Art Deco! Yassss!!! So hip and cool!
15. Lisibooo Pineapple Kitchen Mats
Pineapple galore!
This adorably designed set of kitchen rugs is just so cute and made with a microfiber surface and thick cushioned support. This provides ample support for your feet and knees over long periods of standing.
And must I mention, once again, the overly cute pineapple designs?!
Check out these other modern-looking pineapple kitchen rugs!
Farmhouse Kitchen Runner Rugs
There's something so cozy and homey about a farmhouse kitchen, don't you think?
It's like you can just imagine grandma cooking up a big pot of apple cider while the pies are baking in the oven (Psst…you can get that great scent with some amazing fall scented cleaners y'all!).
And what ties the whole look together better than a cute little Famhouse runner rugs?
I'm obsessed with this farmhouse trend, and I just had to get my hands on one of these kitchen runners.
It's such a great way to add a little bit of country charm to your space without breaking the bank.
Plus, it makes doing dishes a lot more bearable when you've got a cute kitchen rug to stand on. If you're looking for a way to add some personality to your kitchen, check out these styles!
16. Mayhmyo Kitchen Rugs Farmhouse Style
One of the most distinguishable aspects of farmhouse-style kitchen rugs is that they can usually be found with a quote on it.
That is something I love about this type of kitchen mat because it's quite nice walking into your kitchen only to be greeted by your rug telling you that 'All you need in life is another cup of coffee,' haha!
17. U'Artlines Fall Runner Rug
Fall vibes a'coming! Time to bring out that hot cocoa with marshmallows and comfy sweater with matching fuzzy socks (:
18. Farmhouse Kitchen Rugs Set of 2
This cute set of kitchen rugs has a beautiful wash to it and the quote just makes the place seem more home-y.
This pattern offers a lovely bright accent to your kitchen and is made with premium PVC, which ensures longevity and durability.
It also provides sturdy but soft cushioning to help support your knees and feet while standing.
Washable Runner Rugs for the Kitchen
So you have a kitchen runner rug and you've realized that it is waaaaaay overdue for a fresh clean.
You start searching the net high and low for ways on how to clean your kitchen runner rug to make it look like new again.
This article by Caitlin Sole, a Senior Home Editor at Better Homes & Gardens, where she gives you the rundown on how to clean your kitchen runner rug. She states,
"The first step to cleaning an area rug is to identify your rug's material. This is important in prolonging its life, as different materials require unique area rug cleaning methods and materials."

Caitlin Sole
And lemme tell ya,' it's a whoooooole long process when it comes to cleaning a kitchen area rug.
This is part of the convenience of having a rug that is also machine washable.
Having machine washable runner rugs is sooooo convenient because you're able to toss it into your washing machine and call it a day!
19. Jonathan Y Ornate Medallion Machine Washable Boho Rug
Super soft and comfortable Boho style rug that is beautifully designed to recall traditional Persian rugs. Ivory mingled with shades of terracotta clay create a vintage, distressed look.
It's such a lovely piece that would fit fabulously in any kitchen.
20. Nautica Runner Rug
I totally love the striped pattern design on this washable runner rug.
It's elegant, modern and stylish without being too overwhelming with color and pattern. This would be perfect to help accent your beautiful kitchen.
21. ReaLife Machine Washable Rug
Another ReaLife product (because who can honestly get enough of their fabulous rugs?!) that combines comfort with style and focuses on creating earth-focused rugs.
The diamond pattern on this one is super stylish without being rigid and provides your kitchen with a soft but absolutely stylish addition.
It's lightweight and durable and extremely easy to clean.
22. Boho Kitchen Runner Rug
Okay… these Boho-styled rugs are practically calling to me at this point, haha.
Not only is this a peeeeerfect washable runner rug for your kitchen, it's also just so beautifully made (and the tassels? Sign me up!)
This rug makes you feel like you're walking in a field of cotton flowers and has you lovin' up your kitchen because of how beautiful and stylish this rug makes it look!
Non Skid Kitchen Runner Rugs
Okay so the very last section we have on our fabulously ah-mazing list is for the kitchen runner rugs that specify that they are non-skid (I did promise I would add that in here somewhere, LOL)
23. Carvapet 2 pieces Non Slip Kitchen Rug
The designs on their rugs (yes, they have others!) are absolutely adorable!
They are made with a microfiber material, with non-skid TPR backing to ensure safety when using.
The soft surface is very comforting and makes it easy to work in the kitchen with bare feet as it adds cushioning.
24. Lahome Vintage Medallion Runner Rug
I love the color scheme and pattern on this rug.
This rug is crafted with high quality 100% faux wool fibers with skid-resistant TPR backing. The non-slip latex backing design is ideal for laminate and wooden floor surfaces.
25. MontVoo Kitchen Mat
This company knows that a kitchen is a high-traffic area of the home.
They've made this particular anti-skid rug an outstanding ability to prevent shifting or slipping by creating the backing out of high-quality rubber. This ensures your safety to a much greater extent.
The twill material also provides extra support to ensure a better grip while also providing comfort for your feet, which I love!
Alright, so we've covered A LOT today about kitchen runner rugs. From Boho to farmhouse and everything in between.
And that article on how to properly clean your kitchen runner rug is extremely detailed and important! Especially if you want to learn about routine maintenance needed to help you make your rug last you as long as possible.
Amazing Kitchen Floor Mats!
I hope you found the RIGHT kitchen runner rug you've been dying to buy for a while now!
Please follow me on Pinterest for more stylish looks (and cleaning tips) for your home!
Happy livin'