Every season I wand to change up my home decor.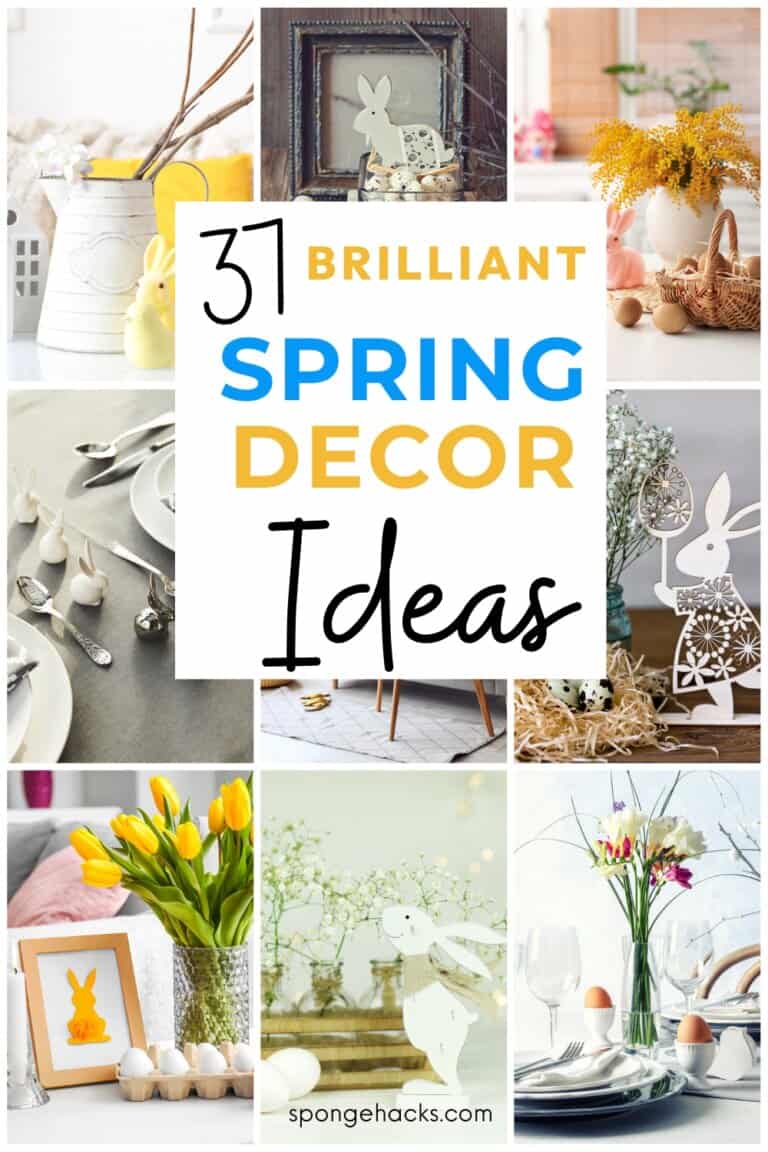 For spring, I am dying to to make my house cozy.
It's a small place but I'm just seriously obsessed with all these spring decor ideas that I can't get enough of!
I need them ALL!
And you know where I'm going to find the best ways to decorate my place with spring inspo?
Pinterest of course!
Spring decor is seriously the best to have to welcome a new season.
Fresh flowers, pastel and vibrant colors, and some rustic spring decor thrown in!
Yes!
I want to decorate my living room, kitchen, front door, and more in farmhouse spring decor!
If you are looking for something to rejuvenate your house or apartment with, let's check out these brilliant and unique spring home decor ideas.
Spring Home Decor Ideas
It's time to express yourself through bright colors and funky patterns — & make your apartment look like it came straight out of the pages of a magazine!
Time to go big (or stay small), this season is yours to accessorize. Oh don't forget to throw that fruit tray along with these spring decor ideas!
It's time to get creative with some farmhouse spring decor for your living room, table, mantle and more!
So, let's get to it now!
1. Update Pillow Covers
Spring decor is as easy as throwin' on a few pillow covers!
Finding the right pieces can be tricky, but just remember to focus on warm colors and florals for that home-sweet-home, farmhouse feel.
Try mixing bright and cheery stripes with bold blooms for a fresh look, or stick with paisleys if you want something that looks timeless and traditional.
To recreate this look, check out these fun green spring pillow covers!
With this set you can pair a pillow cover with Hello Spring or Welcome with a green trellis pillow to add chicness to your living room!
2. Add Fresh Tulips
Spring has sprung, and it's time to whip out those Insta-worthy decs.
Tulips are a sassy go-to for spicing up any space – so don't get me wrong, they've been around forever!
But if you want to take your decor to the NEXT LEVEL, add fresh tulips into the mix.
Plus, you'll be livin' out your Tuscany dreams right in the comfort of your own place.
Put them in a gorgeous vase on a tray in your living room to instantly add a fresh vibe to your place!
Fancy AF! Just make sure to replace them when they start drooping, or go all Marie Kondo on them and find something that sparks a lil more joy.
4. Try These Spring Tiered Tray Decor Ideas
What better way to show off all that farmhouse spirit than with the perfect spring tiered tray decor?
Sign me up!
Whether you're stacking it up indoors or out on the patio, three-tired tray adds a spritely touch of rustic charm to your space.
Tired of always doing the same ol' flower arrangement?
Amp up the creative vibes with different sized pots and mason jars, quirky signs and small novelty pieces like Easter eggs for a comical touch.
Check out these cool tiered tray items to create your spring look!
Get out of your decorating comfort zone this season and rock out a playful, modern farmhouse look that says "life can be fun—let's spring into action!"
5. Rustic-Style Botanical Print
Oh man! I absolutely LOVE rustic spring decor ideas. They just add a flair that's cozy, welcoming and just so dang cute!
And one way to add that rustic vibe to your living room is with a rustic-style botanical print. These will give your space a fresh update you need for SPRING!
Using something like floral wall art instantly updates your living room for spring.
Whether you go monochrome or layer different hues together, these framed treats will bring the outdoors inside – while giving off major stylish vibes too!
Best part?
They can last all year long so you won't have to worry about replacing your decor come fall.
6. Decorate with Wooden Crates
Don't just settle for the same old boring 'spring cleaning,' get creative with the season and spruce up your space for spring with a wooden crate!
I s'more adore this spring decor idea!
You can go all out with flowers, cute decorative bunnies, and candles to create an atmosphere that's perfect for springing into action.
Versatile, wooden crates put ya'll straight into the spirit of Easter Sunday fun.
Get crafty this season and make this wooden box look festive!
It's the perfect way to take a break on those chillier April days where everything outside is muddy and rainy.
Spring Table Decor Ideas
Spring is the perfect time for a spruce up, and what better place to do it than on your table at home?
It's time to pack away all your winter decor, like those festive fairy lights, and bring in something light and fun.
Step up your spring table game with some cute pastel colors, or if you're feeling bold, some vibrant colors!
Add a few pieces of greenery here and there to make it stand out. Finish off your look by layering up with some tableware – get ready for hot dinners with all the tea served in style!
7. Cute Birdhouse
Liven up up your spring table this year by adding a cute birdhouse.
Nothing says "spring is here!" like a rustic birdhouse that says it all.
Add vibrant colors, like pinks and blues, to the birdhouse to give it a modern pop.
Plus, it'll make all your friends totally jelly when they see you've got the best darn table on the block.
Show up for brunch with the hottest tablescape around!
8. Add a Nest of Eggs
This is too much!
I'm OBSESSED with this spring decor look!
Setting up a stylish table this spring just got sooo much easier and more on point with a decorative nest of eggs!
It's the perfect eye-catching centerpiece that will give your spring get-together an extra oomph that everybody is going to be OG about.
Nesting eggs have it all—they're fresh, chic, and totally Insta worthy.
Plus, they add a subtle touch of nature to your decor that will make any space look mahvelous.
Sprinkle those bad boys with some confetti or petals and you have an A+ setup!
9. Use Artificial Spring Flowers for the Centerpiece
Sick of the same old same old in terms of table decorations?
Tired of having to redecorate what seems like every other day?
Spring is here and it's the perfect time to switch up the vibe at the dinner table with artificial spring flowers!
Nothing brightens up a room like a table centerpiece that looks realistic and shows off your floral skills.
Artificial spring flowers are not just for decoration either; they make great conversation starters about flower types and seasonal festivals.
Whether you're hosting brunch with your besties, throwing a dinner party for family, or just want some new vibes on the dining table, invest in some artificial spring flowers for an instant upgrade.
After all, seeing is believing!
10. Use Cute Rabbit Napkin Rings for a Subtle Look
Aren't these ADORBS?
I love the simplicity of this spring decor idea and how the little burlap rabbit ear ring holders says it all!
Now, all you need is a pastel napkin, some unbreakable china and these cute ring holders and you'll smash that spring brunch!
11. Add Decorative Bunnies
Don't be a basic bunny when looking for spring table decor!
Instead, take in the season vibes with decorative bunnies; they'll give your setup that extra je ne sais quoi.
Whether you opt for a centerpiece of cotton-tailed cuties or just sprinkle them around as accent pieces, these critters will leave everyone feeling seasonal.
You can go classic and hop to some department store bunnies or get a bit more customized and find handmade ones.
Whatever you chose, just know it'll end up hollered at by guests thanks to those Insta-worthy Easter decor vibes.
12. Add a Bright Spring Table Runner
A bright spring table runner is the perfect way to bring that May sunshine INTO your room.
Seriously, these table runners are going to have everyone at dinner feeling FESTIVE – in more ways than one.
Put a set of people's plate on one runner for a unique touch that'll look super foine, or put one long runner down the center of the table for a more classic look!
Show off yo' own personal style this season by addING a spring table runner to your table scape – you won't regret it!
Living Room Spring Decor Ideas
How do decorate a living room for spring?
Spring is in the air, and if your living room needs a refresh, now's the time to make it happen.
This is the PERFECT time to update your living room with fresh spring colors and vibes.
Decorate your spring mantle, coffee table and fireplace!
13. Add a Touch of Rabbit to Your Spring Mantle
Nothing says spring quite like a sprinkle of spring mantle decor.
Add some flair to your living room this spring with an instant mood boost of cute decor such as a rustic rabbit pic, some fresh greenery, a decorative bunny bookend and some spring-scented candles.
Skip the hassle of searching for spring decor ideas, because these EZ ways to spruce up your house will have you loving life in your living space!
14. Decorate with a Spring Wreath
I love this idea!
Add a modern and sophisticated touch with a simple spring green wreath and mirror!
And with some key pieces like a rustic clock a decorative vase and some books, you've got a classy spring mantle happening!
15. Create a Mantel Vignette With These Spring Items!
Oh, so posh! This beats all the fireplace spring decor ideas I've seen!
Create two vignettes making one of them using some artificial flowers and rustic bunny.
Out of all the spring mantle decor ideas, this one is my absolute favorite!
16. Bring Character to Your Coffee Table
There's spring coffee table decor ideas, and then there's spring coffee table decor like rustic eggs, an old books vase situation.
Sure, having some spring tulips on your coffee table might make it look cute, but if you really want to up the sophistication and character game in your living rooms – get some eggs, place them between your vintage hardbacks and watch it blossom into a scene so chic you'd think they had a prenup.
Whether you choose chicken eggs or creatively-painted ostrich ones, the spring vibes will be off the charts.
You'll be the envy of all your house guests!
17. Make Your Coffee Table Blossom With Spring
Silk plants are great for a more low maintenance look too for this coffee table idea for spring.
Finish things off with a cute little birds nest all decked out – get creative!
And if you're feeling crafty, get out that hot glue gun and make your own spring-themed decals to stick on the edges of vases 'n stuff.
Get ready to be floored by how chic your coffee table looks!
18. Make Rabbit the Center of Attention
How chic is this spring inspired coffee table idea.
All you need is a stunning rabbit to place on your coffee table or side table and a vintage rabbit wall hanging and you have the rabbit the center of attention!
It doesn't take much to bring in spring to your living room!
But what about your kitchen?
Spring Kitchen Decor Ideas
If you're looking for some spring kitchen decor inspo, you're going to have to check out these ideas.
Because when it comes to spring decor there's no beating fresh flowers (but don't forget to add a bowl of lemons for good measure!).
Now let's kickstart that spring cleaning and get this kitchen living large!
19. Subtle Pops of Yellow
Scrumptious!
I'm OBSESSED with this classic yet modern spring kitchen idea!
With just a few key pieces to add a pop of yellow, you can create a cohesive theme from your living room all the way to your kitchen.
I love the buffalo plaid dish towels! Such a vibe.
And the beautiful spring wreath too! It just adds enough color to complete the look!
20. Bring in the Lemons
Springing up those spring kitchen decor vibes can be as easy as a bowl of lemons.
Brighten up your apartment for spring with a carefully placed bowl of vibrant citrus fruit set on your coffee table or kitchen counter.
Plus, you'll make all the other spring coffee table decor ideas seem basic.
21. Add a Bunny Cookie Jar
Get a pop of springy color with our fav spring kitchen decor idea – the bunny cookie jar!
Adorable and fun, this spring-approved kitchen decoration will make your world brighter no matter what.
With a playful bunny face that positively radiates spring vibes accompanied by cheerful stripes adorning its sides, you won't be able to resist taking 'just one' cookie every time you walk through the kitchen.
Get ready to delight in springtime all spring long!
Front Door Spring Decor Ideas
'Tis the season … for front door decor?
Yup, you heard it here first.
You don't need to be a Pinterest pro to spruce up your front door for spring – or even stir up some envy amongst friends and family.
Spring front door decoration goals? You got this!
22. Use a Spring Door Mat
When it comes to front door decor ideas spring, don't be afraid of being extra and getting creative!
Unleash your inner interior design expert and make a statement using a fun spring-themed door mat.
Sure, you can go the subtle route with neutrals, but why not add some pop to your porch with a bright-hued LEMONY doormat?
This will have your front stoop looking like the 'gram in no time…so come on home now!
23. Welcome Spring with a Tulip Wreath
Adding a pop of tulip to your front door this spring can give your home an instant upgrade.
With its bright color, these tulip wreaths are perfect for bringing some fresh vibes to your house.
Not only are they colorful and cheery, but they're also the perfect size for incorporating into any kind of decor.
Plus, it's an affordable way to give your entrance a totally new look.
From modern homes to cozy cottages, adding a festive tulip wreath is a surefire way to make it appear that you just stepped out of one of those Instagrammable interiors!
24. Glam it Up with Metal Planters
With a few simple selections of metal planters, you can bring some sunshine, literally and figuratively.
Grab some of your favorite plants or flowers, throw in a few decorations for that extra jazz, and bam.
Your house will be looking D-O-P-E.
Don't forget to accessorize with a beautiful wreath or unique wind chimes too – you'll be sure to get the neighbors already trying to copy you.
Let's make spring the new benchmark for fabulous front door décor.
DIY Spring Decor Ideas
Now, let's check out some DIY decor ideas for spring!
I mean, this is the time to doll out the hot glue gun, your green thumb and be ready to spring it up at your place!
25. DIY Front Door Spring Basket
26. DIY Planter
27. DIY Farmhouse Centerpiece
28. DIY Spring Wall Hanging
More Spring Decor Ideas for You
While I was on Pinterest I found soo more wonderful spring decor ideas! Oh yea!
Here they are!
29. Beautiful Daffodil Display
30. Farmhouse Rustic Vibes
31. Spring Floral Arrangment
32. Darling Vingnette
33. Boho Flowers
34. Easy Easter Arrangement
35. Cute Nesting Birds
36. Rustic Floral Arrangement
37. Pretty in Pink
Spring is Here! Go Decorate!
Ah, springtime might just be the most magical season of them all — not only does the world come back alive after its winter sleep, but it's also an amazing opportunity to give your small space a breath of fresh air.
With the decor ideas that we've shared with you today, there's no reason why you can't create a bright and breezy look that celebrates the newness of spring.
So don't wait any longer — there are still warm days ahead (and plenty of picnics outside!), so let's get decorating and make the most of them!
And, don't forget to follow me on Pinterest for more decor, organizing and cleaning tips!