All over social media, all I've been seeing is rustic decor ideas.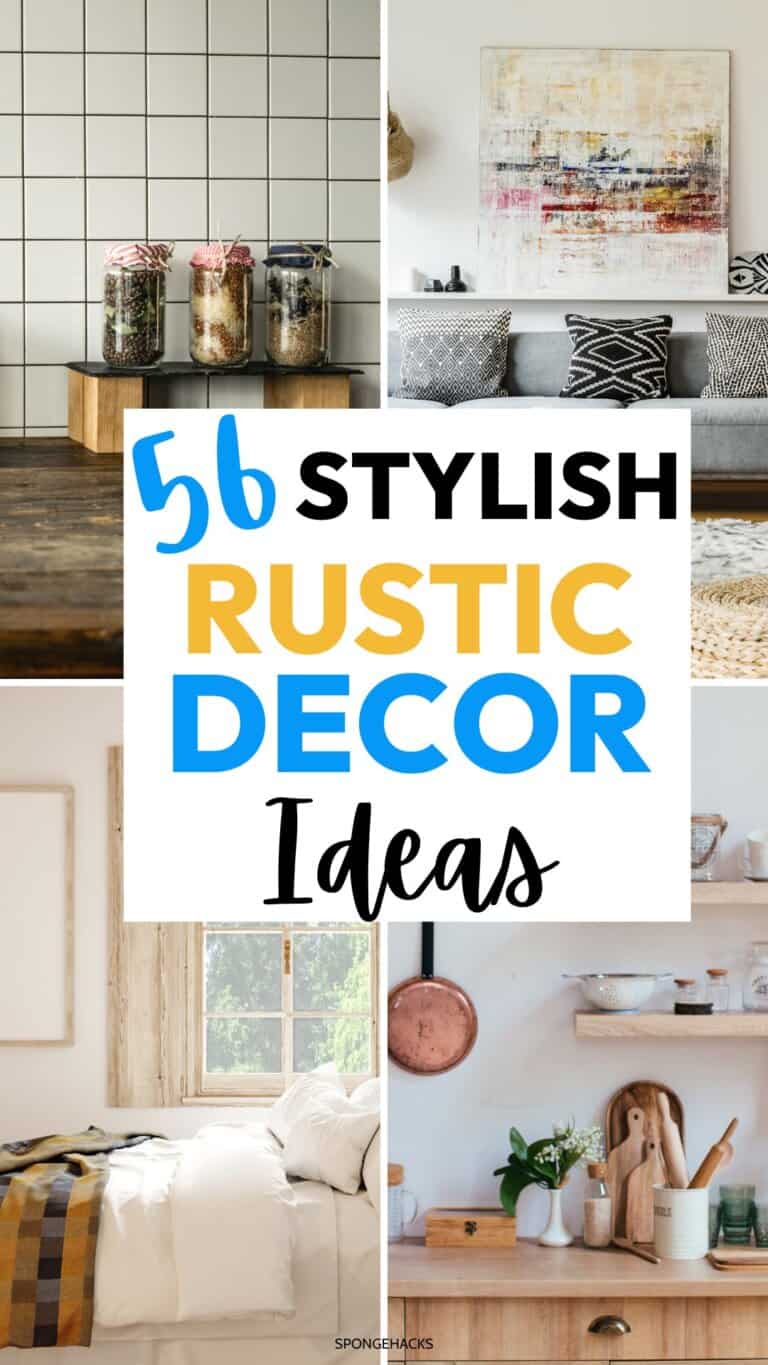 It is EVERYWHERE.
From rustic fans to rustic living rooms to rustic blankets!
And, you know what that's making me want to do right now?
To decorate my home with this rustic decor and I bet you are too!
Get ready to embrace the cozy, down-to-earth vibes that country rustic decor ideas will bring into your living space.
Here's the ultimate collection of stylish rustic decor ideas that will make your heart skip a beat and have your Instagram followers swooning.
So, grab your artisanal coffee and get ready for some seriously chic and trendy rustic home decor inspiration and rustic apartment decor ideas!
Rustic Living Room Decor Ideas
Welcome to your personal rustic oasis—the living room! This is the heart of your home, where you unwind, entertain, and showcase your style.
Here are some fabulous rustic home decor ideas to make your living room the envy of all your friends:
1. Weathered Wood Accent Wall
Create a jaw-dropping focal point with a weathered wood accent wall. The distressed look adds that coveted rustic charm, perfect for snapping stylish selfies or cozying up with a book.
2. Vintage Trunk Coffee Table
Swap out your basic coffee table for a vintage trunk that doubles as storage space for your collection of vinyl records and artfully tattered books.
3. Cowhide Rug
Lay down a cowhide rug to bring a touch of rustic luxury to your living room.
The natural patterns and textures of the hide will add warmth and visual interest to your space, making it a true conversation starter.
4. Rustic Wood Beam Mantel
Install a rustic wood beam mantel above your fireplace to add instant character to your living room.
The aged and weathered wood will create a cozy focal point that's perfect for displaying candles, family photos, or seasonal decor.
5. Cozy Plaid Throws
Channel your inner lumberjack (or lumberjill!) with irresistibly soft plaid throws draped effortlessly over your couch or armchairs.
They'll keep you warm during movie marathons and add a touch of rustic chic to your seating area.
6. Mason Jar Sconces
Give your living room a whimsical glow with mason jar sconces.
Fill them with twinkling fairy lights or aromatic candles, and hang them on the wall for a Pinterest-worthy rustic ambiance.
7. Rustic Gallery Wall
Show off your unique style with a rustic gallery wall.
Mix and match reclaimed wood frames to display cherished photos, inspirational quotes, and vintage artwork—a guaranteed conversation starter.
Rustic Entryway Decor Ideas
First impressions matter, so let's make your entryway a rustic and organized showstopper. From the moment you step through the door, you'll be transported to a cozy cabin in the woods!
8. Barn Door Entry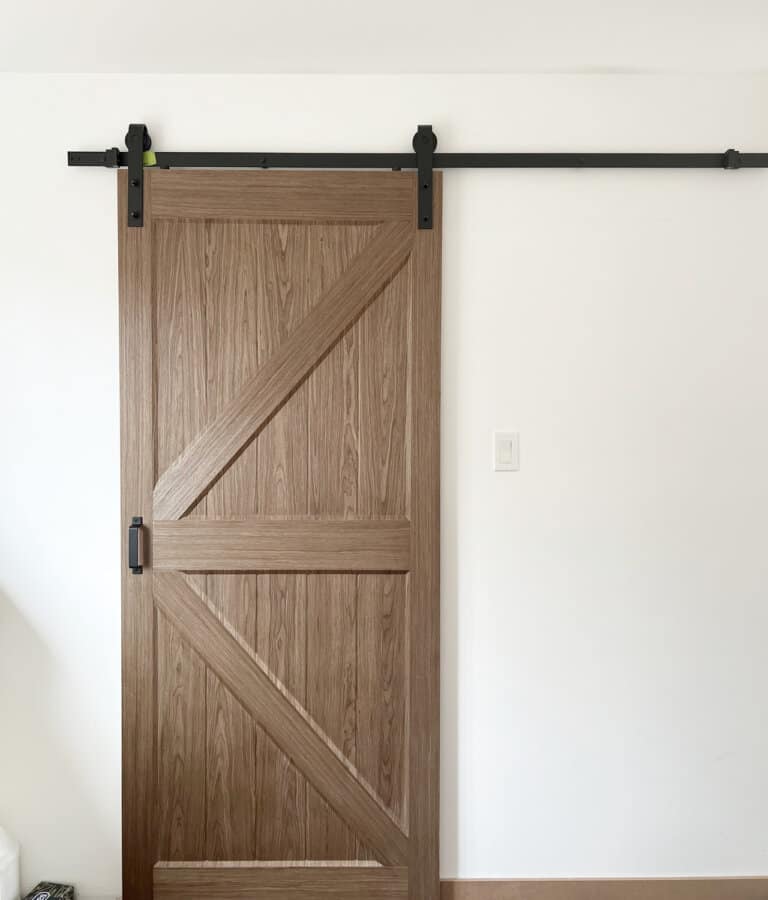 Ditch the standard door and make a statement with a rustic barn door.
We put in a barn door to our kitchen because of our little kitten.
We didn't want him to go into the kitchen and jump on the stove or hide in cabinets.
And I'm so glad we installed a barn door!
It's like stepping into a Pinterest dream every time you come home.
9. Vintage Hooks and Baskets
Stay organized in style with vintage hooks mounted on a charmingly weathered wooden board.
Hang your coats, scarves, and bags, and pop some rustic baskets beneath for shoes and other essentials.
10. Wooden Welcome Sign
Greet your guests with a personalized wooden welcome sign that's as warm and inviting as your smile.
Bonus points for hand-painted lettering and a touch of rustic whimsy.
11. Antique Mirror
Add a dash of old-world elegance to your entryway with an antique mirror in a distressed frame.
It's perfect for a quick hair check before dashing out the door!
12. Rustic Shoe Bench
Keep your entryway clutter-free and your style on point with a rustic shoe bench.
The combination of natural wood and woven storage baskets creates a cozy and organized shoe bench for your footwear.
13. Rustic Key Holder
Keep your keys organized and add rustic charm to your entryway with a rustic key holder made from repurposed wood and vintage hooks.
Hang it on the wall near your entryway to ensure you never misplace your keys again.
Rustic Kitchen Decor Ideas
Ready to whip up some rustic magic in the heart of your home?
These rustic kitchen decor ideas will have your kitchen looking stylish and organized.
14. Farmhouse Sink
How about this amazing farmhouse decor idea?
Wash dishes in style with a classic farmhouse sink that's equal parts trendy and practical.
The apron front and vintage-inspired design will make you feel like the star of your own cooking show.
15. Open Shelving with Mason Jars
I love this rustic shelf decor idea!
Embrace your inner Joanna Gaines with open shelves adorned with mason jars.
Fill them with everything from artisanal spices to whimsical cookie cutters, creating a rustic, Instagram-worthy display of your culinary treasures.
16. Butcher Block Countertops
Give your kitchen a touch of rustic charm with warm and natural butcher block countertops.
Not only do they provide a durable and functional workspace, but they also bring a cozy and inviting feel to your cooking haven.
And what's great with a butcher block is a stylish black sink!
17. Vintage-Inspired Kitchenware
Elevate your cooking experience with vintage-inspired kitchenware.
Display copper pots and pans, retro scales, and rustic utensils on your countertops or hanging from a pegboard for a trendy, farmhouse aesthetic.
18. Reclaimed Wood Kitchen Island
Make a rustic statement with a reclaimed wood kitchen island. This focal point combines functionality and style, offering additional storage and prep space while adding a touch of rustic elegance to your culinary adventures.
19. Hanging Pot Rack
Display your collection of cookware with a rustic hanging pot rack.
Opt for a wrought iron or copper rack that suspends from the ceiling, allowing you to showcase your beautiful pots and pans while keeping them within easy reach.
20. Rustic Herb Drying Rack
I LOVE seeing in magazines those herb drying racks.
It just adds the perfect touch to a rustic kitchen, doesn't it?
You can create a rustic herb drying rack by attaching chicken wire to a wooden frame.
Hang it in your kitchen and use it to air-dry fresh herbs from your garden, adding a touch of natural beauty and rustic charm to your culinary space.
Rustic Bedroom Decor Ideas
Transform your bedroom into a cozy and rustic retreat where dreams come true.
Get ready for your most stylish and comfortable slumber yet!
21. Rustic Headboard
Create a dreamy escape with a rustic headboard made of reclaimed wood or salvaged pallets.
The natural textures and earthy tones will transport you to a serene woodland haven every night.
22. Soft Plaid Bedding
Snuggle up with irresistibly soft plaid bedding that adds a touch of rustic charm to your bedroom.
The classic pattern exudes cozy vibes and invites you to unwind and relax in style.
23. Twinkle Lights Canopy
Create a magical and Instagram-worthy atmosphere with a canopy of twinkling fairy lights above your bed. It's like sleeping under a starry sky and brings a touch of enchantment to your rustic oasis.
24. Wooden Crate Nightstand
Opt for a rustic nightstand with a twist by repurposing wooden crates.
Stack them up to create a unique bedside table and style it with a rustic lamp, a small plant, or your favorite books for a personal touch.
25. Rustic Wall Decor Ideas
Add character and nostalgia to your bedroom walls with vintage frames, mirrors, or rustic wall art.
Mix and match different sizes and textures to create a visually appealing gallery wall that reflects your personal style.
Rustic Bathroom Decor Ideas
Create a rustic sanctuary in your bathroom where you can unwind and pamper yourself.
Get ready to soak in the rustic charm and rejuvenate your senses.
26. Rustic Vanity
Make a statement with a rustic vanity made of reclaimed wood or repurposed furniture. Pair it with a vessel sink and vintage-style faucets for an Instagram-worthy blend of style and functionality.
27. Mason Jar Storage
Embrace the rustic chic trend by using mason jars to organize your bathroom essentials.
Fill them with cotton balls, bath salts, or decorative soaps and display them on open shelves or countertops.
28. Woven Baskets
Bring a touch of natural texture to your bathroom with woven baskets.
Use them to store towels, toiletries, or even fresh flowers, adding a rustic and cozy touch to your bathroom decor.
29. Rustic Wall Sconces
Create a soothing and warm ambiance with rustic wall sconces.
Install them on either side of your bathroom mirror and bask in the soft, flattering light they emit—perfect for those serene self-care moments.
30. Natural Elements
Infuse your bathroom with natural elements such as pebbles, driftwood, or potted plants. These rustic accents bring a sense of tranquility, relaxation, and a spa-like experience to your daily routine.
Rustic Office Decor Ideas
Work doesn't have to be boring when you infuse your office space with rustic charm. Get ready to turn your workspace into a creative haven where productivity and style collide.
31. Rustic Writing Desk
Say goodbye to uninspiring office furniture and hello to a rustic writing desk. Choose one made of reclaimed wood for a touch of eco-friendly chic.
It'll inspire your creativity and make you excited to tackle those emails and projects.
33. Vintage Office Accessories
Spruce up your desk with vintage office accessories like an antique typewriter, a retro telephone, or a vintage-style desk lamp.
These nostalgic touches add personality and rustic charm to your workspace, making it a place you actually want to spend time in.
34. Floating Shelves with Rustic Books
Install floating shelves on your office wall and fill them with rustic books.
Opt for worn covers and titles that inspire you—whether it's classic literature or motivational self-help.
It's a rustic and stylish way to keep your favorite reads within arm's reach.
35. Chalkboard Wall
Turn one wall of your office into a chalkboard masterpiece. Let your creativity flow by jotting down ideas, doodling, or writing inspiring quotes.
Keep your thoughts organized while adding a touch of artistic flair to your workspace!
36. Natural Light and Greenery
Maximize the natural light in your office by positioning your desk near a window.
Let the sunlight illuminate your rustic haven and boost your mood.
Add potted plants like succulents or small low-light hanging plants to bring life, freshness, and a touch of nature to your rustic workspace.
DIY Rustic Decor Ideas
Ready to unleash your inner DIY guru?
These simple and trendy rustic decor projects will make your space unique and showcase your creative skills.
37. Pallet Wood Frame Mirror
If you're looking for rustic wood decor ideas, you can always embrace your eco-friendly side by creating rustic frames for your mirror using reclaimed pallet wood.
Cut the wood to size, sand it down, and assemble the frame.
Finish it off with a stain or paint that matches your rustic aesthetic.
Your living room will look amazing surrounded by this one-of-a-kind frame!
38. Mason Jar Herb Garden
Start your own rustic herb garden by repurposing mason jars. Attach them to a wooden board or hang them with twine, and fill them with soil and your favorite herbs. I love the way this looks!
It's a practical and charming way to bring fresh flavors into your kitchen.
39. Rustic Rope Shelving
Get crafty with rustic rope shelves. Suspend sturdy wooden boards with thick ropes to create unique and trendy shelving.
Style them with rustic decor items or your favorite books for a personalized touch.
40. Wine Barrel Coffee Table
Transform an old wine barrel into a rustic coffee table that adds character to your living room.
Simply add a glass top, and you'll have a conversation piece that combines rustic elegance with a touch of winery vibes.
41. Birch Bark Candle Holders
Embrace nature's beauty by collecting birch bark and using it to wrap around glass candle holders or mason jars.
Secure it with twine or glue, and place tea lights inside for a soft, rustic glow that will set the mood in any room.
42. Rope Wrapped Vases
Give plain glass vases a rustic makeover by wrapping them with thick jute or sisal rope.
Secure the rope with hot glue, and place your favorite flowers or greenery inside for a charming rustic centerpiece.
Even More Rustic Ideas for Home Decor!
Okay, so we're not done! We've looked at tons of rustic house decor ideas for every room in your home, but now let's break it down into some amazing themes!
Rustic Christmas Decor Ideas
The holiday season is the perfect time to infuse your home with rustic Christmas charm.
Embrace the cozy and nostalgic vibes with these rustic Christmas decor ideas:
DIY Wood Slice Ornaments
Burlap Stockings
Pinecone Wreath
Rustic Candle Centerpieces
Plaid and Knit Accents
Rustic Industrial Decor Ideas
Combine the rugged beauty of industrial design with rustic elements for a unique and trendy look.
Here are some rustic industrial decor ideas to transform your space:
Reclaimed Wood and Metal Shelves
Edison Bulb Lighting
Concrete Planters
Metal Accents and Furniture
Rustic Industrial Wall Art
Modern Rustic Decor Ideas
Looking to combine the simplicity of modern design with the warmth of rustic elements? These modern rustic decor ideas will help you achieve the perfect balance:
Neutral Color Palette
Minimalist Rustic Accents
Statement Lighting Fixtures
Geometric Wood Wall Art
Sleek Rustic Furniture
You'll Love These Rustic Decor Ideas!
There you have it, rustic decor lovers—stylish ideas to bring rustic charm into every corner of your home.
From your living room to your office, these trendy and cozy touches will transform your space into a haven of rustic chic.
So roll up your flannel sleeves, grab your tools, and get ready to create a space that's uniquely you—a place where modern style meets rustic comfort!