Look –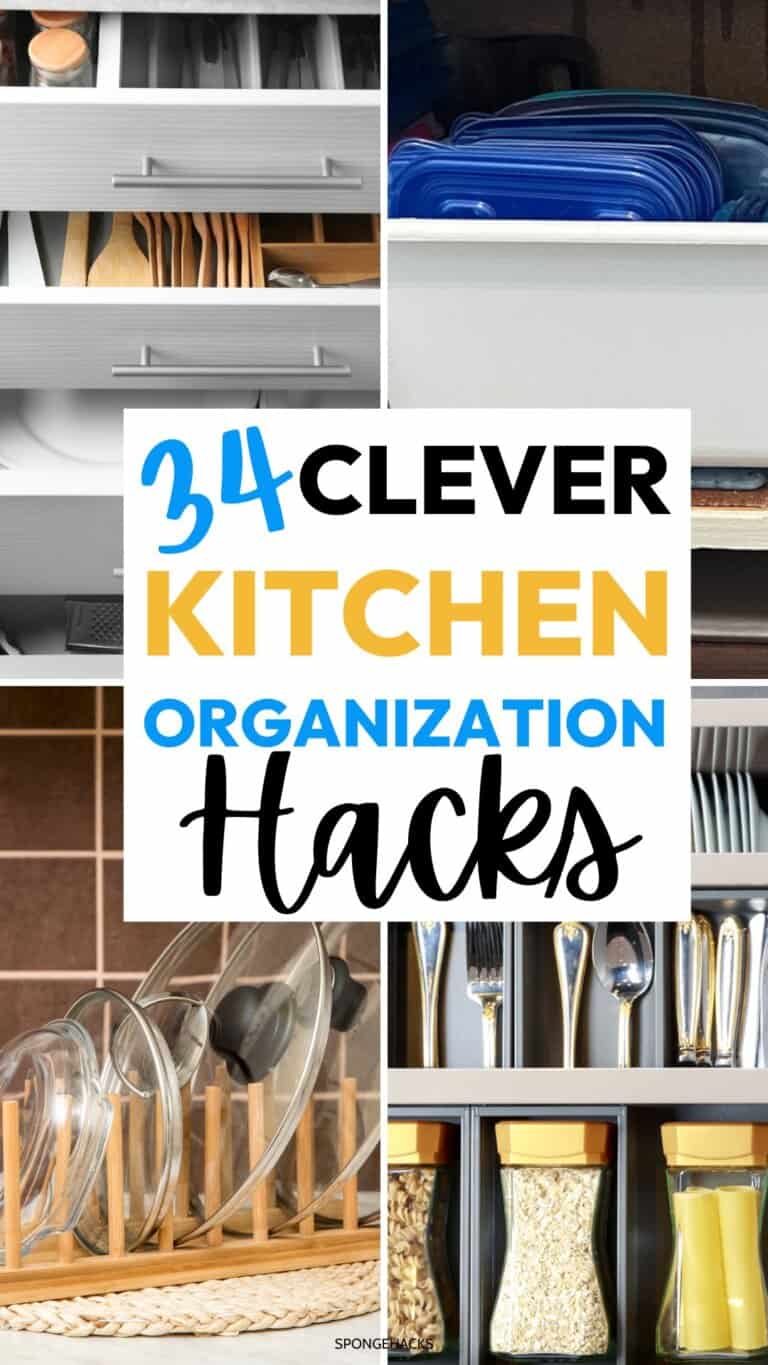 I'm NOT a Type A person.
My brain doesn't look at a shelf and immediately think about how to organize it.
Is that you?
I can spend hours on Tik Tok checking out the best ways to clean my house and how to fold sheets the best way, but have me organize my kitchen?
Maybe tomorrow 🙂
But now is tomorrow and I've got the itch to organize.
I mean, the kitchen is one of the most important rooms in the house, right?
It's where we prepare meals and snacks, and clean up after ourselves.
But if you don't organize it properly, your kitchen can become an absolute mess, just like mine is!
Luckily, I've found very clever tricks to keep your space tidy and organized without spending too much time or money on organizational tools.
I'm going to show you how to make use of every inch of space in your kitchen without compromising functionality or aesthetics.
Are you ready for some super clever kitchen organization hacks?
Let's go!
Kitchen Cabinet Organization Hacks
Even though you can close your cabinet doors to hide the clutter, you still gotta organize what's inside of them!
The quickest culprit to messy cabinets is not putting back the things you take out.
You just toss them into the cabinet without a worry.
This is homeless clutter and you need to make a home inside your cabinet.
Here are my best Tik Tok inspired kitchen cabinet organization hacks!
1. Use Dish Pans to Store Your Containers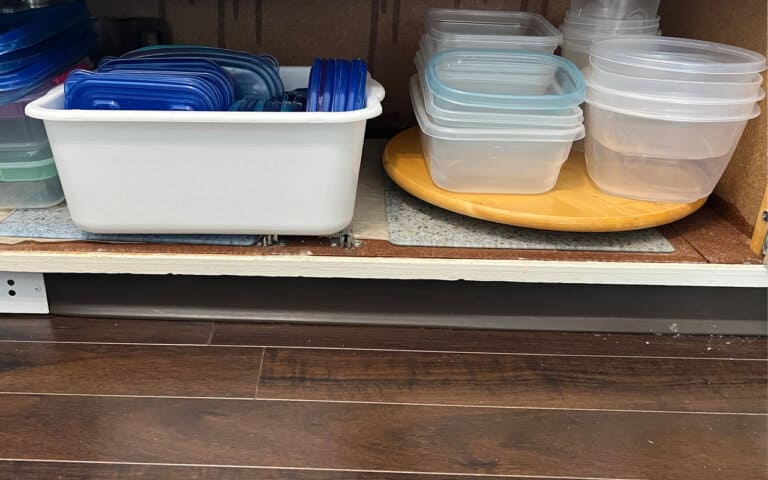 I love dish pans.
They can be used for more than a dish pan!
I use them to store tools, as a small hamper in the kitchen, and to organize my containers!
I have an old hutch where I store my containers and there's lots of room for dish pans and even a lazy Susan (which is another organization hack for the kitchen that I will share later on).
2. Install Cork Board and Hooks in Cabinet Doors to Hang Measuring Cups and Spoons
Here's a genius way to store your measuring cups and spoons!
Get some peel-and-stick cork board and place it in the inside of your cabinet.
Then place command hooks and start placing your measuring cups and spoons on the hooks!
This looks like a fun way to organize your kitchen cabinets.
3. Use a Stackable Can Rack
I have no pantry in my kitchen. For my pantry food I have to very strategic where I put them and organize them.
What I found works great is a stackable can rack.
This can hold up to 36 cans of food and it's perfect for my family.
I also have soups on hand, beans for Chili and canned fruit on hand.
4. Use a Pan Rack
Another rack that will come in handy is a pan rack.
This extendable one can hold lids too and it's the perfect fit for my cabinets.
When using this way to organize your pans and lids this way, you free up room on the side for your big pots and bowls.
5. Use a Tension Rod
What a clever way to add more room to under the sink!
I love it!
Just put a tension rod and put a paper towel roll and there ya have it!
You can even hang your sprays to make more room for more cleaning supplies.
6. Use Spice Jar Labels
Labeling your spices with a sharpie takes a lot of time you don't have!
That's why these spice jar labels not only save time but is a great way to keep track of what you have and how long it's been there.
If you're like me, you probably have a ton of spices that look pretty much identical in their jars, and it can be hard to tell one from another!
And aren't you just OBSESSED with the sleek font and black labels that compliment your black sink? Oh yea!
So this is definitely one of my favorite kitchen cupboard organization hacks.
7. Maximize Your Cabinet Space
Making good use of your cabinet space is an awesome way to free up space and keep things from getting lost in the back of cabinets.
Use the top shelf above your cabinet as a place to store spices and other small items that are easy to reach when cooking meals but don't need constant access.
To make sure everything stays put, use clear containers so you can see what's inside without opening each one individually – and don't forget to label them!
The bottom shelf is another great spot for storing smaller items, such as coffee mugs or cutting boards
For added organization efficiency, stack similar types together so nothing gets mixed up while still being easily accessible when needed later down the road!
8. Use a File Sorter
A file sorter is super useful and can be repurposed to hold cutting boards, baking sheets, and other flat kitchen items.
Look for upright expandable file sorters that will easily fit in your cabinets. The best place to put them is under your counter.
Then, when you need a cutting board or baking sheet, you don't have to go rummaging through your cabinets or in drawers to find them!
You can easily see everything you have and haul them out without causing an avalanche.
9. Hang a Swivel Towel Bar
Hanging a swivel towel bar on the inside of a cabinet wall can give you a convenient spot to store pot holders, utensils, dish towels, and other kitchen items.
Use those little metal utility hooks (like these) to hang utensils like spatulas and whisks.
This clever kitchen organization hack will make everything easy to see and will free up tons of space in your kitchen drawers!
Kitchen Counter Organization Hacks
Okay –
We organized your cabinets and now it's time for your kitchen counter.
10. Use a Lazy Susan
The next tiny kitchen organization hacks in this list are for those small kitchen utensils that can get messy in drawers.
A lazy susan can help you organize items on your counter or in your pantry, making it easier to access everything.
You can load up a Lazy Susan with things like spices and then simply spin it to find what you are looking for.
Look for a non-skid Lazy Susan so that your stuff doesn't go flying if you spin it a little too enthusiastically!
11. Use a Magnetic Knife Strip
A magnetic knife strip can help keep your knives organized and easily accessible while also freeing up counter space since you won't need a knife block.
Just install one on your wall, and you can use it to hold your knives and any metal utensils like tongs and whisks!
Plus, I love the fact that all of your knives are right there where you can see them, so you don't have to pull all of your knives to see what one you need or dig through a drawer.
12. Install Under-the-Shelf Storage
Use the space under your cabinets and against your backsplash to install shelves that you can use to store spices, coffee mugs, utensils, and more!
These shelves don't have to take up a whole lot of counter space, and they can help you clear out your cabinets, especially if you are looking for small kitchen organization hacks.
You can even stack the shelves on top of clear bins for even more kitchen storage!
13. Stack Your Appliances with a Microwave Rack
If you're short on space on your kitchen counters, there's nothing wrong with stacking your appliances
Can you put your toaster on top of your microwave? You sure can!
You can even get a microwave rack that fits over your microwave so you can place other kitchen items on top, like your coffee maker or air fryer.
Storage and Organization Hacks for Your Kitchen
It's nice to organize every little thing in your kitchen, but more important is to store all of those little things!
Like I mentioned, homeless clutter is a REAL thing y'all!
So, check out these tips to help store and organize!
14. Use Labeled Bins to Organize the Pantry (And Fridge!)
Bins are a great way to organize your pantry and fridge.
Use clear pantry bins to make finding specific items easier, and clear bins so you can see what is inside each one.
You can also use bins in your cabinets for small appliances like blenders and coffee makers.
Organize food items by type (fruit/vegetables/cereals) or create categories based on meal prep needs (meals for dinner vs. lunches).
When it comes to kitchen organization storage hacks, bins are your best friends!
15. Use a Narrow 3-Tiered Cart to Clear Up Space
Rollable carts can be used to create additional storage space next your fridge or kitchen counter.
Under your sink, you can use one to hang your spray bottles, gloves, and cleaning rags.
You can even use tension rods instead of file sorters to create vertical space to store your cutting boards and baking pans!
16. Use Cabinet Door Lid Organizers
OMG, how many times have you gone to grab a lid for a pot of boiling water and can't find the matching lid?
You end up using a bigger lid that just isn't right!
Make it easier for you with these lid organizer you can use on your cabinet doors.
These are super easy to install – not need for screws, just adheasive.
The only thing to remember is that this isn't for thicker lids that are more than 1/4″ or thinner.
17. Use Your Fridge as Storage
That's right!
You can use the side of your fridge as storage for smaller items.
Grab these magnetic shelves to stick on the side to hold light items or magnetic spice containers for all of your seasonings.
Magnetic hooks are also perfect for hanging dish clothes, towels, and cooking utensils.
Why not take advantage of vertical space?
DIY Kitchen Organization Hacks
These small kitchen DIY kitchen organization hacks are sneaky, easy and budget-friendly.
The trifecta of ultimate kitchen organization!
18. DIY Drawer Dividers
Drawer dividers are super useful when it comes to organizing your utensils, cutlery, and other small kitchen items.
You don't want your kitchen drawers to turn into nightmare junk drawers!
You can make your own drawer dividers by using thick cardboard or wood.
Cut part-way up each piece so you can interlock them in your drawer.
Making your own drawer dividers is awesome because you can customize them to fit your kitchen items.
19. DIY Kitchen Pegboard
Installing a pegboard on a kitchen wall can be a great way to hand pots, pans, and utensils!
This tiny kitchen organization hack will definitely free up cabinet and counter space.
All you have to do is buy a piece of pegboard and install it on your kitchen wall.
You can even paint it to match your decor.
Use metal utility hooks so you can hang pots, pans, and utensils.
You can also make storage baskets and shelves to hang from your pegboard to hold things like spices and decor items like plants and photos.
Pinterest worthy!
20. DIY Under-Cabinet Microwave Cubby
Keep your microwave up off your counter by building your own cubby under your cabinets.
This isn't a quick DIY kitchen organization hack, but it's definitely worth it if you're short on counter space.
I mean, you can easily install a sturdy shelf on the wall and sit your microwave on that (just make sure it can hold the weight of your microwave!).
Or you can build a piece that comes down from your cabinet and paint it to match, so it looks seamless in your kitchen design.
21. DIY Tiered Cake Pan Storage
Check out this super simple small kitchen DIY kitchen organization hack!
All you have to do is grab three cake pans (in three different sizes) and glue them into a tower shape using candlesticks.
Paint them to match, and you're done!
You can use your creation beside your sink to store your sponges and dish soap or use it instead of a Lazy Susan for spices, fresh fruit, and more on your counter.
13 More Insanely Easy Storage and Organization Hacks for the Kitchen
Create zones for your cabinets like a baking zone
Use the back wall of your cabinets to store measuring cups and spoons with these key rails
Use a plastic storage organizer for supplies you don't always use (mixers, bread machine, popcorn maker)
Use t-molding to hang your wine glasses upside down
Use all the area of your cabinet. If there is room between the shelf and door hang some wire shelves!
Stack as many things as you can: cups, plates, bowls, etc..
Use the side of the fridge fore more storage
Transfer your dry goods into clear containers for easy organizing
Try shelf organizers like these to add more depth to your cabinets
Store attachments to appliances IN the appliances. Example: store your mixer attachments inside the mixer.
Use a dish rack to store plastics or your children's dishes! Genius!
Keep most used appliances out like your coffee pot, toaster or kettle. This saves room in your cabinets for other things
Clear Up Space in Your Kitchen!
Organizing can be easy!
You don't have to spend a lot of money on organizing products. In fact, you may already have some of the things you need in your kitchen or home.
These best kitchen organization hacks are so easy to implement and will help make your kitchen more organized.
You can also use these tips for other areas of your home, like your bathroom.
I hope this article has inspired you to try these kitchen organization hacks!