Guess what time it is?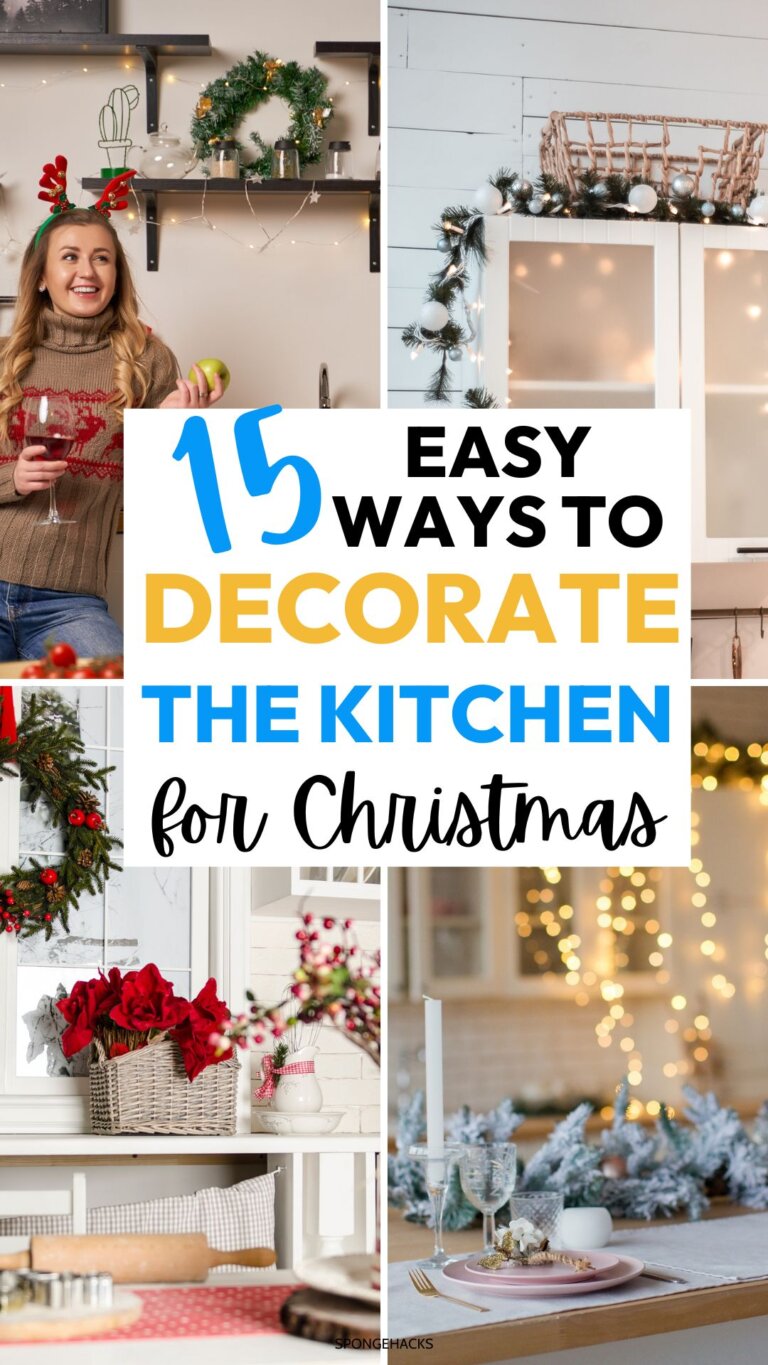 It's time for a holiday kitchen extravaganza!
Oh yea! Call it what you want: Festive kitchen or Christmas kitchen even, decorating for Christmas is always a fun activity, especially when you are in your first apartment.
And why can't your kitchen cabinets get the Christmas cheer too?
Decorating the top of your kitchen cabinets in festive Christmas decor can be a simple yet impressive way to spruce up your space for the season.
I know I can't WAIT to get all the fancy ribbons, colorful garlands, or sparkling lights placed all across the top of my cupboards.
Not only will doing this bring an extra layer of joy to you and your family, but friends and visitors will love it too!
Definitely Pinterest worthy!
So why not give it a try this year – you won't regret it!
Check out these 15 easy ways to decorate kitchen cabinets for Christmas!
Christmas Decor Above Kitchen Cabinets
Just in time for the holiday season, these Christmas shelf decor tips for above your kitchen cabinets are sure to add some much-needed holiday cheer to your small space.
Whether you want to get creative with traditional decorations or try something unique, there are plenty of ways to jazz up those otherwise forgotten spots.
So, don't be afraid to show off your style—make this Christmas memorable with decorations that will showcase your personality and celebrate the most wonderful time of the year.
Have fun trying these Christmas decoration ideas out!
1. Cabinet Wreaths
There's something about cabinet wreaths that instantly turn those drab worn-out kitchen cabinets into a sophisticated and stylish look!
Aren't you just OBSESSED with this look?
I sure am!
And what's cool is that it's super duper easy to recreate!
All you need are:
That's it! This is a fun and relaxing project you can do after work while you snuggle with your kitty cat or dog and binge Netflix!
Or, they can also become a fun tradition. Pick out new materials each year or personalize one by including a special ornament to represent a memorable moment from the past year.
#adultinggoals
2. Garland Lights and Poinsettias
Oh man! I absolutely LOVE how this above cabinet decor shows during the day!
So regal and sophisticated! In love for sure.
No matter how cliched it may sound, this look will bring your joy and nostalgia for the entire holiday.
Plus, when you whip out those mince pies and eggnog for guests over this winter season, they're guaranteed to be impressed with your Christmas decor!
And, you know what I'm going to say next: this is an easy way to decorate your kitchen cabinets for the holidays!
All you need are:
3. Christmas Tree Forest
How festive is this Christmas decor idea for the top of your kitchen cabinets?
You can even make it into a Christmas village if you want with figurines and homes!
Elves and gnomes unite!
And the best part? You basically only need one thing: little Christmas tress!
This is great because not only is it a cheerful holiday staple, but it adds some gorgeous colour and dimension to any kitchen!
Plus, no one can deny that there's something incredibly cute about having Christmas ornaments peeking over the cabinets – so why not get creative and mix and match different shapes, sizes and colours for a unique look this season?
4. A Simple Chalkboard Sign
For a more country feel to decorating your kitchen for Christmas, this chalkboard sign is all you need to bring in the festivities.
It'll become the perfect conversation starter amongst your family and friends.
And you don't even need chalk to create this look! There are plenty of Christmas signs to choose from:
5. Christmas Shelf
If you have an open concept kitchen with exposed shelves, you can easily dress up your shelf with some Santa Christmas mugs and Christmas socks!
Unleash your inner Santa and make your shelves exude as much winter cheer as possible.
Have fun with it – don't be afraid to experiment.
Who knows, you may even put together something so magical that people will have to take a closer look to verify that it came from your own home!
6. Wrap Up Your Cabinets
While you can decorate the top of your kitchen cabinets, don't forget you can also dress up your cabinets with ribbon!
It may sound unconventional, or even a little outrageous, but trust me — it's worth the effort.
Not only does this festive twist give your kitchen an extra jolt of energy, but you'll also feel that holiday warmth and fuzzy joy each time you catch sight of your vibrant Christmas decor in the middle of everyday routines.
And, the bows come in all shapes and sizes so you can customize the look to suit just about any cabinet style!
Give it a try this winter season — we bet you won't be disappointed.
7. Christmas Snowflakes on Your Cabinets
Oooo! I love the look of this kitchen!
Whether you're looking to create a warm, cozy winter vacation spot or an overall ambience of holiday cheer, adding red snowflake decals of Christmas snowflakes can be the perfect finishing touch!
Not only do they look charming and festive, but they provide a fun opportunity to showcase your creative side and give your kitchen cabinets an impressive burst of personality for the holidays.
With the right placement, these jolly decorations will have your whole family (and friends!) feeling merry and bright in no time.
And don't these red snowflake decals on the kitchen cabinets instantly turn your kitchen into a Christmas holiday magazine look?
8. Showcase Your Christmas Cards
Spruce up the holiday season in your kitchen this Christmas with a special touch.
Fill up your kitchen cabinets with Christmas cards! No dull, store-bought seasonal cards here.
By using such a unique decor approach, you can be sure to bring some cheeriness into your kitchen this festive season.
Who knows? You might just think up some interesting conversation starters for the next family dinner time in the process!
And if you live in a 1-bedroom apartment or in a small space, you may not have a staircase to showcase your Christmas cards. Why not use your kitchen cabinets instead?
With clothespins and ribbon you can easily create this DIY project.
9. Elegant Christmas Look
Yes! Black! I love me a black kitchen with a black kitchen sink.
And this look just completes the idea!
All you need are:
10. Christmas Garland
Decorating your kitchen cabinets with Christmas garland is a great way to get into the Yuletide spirit!
Whether the garland has lights, ornaments or is au naturel, you can't go wrong with this Christmas decor on top of kitchen cabinets!
Just think: each time you reach for that jar of Nutella, you'll be welcomed by the delightful sight of festive greens and reds.
Adorning your cabinetry with traditional pine garlands adds an element of whimsy and evokes a cheerful atmosphere.
Make sure to set aside some tinsel or sparkling lights to bring the most unique holiday touch to your cabinets.
11. Cottage Wreath
Another cabinet wreath decor idea is to have a large berry wreath in the middle of your kitchen cabinets and then you can have lights underneath to highlight the wreath.
With a berry wreath, it'll look amazing while you're baking up some delicious holiday treats.
Whether it's artificial or fresh, the cheery pop of colour will be a beautiful detail during the winter season.
Plus, with a bit of care and love, your wreath should last throughout the entire holidays.
When everything else gets taken down, this simple piece will keep your home feeling merry and bright until the start of the new year.
12. Christmas Presents
Isn't this a cute idea? One of the best mall kitchen decorating ideas is to use vertical height and with this idea to wrap up your cabinets like presents, your eyes naturally look up and down!
With sparkly bows you can have fun decorating your kitchen for Christmas!
13. Minimalist Christmas Look
For another look with open shelves, you can add a few Christmas decor pieces to totally change your kitchen into a festive holiday eatery.
You can definitely invest in some red dinnerware, red mugs and add a few berry twigs and a festive Christmas tree ornament to complete the look.
14. Christmas Bells
Instead of using wreaths to decorate your kitchen cabinets, why not try some beautiful silver bells?
Instantly transform any room into a festive winter wonderland with a lighthearted sprinkle of noise, while basking in the glow of Christmas all around you.
Not only will you get in the spirit of the season, but it'll also make every trip to the kitchen just that much more cheerful!
15. Change It Up
And finally, take all these ideas of top of kitchen cabinet decor and place some bells, wreaths or branches on your cabinets and call it day!
How to Prepare to Decorate the Top of Your Kitchen Cabinets for Christmas
Here are some tips to help you prepare and decorate your kitchen cabinets in time for Christmas.
1. Clean First, Decorate Later
Before you begin decorating, make sure that your cabinets are squeaky clean!
Make sure that all the dust bunnies have been chased away before you start placing that garland of lights. Once everything is spotless, then it's time for the fun part – adding some holiday flair to those cabinets!
2. Think Outside the Box (or Cabinet!)
Take a step back and consider what type of look you'd like in your kitchen.
Do you want something more subtle or something more statement-making?
Are there any colors or textures that would be particularly fitting?
You don't necessarily need to stick with traditional reds and greens; gold, silver, white and black can work just as well if they fit with your aesthetic. And well, who doesn't LIKE black, white and gold??? So pretty!
Whatever color scheme you choose, try to keep it consistent across all of your cabinet doors.
3. Add Some Sparkle and Shine
Now comes the fun part – adding Christmas decorations!
Any one of the ideas in this post is easy to DIY and make yourself! With just a few items you can really have fun decorating your kitchen for Christmas.
Best Ways to Decorate Kitchen Cabinets for Christmas
There ya go! I hope you found the perfect way to decorate the top of your cabinets.
I can't wait to try out some of these tips!
For more cleaning and organizing advice, make sure to follow me on Pinterest!