Ugh! The heat.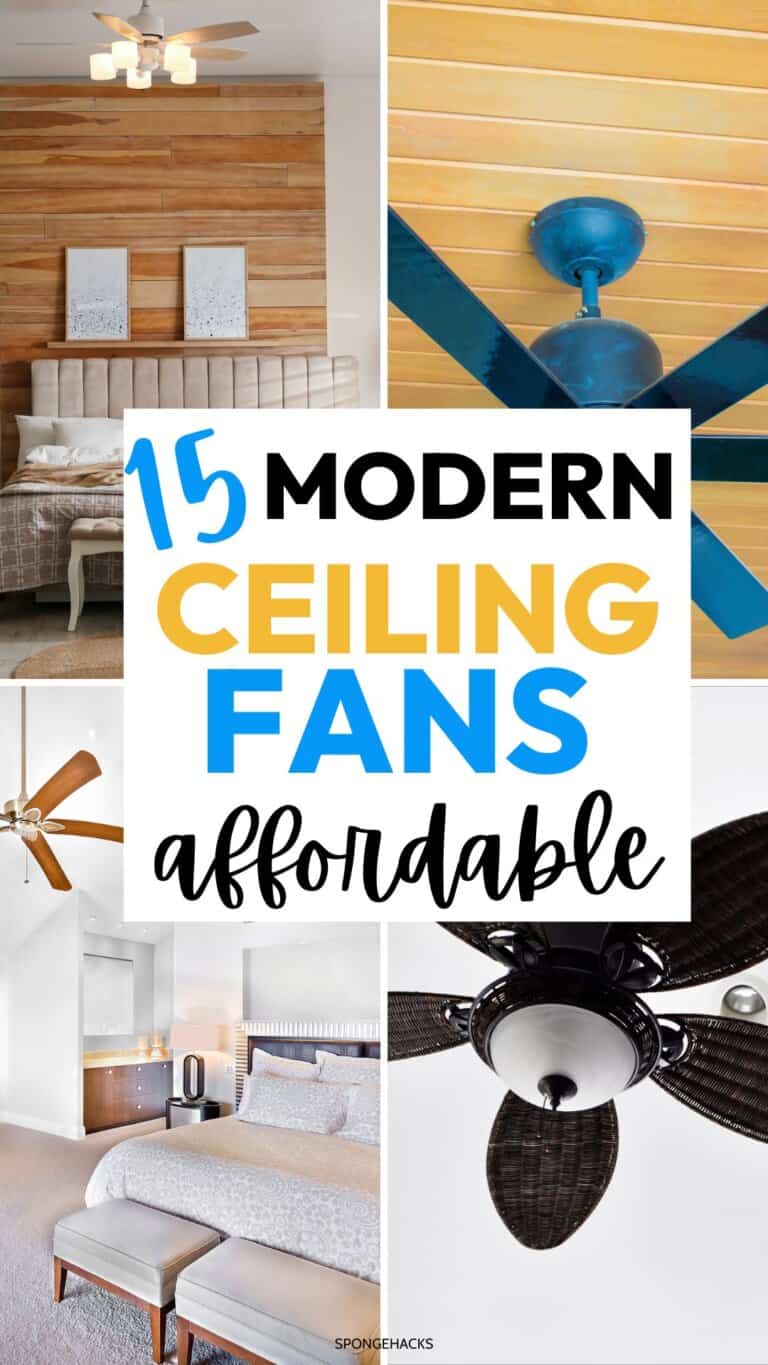 The humidity.
The world is heating up and it doesn't get any better when the sun goes down either.
When the summer gets hot, it can be hard to sleep – if only I could sleep in a pool!
The dream! But I can't.
That's why the next best thing are ceiling fans!
And I put together this list of the best ceiling fans for bedrooms.
So if you're ready to cool down, let's venture into the world of ceiling fans that are not just functional but can also be an extension of your bedroom aesthetics:
1. Quiet Ceiling Fans for Bedrooms
Ceiling fans for bedrooms should lull you into tranquility, not disrupt your beauty sleep with a symphony of mechanical noises.
If you're a light sleeper, you definitely need to get a quiet fan for your bedroom.
The last thing you need is to be drifting off to sleep when the fan decides to start rattling!
When searching for quiet ceiling fans, focus on the fan's noise level, measured in decibels (dB). Look for fans with noise ratings below 40 dB for a truly peaceful sleep sanctuary.
I'm OBSESSED with this one: Elihenser modern ceiling fan.
Also, look for features like aerodynamic blade design and vibration-reducing technology to ensure a serene environment.
2. Ceiling Fans for Bedrooms With Lights
Elevate your nocturnal escapades by combining two essential elements – cooling and illumination.
Picture this: your favorite book, a cup of chamomile tea, and the soft glow from your bedroom ceiling fan's built-in lights, casting just the right ambiance for a cozy reading nook.
These dual-duty fans not only chase away the stuffiness but also add an inviting glow to your nighttime rituals.
For ceiling fans with lights, prioritize those with adjustable lighting settings.
Seek out dimmable LED lights to customize the ambiance, and ensure the fan's light kit complements your bedroom's decor while providing sufficient brightness for various activities.
3. White Ceiling Fans for Bedrooms
The color white has this timeless allure, and white ceiling fans blend seamlessly with any bedroom decor.
And when you put so much effort into keeping your bedroom clean, you want a fan that looks clean as well.
When choosing white ceiling fans, consider the material and finish.
Opt for fans with high-quality, durable finishes that are easy to clean.
Look for reversible blades, allowing you to switch between a white finish and a complementary color, giving you versatile design options.
4. Flush Mount Ceiling Fans for Bedrooms
If your bedroom space is a snug cocoon, fear not, for flush-mount ceiling fans are your saviors.
Designed to nestle perfectly against the ceiling, these unobtrusive ceiling fans ensure every inch of your limited space is optimized.
Say goodbye to the worry of headroom as you enjoy a breeze that feels tailor-made for your cozy retreat.
Pay attention to the fan's height and blade span when selecting flush-mount ceiling fans.
This Nordic fan is perfect for tall people!
Measure your ceiling's height to ensure proper clearance, and choose a fan with an appropriate blade span for optimal airflow in a confined space.
5. Ceiling Fans for Bedrooms With a Remote
Are you ready to step into the future?
Seriously though, ceiling fans for bedrooms with a remote have been around for years, and they will rock when it comes to convenience and ease!
With just a press of a button, adjust the fan speed, fine-tune the airflow, and even switch it on or off without leaving the comfort of your blanket cocoon.
These fans grant you control over your cooling kingdom, ensuring your bedroom remains a realm of convenience and comfort.
Prioritize ceiling fans with user-friendly remote controls.
Look for remotes that offer intuitive button layouts, programmable settings, and compatibility with your smart home devices.
Check for features like timer functions and fan speed adjustment for a seamless experience.
6. Ceiling Fans for Small Bedrooms
When you have a small bedroom, every square inch of space counts!
That's why you should look for ceiling fans made for small bedrooms.
These fans prove that size isn't a limitation when it comes to dispersing heat and embracing cool comfort.
When considering fans for small bedrooms, measure the available ceiling space to determine the ideal fan size.
Opt for a fan like this one with compact blade spans that fit comfortably within your room's dimensions while still delivering efficient airflow.
7. Energy-Efficient Ceiling Fans
Energy-efficient ceiling fans not only keep you cool but also tread lightly on the planet.
With advanced technology and energy-saving features, these fans offer guilt-free comfort, ensuring your restful slumber doesn't come at the cost of environmental well-being.
Look for ceiling fans with the ENERGY STAR® label, indicating high energy efficiency.
Consider fans with DC (direct current) motors, which consume less electricity while maintaining optimal performance.
Features like adjustable speed settings and automated modes further enhance energy savings.
8. Dual-Motor Ceiling Fans
Experience the exhilaration of an ocean breeze right in your bedroom. Dual-motor ceiling fans deliver an invigorating burst of airflow akin to the winds of a coastal retreat.
Immerse yourself in a sanctuary where each gust transports you to a serene seaside escape, making your bedroom a true oasis of relaxation.
Check for dual-motor ceiling fans with reversible rotation settings. This allows you to switch between downdraft mode for cooling and updraft mode for redistributing warm air during colder months.
Ensure the fan's design aligns with your bedroom's aesthetic while delivering powerful airflow.
9. Vintage-Inspired Ceiling Fans
Embark on a journey through time with vintage-inspired ceiling fans that pay homage to the elegance of yesteryears.
The intricate designs and classic finishes evoke nostalgia, creating a room where history meets modern comfort.
Let the gentle whirring of these fans serenade you to sleep, weaving tales of eras gone by.
Seek out vintage-inspired fans with ornate detailing and finishes that match your desired era.
Look for models with modern motor technology to combine classic aesthetics with contemporary efficiency, ensuring a perfect blend of charm and performance.
10. Tropical Ceiling Fans
Imagine swaying palm leaves and the gentle murmur of ocean waves, all encapsulated in a single cooling device.
These fun chic fans transport you to an island escape, where relaxation and rejuvenation intertwine with each breeze.
Consider tropical ceiling fans with natural materials like bamboo or palm leaf blades for an authentic island feel.
Look for models with multiple fan speeds to simulate different wind intensities, and choose a fan size that complements your bedroom's layout.
11. Smart Ceiling Fans
Seamlessly integrate technology into your sleep haven with this smart ceiling fan.
I love my Alexa and Siri and Roomba! Bring on the smart fan now!
Set personalized schedules, adjust settings remotely, and control your fan using voice commands.
These modern marvels combine comfort with convenience, ensuring your bedroom adapts to your preferences with a touch of innovation.
Opt for smart ceiling fans that are compatible with your preferred smart home ecosystem, whether it's Amazon Alexa, Google Assistant, or Apple HomeKit.
Look for fans with user-friendly apps that allow you to control fan speed, lighting, and scheduling remotely.
12. Retractable Blade Ceiling Fans
Have you heard about retractable blade ceiling fans?
These ingenious fixtures create an enchanting dance, extending their blades when summoned and gracefully retracting them when not in use.
A testament to both functionality and aesthetics, these fans elevate your bedroom's allure.
Focus on the quality and durability of the retractable mechanism.
Look for fans with reliable blade extension and retraction mechanisms, and ensure that the fan's design complements your bedroom's style, whether the blades are extended or retracted.
13. Designer Ceiling Fans
Crafted by visionaries, designer fans blend artistry and functionality, becoming the focal point of your room's design.
Immerse yourself in a realm where form and function harmonize, creating a space that's both inspiring and cooling.
Research the reputation of the designer and the brand behind the fan.
Look for fans that incorporate premium materials and innovative design elements.
Consider features like customizable blade finishes, unique motor housings, and integrated lighting to make a bold design statement.
14. Industrial-Style Ceiling Fans
Raw materials and exposed hardware combine to infuse your bedroom with a rugged charm.
These fans stand as a testament to your bold style while providing a gust of comfort in a space that resonates with your spirit.
Seek out industrial-style fans with robust construction and finishes that match your bedroom's urban aesthetic.
Look for fans that offer multiple fan speeds to tailor the airflow to your comfort preferences, and consider models with reversible blades for year-round use.
15. Chandelier Ceiling Fans
Experience the epitome of luxury and comfort with chandelier ceiling fans.
Bask in the soft glow of ambient light while a gentle breeze caresses you, creating an atmosphere of opulence and relaxation.
These fans redefine elegance, turning your bedroom into a haven of indulgence and cool reprieve.
When selecting chandelier ceiling fans, focus on the quality of both the fan and the chandelier components.
Look for models with crystal or glass accents that provide elegant illumination.
Ensure that the fan's cooling performance aligns with your bedroom's size for a perfect blend of luxury and comfort.
Sizing Guide for Bedroom Ceiling Fans
Picking the right-sized bedroom ceiling fan is as vital as finding the comfiest seat in the house. Let's start with the basics – measure your room's length and width in feet, then multiply by the square footage.
This number guides you to the ideal fan blade span.
For snug spots under 75 square feet, go for a fan with 29 to 36-inch blades – compact but effective. Medium-sized rooms, around 76 to 144 square feet, enjoy a sweet spot with 42 to 48-inch blades, providing efficient airflow all around.
Now, if you're lounging in a spacious haven of 145 to 225 square feet, embrace the grandness with 50 to 54-inch blades, creating a cool oasis.
And let's not forget ceiling height – for 8 to 9-foot ceilings, keep your fan about 7 feet off the ground.
If your ceiling reaches for the stars, consider an extended downrod to maintain the perfect distance between the fan and the space.
So, whether you're nestled or sprawling, your ceiling fan will ensure every nook feels the refreshing breeze.
Accessorize Your Bedroom Ceiling Fan!
Elevate the aesthetic appeal of your bedroom ceiling fan by embracing creative accessory options that seamlessly blend style with functionality.
These innovative ideas allow you to customize your fan to match your personal taste and interior decor:
Fan Blade Covers: Transform the appearance of your fan by adding decorative blade covers. These covers come in an array of patterns, colors, and materials, allowing you to choose an option that harmonizes with your bedroom's design. Whether you prefer a rustic, bohemian, or contemporary look, blade covers offer a quick and eye-catching update.
Pull Chain Ornaments: Infuse a touch of personality into your ceiling fan by replacing standard pull chains with unique ornaments. These small but impactful additions dangle from the pull chains, adding a charming element to your fan's design. From elegant crystals to playful shapes, these ornaments reflect your individual style.
Custom Fan Blades: Unleash your creativity by exploring custom fan blade options. Collaborate with artisans or manufacturers to design blades featuring bespoke patterns, artwork, or engravings. This personalized touch ensures that your ceiling fan becomes a one-of-a-kind statement piece.
Light Kit Shades: Enhance both the lighting and visual allure of your bedroom by customizing the shades of your fan's light kit. Opt for frosted glass for a soft, diffused glow, or select stained glass shades to infuse your space with vibrant hues. Vintage-inspired or contemporary shades can be chosen to align with your decor theme.
Stay Cool and Stylish: Elevate Your Bedroom with the Perfect Ceiling Fan
And there you have it, dear trendsetters of restful nights and stylish siestas!
The world of ceiling fans for bedrooms is vast and varied, tailored to your cooling needs and aesthetic aspirations.
From the hushed whispers of quiet fans to the dual-purpose charm of illuminated breezes, your sleep haven is in for a treat.
So go ahead, snag the fan that speaks to your soul, and let the cool vibes and refreshing dreams flow.
Stay chill, stay cozy, and stay… fabulously fan-tastic!
And, don't forget to follow me on Pinterest for more home decor and organizing tips!