This is the year I'm styling my living room with all rustic decor ideas!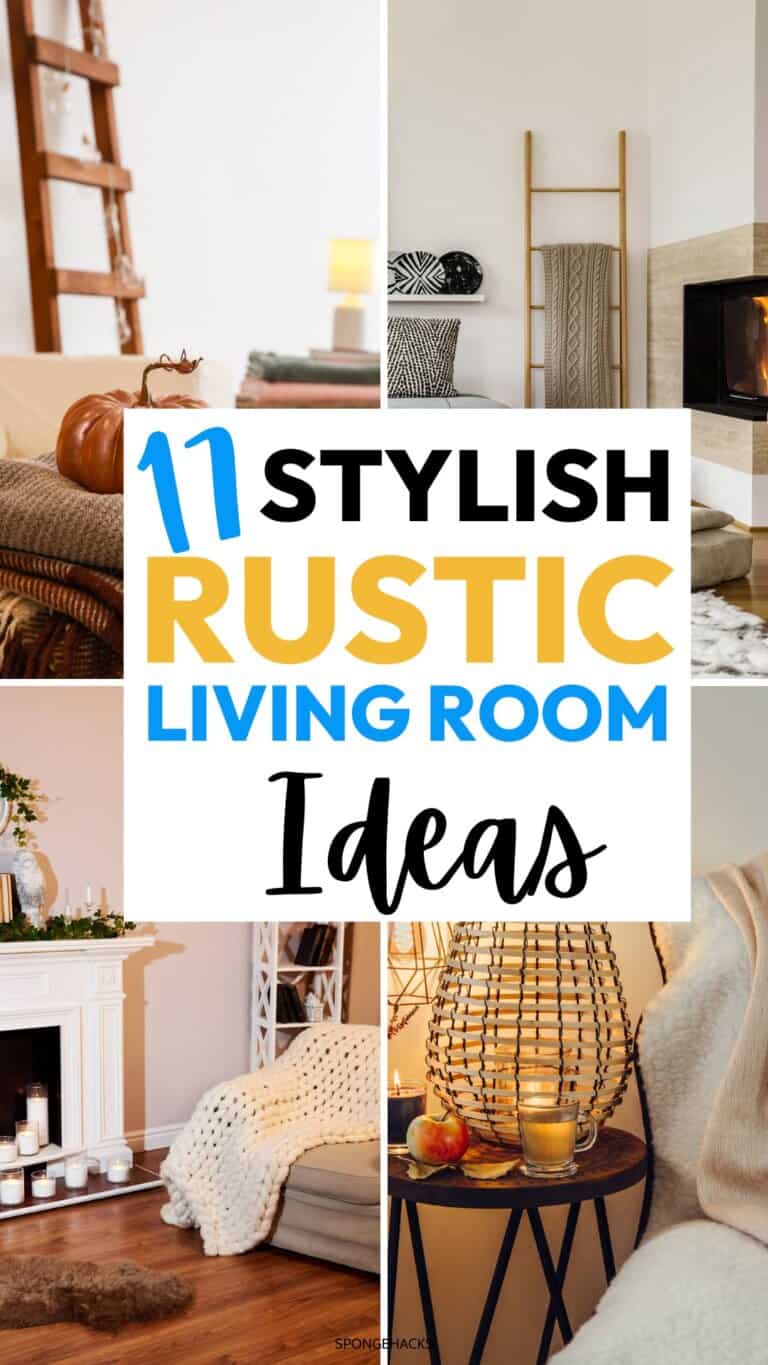 Yes!
I'm seeing it all over reality TV, magazines, Instagram, TikTok and Pinterest!
Rustic farmhouse living room ideas and all the PSL I can drink makes for the perfect Saturday.
And with fall aesthetic in full swing right now, I want to add this rustic design to my living room all day long.
I mean, who else is adding some major rustic design vibes to their living room game?
I'm totally crushing on that cozy cabin vibe with all the plaid, wood accents, and warm colors.
It's like autumn threw up in my living room and I am HERE for it.
I want to curl up with some pumpkin spice everything and soak it all in. Can we just live in fall forever?
If you are dying to get your hands on this design trend, I'll share ALL.THE.RUSTICness there is so get ready.
Rustic Living Room Decor Ideas
If you're like me, obsessing over those cozy, cabin vibes (I mean, who isn't?), you've probably been swooning over all those dreamy rustic decor ideas for living room splashed across Pinterest and Instagram.
From warm, weathered woods to snuggly, soft textiles, rustic decor is basically a hug for your living space!
And GUESS WHAT?
It's totally doable and you don't need a farmhouse or a barn door in sight to make it happen!
Let's look at some EASY PEASY, adorable, rustic living room ideas for small spaces to elevate your living room into a countryside dream!
1. Crates Are a Vibe
Shake things up with some rustic wood decor using crates!
Not only will it give your space a charming feel, but it's also a fun and witty way to incorporate unique storage solutions.
Stack crates to create a bookshelf or nesting tables, and use them to store books, blankets, and other items.
You can even paint or stain the crates to match your color scheme. With these rustic wood decor ideas, your living room will feel cozy and welcoming in no time!
These types of rustic wood decor ideas are easy to DIY or even put together with the right stuff!
2. Weathered and White Chalk Makes Everything Rustic
There's nothing quite like a weathered country bookcase to bring that cozy, vintage feel to your space.
I mean these rustic living room wall decor ideas are TO.DIE.FOR and many of them are DIY!
Whether it's in your living room, office, or bedroom, this bookcase is the perfect addition to give your home a touch of nostalgia.
Try displaying your favorite books, knick-knacks, and even plants on the shelves for a truly personalized look.
Not only will you have a functional storage solution, but you'll also be able to create a unique and charming display that everyone will notice.
Get ready to add some fun and wit to your decor style with these rustic wood decor ideas!
3. A Big Clock Ties It All Together
When it comes to decorating your space, sometimes it's the little things that can make the biggest change.
And when it comes to rustic decor, there's nothing quite like a big clock to tie it all together.
I am OBSESSED with this clock!
Not only is it practical (who doesn't need to know the time?), but it adds a touch of charm and nostalgia to any room.
Plus, there are so many fun and witty ways to style it.
Hang it above your fireplace or use it as a statement piece on your entryway table.
You can even use this rustic wall decor for the living room it as a backdrop for your Instagram photos (because let's face it, a good clock is always a good backdrop).
Whatever your style, adding a big clock to your rustic wood decor ideas is a must.
4. Rustic Chandelier
If you're someone who can appreciate a good ol' rustic french country living room, then check out this rustic chandelier for your room.
Seriously, if you're feeling cooped up inside and need to switch things up a bit, these fun and witty ideas will give your space the facelift it needs.
Hang up a chandelier made out of salvaged barn wood and it'll instantly become the focal point of the room.
Or, if you're looking for something a bit more abstract, go for a chandelier that's been decked out in antlers or even tree branches.
Whatever your choose, this focal point is sure to charm and delight any visitor who happens to drop by.
5. Use an Old Window
Bring some old-fashioned charm and rustic wall decor ideas to your living room with this old window you can DIY or purchase.
There's something about the character of an old window that's simply country chic.
Use it as a wall hanging and decorate the panes with dried leaf arrangements for a nature-inspired look.
Or, arrange a mix of country baskets on the window sill to create a cozy, inviting ambiance.
The combination of natural wood tones and organic textures is ideal for adding warmth and comfort to your home.
By incorporating these rustic elements into your decor, you'll create a space that feels timeless, grounded, and full of personality.
rustic wall decor ideas
6. Blanket Ladder
Adding a blanket ladder can give your rustic style living room the perfect touch for this farmhouse look.
It not only serves as a practical storage solution for your favorite cozy blankets, but it also adds visual interest to your room.
When paired with other rustic decor, such as a weathered coffee table or distressed wooden frames, a blanket ladder creates a warm and welcoming atmosphere in your living room.
Whether you're snuggling up with a book on the couch or enjoying a cup of tea with friends, a blanket ladder is a stylish and functional addition to your home decor.
7. Rustic Farmhouse Chicken Wire
Rustic wood decor ideas are a wonderful way to bring some coziness and comfort into your home and I can't get enough of it!!!
And what better way to incorporate rustic elements than with this wall decor idea?
This charming piece of wall art adds a touch of country chic to any room, and can be used in a variety of creative ways.
For example, you could hang it in the kitchen and use it as a storage solution for spices and utensils, or in the bathroom to show off some cute candles and beauty products.
The options are endless, and with a little imagination, you can create a warm and welcoming atmosphere that is full of rustic charm.
8. A Rustic Piece Above the Couch
Dive into this decor inspiration fresh for rustic mantel decor ideas ALL DAY LONG!
Your cozy living room, already the envy of your friends, gets an upgrade with rugged, rustic shelf decor ideas.
Yes!
Use a mantle placed just above your couch. It's like the countryside met the coast for a secret rendezvous in your living room!
And, oh, the tales it tells!
Let's dial up the drama a notch with delicate sailboats scattered on it.
Each one not just a decor piece, but a story, a whisper of sea breezes and sun-soaked adventures.
Introduce a lantern box, a beacon of soft, inviting light and maybe a secret or two.
Every time you sit down with your favorite book or entertain your chic circle, you're wrapped in an ambiance that's equal parts rustic elegance and coastal charm.
9. Checkered Says it All
Bring a touch of rustic charm to your home decor with black and white checkered textiles. From cozy pillows to elegant curtains, these accents are the perfect complement to the natural warmth of rustic wood.
Imagine your trusty wooden coffee table with checkered placemats, creating the perfect stage for your centerpieces.
And oh, those plush, checkered pillows thrown casually (but artfully!) across your sofa.
Then you can have billowing curtains with the same bold pattern, framing your rustic wood-trimmed windows, making every sunset an event and every dawn a bold statement.
Mixing the warmth of wood with the boldness of checkered prints? It's not just a decor move, it's a power move.
10. Weathered + Natural Elements = Rustic
For some country rustic decor ideas try using a repurposed window, letting its aged wood and perhaps chipping paint become the heart of your display.
Add a country wreath or even a seasonal wreath in front of the window panes to create a LOOK.
Now, imagine a duo of rustic milk cans gracing each end of your mantle, grounding your arrangement with their storied past. Don't let them feel empty though!
11. A Rustic Lantern Puts It All Together
Ah, the rustic lantern – the simple of all the rustic living room furniture there is and a symbol of old-world charm, stories told by candlelight, and an ambiance that whispers of cozy nights.
Imagine your coffee table, not just as a functional piece but as a canvas.
At its heart, place a rustic lantern, its timeworn metal and glass evoking stories of candlelit evenings from yesteryears.
Inside, rather than the expected pillar candle, imagine a tangle of fairy lights, casting a soft, magical glow across your room.
12. Chic Rustic
I LOVE this chic rustic look!
Modern but country and rustic all at the same time.
Bring a touch of nature into your home with this rustic modern living room design!
A glass round tray serves as the perfect centerpiece, offering a sleek and versatile design that can be accessorized in countless ways.
Add candles for a warm, cozy glow that will create a relaxing ambiance in any room. Top it off with a lush plant that will infuse the space with fresh energy and life.
These simple yet effective touches are the perfect way to add texture and warmth to your home, creating a cozy retreat that you'll love coming home to.
13. Rustic Curtains Are It
Seriously, these whimsical rustic curtains are game-changers.
They're like the missing puzzle piece that ties everything together and makes your living room feel complete.
With their neautral colors and natural textures, you'll be transported straight to a cabin in the woods (even if you're just chilling in your city apartment).
Don't forget to make it more rustic by repurposing a piece of wood as your curtain rod! Slam dunk!
So ditch those boring, basic curtains and upgrade to some stylish and chic rustic drapes.
Your living room (and Instagram feed) will thank you.
14. Gray Rustic Farmhouse Living Room
I'm all about the gray rustic farmhouse living room vibes.
Think cozy, think charming, think oh-so PINTEREST-WORTHY.
We're talking about rustic warm living room decor with woodsy accents, neutral palettes, and maybe even some shiplap if you're feeling extra fancy.
It's like bringing a little piece of the countryside straight into your home, all while maintaining that chic AF aesthetic.
Whether you're snuggling up with bae for a movie night or sipping some tea with the girls, this chill vibe is where it's at.
Complete this look with a cozy gray sectional couch and gray pillows.
15. Rustic Rugs for Living Room
Feeling like your living room is lacking a certain je ne sais quoi?
It's time to spice up your rustic living room set with some flair, starting with your rug.
You won't find any boring, cookie-cutter patterns here – these rugs are MODERN and all about texture, pattern, and personality.
Imagine sinking your toes into a lushly thick shag rug, with earthy tones that complement your weathered wood coffee table.
Or layering a geometric print rug over your neutral carpet, adding an unexpected pop of color and dimension.
Whether you lean traditional with a woven wool rug or modern with a distressed leather piece, a rustic rug is the perfect way to elevate your space from blah to ahh-mazing. Slay, girl.
16. Rustic Cottage Living Room
If you're a fan of coziness and country vibes, then the rustic cottage living room is the perfect space for you.
To create this look, let's look at rustic living decorating ideas like:
an oversized plaid blankets draped over worn-in leather sofas
Fluffy autumn colored pillows sporting an accent color
a crackling fire warming your toes
Harvest plants and pumpkins scattered about
Don't forget that cup of hot cocoa in hand to complete the look!
It's like being wrapped in a warm hug from your grandma, but with a touch of trendy chicness.
Don't be fooled by the "rustic" title either, because with the right decor touches, this living room can look downright bougie.
It's like taking a trip to a cabin in the woods, but without the questionable outhouse situation.
So grab a good book and settle in for some cozy living room vibes.
17. Rustic Lamps for the Living Room
Living rooms aren't just for Netflix and chill, they're for style and personality!
If you're vibing for a rustic look, then you gotta check out these lamps.
I'm talking about lamps that got that vintage, country feel – like they were plucked from your grandma's attic but with a modern twist.
These rustic lamps will bring major character to your living space and might even make you feel like you're living the simple life.
Plus, they're versatile enough to match any decor – from farmhouse chic to urban rustic. Don't settle for basic lamps, level up your living room game.
Rustic Home Decor Ideas
So, there ya go!
Wonderful ways to decorate your living room with some rustic decor.
I simply love this time of the year!
Make sure to follow me on Pinterest for more home decor, organizing and cleaning advice!