Are you just settling into your brand-new apartment?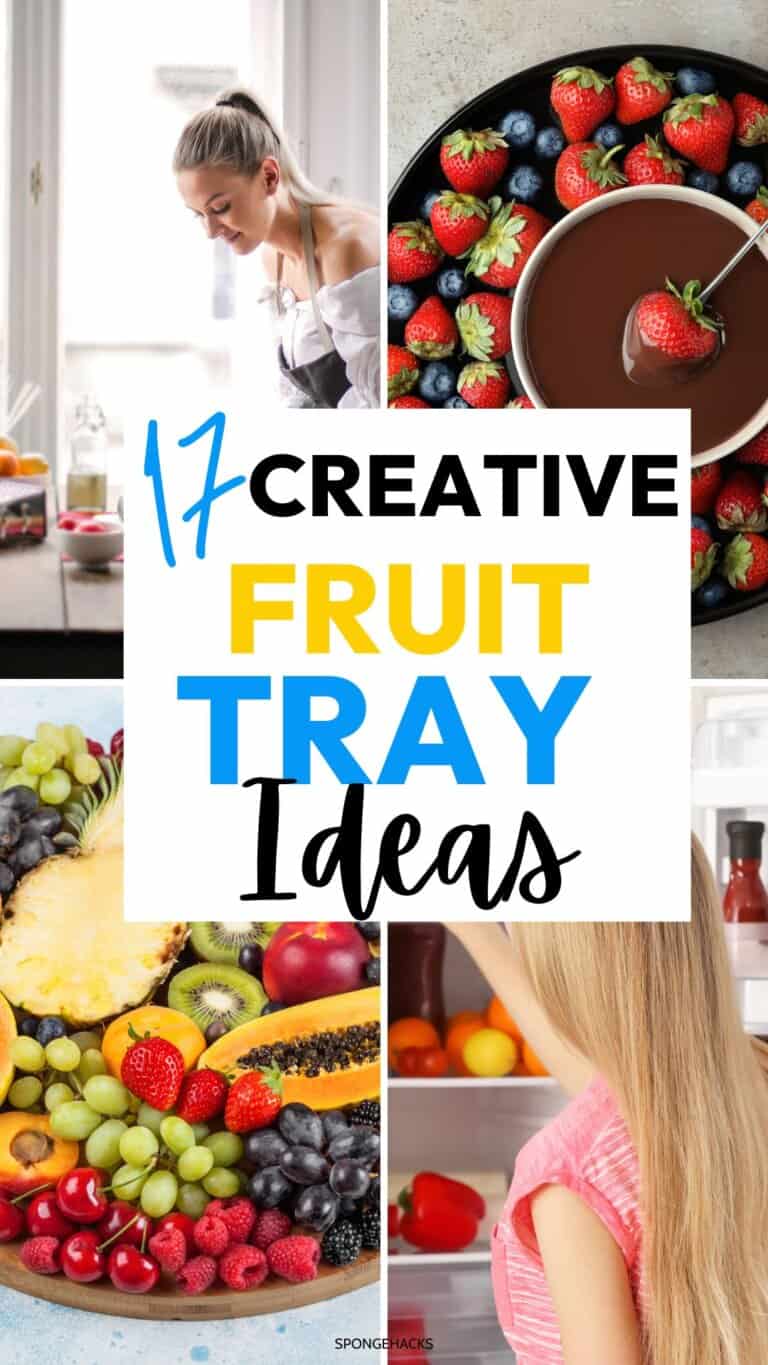 Just because they're called HOUSE warming parties doesn't mean that you can't celebrate your new digs!
You want to shout at the top of your lungs that you did it!
You have your new apartment and you want to celebrate and party!
Well, host a quiet CHILL party for sure!
But if this is your first get-together in your new apartment, you're probably wondering how you're going to manage to fit everyone into your space and serve delicious food.
Fruit trays to the rescue!
Everyone loves a good fruit tray.
They're easy to put together and can feed a ton of people at once.
You can even make them look super cool with different shapes and fruit cuts.
You can even include easy and delicious dips.
Let your imagination run wild!
Just make sure you're picking fresh and unblemished fruit to make your fruit tray look absolutely mouthwatering.
Is your mouth watering already?
Mine is!
So let's take a look at some creative fruit tray ideas that everyone is going to rave about.
Fun and Delicious Fruit Tray Ideas for Your Get-Together
To make sure your fruit tray is the star of your casual get-together, get an amazing platter.
Here are three different vibes for a fruit tray.
And, what's great about these trays is that they can be used for other foods like a cheese and cracker platter or a dessert platter!
Okay! With that outta the way, let's check out some fruit ideas for your lovely get up.
1. Easy Fruit Tray
Let's start with the easiest fruit tray idea:
Just cut up your favorite fruits and display them on a plate or tray.
Jazz it up and make it look like a wreath!
Or place your fruit diagonally for some depth.
Done!
2. Fruit Tray With Dip
If that's too plain for you, add a yummy dip to the mix. I've got some super delicious ones listed below!
I love me that marshmallow fruit dip recipe, though.
It's perfect and totally ADDICTING!
3. Breakfast Fruit Tray
Let's get a little fancier now, 'kay?
You can make a breakfast fruit tray using any breakfasty type of food you want!
You can arrange mini pancakes, crepes, and little muffins among the fruit. Or mini quiches!
Oh, and why not bacon and sausage?
Throw them in little dishes and add them to your fruit tray.
I'm getting hungry now!
Yum!
4. Fruit Charcuterie Board
A charcuterie board is basically a platter with meat, cheese, and fruit.
But instead of simply creating a grown-up version of a Lunchable, here are some fruit-cheese-meat combos you should check out:
Apple – Brie – Chorizo (a spicy salami)
Blackberries – Aged Cheddar – Italian Salami
Raspberries – Swiss Cheese – Prosciutto
Grapes – Gouda – Salami
Peach – Mozzarella – Cured Meats (chicken, turkey, etc.)
Strawberry – Ricotta – Sausage
5. Tropical Fruit Tray
Bring beachy vibes to your apartment warming party by making a tasty and tangy tropical fruit tray.
You can use fruits like pineapple, mango, passion fruit, star fruit (which looks really cool when it's cut up), kiwis, oranges, and strawberries.
Throw on a bowl of coconut yogurt and serve with some fruity drinks!
This is perfect for a chill summer time get together!
6. Rainbow Fruit Tray
Making a rainbow fruit tray is super easy!
Simply cut up and arrange different fruits according to the colors of the rainbow, like:
Red: Strawberries
Orange: Oranges (duh!)
Yellow: Pineapple
Green: Green Grapes
Blue: Blueberries
Indigo: Blackberries
Purple: Purple Grapes
You can make a rainbow shape on a platter or stick the fruit on a skewer.
7. Dessert Fruit Tray
Combine fruit with mini desserts to create something absolutely delicious!
You can add mini cheesecakes and cupcakes or little bowls of crisp or flambé.
You can even do little brownies or cookies – the possibilities are endless!
8. Fruit and Nut Tray
To really round out your fruit tray, add some nuts to the platter, like almonds, cashews, pistachios, and peanuts.
You can also add things like sunflower seeds and pumpkin seeds.
Fruits like oranges, strawberries, and blueberries pair very well with all kinds of nuts.
9. Fruit and Tea Tray
If you want something different and a bit more elegant, you can serve your fruit tray alongside some yummy herbal tea.
Or even tasty tea smoothies!
Fruits that go really well with tea include peaches, apricots, raspberries, pears, cherries, strawberries, and grapefruit.
And don't forget to add some cookies too!
For the traditional tea party look, opt for a three tiered tray to display your fruit.
10. Watermelon Pizza Fruit Tray
My mouth is watering just thinking about this fruit tray idea!
Cut off large pieces of watermelon and decorate them with strawberries, blueberries, and fresh mint.
To keep the fruit on the watermelon slices, use some flavored Greek yogurt or one of the dip ideas I mention below.
11. Fun Shapes Fruit Tray
Are you ready to get really creative for your apartment warming party?
You can use cookie cutters to cut your fruit into different shapes. For a durable creation, use skewers to use for your wonderful fruit shapes.
12. Hallowe'en Fruit Tray
You can take your fruit shape creations and make themed trays for your party!
If you're hosting your gathering around Hallowe'en, make a spooky fruit tray using Hallowe'en shapes like pumpkins and bats.
You can also add edible eyes and mouths to some bananas to make them look like ghosts.
Why not???
13. Christmas Fruit Tray
You know what else you can make shapes for? A Christmas fruit tray!
You can make a really cool Christmas theme by using red fruits like strawberries and cherries and pairing them with fluffy marshmallows.
Or use green grapes (or kiwis) and strawberries to create a Christmas tree shape on your platter. Decorate with smaller pieces of fruit for ornaments, like cut-up pineapple or blueberries.
14. Fruit Kebabs
Here's a fun fruit tray idea that not's actually a tray!
You can use bamboo skewers to create fruit kebabs for your guests.
And, if you like the idea of cutting out shapes, you can use them on your kebabs to make them look super cute.
15. Fruit Bouquet
OMG! I'm seriously obsessed with this look! Aren't you?
It looks professional but it's super easy to make.
Just take your fruit kebabs and arrange them in a vase, breaking off the bottoms of some skewers so you can get different heights.
Or you can use a sturdy fruit like an apple as a base and stick the skewers in.
16. Strawberry Caprese Platter
Raise your hand if you can't get enough of Caprese salad?
*raises hand*
The rich mozza ball and the tangy balsamic vinegar.
Beautifulness in my mouth!
Well, why not try this with strawberries? I know I will!
17. Fall Fruit Tray
If you moved into your place in the fall, why not create a fall-inspired fruit tray?
Grab some figs, oranges, apples, pears, cranberries and blackberries and BOOM!
You have a delicious and healthy fruit platter for your guests.
Yummy Fruit Dip Ideas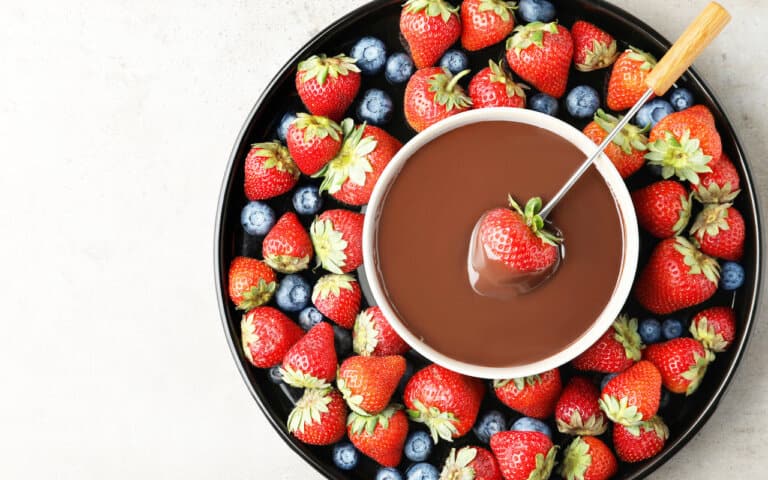 You can't have a fun fruit tray for your first apartment gathering with a delicious dip!
Here are some super easy and delicious fruit dip ideas:
Marshmallow Fruit Dip: 7 oz. marshmallow creme, 8 oz. cream cheese softened, 1 teaspoon vanilla extract.
Cool Whip Fruit Dip: 8 oz. Cream cheese, ¾ cup of powdered sugar, 2 teaspoons of vanilla extract, and an 8 oz. container of Cool Whip.
Pumpkin Spice Yogurt Fruit Dip: 1 cup vanilla Greek yogurt, 2 tablespoons of honey, and 1 teaspoon of pumpkin pie spice
Lemon Fruit Dip: 1 box instant lemon pudding mix, 1 cup of cold milk, 18 oz. of lemon yogurt, and an 8 oz. container of Cool Whip.
Chocolate Fruit Dip: 1 ¼ cup semi-sweet chocolate chips, ½ cup fat-free evaporated milk, and 1 tsp of coconut oil (melt 1 cup of chocolate chips, milk, and oil, then stir in ¼ cup of chocolate chips)
Nutella Fruit Dip: 1 cup plain Greek yogurt and ½ cup Nutella (you can add things like chopped nuts, cinnamon, or sprinkles)
Honey-Vanilla Cream Cheese Fruit Dip: 4 oz. cream cheese, 5 oz. vanilla greek yogurt, 1 tablespoon of honey, and ¼ teaspoon of vanilla extract
How to DIY Your Fruit Tray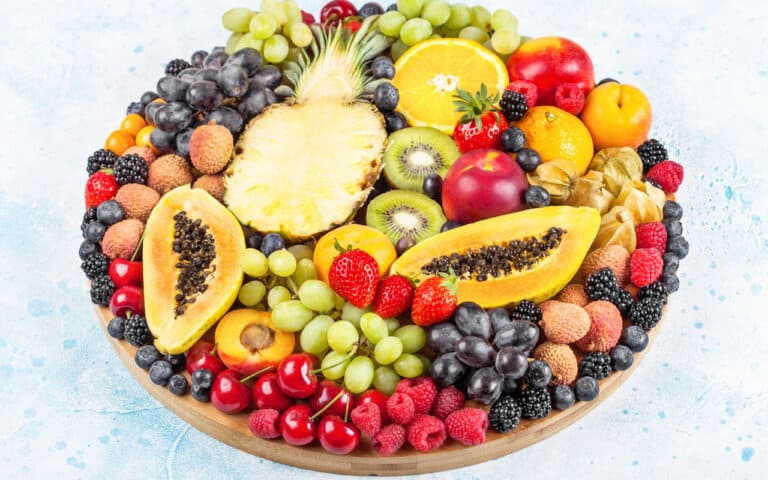 Choose the Best Fruit
The best fruits to use for your fruit tray are the ones that are in season, but any fresh and ripe fruit is going to look and taste amazing!
You can also add dried fruits like dates and cranberries in a small dish or sprinkle some herbs like fresh mint around the tray.
There are some fruits you should try to stay away from since they have a tendency to go brown (unless you're confident the fruit is going to get eaten quickly).
These include apples, bananas, and pears.
If you really want to have these fruit on your tray, don't cut them up and include them whole.
Or, you can cut up apples and pears beforehand and soak them in lemon juice to prevent browning.
The Right Amount of Fruit
When making a fruit tray for your apartment warming gathering, make sure you have enough fruit for each guest.
Roughly, you should have about 8 cups of fruit per 10 guests or 15 cups for 20 guests.
Why You Should DIY Your Fruit Tray
Yeah, I know, you can just as easily pick up a fruit tray from Costco instead of making one.
But making a fruit tray is super easy, and it can save you a ton of money!
Fruit trays from places like Costco and Walmart are expensive, half thrown together, and typically made of fruit that is almost to the end of its prime.
When you DIY your fruit tray, you can pick the freshest and tastiest fruits and display them however you want.
And save money!
How Long Do Fruit Trays Last?
If you're making a fruit tray for your new apartment get-together, I know you want to make it ahead of time so that everything is prepared.
But you should hold off and make your fruit tray the day of the gathering and put it in your fridge to make sure it's super fresh.
If your fridge is too small, keep your fruit tray chilled by covering it and placing it on a tray of ice.
If you really, really, really want to make it ahead of time, like 3 or 4 days, wash and prep the fruit but keep them in separate containers in the fridge.
Then, you can put everything together the day of!
Awesome Fruit Tray Tips
Here are some more tips to make an awesome fruit tray:
Remove seeds from melons.
Use seedless grapes and keep them in a bunch, so they don't roll off the tray.
Group the same fruits together so your guests don't have to pick through them.
Spread out colors to make it look pretty.
Use firmer fruit, like melon, as a base and pile softer fruit on top.
Add height with pineapple or a bunch of grapes.
Okay, that's it! LOL
Super Fun Fruit Tray Ideas
So there you go!
These fun fruit tray ideas are perfect for your first get-together in your new apartment.
Your guests are going to love it!
If you're inviting a smaller number of people, you can definitely get away with serving just a fruit tray with some tasty drinks.
Or, you can use the charcuterie and fruit tray combo ideas above to offer more yummy options to your guests.
No matter what type of fruit tray you decide to serve, it's going to be amazing, and your friends are going to rave about it!