Happy (almost) Halloween!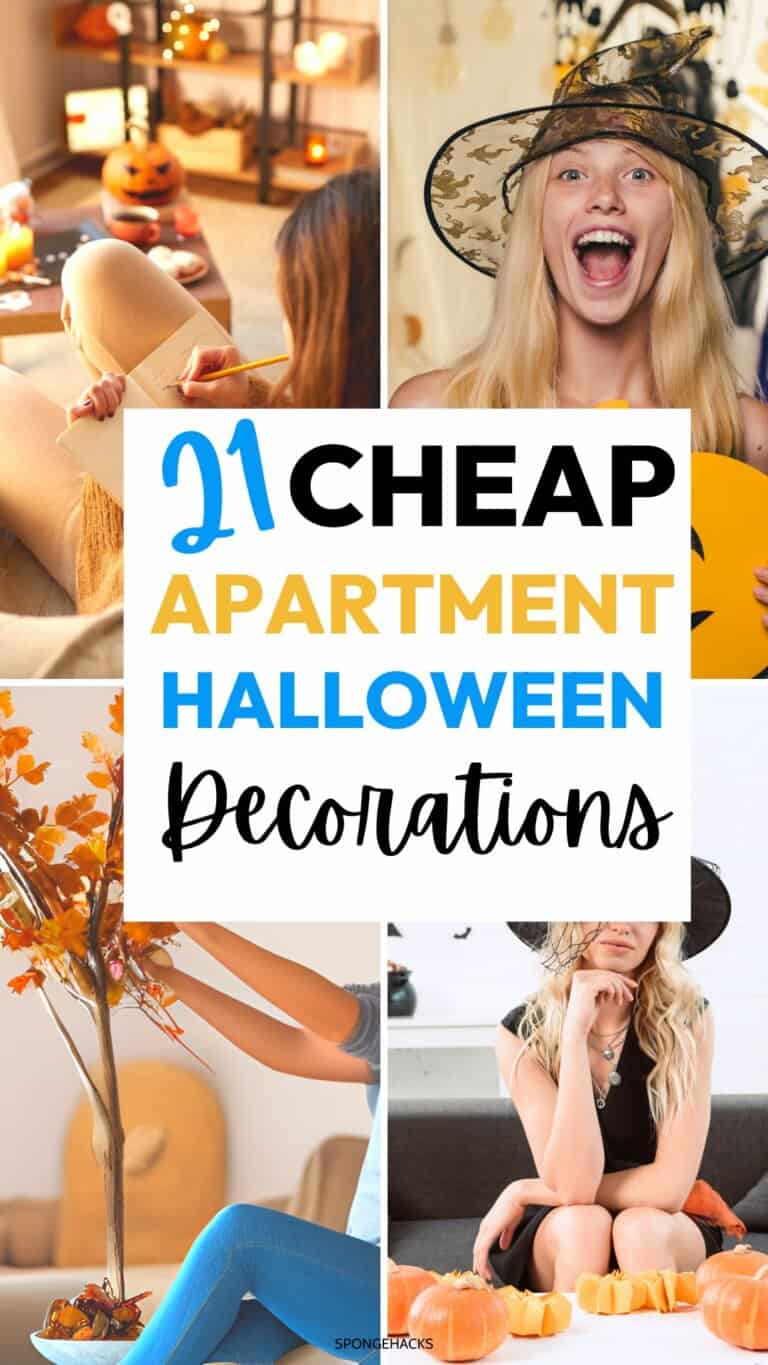 Can there ever truly be anything as whimsical and exciting as Halloween?
(Well, Christmas ties in with Halloween, but we'll get to that!)
But something about this spooky time of the year has people running on walls to decorate, prepare goodies, and welcome the seasons that mark the closing of another year.
And finding apartment Halloween decorations and ideas shouldn't be a pain in the a** – it should be fun!
But if you've ever tried decorating an apartment, you know it can be difficult sometimes.
The biggest challenge being preventing your already-small space from seeming even smaller with clutter.
Breathe. No, seriously, take a moment and just breathe.
I've made this post especially for YOU to help give you some ideas and inspiration on apartment Halloween decorations for a spoooooooky night WITHOUT breaking your wallet or space.
Halloween Decorations for Living Room
One of the first spaces that we experience when entering a home is the living room.
So it makes total sense to want to focus most of your decorating focus on this shared space.
Let's get right into it!
1. Throw Pillows
Picture this: You've finished decorating, your place looks divine and you've totally nailed the ambiance of Halloween in your cozy apartment.
You've prepared a perfect meal, sparkling red wine in hand and are ready to enjoy a spooky Halloween movie marathon tonight in your beautifully decorated living room!
What better way to enjoy this moment of bliss than snuggling in with Halloween-themed throw pillows and blankets to really tie everything together?
Seeing where I'm coming from? You do?!
Then you can see the importance of NOT simply ignoring your couch when it comes to your living room's Halloween decor.
Now, there's a ton of DIY options available when it comes to pillows for your couch.
But I did find some inexpensive ones on Amazon that perfectly fit the budget and the vibes!
2. Throw Blankets
It isn't possible for me to have my couch swimming in throw pillows without at least one throw blanket!
Make sure to consider both patterned options and solid colors and pick one (or two!) depending on the color of your couch, whether your couch has a particular pattern, and the throw pillows you added to your cart that we previously mentioned, haha.
Regardless of what you go with, I know your living room is going to look super inviting with a throw pillow for your couch!
3. Indoor Pumpkin Patch, Anyone?
Creating an indoor pumpkin patch is one of the simplest, cutest ways to add some unique decor to your living room this Halloween season.
You can use alternative pumpkins made of wood, plastic, felt, or fabric (check out some of the adorable links for some inspiration!) or decorate real ones with glitter or paints.
4. Spideres and Cobwebs
Halloween decor without spiders and cobwebs? Is that even Halloween? ;P
Have fun decorating your apartment with these spooky spiders and cobwebs! You can hang them around your dining room chairs, your lights and end tables!
5. Bats
Hanging little bats as wall decor is such a simple, yet effective, way to decorate your living room for Halloween.
There are also really simple DIY options, like this one here, that you could try if you're looking to really save your budget!
6. Skulls and Skeletons, oh my!
Okay, but can we talk about how weirdly adorable the puppy skeleton prop looks?! No? Just me? Fine…
But really, whether you opt for a more traditional skeleton option or a funky, silly one, adding skeletons and skulls to your living room Halloween decor will definitely give your guests something to talk about.
It's so fun seeing the different ways people display their skeleton props!
7. Crows
I loooooooooove my crows, LOL.
I usually prop them along with my indoor pumpkin patch or as tabletop decor with leaves, mini pumpkins and baskets.
They're just adorable little additions to any living room!
8. Fall Scents
It's just not fall without the touch of fall-scented products to satisfy your sense of smell.
Candles and incense are the #1 go tos when it comes to spicing up your home with the wonders of this season.
But did you know that what you clean with can leave an even bigger impact on the smell of your home?
Yup! This Fall, try out some of these fall-tastic products that bring the freshness of fall and the perfect vibes right into your home.
Apartment Balcony Halloween Decorations
You can't possibly want to decorate for Halloween without putting at least some love into your outdoor decor.
I mean, the outside of your apartment is what a lot of people first see before entering your home. So make a statement!
And remember to have fun!
9. Inflatables
I must remind you to ensure just how much balcony space you actually have before purchasing an inflatable (trust me, a 10ft witch inflatable does NOT look very appealing when it's being bent over half way because your balcony is only 7ft in height, haha.)
That being said, adding Halloween inflatables to your apartment balcony will surely turn your space into a spoooook-tacular sight!
10. Halloween Garlands
When we think of garlands, we picture Christmas decorations.
Two words…. Halloween. Garlands.
Yup, you read that right. Decorate your apartment balcony this spooky season with any of these garlands for a festive atmosphere.
I especially looooooove my maple garland. I have it wrapped along the railing of my apartment balcony and it just adds the perfect amount of color and attracts a whole vibe!
11. Ghosts, Witches & More!
Halloween is much more than just the treats and the tricks. I'm a HUGE fan of Halloween decorations that add a comedic twist!
Check out some of these links for some fun-filled inspiration for decorating your apartment balcony this Halloween season!
Halloween Apartment Door Decorations
Nothing screams HALLOWEEN like the decorations on your front door!
I mean, when people go trick-or-treating, your door becomes the main attraction the moment they reach your home.
I really enjoy making sure my front door is up for the challenge by keeping it at the forefront of my mind and making sure it has the best Halloween decorations possible.
Enjoy some of these ideas for decorating your door this Halloween!
12. Spooky Doorbells
Oh, what fun it is to have a big eyeball look down at the little kids in your building for trick or treating!
Whether you pick the singing eyeball, the spooky one or a scary pumpkin, I'm sure this will be a talk around the the water cooler the next day!
13. Halloween Wreaths
I'll be honest… I'm a sucker for wreaths that are well put together, festive and unique!
And I'm someone that will alternate wreaths throughout the season.
I have a fall-themed one and another specifically for Halloween, and I will switch between them every week because… you just can't get enough of them!
14. Door Banners
Door banners are 100% underrated. Not only do they add a unique touch to your front door, they're also just so much fun to look at and give your overall decor more personality.
15. Hanging Ghosts
I love that with ghost decor, you can either go as spooky or adorable depending on your preferences.
I personally love these cute little front door ghost decor and they are honestly one of the easier decorative ideas to DIY.
16. Front Door Mats
I swear… door mats are some of the simplest ideas for decorating that are also useful!
I love having quirky, silly designs for my front door mats as it adds a bit of personality to the home even before you enter!
Halloween Decorations for the Bedroom
Who says you can't decorate your bedroom for the holidays?
There's so much you can do to drastically change your bedroom decor for spooky Halloween!
Let's take a look!
17. Halloween Candles
You can never have too many candles – they especially make a bedroom seem cozy and chic all at once, plus give the air a lovely smell, depending on the scents you purchase.
Many Halloween 'candles' are flameless, meaning they are battery-powered LED lights. Although these types of candles will not fill your home with any smells, they are still a great option if you're looking for some lighting to set the vibe right.
I've been using flameless candles for a few years now because I can literally reuse them each year instead of having to replace them with new ones.
18. Pumpkins…Everywhere!
I love the mini pumpkins you can find at grocery stores (y'know, the ones that are white or orange, or maybe even the mini funny-lookin' gourds).
But sometimes, you'd rather opt for some artificial options so you don'
t have to deal with buying these adorable pumpkins, only to have to throw them out a couple weeks later due to them going bad.
The artificial options are convenient. PLUS, you can store them at the end of the season and reuse them next year!
And yes, I love adding them to my bedroom decor by finding playful ways to incorporate them either on a nightstand, dresser or as a mini indoor pumpkin patch in a small corner by the window!
19. Switch Out Your Bedding
Something as simple as storing your old, everyday sheets and bedding and replacing them with something seasonally-appropriate and different will literally create a whole new vibe in your bedroom.
I am NOT kidding!
I went ahead and switched out my boring gray sheets and tribal-patterned comforter with this beautiful, vivid maple orange comforter that screeeeeeamed fall, baby!
It was so refreshing replacing my bedding, especially for a less traditional, but still wildly beautiful color palette such as that of fall-themed colors and some spooky Halloween type stoo.
These comforters will 1000% WOW you every single time you walk into your bedroom.
They are well, comfy, that you may as well never want to leave your bed and just decide to hibernate, LOL!
20. Skeletons in Odd Places
Because who wouldn't love this idea? You can choose to prop the skeleton in a chair, sitting on the dresser or even outside your window pretending like it's trying to climb inside, haha!
21. Window Curtains
21 Ideas for Apartment Halloween Decorations
Hopefully this list has inspired you with some ideas of what you can do this Halloween season to decorate your apartment!
Most importantly, have fun with it!
Halloween is one of the most fun holidays to decorate for and with good reason. And the best part is that you have a wide range of options for when it comes to choosing the best Halloween decorations for your apartment.
Come follow me on Pinterest!