I love the warm weather!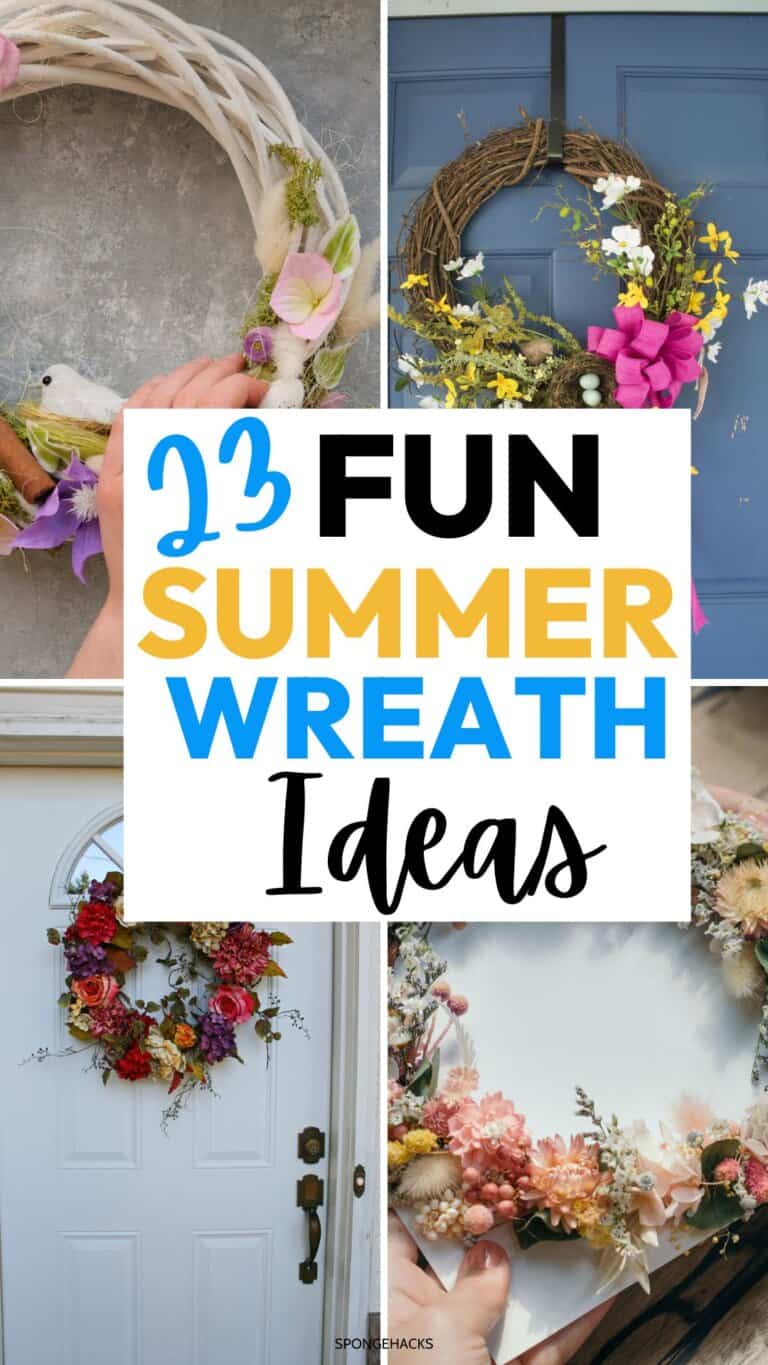 I can wear my cute shorts and get some much needed sun on my arms!
One thing I love changing out for every season is my front door wreath. And this season is no exception.
Finding the perfect spring summer wreath can be tricky but I've got some summer wreath ideas that will help you out!
Oh yea!
Pinterest has some lovely and fun ideas you try for those DIY summer wreath or outdoor wreath for your home.
And, what's great is that they are budget-friendly. You don't need a lot of items either if you decide to make one yourself.
So, let's check out these fun summer wreaths for the front door.
Summer Wreath Ideas
With summer around the corner, it's time to start thinking about sprucing up the front door with a fun and vibrant wreath that screams sunshine and happiness.
Whether you prefer classic floral designs or want to add a unique touch with seashells and beach-inspired decor, there are endless options to choose from.
Don't be afraid to mix and match colors and textures to create a wreath that's truly your own.
Plus, not only will your neighbors be envious of your trendy decor, but every time you come home from a long day, you'll be excited to see your cheery wreath greeting you at the door.
So, grab your crafting supplies and let your creativity run wild with these summer wreath ideas!
1. Watermelon Surpise
Summer is here, and what better way to welcome it than with a colorful wreath on your front door?
If you're looking for something unique and eye-catching, why not try a watermelon wreath?
I LOVE this look. It's so chic and summery too.
It's perfect for the season, with its deep pink fuchsia colors that just scream summer fun.
Add some beautiful ribbons and bows to complete the look, and you'll have a wreath that really pops.
Recreate this look:
Plus, with its festive design, you'll surely put a smile on the faces of anyone who comes to visit.
So, if you want to make a statement with your door decor this summer, give a watermelon wreath a try!
2. Beautiful Lemon Summer Wreath
With fresh scents, and warm weather, why not try a lemon summer wreath using essential oils?
It's the perfect addition to any front door.
Not only is it visually appealing, but the refreshing and uplifting scent is sure to put a smile on anyone's face.
And if you're worried about it not smelling authentic, don't fret!
There are plenty of faux lemon wreaths out there and you can use lemon essential oil to make them come to life.
To recreate this look:
Let your summer wreath be the talk of the neighborhood with this simple yet effective idea.
3. Cute Daisy Wreath
Summer is the perfect time to jazz up your porch decor, and what better way to do it than with a cute daisy wreath?
Not only does it add fresh and playful energy to your space, but it also looks great from the street – talk about curb appeal!
Plus, making a wreath doesn't have to be complicated or time-consuming.
You can have the perfect summer wreath to compliment your place with this wreath for spring and summer!
To recreate this look:
Whether you're a seasoned DIYer or just starting out, this wreath is a fun and easy project that will make your porch the envy of the neighborhood.
4. Seashell Wreath
Looking for a fun and fresh way to adorn your door this summer?
Consider crafting a cute seashell wreath!
With its casual beachy vibe, this wreath makes a perfect addition to any sun-soaked front porch or patio.
And the best part? You can easily gather shells from the shore or buy them to create a custom design that perfectly matches your décor.
To DIY this summer wreath:
Whether you opt for a classic coastal color palette or mix things up with bold hues and patterns, this quirky wreath is sure to put a smile on every guest's face.
Plus, it's a great way to channel those beach vacation vibes all year round!
5. Another Watermelon Wreath!
Check out this other watermelon wreath.
It's more whimsical and colorful for sure!
With some pink and green ribbon, black buttons and a hot glue gun you can make this adorable foam watermelon wreath.
6. Colorful Spring Sumer Wreath
When the warm weather hits, there's nothing better than sprucing up your front door with a colorful and vibrant wreath.
And with summer just around the corner, it's the perfect time to start brainstorming your summer wreath ideas.
A wreath adorned with vibrant flowers and a bold black and white checkered ribbon bow is a fantastic option
Not only does the colorful array of blooms scream summer, but the checkered bow adds a playful touch that's hard to resist.
Whether you're feeling crafty and want to make your own or you order one online, a colorful spring summer wreath is a surefire way to welcome the season with open arms.
7. Braided Rope DIY Summer Wreath
Hey there, DIY enthusiasts!
Are you looking for a summer project that's both fun and functional?
Well, have you heard of a braided rope DIY summer wreath?
It's the perfect addition to any home decor during those warm months.
And you don't have to be Martha Stewart to make it!
All you need is some rope, a cardboard wreath cut out, and a little bit of creativity!
Just divide that 50-foot rope by 9 and start braiding away!
It's like a puzzle that you get to put together on your own! A
nd the best part?
You can customize it to match your personal style by adding some summer flowers or anything else you think would look great!
The possibilities are endless!
8. Monarch Butterfly Summer Wreath
It's time to spruce up your home's exterior with a charming summer wreath!
And why not make it extra special with a monarch butterfly summer wreath?
This delightful wreath is a perfect way to add a pop of color to your front door.
Not to mention, it's a cute and fun way to welcome guests to your abode.
With bright flowers and a fluttering butterfly, this wreath is guaranteed to make your entrance one of a kind.
So, whether you're hosting a summer barbeque or just want to add a bit of cheer to your doorstep, this monarch butterfly summer wreath is a must-have!
9. 4th of July Wreath
If you're looking for some inspiration, why not try out a 4th of July wreath using a retired American flag?
It's a great way to honor our country's history, plus the flag's stripes and stars already make for a perfect base.
Simply wrap it around the wreath, add a bow (might we suggest a patriotic red, white, and blue?) and a few coordinating flowers and you've got yourself a festive addition to your porch. Just be sure to properly retire the flag once it's time to take down the wreath.
Let's show our country some love this summer!
10. Patriotic 4th of July Wreath
Look at these patriotic front door summer wreath ideas!
Love it!
If you're searching for the perfect wreath to display during the Fourth of July, this wreath is it.
Incorporate big, bold flowers in patriotic shades of red, white, and blue, along with a fun star patterned blue ribbon.
Recreate this look:
With this combo, your wreath will be the ultimate accessory for all your summer get-togethers, especially those fireworks shows!
So get crafting, and let's make this summer one to remember!
11. Basket Summer Wreath
Switch it up for your front door with this basket wreath!
These flowers are perfect for adding a pop of color to your home and with their delicate petals and sweet fragrance, they're sure to make a lasting impression.
Plus, arranging them in a rustic basket is a fun and unique way to create a wreath that's both stylish and sophisticated.
Recreate this look:
So go ahead and give your front door the makeover it deserves this summer with these beautiful peonies!
12. Modern Summer Wreath
Here's another beautiful basket wreath filled with gorgeous peony flowers.
Plus, it's a fun and creative way to bring a touch of nature to your doorstep.
Whether you're hosting a summer soirée or just want to give your home some extra curb appeal, this wreath is definitely worth a try.
13. Outdoor Wreath Summer
Here's another spring and summer wreath idea! More lemons!
Ah, summer – the season of sunshine, barbecues, and of course, wreaths!
When it comes to decorating your door, a wreath is an easy way to make a statement.
And what's more summery than a bright and cheerful lemon wreath?
Whether you're looking to add a little bit of zing to your front porch or want to elevate your kitchen décor, a citrus-inspired wreath is a perfect choice.
Not only is it a fun and unexpected option, but lemons are also said to symbolize purity, friendship, and love.
Plus, if you're anything like me, you'll appreciate any excuse to incorporate a fruity theme into your home design.
So why not give your summer wreath a refreshing twist and zest up your doorstep with a lemon wreath?
14. Cute Shovel Summer Wreath
Summertime calls for a little sprucing up of your outdoor decor, and nothing says "welcome" quite like a stylish wreath.
If you're looking for a unique and playful wreath idea, consider crafting a cute shovel summer wreath!
Use a brightly colored small shovel as a base, adding assorted floral embellishments and greenery for a pop of color and texture.
This is a great way to combine both function and fashion – the shovel can be used for gardening in a pinch, while also making a charming statement piece for your front door.
So get your craft on and let your creativity shine – your neighbors will be digging your new summer accessory!
15. Flamingo Pink Wreath
Summer is all about vibrancy and liveliness, and what better way to showcase that than through a stunning wreath?
The flamingo pink wreath is the perfect example of summertime charm and exuberance.
Brimming with vibrant florals and decadent designer ribbons, this wreath is a sight to behold.
Picture walking up to your front door and being welcomed with a burst of pink and a flamingo peering through the florals, inviting you to come inside and enjoy the season.
This wreath is not just a decoration; it's a statement piece that exudes personality and flair.
So why not add a touch of whimsy to your home this summer with the flamingo pink wreath?
16. Peachy Sun Wreath
Picture it now: a beautiful wreath with shades of summery peach and orange, complete with luscious greenery and a touch of wildflowers.
This wreath will add a stunning pop of color to your front door that will make your neighbors envious.
Whether you're an experienced crafter or just starting out, this colorful wreath is sure to be a hit. So, what are you waiting for? Get crafting and add some summertime charm to your front porch today!
17. Cute Rain Boot Summer Door Wreath
If you're looking to add a unique touch to your front door, why not try a rain boot wreath?
This unconventional wreath will surely catch any passerby's eye, and paired with the vibrant yellow daisies, it's sure to brighten up any summer day.
Don't be afraid to add a playful touch with some black and white polka dot ribbon.
After all, summer is all about having some fun in the sun! So let your creativity bloom with this one-of-a-kind rain boot wreath.
18. Patriotic Summer Wreath
Here's another take on a patriotic summer wreath.
Isn't it beautiful?
If you already have a patriotic wreath but are looking for something new, consider incorporating a beautiful ribbon that really makes a statement.
Red, white, and blue ribbons with a star pattern are the perfect way to showcase your love for your country in a stylish and eye-catching way.
Plus, using a ribbon as the focus of your wreath can be an inexpensive but high-impact way to update your front door decor for the season. So get creative and have fun with your summer wreath ideas!
19. Birdhouse Summer Wreath
Summer's here and it's time to spruce up your front door!
If you're looking for a cute and playful way to welcome in sunshine and warmth, then a birdhouse summer wreath might just be the thing.
This crafty and colorful wreath, made using a grapevine base adorned with vibrant ribbon, pops of playful hues in the form of flowers, and a sweet bird accessory, will add a charming touch to your front porch.
It's simple, yet fun, making it a great option for those who want to channel their inner DIY queen without having to worry about the hassle of too many materials.
To recreate this look:
So gather your supplies, crank up the tunes, and get your crafty on!
This one's sure to be a crowd-pleaser
20. Summer Wreath DIY
What?
You can make a wreath from pinwheels?
Sign me up!
Pinwheels are not just for kids anymore; they make a playful and unique addition to your summer wreath collection.
This fun wreath is straightforward to make with a styrofoam ring, colorful pinwheels and buttons, and hot glue.
This DIY project can be accomplished with minimal supplies and even less time.
The best part about this wreath is that it's customizable – choose your favorite colors to match your outdoor décor, or even coordinate with the flowers that surround your front door.
Your guests will be unable to resist a smile when they see the playful pinwheels spinning in the breeze.
This pinwheel wreath is one crafty summer project that is sure to give your front door the perfect pop of color.
21. Tulip Wreath
It's time to add some much-needed curb appeal to your home.
And what better way to do that than with a gorgeous tulip wreath?
This wreath is not only easy to assemble, but it also adds a pop of color and texture to your front door, making it the perfect way to welcome summer.
To make this wreath, you'll need a grapevine wreath, florist wire, faux flowers, scissors, and burlap ribbon.
Simply wrap the florist wire around your tulip stems and attach them to the wreath.
Once you're content with the amount of flowers, tie the burlap ribbon around the wreath and hang it on your front door.
It's that simple! So why not add some summer to your front porch with this beautiful tulip wreath?
22. Flip Flop Summer Wreath
Summertime is all about fun, sun, and flip flops!
If you're looking for a way to spice up your home decor this season, a flip flop summer wreath might be just the thing you need.
One pair of colorful flip flops, combined with festive ribbons and bows, can create a whimsical and playful look that's perfect for the warm weather months.
This wreath is all about keeping it casual and carefree – just like those lazy summer days spent lounging by the pool.
Trust me, your front door will be the talk of the neighborhood with this unique and eye-catching DIY project.
So slip on those flip flops, grab your glue gun, and get ready to craft a summertime wreath that will impress all of your guests!
23. Beautiful Wreath for the Front Door
When it comes to sprucing up your home for the summer season, a classic summer wreath is always a great idea.
And what better way to add a touch of effortless elegance than with soft pink flowers intertwined with black and white ribbon?
This combination is not only timeless, but also versatile enough to complement any color scheme.
Whether you hang the wreath on your front door to welcome guests or display it inside your home as a charming centerpiece, it's sure to bring a smile to your face every time you lay eyes on it.
So go ahead and put a fresh spin on your summer decor with a wreath that's both beautiful and easy to create.
Stunning Front Door Summer Wreath Ideas
There ya go!
From bright and bold floral arrangements to chic and minimalist designs, there is a wreath to perfectly suit every taste and style.
Not only do these delightful decorations add an extra touch of cheer to our homes, but they also serve as a warm welcome to anyone who passes through the front door.
Find the summer wreath idea you like the best and either DIY it or recreate it with finding the right dupe.
Enjoy your creation!
Please follow me on Pinterest where I share more home decor and organizing