You live in a small space and you want something to liven up your living room.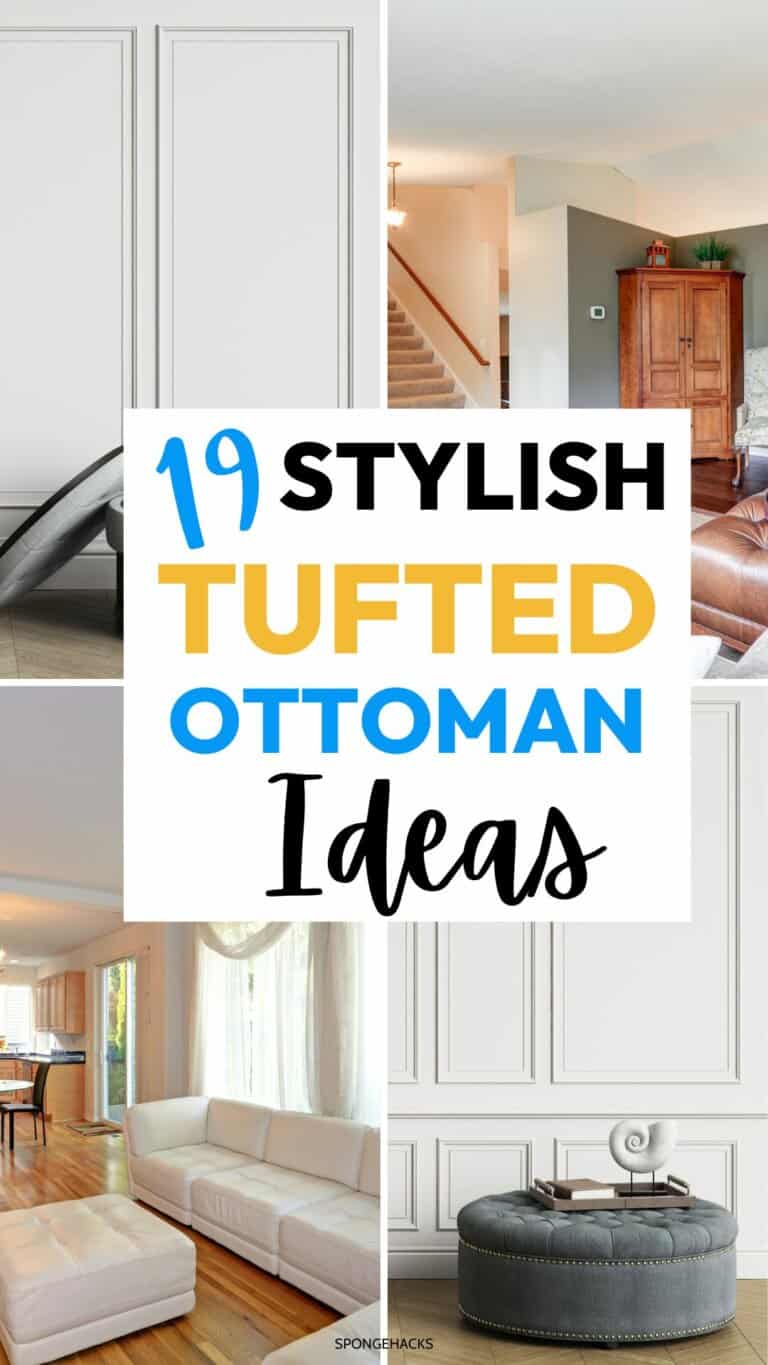 What could it be?
Well the ottoman…or more specific the tufted ottoman.
You go ga-ga over it in magazines.
You save dozens of Pins and when you go for your after work jog, you steal a look into stranger's windows to see if they have this elusive ottoman that would be perfect for small space living!
This is your first apartment and you need to up-level your living room decor.
You're an ADULT now, and your things need to start looking like they are from an adult!
And the perfect piece to add a touch of luxury and comfort to your space is: the tufted ottoman.
Modern, sleek, contempoary and oh so beautiful!
With a whole slew of designs and different looks the perfect tufted ottoman is out there for you…and for me!
So, let's check out these stylish ottomans and then see how to decorate them for your living room, bedroom and more!
Round Tufted Ottoman Styles
There's something about a round tufted ottoman that just screams elegance, sophistication, and style, amiright?
Whether you're looking for a centerpiece for your living room or a functional piece of furniture for your home office, a round tufted ottoman can add a touch of luxury to any space…and they can be budget-friendly too!
For a classic look, opt for an ottoman with tufting in a traditional diamond pattern.
This type of ottoman will never go out of style, and it can easily be dressed up or down depending on your needs.
If you're looking for something a bit more unique, try an ottoman with button tufting.
This type of tufting creates a more modern look, and it's often seen in contemporary or minimalist spaces.
Finally, if you want an ultra-luxe look, go for an ottoman with leather tufting.
Leather adds an instant feeling of luxury, and it will age beautifully over time.
Whichever style you choose, make sure to pick one that fits well with the overall aesthetic of your home. So, let's check out these awesome round tufted ottomans!
1. Traditional Round Tufted Otoman
While you CAN DIY a tufted ottoman, who would want to?
I certainly don't!
But look at this gorgeous and classy tufted ottoman.
Check out these tufted linen round ottoman styles you can have to decorate your living room!
2. Large Round Tufted Ottoman
Don't you just LOVE this look?
It's to DIE FOR!
While white wouldn't stay white in MY home, if you live alone (and don't have any pets) this can definitely work!
This would look perfect in your living room or even your guest room!
Shop for these styles now!
3. Pouf Ottoman
YASSSS!
A modern pouf ottoman is perfect for a small apartment or small home!
It's compact, cute and oh so stylish!
Many of the tufted ottomans also have storage so you can store blankets, magazines and books!
4. Hidden Storage Tufted Ottoman
As I mentioned before, having a tufted ottoman instead of a coffee tables saves room and has hidden storage for you!
But you have to have the right ottoman for that!
5. Leather Round Tufted Ottoman
Isn't this look scream sophisticated?
I absolutely LOVE this old-worn leather look for a living room or bedroom!
Square and Rectangle Tufted Ottoman Styles
As you can see, tufted ottomans come in all shapes and sizes, but two of the most popular styles are the cube and rectangle.
Both have their own unique benefits, so it's important to choose the right one for your needs.
Cube ottomans are compact and versatile, making them a great choice for small spaces.
They can be used as extra seating, a footrest, or even a makeshift table.
Rectangle ottomans are larger and more spacious, providing a comfortable place to rest your feet or take a nap.
They also make a great addition to a living room or bedroom as an alternative to a coffee table.
No matter which style you choose, tufted ottomans are sure to add a touch of luxury to your home. So, let's check 'em out!
6. Large Tufted Otoman
Oh man!
This is a statement piece for sure!
These big square tufted ottoman styles are perfect for large living rooms.
8. Tufted Ottoman Bench
Don't you just love a bench in your room?
They invite friends and family to sit and you can set them next to window for some nice gazing!
Love this HomePop ottoman bench!
9. Cube Tufted Ottoman
These cube ottoman styles are great for shoe storage if you don't have a front entranceway.
They come in all sorts of cute and fun styles and loud and soft colors!
Find the one for you!
10 Ways to Decorate Your Room with a Tufted Ottoman
Need more ideas on how to use a tufted ottoman for your room?
Let's look at ten fun ways you can use a tufted ottoman in place of a coffee table!
10. Use It as a Plant Stand
Show off your green thumb by using your tufted ottoman as a plant stand.
Place a potted plant on top of a tray on your ottoman to add a touch of nature to your living room.
The best are succulents and you can even get artificial ones if you want!
11. Use It as a Vanity Seat
If you have a dressing table or vanity in your living room (you know, for those living in a studio apartment) use your tufted ottoman as a seat.
It's the perfect height for getting ready in front of the mirror. Plus it's soft to sit on and makes you feel luxorious!
12. Use It as a Cocktail Table
If you have a small tufted ottoman and a small place, use your ottoman as a cocktail table.
Top it with a few books or magazines and some coasters for drinks and let the party begin!
13. Create a Reading Nook
How cool is this?
Turn your living room into a cozy reading nook by placing your tufted ottoman in front of a window. Add a comfy throw blanket and some pillows for extra comfort.
So great for fall, don't you think?
14. Use It as a Photo Booth
Create a fun photo booth by placing your tufted ottoman in front of a blank wall. Add some props and take some fun pictures with your friends.
This is perfect for holidays! And don't forget to get some photo props too!
15. Use It as an Accent Color
Use your tufted ottoman as an accent color for your living room. Choose a bold color or pattern to make a statement.
There's no need to pay for paints or expensive couches or paintings!
16. Dress It Up Every Season!
Change up your living room decor by using your tufted ottoman for seasonal changes.
Add a festive throw blanket and some Christmas pillows in the winter or some bright blooms in the spring.
Your ottoman will go great with Halloween, Valentines day or just during season like autumn or winter!
17. Decorate With a Basket
Use your tufted ottoman to store blankets, pillows, or other items in a basket underneath. This means getting a special kind of ottoman/coffee table.
18. Make It an Office Chair
If you work from home, use your tufted ottoman as a stylish and comfortable office chair. You can easily move it from room to room so you can work anywhere in the house.
19. Use it For Your Entranceway
Create a welcoming entryway by using your tufted ottoman as a bench.
It's the perfect place to put on and take off shoes. Plus, you can store extra blankets and pillows inside.
There Ya Go!
The tufted ottoman is a versatile piece of furniture that can be used in a variety of ways.
I mean you can even use it for a dog or cat bed if you like!
From extra seating to a coffee table to a plant stand, the tufted ottoman is a must-have for any first-time apartment decorator.
I hope you enjoyed these ideas and make sure to save this on Pinterest!