You know what I've been seeing on Netflix and even Pinterest?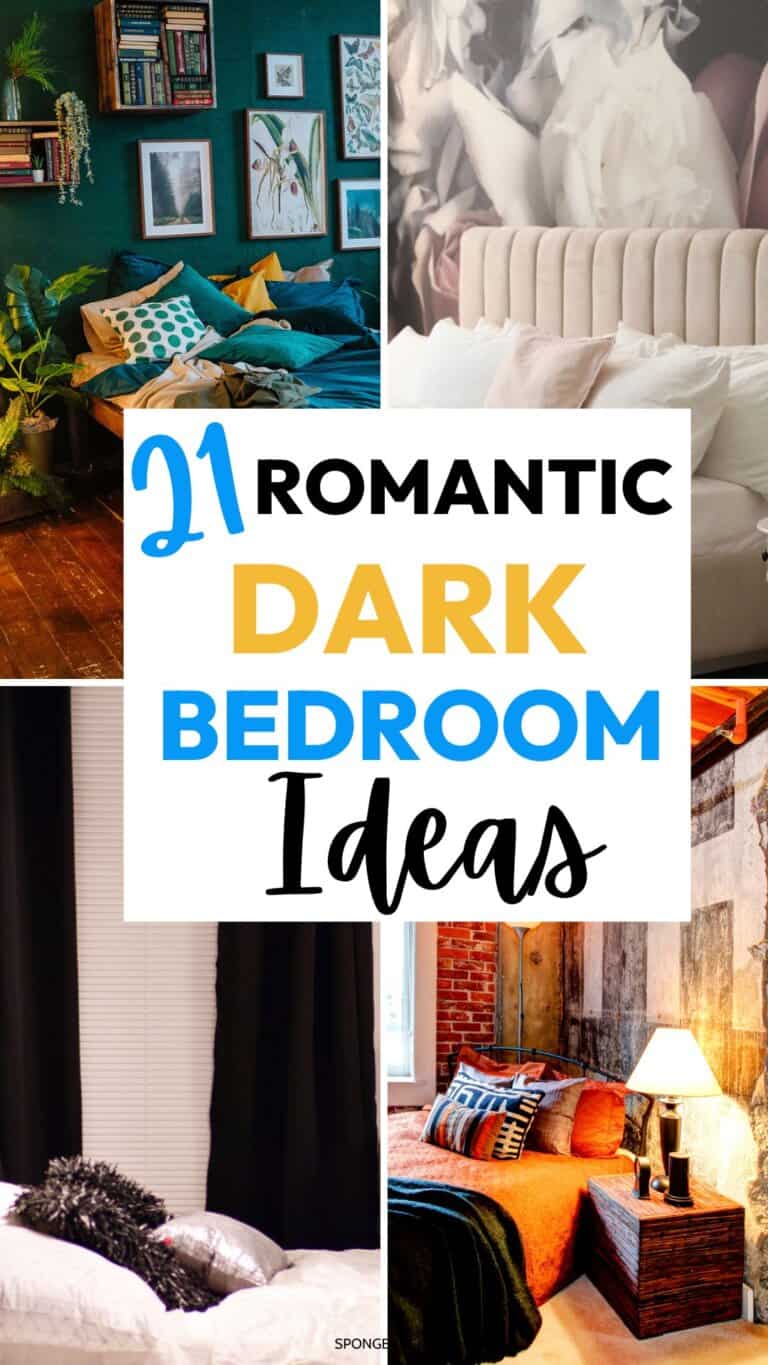 Romantic dark bedrooms!
Yaas! This is the NEW trend for bedroom decor and I'm living for it.
And apart from keeping your room organized, you need the right decor to create the look you want.
Even if you snooze solo, these rich designs are perfect if you want to escape the chaos of the world and immerse yourself in relaxation.
Doesn't that sound amazing?
If you're screaming YES, I've got you covered with some seriously swoon-worthy romantic dark bedroom ideas that will set the mood just right.
Whether you're looking to revamp your space or create a love nest for you and your partner, these dark romantic bedroom ideas are sure to inspire:
Moody Elegance: The Darker, the Better
If you're looking to add some bold style to your bedroom, why not try a rich, sumptuous shade of dark purple?
This enticing color is both witty and fun, bringing a sense of drama and depth to your space.
Whether you opt for a full-on accent wall or just a few well-placed accessories, incorporating dark purple into your romantic bedroom ideas is sure to bring a sultry, seductive vibe.
So why wait?
Start exploring the possibilities of this timeless hue today and turn your bedroom into a sensuous escape you'll both adore.
1. Eggplant Purple Anyone?
I'm OBSESSED with this purple!
These enchanting deep eggplant purple walls give off warmth and are complemented by the rich blue curtains and a bedspread.
Who would've thought blue and purple make the perfect couple?
Dark furniture adds an extra layer of oo la la-ness!
Make sure to pick up a plush purple blanket to complete the look.
It's a combination fit for modern royalty seeking comfort and style.
2. An Intimate Oasis
For those who crave an intimate oasis, plum walls are the secret ingredient.
Imagine your space with the deep, soothing tones of plum.
Add a touch of drama with a wrought iron headboard, pendant lights that cast a gentle glow or a gold hand on the night stand.
Complete the look with a patterned bedspread that adds an element of texture and interest.
This is the perfect recipe for a cozy, enchanting retreat.
3. Classic Elegance with a Twist
When it comes to interior design, it's all about finding the perfect balance between classic elegance and modern twists.
That's why burgundy and brown are the surprise secret to make this room work.
The rich hue of the walls exudes sophistication, while the wood paneling behind the bed adds a touch of rustic charm.
But the real fun comes in with the playful pops of color and interesting textures.
A leather headboard is both timeless and witty, while hints of yellow in pillows and artwork bring a fun and energy to the space.
This colors and textures is sure to captivate your senses and make your bedroom the envy of all your friends!
4. Dark Textured Pillows for a Cozy Touch
Instead of going for just one type of fabric, mix it up!
Pair your dark walls with a variety of pillows in different fabrics.
Think rich velvets, silky satins, and even a touch of faux fur.
These contrasting textures will not only provide comfort but also create an inviting romantic feel.
5. Embrace Luxury with Green and Gold Silk Curtains
Elevate your bedroom with a dash of opulence.
Aren't these magnificent?
Place these luxurious silk curtains on your window. They featuring an intricate green and gold pattern.
These sumptuous curtains will ensure a dark and cozy atmosphere, turning your bedroom into a haven of luxury and sensuality.
6. Dive into Deep Teals and Velvet Blankets
Transform your bedroom into a cozy oasis with the velvety embrace of deep teals and plush velvet blankets.
Love it!
Your bedroom will ooze romance and elegance with this combination.
Don't be afraid to add some playful personality to the mix with fun decorative pieces or throw pillows.
Adding in subtle gold accents will bring an element of sophistication to your sanctuary.
Give in to the allure of this romantic and inviting bedroom aesthetic and let it envelope you in its cozy embrace.
7. Create Contrast with a Faux Brick Wall and Black Bedding
For a contemporary twist on romantic darkness, try adding an urban edge to your bedroom.
Use faux brick wall as a backdrop, paired with sleek black and grey bedding.
This edgy combination not only adds depth to your space but also introduces an intriguing contrast that's perfect for those who appreciate a touch of modern chic in their romantic retreat.
Starry Nights: Cozy Dark Romantic Bedroom Ideas
Looking for a touch of whimsy in your bedroom design?
Add some enchantment by incorporating starry night motifs into your decor.
Think twinkling string lights, glow-in-the-dark stars on the ceiling, and celestial-themed artwork.
These cozy dark romantic bedroom ideas will transport you and your partner to a dreamy realm.
8. Transform Your Space with String Lights
Create your own romantic haven with a cozy nook and some lights!
You have glowing string lights, a celestial-themed garland, and sheer curtains enveloping your bed in a dreamy embrace.
This screams romantic bedroom!
It's all about setting the mood with subtle yet enchanting details.
9. Embrace Celestial Serenity in Your Bedroom
Let the magic of the moonlight guide your bedroom design.
Try using the moon phase as wall decor, casting an ethereal glow throughout the room.
Pair it with gentle lights on your headboard, monotone bedding that gives off calmness, and a plush upholstered headboard for a celestial-inspired feel.
10. Enchanting Illumination
For those who can't get enough of dark walls but crave a touch of enchantment, try having a fairy light accent wall.
The perfect balance!
Offset the deep hues with bedspread layers and let the fairy lights gracefully dance on the wall behind your bed.
It's a blend of darkness and light that creates a cozy, romantic aura.
11. Drift into Dreamland Under a Starlit Canopy
Imagine a fairy tale escape within your own bedroom.
Craft a fairy light canopy with sheer, billowy material with delicate lights, creating a starlit atmosphere above your bed.
Add a touch of intrigue with dark patterned fabric hung on the wall. Your bedtime stories are about to get a whole lot dreamier!
Candlelit Ambiance: The Ultimate in Romantic Bedroom Ideas for Couples
Nothing sets the mood quite like candlelight.
Create an intimate atmosphere by placing an array of scented candles around your bedroom.
Opt for warm, soothing scents like vanilla, lavender, or sandalwood to enhance the romantic ambiance.
These romantic bedroom ideas for couples are a tried-and-true favorite.
12. Set the Mood with Some Wine and Candlelight
For a unique and romantic touch in your bedroom, consider upcycling those empty wine bottles into elegant candle holders.
Simply insert long, slender taper candles into the neck of the bottle, and let the soft, flickering glow create a cozy and intimate atmosphere.
It's a simple yet charming DIY idea that'll infuse your room with warmth.
13. Guiding the Way to Romance with Lanterns
I love it when ambient light casts enchanting shadows around a bedroom!
Lanterns are a fantastic way to achieve just that.
Whether you opt for Moroccan-inspired lanterns, rustic metal ones, or even simple glass designs, filling them with candles will instantly elevate the romantic ambiance.
Place them strategically around your room for a dreamy, inviting vibe.
14. A Touch of Vintage Elegance with Antique Candelabra Candlestick Holders
If you're aiming for a timeless and sophisticated atmosphere in your bedroom, antique candelabra candlestick holders are a must-have.
These ornate pieces not only bring a touch of vintage charm but also create a captivating focal point.
Arrange them on a side table or a mantel, and let the candlelight dance across the room, setting the stage for a truly romantic evening.
Lush Greenery: A Dark Twist on Romantic Bedroom Ideas
Whoever said that dark bedrooms couldn't coexist with greenery clearly hasn't seen the magic that potted plants and hanging vines can add to a space.
It might seem counterintuitive, but the combination creates a natural harmony that's both witty and fun.
Not to mention, the lush leaves will transport you to a tropical paradise, even if you're in the middle of a concrete jungle.
So go ahead, dare to be adventurous and add a vertical garden to the mix.
The result will be a cozy and inviting bedroom that feels like a breath of fresh air. It's like bringing the outdoors in, but with a little bit of edge.
15. Bringing the Outdoors In with Style
Transform your dark and romantic bedroom into a lush oasis with some greenery.
Explore the world of unique planters and pots to showcase a variety of plants.
From succulents nestled in vintage teacups to snake plants in rustic wooden crates, these unconventional plant containers add a touch of personality and nature to your space.
16. Nature's Artistry in Your Bedroom
Try hanging greenery to set that romantic feel in your bedroom.
Picture lush vines gracefully spilling from hanging baskets, creating a captivating, organic curtain around your windows.
Let the tendrils of ivy and cascading ferns drape your space in natural beauty, adding a touch of serenity to your cozy dark romantic bedroom.
17. Illuminating Your Space with Flora
Finding the perfect plants for your cozy dark romantic bedroom is essential.
Explore a handy resource to discover the best plants for low-light conditions. These green companions will thrive in your space, bringing life and a calming atmosphere to your bedroom.
If you want to add plants to your oasis, this is the ultimate solution for your cozy dark romantic bedroom ideas Pinterest board.
Vintage Romance: Dark and Timeless
If you're a fan of vintage aesthetics, consider infusing your bedroom with old-world charm.
Opt for antique furniture, ornate mirrors, and vintage-inspired wallpaper in deep, romantic patterns.
These timeless elements will bring a touch of history and elegance to your space.
18. Brass Elegance
Imagine a vintage brass chandelier casting a warm, inviting glow in your dark romantic bedroom.
Pair it with sleek brass wall fixtures and a stunning brass wall clock for a timeless charm.
Complement this vintage aesthetic with grey and gold bedding, adding layers of luxurious textures to complete the look.
19. Reflective Beauty
Use vintage mirrors and captivating artwork to adorn your dark turquoise walls. The interplay of gold tones against this deep hue creates a striking contrast.
Consider incorporating old chests and side tables to infuse character into your space, making it truly unique.
20. Retro Vibes
For a touch of nostalgic charm, opt for circular end tables that harken back to a bygone era.
A 60s-inspired rattan headboard adds a playful twist to your dark romantic bedroom.
Complement the look with minimalistic artwork and curtains featuring retro patterns, evoking the spirit of a simpler time.
21. Chic Vintage Revival
Transform your bedroom with dark pink walls that exude a sense of passion and elegance.
Enhance the ambiance with gold-framed art pieces that catch the eye.
A metal headboard and contrasting black and white pillows add depth to your design.
Complete the look with stylish metal side tables, achieving the perfect balance between vintage and chic.
Ignite Passion and Romance in Your Dark Haven
It doesn't matter if you are looking for romantic bedroom ideas for couples that are dark and sensual or if you want to create a cozy getaway just for yourself.
There's a dark and romantic bedroom idea to suit your style!
So, go ahead and light the candles and curl up in soft and sensual textures – you deserve a relaxing haven!
And don't forget to follow me on Pinterest for more home decor, organizing and cleaning advice!