I'm always on the lookout for new ways to get my home clean and organized now that I blog about it!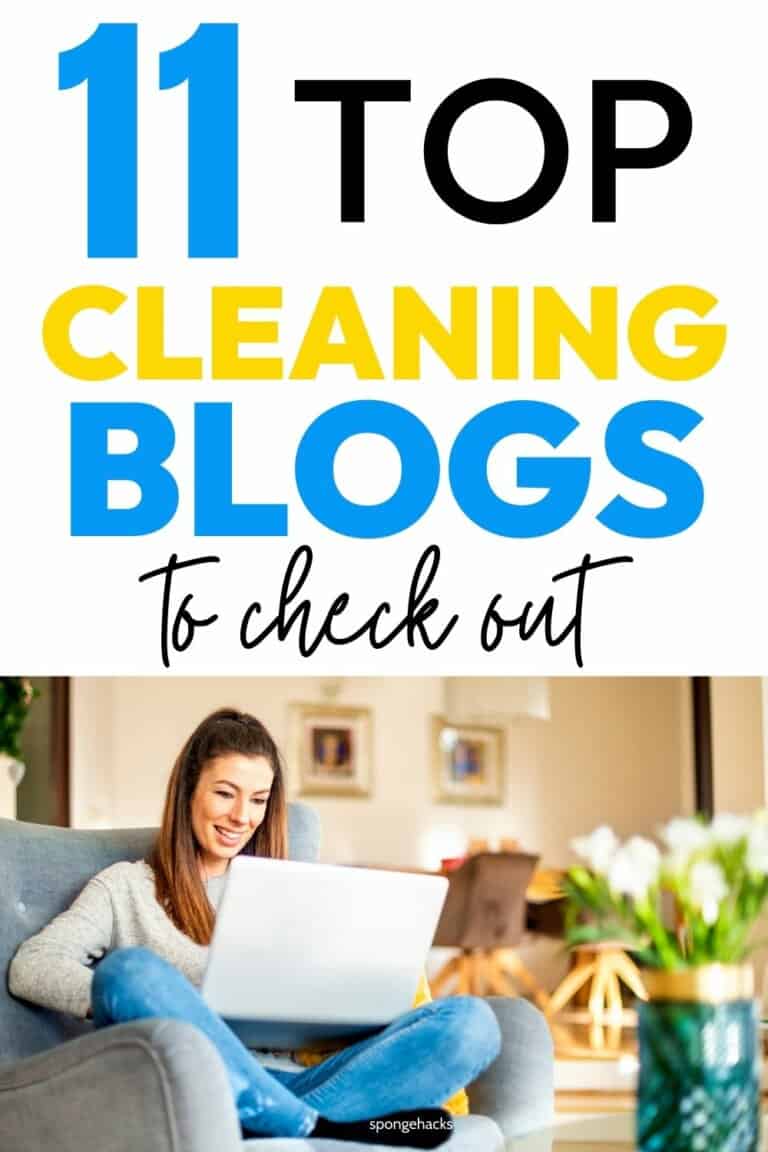 So when ever I see a cleaning blog or organizing blog Pin in my feed, I get excited and check them out.
I read through the post, eagerly taking in all the tips and tricks.
I can already envision how much easier my life will be once I implement these changes.
I can't wait to get started and see the results for myself!
After all, who couldn't use a little help in that department?
Whether it's learning how to properly fold a fitted sheet or finally tackling that cluttered closet, reading these cleaning blogs and organizing blogs always leaves me feeling motivated and inspired to get organized.
So for today, I thought I'd share the top cleaning blogs and the best blog for organizing and decluttering your home!
Enjoy!
7 Amazing Cleaning Blogs You NEED to Check Out
1. Clean Mama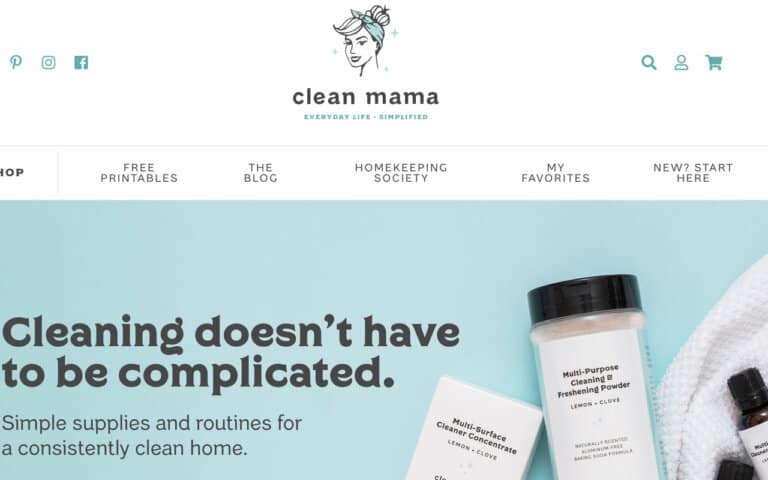 The first blog that I came across on Pinterest was the Clean Mama, which is run by Becky.
This cleaning blog is filled with amazing tips and tricks for keeping your home clean, and has tons of helpful advice on maintaining an organized home.
Whether you're looking for tips on how to declutter your home or simply want some inspiration for cleaning motivation, this is the perfect cleaning blog for you.
One of my favorite things on Clean Mama are her free printables, which offers a variety of helpful advice and tips that you can print out and use in your own home.
Becky also has great recipes for DIY cleaners and other cleaning products, as well as a shop where you can purchase some of her favorite cleaning supplies.
I also really appreciate that Becky frequently updates her blog with new content, so there's always something new to read.
And if you're looking for even more inspiration, she also has a book that I absolutely feel it's a MUST called Simply Clean: The Proven Method for Keeping Your Home Organizing, Clean and Beautiful in Just 10 Minutes a Day.
With Becky's step-by-step tutorials and easy-to-follow plans, I was able to clean my house like a pro in no time.
Plus, Simply Clean makes cleaning into an effortless habit – so you'll never have to worry about messes again.
My favorites are the 28-day cleaning challenge and step-by-step tutorials.
All in all, check out Clean Mama!
2. Fly Lady
If you're looking for a comprehensive guide to getting your home clean, then you'll definitely want to check out Fly Lady.
I've been a long-time follower of the Fly Lady's teachings.
This site is run by Marla Cilley, who is also known as the "FlyLady."
On her cleaning blog, Marla shares tons of tips and advice for cleaning and creating cleaning routines and habits, as well as helpful resources like printables and checklists.
She also offers a variety of products on her shop page and has a book called Sink Reflections that covers everything from cleaning to time management – and I SWEAR by.
One of the things I really appreciate about Marla's blog is that she offers a lot of encouragement and motivation for tackling even the most daunting cleaning and organizing tasks.
Her focus on baby steps is also really helpful, as it makes the process of getting your home in order feel a lot less overwhelming.
Make sure to check out the Fly Lady!
3. Sponge Haks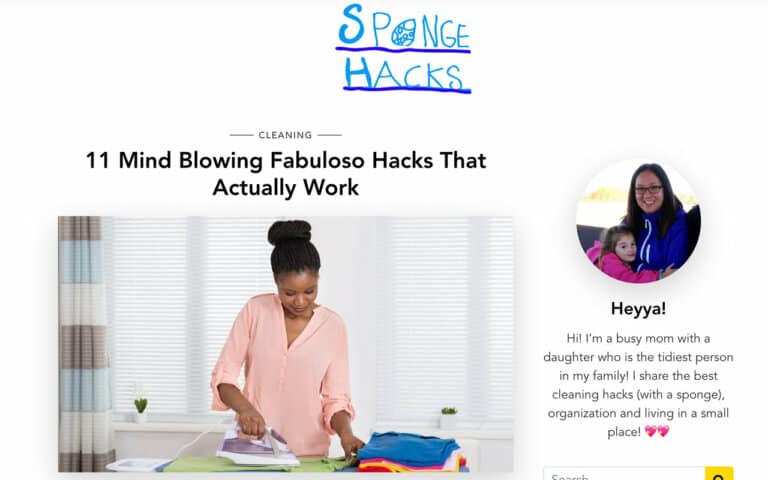 This is my cleaning blog!
Spongehacks is a new cleaning blog that was created by my daughter!
Out of everyone in our house, she's the most organized and loves to clean with mama!
Spongehacks is a cleaning blog that also covers:
I started this cleaning website with the idea of ONLY talking about kitchen cleaning tips and sponge cleaning tips.
I soon learned that there weren't many things to talk about! The more I spent time looking at cleaning blog Pins I saw many bloggers also taking about cleaning tips for the laundry room or bathroom or other areas of the home.
So, I decided to open up Sponge Hacks to share cleaning tips for the home as well as some organizing tips and home decor tips!
Yes, it's still evoloving!
In any case, follow Sponge Hacks on Pinterest!
3. Katies Kottage
If you enjoy a less structured approach to cleaning, then you'll definitely want to check out Katie's Kottage.
This cleaning blog is run by Katie, who shares tons of ideas for natural cleaners that are safe for both your family and the environment.
Some of my favorite things on Katie's Kottage include the free printables section, and even includes an eBook on simplifying your life with a cleaning routine.
Make sure to check out her natural cleaning blog.
4. My Tidy Corner
If you're looking for a blog that focuses specifically on organizing, then you'll want to check out My Tidy Corner.
I always see Pins from My Tidy Corner! And, they are gorgeous!
With deep cleaning tips and recommendations on the best cleaning supplies, I always find myself checking out what's new on My Tidy Corner!
5. Filling the Jars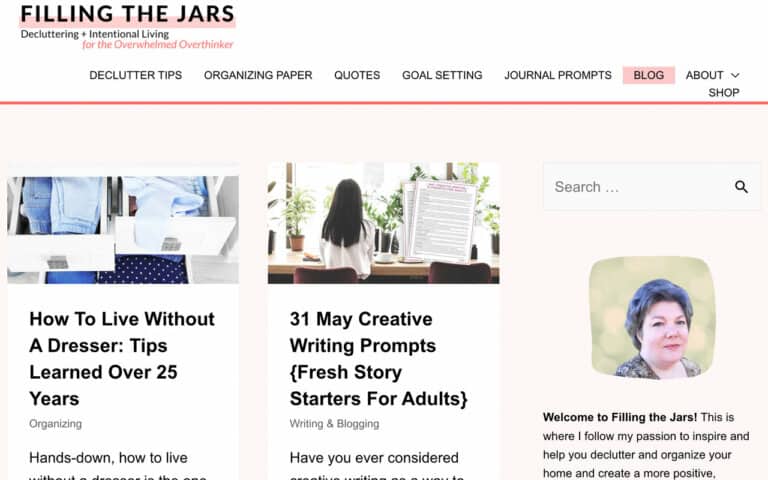 Julie, who owns Filling the Jars, is one of those people who is always ahead of the game.
I recently found a beautiful Pin of hers and when I landed on her cleaning blog, I was pleasantly surprised by how she shares content!
Her cleaning and organizing blog is chock-full of great tips and advice for decluttering and organizing your home, as well as helpful resources like digital planner and products.
6. Show Me Suburban
I fell in love with Amy's gorgeous Pins filling up my feed!
Her cleaning blog – Show Me Suburban – was everywhere and I loved it!
If you're worried about making the commitment to declutter and organize your home, don't be – Amy is incredibly supportive and always happy to offer advice and encouragement.
So check out her care cleaning blog today for all the inspiration and resources you need to get your home clean and organized!
4 Must-Know Organizing Blogs
7. Clutter Bug
Cas is a force to be reckon with!
I've known Cas from when I was pregnant with twins and loved her advice for being a stay at home mom.
She's grown her organizing blog brand – Clutterbug – to focus on organizing based on your style or habit. She has a cute quiz to find out what type of clutter bug are you?
Cas not only has an organizing blog, but also:
a Podcast
a popular Youtube channel
a TV show
a Facebook group
free printables
Books
And did I say she's also a mom to three kids?
Here Organized Success workbook is genius!
If you're anything like me, you probably have a love-hate relationship with your stuff.
You love your things because they bring you joy, but you hate the cluttered mess they can create.
Well, there's no need to suffer from cluttered mess syndrome any longer!
The Cluttered Mess to Organized Success Workbook helps you declutter and organize your home and life with over 100 checklists and worksheets.
This workbook is your one-stop shop for getting organized!
8. The Simplicity Habit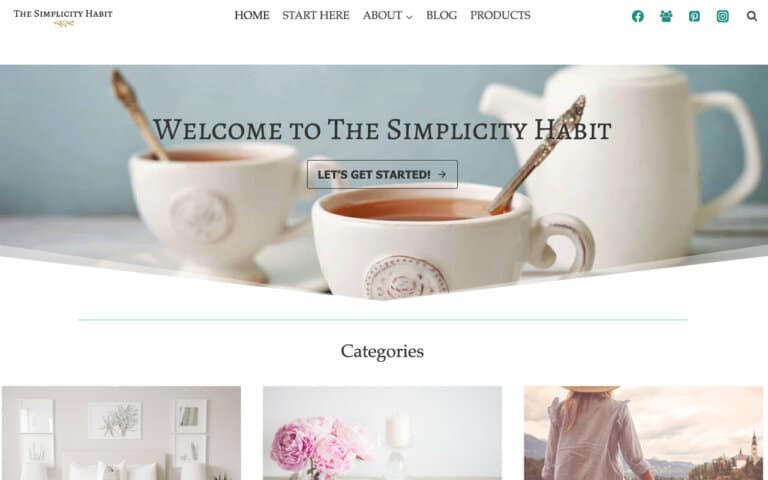 Simplicity Habit is an organizing blog that is focused on helping you declutter and simplify your home in a way that feels manageable, achievable, and positive.
Run by Julianna, the site offers a variety of great tips and resources for getting your home clean and organized, including workbooks, courses and journals to help you stay on track.
Make sure to check out the Simplicity Habit!
9. Declutter In Minutes
I've known Tracy Lynn in the blogging sphere for a while now. I love her candor and her knowledge in blogging.
Her home organizing blog focusses on the messy home and how to declutter your home in minutes!
She has a Facebook group for her readers and followers, and a membership option for more 1:1 support.
Make sure to check out Declutter in Minutes if you need help decluttering room-by-room!
10. A Bowl of Lemons
Toni, who owns A Bowl Full of Lemons, is one of those people that just makes you feel inspired.
Her organizing essentials blog is jam-packed with genius ideas and resources for getting your home in order, including organizing books and printable to help you stay organized.
If you're looking for a little extra motivation and inspiration, then A Bowl Full of Lemons is the blog for you. So check it out today!
11. Organizing Junkie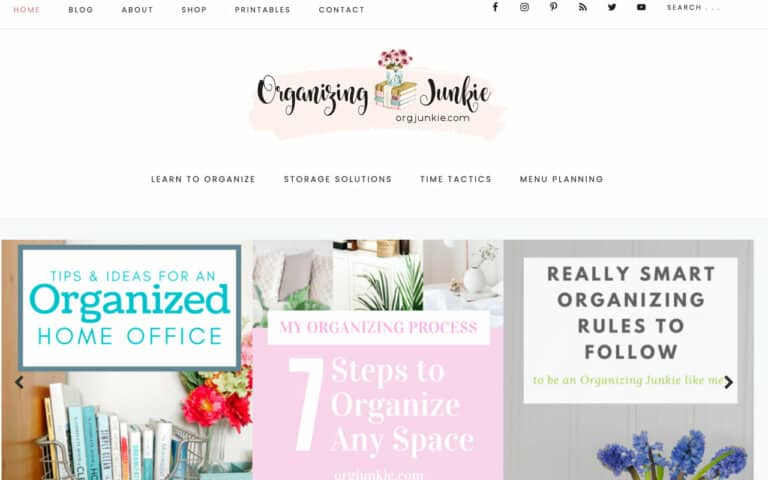 The Organizing Junkie blog is a great blog for anyone looking to get their home clean and organized.
Run by Laura, the site offers tons of tips and advice for decluttering your home, and helpful guides like free printables.
She also does a great job of offering both tips and resources that are incredibly helpful, so be sure to check out her organizing site today!
Interested In Starting Your Own Cleaning Blog or Organizing Blog?
Whenever I read these roundups of other blogs to check out it always gets me inspired and excited to start a blog too!
If you need help, check out this super simple tech-free tutorial (with video) to start your blog.
And, to help you out, here are some FAQ's you might have about starting a cleaning blog:
How do I start a cleaning blog?
If you're interested in starting a cleaning blog, the first thing you need to do is come up with a focus.
What are you going to write about?
As you can see with these blogs about cleaning and organizing, you can write about many things:
Deep cleaning tactics
Eco friendly cleaning habits
Decluttering you're entire home
Organizing your entire home
Cleaning hacks
Trending cleaning hacks
Easy ways to clean
The list goes on!
What kind of information do you want to share?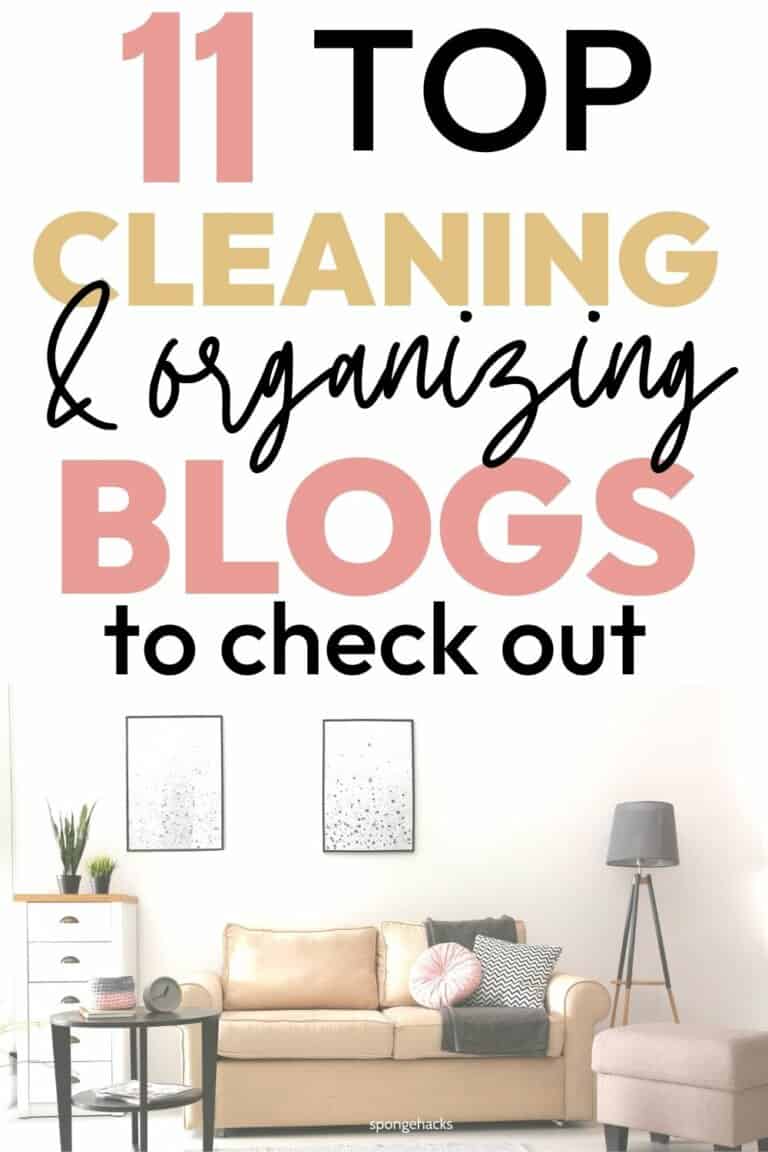 You have the option to write long-form content that provides a sort of one-stop shop for readers or you can write smaller blog posts that answer just one question.
For example, you can write a comprehensive blog post on cleaning tips, or just focus on one aspect of cleaning, like how to clean your oven or how to wash your shower curtain.
In any case, I suggest you have both of these pieces of content on your cleaning blog.
Do I need to start a cleaning business to start a cleaning blog?
The answer is no!
I don't have a cleaning business and I'm still blogging about cleaning tips! All of these cleaning blogs I featured aren't associated with a cleaning business so it's definitely possible!
What are some good resources I can provide for cleaning and organizing blogs?
From what you see of these cleaning blogs you'll notice a pattern. Many of these site owners have a shop full of their own products.
Some popular options include: printables, checklists, books and products like soaps and cleaners.
There ya go!
I hope you enjoyed these blogs and make sure to follow them!
And remember to follow me on Pinterest!