One of the things I don't like doing is cleaning my bathroom.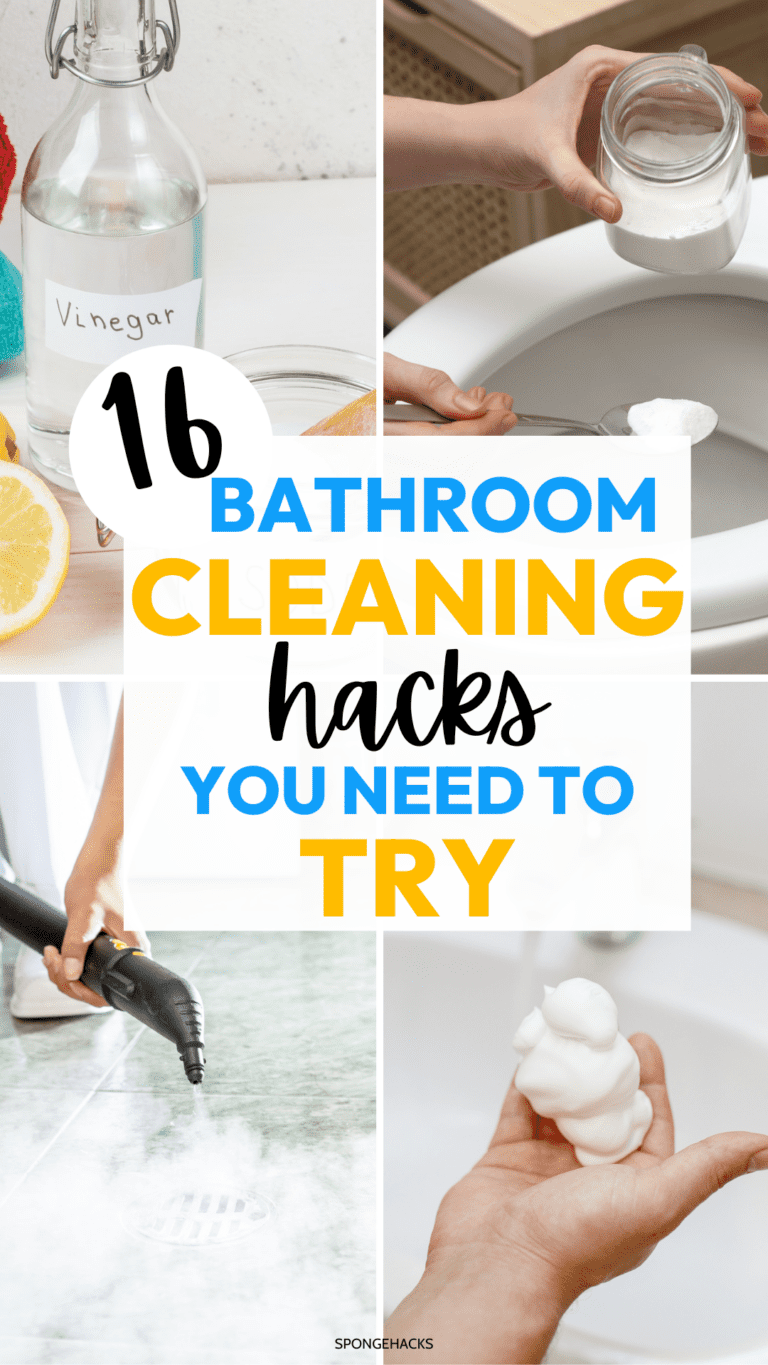 Even though I have a checklist, I oftentimes just don't have the motivation to clean!
I try to delay this cleaning task until the end of the week.
But last week I was looking on TikTok and found some cool and fun bathroom cleaning hacks.
Don't get me started on these viral cleaning hacks! I love sitting down and scrolling through all these amazing quick and easy cleaning tips for the bathroom!
They don't take much time to set up and do and they all use items you already have!
These bathroom cleaning hacks are going to save you time and money and it'll make cleaning actually fun!
That's what I need to get me motivated to clean.
Before I get into the cleaning hacks for the bathroom, let's go through what cleaning supplies you need.
What You'll Need to Clean the Bathroom With These Hacks
Shaving cream
Baking soda
Old toothbrush (for cleaning in hard to reach places)
Scrub brush
Steam cleaner (optional)
Gloves
Let's check out 16 bathroom cleaning hacks you must try and in the end, I'll give you some tips to keep the grime away for good!
16 Miraculous Bathroom Cleaning Hacks
1. Use a Magic Eraser to Clean Your Shower/Tub
A cool bathroom cleaning hack is to use a Magic Eraser to clean your shower or tub.
You just need to get the magic eraser wet and then start scrubbing away at any dirt or grime in your tub.
Keep the Magic Eraser in the shower at all times so right before you wash, you can quickly scrub the tub and shower door.
Or, you can clean your tub while you shower! Win-win!
I love these deep cleaning bathroom hacks!
2. Use a Soap Dispenser Brush
OMG! Have you lived without a soap dispenser brush all this time??
I am absolutely in LOVE with this bathroom cleaning hack.
Not only do you save money by not having to purchase more soap or cleaning supplies, but it's also eco-friendly!
And once you have this, you can use the TikTok shower cleaner hack!
Fill your soap dispenser with a few drops of liquid dish soap and the rest with vinegar and you have a powerful cleaner for soap scum on your shower door!
The great thing about using a magic eraser is that it doesn't require any harsh chemicals.
3. Polish Stainless Steel Fixtures with Shaving Cream
Who would've thought that shaving cream can be used to clean?
But it actually works great for cleaning and polishing stainless steel fixtures in your bathroom or in your kitchen!
Just put some shaving cream on a microfiber cloth and start rub it in circular motions. The shaving cream will remove any water spots or fingerprints.
I use shaving cream to buff out my sink faucet and light fixtures!
4. Use Cooking Spray for Squeaky Doors
If you have a squeaky door in your bathroom, then this hack is for you!
Just grab some cooking spray and coat the hinges. The cooking oil will lubricate the hinge and stop the door from creaking.
It doesn't matter what brand of cooking spray you use, as long as it's a spray!
This is such an easy fix and it works like a charm!
5. Clean Jewelry with Shaving Cream
Here's another shaving cream cleaning hack for the bathroom!
You can use shaving cream to clean your jewelry, like your rings or necklaces.
Just put a dollop of shaving cream on a microfiber cloth and start scrubbing away. The shaving cream will help to remove any dirt or grime from your jewelry.
After you're done scrubbing, rinse your jewelry off with warm water.
7. 2-Ingredient Cleaner for Cleaning a Bathroom Shower
One of the best bathroom cleaning shower hacks I saw on Tik Tok only has 2 ingredients:
That's it! This MIRACLE cleaner will not only clean the grime off of your shower door, but also the mold and grout on titles!
8. Get Rid of Toilet Bowl Rings with Coca-Cola
Have you seen this TikTok cleaning hack???
If you have toilet bowl rings, then try cleaning it with Coca-Cola!
Pour a can of Coke into the toilet bowl and let it sit for 1 hour. After an hour, flush the toilet and the bowl ring should be gone!
Not only will your bathroom smell fresh, but no more ring around the toilet bowl!
9. Wash Your Shower Curtain This Easy Way!
Want an easy and fast bathroom cleaning hack?
Well, I don't know about you but the #1 culprit to a smelly bathroom usually is a smelly shower curtain.
If you have a vinyl shower curtain – I'm still using this one I got on Amazon and it's been years – simply take it off the shower rod and throw it in your washing machine.
Use hot water and some bleach and that's it!
No cleaner sprays needed!
10. Don't Forget to Clean Your Toothbrush and Toothbrush Holder…in the Dishwasher!
Disinfect your toothbrush and give your toothbrush holder a wash right in the dishwasher!
It's that easy and that simple.
I try to do this at least once a month!
Bathroom Cleaning Hacks With Vinegar
It's no secret that vinegar is a great cleaning solution. It's been used for centuries to clean everything from windows to floors. But did you know that vinegar can also be used to clean your bathroom and other parts of your house?
It's a natural cleaner that's powerful and really works!
I love DIY cleaners and often use vinegar to clean my entire home!
There are a number of different ways to use vinegar to clean your bathroom, and below are some of the best ones.
So whether you're looking to get rid of soap scum or mineral deposits, or just want to keep your bathroom smelling fresh, vinegar can help.
11. Remove Soap Scum with Vinegar & Dawn Dish Soap
One of the most common places for soap scum to build up is on shower doors.
No wonder why there are a ton of bathroom cleaning hacks for the shower door!
If you're tired of looking at that soap scum, then get some vinegar action going on!
To remove soap scum with vinegar and Dawn, start by mixing equal parts water and vinegar and add a few squirts of Dawn dish soap in a spray bottle.
Mix it up and make sure you see some bubbles. If not, then add more dish soap.
I like to pick up a few spray bottles to have on hand to make my DIY cleaning solutions!
Then, generously spray the solution on your shower doors and let it sit for about 15 minutes.
After 15 minutes, grab a sponge or scrub brush and start scrubbing away at the soap scum.
You may need to put some elbow grease into it, but eventually the soap scum should start to break up and come off.
If you DON'T want to do that much work, add some baking soda as a scrubbing agent!
Once you've removed as much soap scum as possible, rinse the area with warm water and dry it off. You should now have sparkling clean shower doors!
12. Remove Mineral Deposits with Vinegar
If you live in an area with hard water, then you know how frustrating mineral deposits can be.
Tell me about it! When I first moved into my apartment in a new city, I had to get use to the hard water situation.
They can build up on your fixtures and make them look dirty, no matter how much you clean them.
Luckily, vinegar can help to remove those pesky mineral deposits.
Just use straight up vinegar in a spray bottle and generously spray the solution on the affected areas. Let it sit for about 15 minutes, then scrub the area with a sponge or brush.
Rinse the area with warm water and dry it off. You should now see a significant difference in the appearance of your fixtures.
I also add a bowl of vinegar to my dishwasher cycle to prevent spots on my cups! This works!!!
13. Use Vinegar to Clean Your Toilet
I love this bathroom cleaning hack!
If you're looking for a natural way to clean your toilet, then vinegar will help.
Simply pour 1 cup of vinegar into the toilet bowl and let it sit for about 30 minutes. After 30 minutes, flush the toilet and the bowl should be clean.
If you have really stubborn stains, you may need to scrub the bowl with a toilet brush. But in most cases, the vinegar will do the trick.
You can also pour vinegar into a spray bottle with a few drops of essential oil as a way to make your bathroom smell good.
Bathroom Floor Cleaning Hacks
No one enjoys cleaning their bathroom floor, but it's a necessary evil.
Thankfully, there are some easy hacks that can make the process a lot easier.
14. Use a Dupray Steam Cleaner to Zap Away Mold for Good!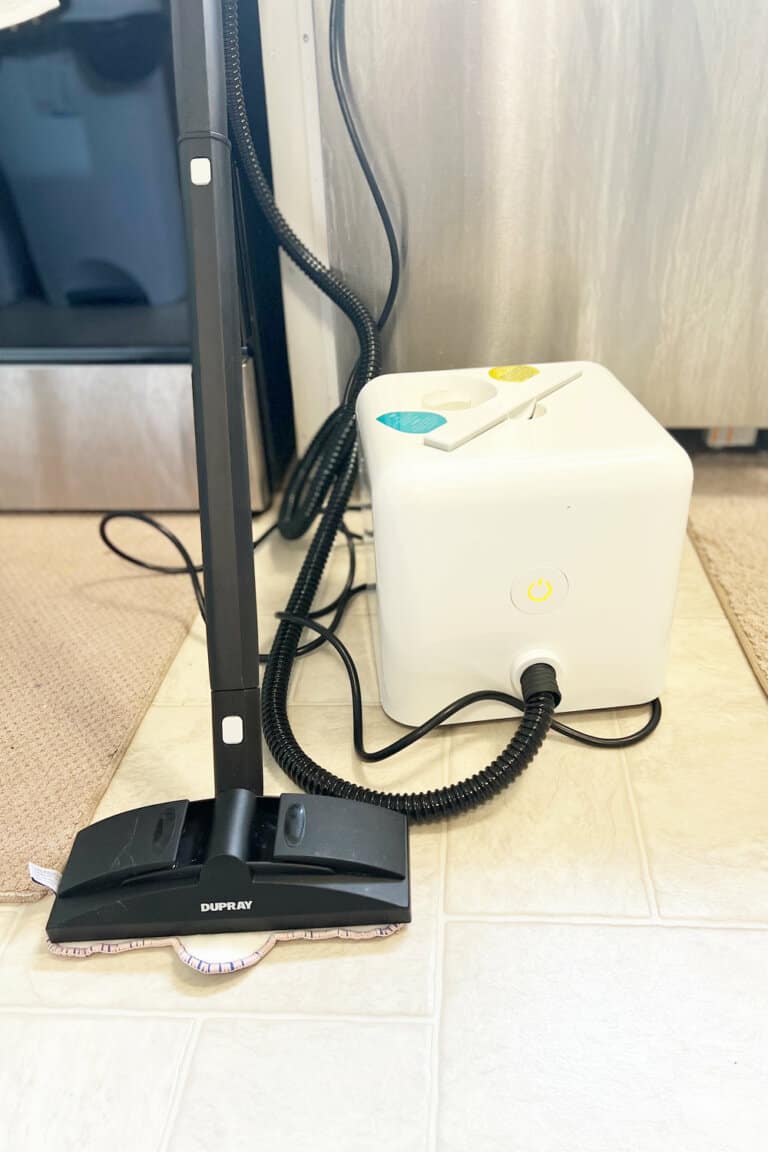 I can't tell you how much I LOVE my Dupray Steam Cleaner!
I use it ALL.THE.TIME!
I use it to clean my kitchen floor, my hardwood floor, my hallways, and my bathroom tile and bathroom floor.
But, what I love the Durpray Steam Cleaner are the different accessories you can use. I like the small Neat Lance and brass brush accessories to blast away mold around my sink and faucet.
It's powerful!
15. Lemons & Baking Soda to Clean Bathroom Tiles
A brilliant bathroom tiles cleaning hack is to use citrus fruit and salt!
Next time you go shopping for the week, pick up some citrus fruits like lemons, limes or grapefruit.
Simply cut your orange or lemon in half, sprinkle Baking Soda on your tiles and with a good scrub brush – I like this drill brush set for the bathroom – work on your bathroom tiles.
You will see the grout get whiter and cleaner and your tiles will begin to shine!
To package this up, use a small jar, fill it with baking soda, and add your lemon juice and, if you want, some essential oils too!
16. Use an Spin Scrubber Brush to Clean the Bathroom Floor
I absolutely LOVE this bathroom hack!
It's a total game-changer. No more back pain or knee pain from getting on all fours to scrub your bathroom tile.
This electric scrub brush quickly cleans your bathroom floor, your shower tile, shower door, and around your toilet!
How to Prevent Dirt and Grime from Building Up
The best way to clean your bathroom floor is to prevent dirt and grime from building up in the first place.
Here are a few tips on how to do that.
1. Place mats or rugs at all entrances to your bathroom to help catch dirt and debris
Entering a clean, clutter-free bathroom can be a refreshing way to start or end your day.
I know it is for me!
But if your bathroom is like most, it probably sees a lot of traffic throughout the day.
This leads to dirt and grime build-up on floors and surfaces.
Eww! You don't want that!
To combat that build up and to help keep your bathroom clean place mats or rugs at all entrances.
My absolute go-to bathroom rug is this chenille rug. It's soft, durable and machine-washable!
This will help catch any dirt and debris that gets tracked in, making it easier to keep your bathroom floors clean.
2. Encourage family members and guests to take their shoes off before entering the bathroom
This is a big one in my place!
The bathroom is one of the most important rooms in the house, right?
Everyone at one point or another, must use the bathroom!
The bathroom can also be a breeding ground for bacteria and viruses.
Hence the constant upkeep and cleaning of the bathroom (which I don't like doing that much!).
One way to help keep your bathroom clean and healthy is to encourage family members and guests to take their shoes off before entering.
This simple step can help to prevent the spread of germs and dirt, and it also helps to keep the floors clean.
Plus, it's a great way to show your guests that you care about their comfort and health.
3. Sweep or vacuum your floor regularly, even if it doesn't look dirty
Part of my regular cleaning schedule is to vacuum my hallways, bedrooms and bathroom floors.
It's an easy way to quickly make your bathroom look clean.
Psst…you can also run the vacuum in the tub to clean up any debris or hair!
4. Deep clean your bathroom floor at least once a month
Every day, your bathroom is subjected to spills, tracked-in dirt, and all sorts of other messes.
That's why it's important to give your bathroom floor a good deep cleaning at least once a month.
To get started, clear out all the clutter and move any furniture or rugs that are blocking your way.
Vacuum or sweep the floor to remove any dust, dirt, or hair.
Then, mix up a solution of warm water and mild soap.
Use a mop or sponge to scrub the floor thoroughly, paying special attention to any grout or tile lines.
Rinse away the soap with clean water and dry the floor with a towel.
Once you're finished, you'll be able to enjoy your clean bathroom – and you can rest easy knowing that it's free of bacteria and other potentially harmful contaminants.
Best Clean Hacks for the Bathroom
There ya go!
I hope you enjoyed the best bathroom cleaning hacks from someone that doesn't like cleaning their bathroom!
In all honesty, I do a little each day so that I don't have to spend more than 10 minutes to clean my bathroom.
If you vacuum the floors, wash your shower curtain, wipe down the counters and toilet, then your bathroom will smell good and be clean for days to come!
For more help, try some Fabuloso Hacks for the bathroom!
Make sure to follow me on Pinterest for more cleaning and organizing advice!