Long hallway runners – something you need in the middle of the night.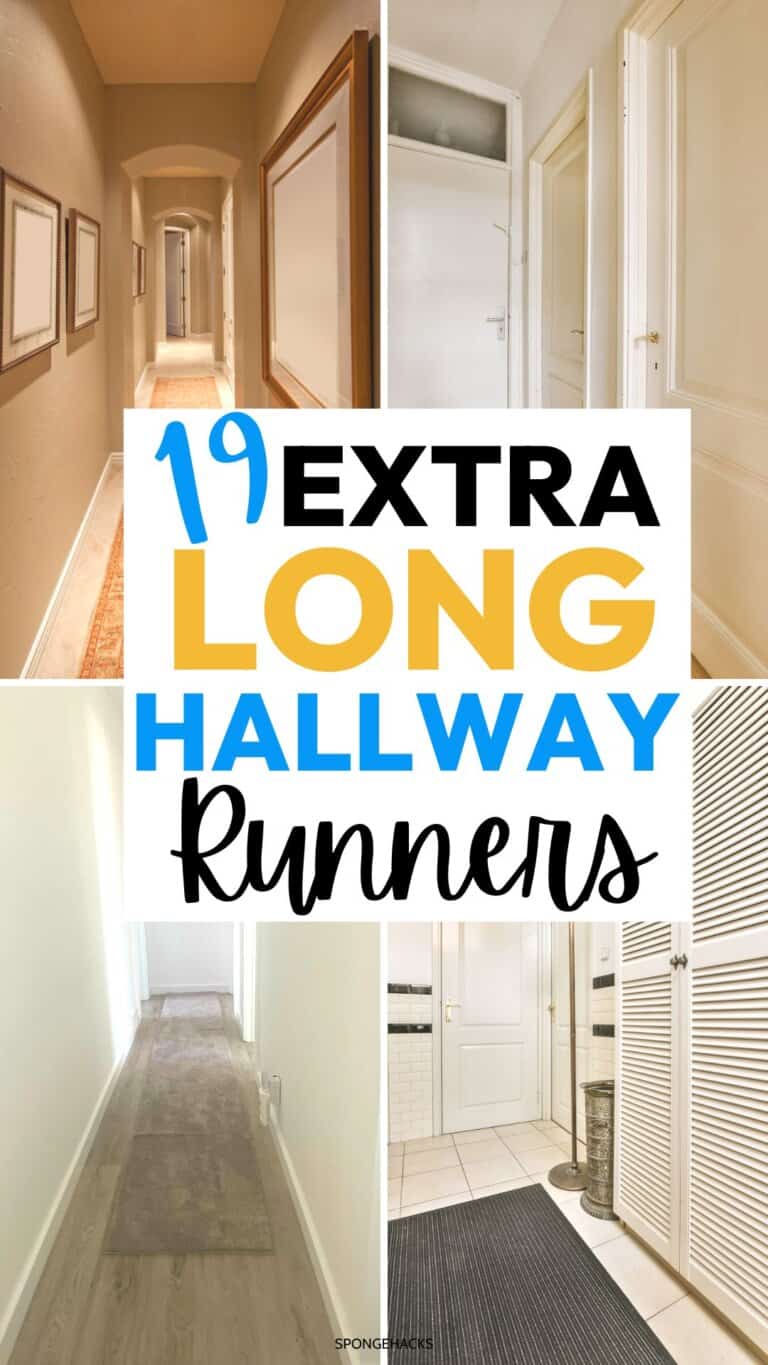 If your home or apartment flooring is hardwood or laminate then you know what you need at this moment: the floor runners that are comfy.
Soft, smooth and oh so plush against your toes.
No need to dash to the bathroom when walking on a long hallway rug.
Of course, if you have a pet (a dog with nails) then hearing the "click-click-click" sound is annoying too.
Having a nice rug where your pet likes to walk would help create a more Zen like atmosphere.
So, if this sounds like you, then let's check out some extra long runners for the hallway so you never have to dash to a room or even put on socks!
Oh yea!
Rug Runner Sizes

But first, what are typical rug runner sizes?
And what about long and extra long carpet runners for the hallways?
When it comes to hallways, the most common size rugs are 2-3 foot wide x 6-8 foot long.
These sizes are ideal for most standard hallways since they provide enough coverage without overpowering your space.
If your hallway is longer than 8 feet (around 96 inches), an extra-long runner is what you're gonna need.
Long runners are typically defined as any runner that is 8 feet or shorter in length.
Extra long runners are any rug longer than 8 feet in length.
You might already know whether you want a long or extra long runner, but it can be helpful to measure the total length of your hallway before you make a purchase.
That way, you know how much space you have to work with and can pick the perfect fit for your room.
So, with rug sizes out of the way, let's check out some extra long hallway runners that would look perfect in your hallway or entranceway.
Extra Long Hallway Runners
When looking for extra-long runners, choose ones made out of durable materials like wool, polyester or nylon.
These materials are not only soft on your feet but they are also hard wearing, meaning that you won't have to worry about the runner wearing out in a few months' time.
And this means not spending a ton of money replacing your runners! Score!
Pay attention to the padding on the underside of your extra-long hallway runner.
Look for ones with thick pads that provide cushioning and insulation from cold floors as well as sound reduction from footsteps.
Many runners come with non-slip backing so keep this in mind too – it can be a lifesaver!
Lastly, if you want something with more visual appeal than neutral shades, then there are plenty of patterned options available too so take some time browsing the selections until you find one that works for you.
So, here they are!
1. A Boho Style Runner
OMG!
I LOVE this Boho style runner for the hallway.
This Boho style runner is an absolute must-have for anyone needing a cushy runner.
The extra long hallway rug is thin, making it not as comfortable to stand on as more plush carpets.
But it's aesthetically pleasing and a vibe for your place.
It's easily washable, which is nice when dirt builds up over time – I've had no issues with washing my rug in the machine yet!
Like I said, I'm obsessed with this carpet: vibrant and rich colors, and the designs are bangin.'
And although I initially thought the rug might become worn out or cheap-looking after being washed, I was pleasantly surprised to find that not only did it come out just as beautiful as before; it was also much cleaner!
Plus, since this particular runner is machine washable, you don't have to worry about any intense maintenance process – all you need to do is throw it into your washing machine when needed.
2. A Hint of Rainbow
This is the PERFECT hallway runner if you are a bit missy with spills!
This multi-colored extra long hallway runner will surely bring a cheerful vibe your dull hallway!
The larger size is surprisingly easy to straighten out and lay down flat, making it perfect for that long hallway of yours.
It's a great value for the price too; it fits perfectly with any living room decor (or bedroom style), and the look complements any vibe you may have.
Not only that, but it also feels incredibly soft underfoot – making it a great accent piece for any home. It's also incredibly easy to clean due to its thin material and low pile height.
3. Go Neutral
You can't go wrong with neutral colors for your hallway runner rug.
This is best for any apartment decor, and it's incredibly easy to spot clean.
It's big enough to cover a large space, and the thickness of this rug is more than the 3mm described; it will feel thick and soft underfoot for those late-night bathroom trips!
The rug is bright with vibrant colors, and I LOVE the eye-catching design.
Plus, rather than being printed or dyed, this rug is loomed from high-quality materials – a sign of its durability.
Not only is it strong enough to handle the foot traffic of a hallway, but it offers great value for money too.
4. Pure Black
This hallway runner has a rubber backing making it anti-slip and a great option for your small apartment.
A definite looker this rug is!
Since black isn't a common rug color, you'll surly surprise your guests when they stop over, but will instantly fall in love with the comfy feel and no slip feature!
5. Oriental Style
You can always go classic with this oriental styled runner.
These are some of the best types of long hallway carpet runners you'll find when searching one for yourself.
Why?
Because they stand out but also match any decor elements in your place.
The best of both worlds!
Modern Long Hallway Runners
6. Geometric Shapes
Get a load of this carpet runner.
If you're wanting to add some fresh flair to your hallway then this geometric runner is the perfect way to spruce up any boring space.
Not only do these long carpet runners for hallways look fabulous against hardwood, but they also protect your floors from dirt, scratches, and wear and tear.
Plus, these bad boys come in tons of shapes and sizes, so you can find one that fits your style perfectly.
To find the right color and geometric shape hallway runner, check out these tips:
Experiment with bold hues like bright pink or neon yellow. If you're not feeling too daring, there are plenty of neutral options like beige or muted green if you want something more subtle that still stands out.
Geometric designs come in all kinds of shapes and sizes – from circles and hexagons to stars and diamonds – so have fun playing around with which ones work best for your hallway.
Establishing a pattern with multiple shapes can give it an extra oomph and make it really pop. And if you're looking for an eye-catching statement piece, go big with a large shape like an oval or rectangle!
7. Modern Beige
Don't you just love this look?
These rug runners are totally understated but add a modern touch to any place.
Not only is this modern runner easy to vacuum and spot clean any hair and mess, but it's also incredibly soft and comfortable!
The yellow hue of the rug is vibrant and eye-catching, while the warm orange color creates a stunning contrast that will brighten any hallway.
This rug is made from high-quality fabric that has a long-lasting durability and comfort, making it a great investment.
8. Go Contemporary
Alright, here's a gorgeous contemporary hallway runner!
This is perfect for any hallway and is super comfortable to walk on.
The rug will arrive well packed as a roll, and once unpacked you'll notice were some folding marks at the end of the rug, even after a few days. So, it may take a few days to flatten out.
The rug is beautiful and fits perfectly in hallways up to 14 feet long.
It can really make a space look bigger than it actually is due because it's long, making it BEST for small or narrow spaces.
One great thing is that it's incredibly easy to clean and maintain, with regular vacuuming being enough to keep it looking as good as new.
9. Pretty Design
This popular modern hallway runner is perfect for not only the hallway but your kitchen too.
This runner is incredibly soft and is delightfully comfortable to walk on with your bare feet, for those late night bathroom stints.
Not only that, but its easy to vacuum and will stay looking as good as new for many years to come.
The colours make it incredibly easy to coordinate with any existing decor, from traditional to contemporary styles.
One thing to note is that the rug is thin and may take a while to flatten out.
10. Contemporary Grey Hallway Rug
This is one extra long runner for the hallway! Clocking in at 11 feet it's perfect for narrow hallways.
The unique pattern adds an extra layer of texture, which means it can hide all the dust and dirt that tends to track all over.
That means you no longer have to worry about having to vacuum every day just to keep it clean – the rug does the job all by itself!
Non Slip Runner Rugs
Non slip runner rugs for an apartment can be a better option so that you don't trip when walking on your rug.
While they are an investment, they are worth the money if you want to make sure your hallway is safe and slip-free.
Latex rubber backings are usually used on non-slip carpets since they provide better grip than regular carpets do – preventing any slips that could lead to injury or worse!
So, let's check out these anti slip hallway runners.
11. Grey and Bordered
This is a non-skid grey runner for the hallway.
Since your hallway is probably a high-traffic area, this non-skid rug is perfect.
Not only do they look great, but they are also extremely easy to clean and maintain.
The rubber backing prevents this rug from sliding around; this is especially important in hallways where people might be rushing through and it's essential that the rug stays in place.
Plus, they came flat out of the box with no need to flatten, which was a bonus!
12. Modern Boxes
Check out this cool modern boxes hallway rug.
It's a non slip runner rug that is super cute and makes a statement in any room you place itt.
This rug is perfect for the hallway but can be use as a kitchen runner too!
13. Diamond Modern Rug
For a more trendy look, try this diamond hallway runner.
This rug is machine washable and easy to clean.
So, if you or your partner is messy or if you have a pet, then this hallway runner is a MUST.
14. Non Slip Camel Color Hallway Rug
Get rustic with this camel colored hallway rug.
The colors and design are beautiful and can really add a touch of class to any room or hallway!
The rug is excellent quality and very hardwearing as well as being easy to clean.
Not only will it last for many years, but it also is warm against cold floors and is soft to walk on.
The rug's non-slip backing means that no matter how much traffic goes through the hallway, the rug won't get pushed out of place or start curling up on the ends. It really adds a level of safety when walking through your hallway since you don't have to worry about slipping on any loose carpets or mats.
On top of that, it's very easy to clean as all you need is a vacuum cleaner or broom and you're good to go!
15. Shag Hallway Runner
Oooo! I love shag rugs! Now you can have it as a hallway runner too!
Just make sure there aren't any doors you have to open as this modern long hallway runner can get caught.
This is similar to the grey runner I have in my hallway (i.e. the feature image of this post!).
But, it's plush, soft and comfy for a chic looking hallway runner!
16. Distressed Hallway Rug
Get the distressed look with this hallway carpet runner.
I don't know about you, but I sort of like this distressed look in a rug.
It doesn't make it look like a new purchase and it won't stand out in your place then.
Plus the colors are muted and subtle for a chill apartment vibe.
17. Silver Extra Long Runner for the Hallway
I LOVE this silver runner for the hallway!
Silver extra long rug runners for hallways are hard to find so make sure to snag this one up quickly!
I like this one because it doesn't look truly grey and can come off as silver!
18. Nonslip Hallway Runner
This nonslip hallway runner does take a few days to flatten out but is a popular choice for the kitchen and hallway.
This rug also comes in different sizes so you can math your runners! Win-win!
19. Triangular Pattern Hallway Runner
Here's a nice colorful hallway runner!
And for something trendy and bold, try this long runner for the hallway!
This rug holds up to vacuums and pets and comes in different sizes too.
Floor Runners Galore!
I hope you enjoyed these long runner rugs.
For more organization and home cleaning tips, come follow me on Pinterest!