When I moved into my first apartment I had absolutely no idea how to keep it clean.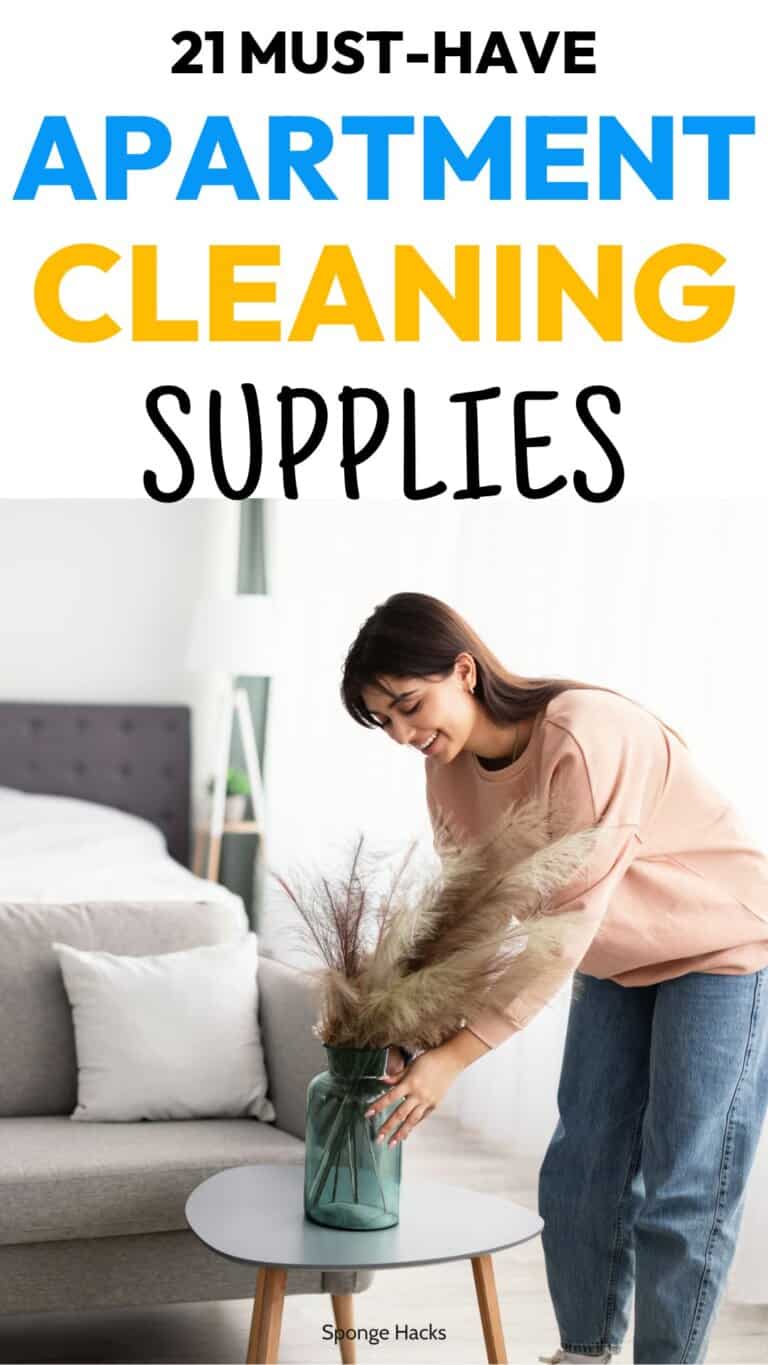 I mean, at home I could keep my room clean, but I didn't have to wash the bathroom or mop the kitchen floor.
But, now with my first ever apartment I was at a loss of the best cleaning supplies to keep this place spic and span.
Maybe you're thinking the same thing I was, "What household cleaning supplies do I need for a first apartment?"
Well, over the years I've found the best list of must-have first apartment cleaning supplies!
And the best part?
At the end of this article, I'll hook you up with some amazing tips on how to use your first apartment cleaning supplies to keep your space looking totally Instagram-worthy!
And well, that's the BEST way to have your apartment looking, right?
So let's dive in and get your first apartment looking its best!
First Apartment Cleaning Supplies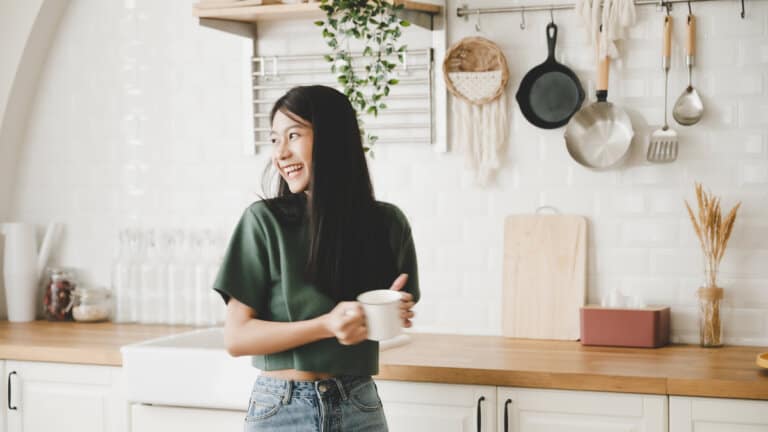 Get out your pen and paper, or whatever note-taking app you use on your phone, and start making your shopping list for your first apartment cleaning supplies.
1. All-Purpose Cleaner
An all-purpose cleaner is essential for any apartment. It can be used on counters, appliances, and floors.
Basically, it can tackle any type of mess!
One of the most popular all-purpose cleaners popping up everywhere (especially TikTok) is Fabuloso.
It comes in some really amazing scents, and there are tons of hacks you can do with it to keep your apartment clean!
2. Glass Cleaner
You'll want to keep your mirror and windows sparkling clean, so make sure you have a glass cleaner on hand.
It's also great for getting rid of any streaks on your stainless steel appliances.
If you by chance don't have a glass cleaner you can use vinegar or even alcohol to wipe a bathroom mirror in a pinch.
3. Scrub Brush
A good scrub brush can make cleaning your bathroom and kitchen a breeze!
Trust me, it's worth investing in one with stiff bristles that can tackle even the toughest grime and get into all the nooks and crannies.
4. Microfiber Cloths
Microfiber cloths are a must-have on your list of cleaning supplies for your first apartment.
They're great for dusting, wiping down surfaces, and cleaning up spills.
Plus, they're reusable and can be tossed in the washing machine when they get dirty!
5. Vacuum Cleaner
You'll definitely need a vacuum cleaner to keep your floors clean.
Opt for a lightweight and easy-to-maneuver model that can easily get into small spaces, making cleaning a breeze!
The Shark is the one I have and what's great about it is that the rollers never get things stuck in it. Older vacuums I was always having to flip it around and try to get the string or thing it ate out but this model that NEVER happens!
6. Mop and Bucket
If you have hardwood or tile floors, basically anything that isn't carpet, then a mop and bucket are a must!
And what's better than the viral Tik Tok mop for you!
I love this combo mop and bucket system!
7. Toilet Brush and Cleaner
In order to keep your bathroom clean and healthy, you need a toilet brush and cleaner.
These essential cleaning supplies for your first apartment are important for keeping your space fresh and sanitary.
8. Rubber Gloves
Cleaning can be tough on your hands, so make sure you have a pair of rubber gloves on hand (pun intended!) to protect them.
Find rubber gloves that are comfortable and fit well because you will be using them to wash the bathroom, wash the dishes or washing the floor.
9. Dustpan and Broom
A dustpan and broom are the most basic cleaning supplies for a first apartment that you can't forget!
When choosing a broom, look for soft bristles that won't scratch your floors, and make sure to grab a sturdy dustpan to match.
10. Trash Bags
When it comes to keeping your first apartment clean, you're going to need plenty of trash bags!
Make sure you get the right size for your trash can, and look for ones that are eco-friendly and biodegradable.
11. Dusting Wand
When it comes to cleaning hard-to-reach places like ceiling fans and light fixtures, a dusting wand is your best bet.
Look for one with removable and washable covers to make cleaning a breeze and to save on waste.
And don't let the confusion of how often you should dust delay getting this dusting wand!
12. Squeegee
What the heck is a squeegee doing on your list of cleaning supplies for your first apartment?
Well, if you have a shower with glass doors, a squeegee is a must-have to clean off the glass.
This prevents water spots and keeps your shower looking clean and shiny!
13. Dish Soap and Sponge
You'll want to keep your dishes clean and hygienic, so make sure you have dish soap and a sponge on hand.
Look for eco-friendly options to minimize your impact on the environment.
14. Oven Cleaner
Keeping your oven clean and free of grease and grime is a must for any first apartment.
Be sure to check out oven cleaners that are easy to use and minimize the need for hardcore scrubbing.
This will make this daunting task a little easier!
15. Carpet Cleaner
If your apartment is carpeted, spills and stains are bound to happen.
That's why having a good carpet cleaner on hand is a must.
Look for one that can tackle tough stains and odors and keep your carpet looking fresh and clean.
16. Bleach
Bleach is a powerhouse disinfectant that can help keep germs and bacteria at bay in high-traffic areas like the bathroom and kitchen.
Keep a bottle handy for quick cleanups and deep cleans, and make sure to follow the instructions carefully to ensure safe use.
17. Air Freshener
Keeping your apartment smelling fresh and inviting is just as important as keeping it clean.
Consider using natural air fresheners, such as essential oil diffusers or beeswax candles, to add a pleasant fragrance to your space without harsh chemicals or synthetic fragrances.
18. Stainless Steel Cleaner
While glass cleaner can work wonders on many surfaces, including stainless steel, using a specialized stainless steel cleaner can give your appliances an extra shine and keep them streak-free
Look for a cleaner that's safe for food surfaces, easy to use, and designed to protect against fingerprints and smudges.
19. Lint Roller
If you're a pet owner or wear a lot of dark clothing, a lint roller is a must-have cleaning supply for your first apartment.
It's an easy and effective way to remove pet hair and lint from your clothes and furniture and keep your space looking neat and tidy.
Keep one handy in your closet or by your front door for quick touch-ups on the go!
20. Stain Remover
Accident happens, and you'll want to be prepared for spills and stains on your furniture and carpets.
Look for a stain remover that's effective on a variety of stains, such as grease and red wine.
21. Disinfecting Wipes
Disinfecting wipes are great for quickly cleaning and sanitizing surfaces, such as countertops and doorknobs.
You can grab some eco-friendly disinfecting wipes that are easy on the environment and effective at killing germs and bacteria.
Awesome Tips for Keeping Your First Apartment Clean
Now you have the cleaning supplies to clean your first apartment, it's time to use them!
Here are some awesome tips to get you started on keeping your first apartment looking amazing and clean:
1. Clean Regularly
Cleaning your apartment on a regular basis will help keep it looking and smelling fresh.
Set aside time each week to tackle basic cleaning tasks, such as vacuuming, dusting, and wiping down surfaces.
2. Clean as You Go
One of the best ways to keep your apartment clean is to clean as you go!
For example, wash your dishes as soon as you're done using them, and wipe down the counters after you're done cooking.
You can also get into the habit of tidying each room as you walk through it.
3. Focus on High-Traffic Areas
Some areas of your apartment are likely to get dirtier than others, such as the kitchen and bathroom.
Focus your cleaning efforts on these high-traffic areas to keep your apartment looking and smelling clean!
4. Declutter
Clutter can make your apartment feel messy and chaotic, so it's important to keep it under control.
Make a habit of decluttering regularly by getting rid of items you no longer need or use.
5. Get Organized
Having an organized space can make cleaning easier and more efficient.
Use storage solutions such as baskets and shelves to keep items in their place and make it easier to clean around them.
You should also consider organizing your cleaning supplies as well!
This will make everything easier to grab when you need it.
6. Use the Right Tools
Having the right cleaning tools can make all the difference – which is why I wanted to help you out with basic cleaning supplies for a first apartment!
Invest in cleaning supplies to make cleaning easier and more effective.
7. Use Natural Cleaners
Many commercial cleaning products contain harsh chemicals that can be harmful to your health and the environment.
Consider using natural cleaners, such as vinegar, baking soda, and essential oils when you can.
8. Be Gentle on Surfaces
Some surfaces, such as hardwood floors and stainless steel appliances, require special care to avoid damage.
You don't want to lose that damage deposit when you move out!
Make sure you're using the right cleaning products and techniques for each surface to keep them looking their best.
9. Don't Forget the Little Things
It's easy to overlook small details when cleaning, but they can make a huge difference!
Don't forget to clean things like light switches, door knobs, and baseboards.
First Apartment Cleaning Checklist and Tips for a Sparkling Space!
There you have it – a complete checklist of first apartment cleaning supplies!
With these items on hand and some practical cleaning tips, you'll be able to keep your new place clean and tidy.
So roll up your sleeves, and let's make sure your new home stays fresh and comfortable.
You'll love the feeling of having a clean and organized space to relax in!