Believe it or not but several years ago, I found myself downsizing from a spacious home to a one-bedroom apartment.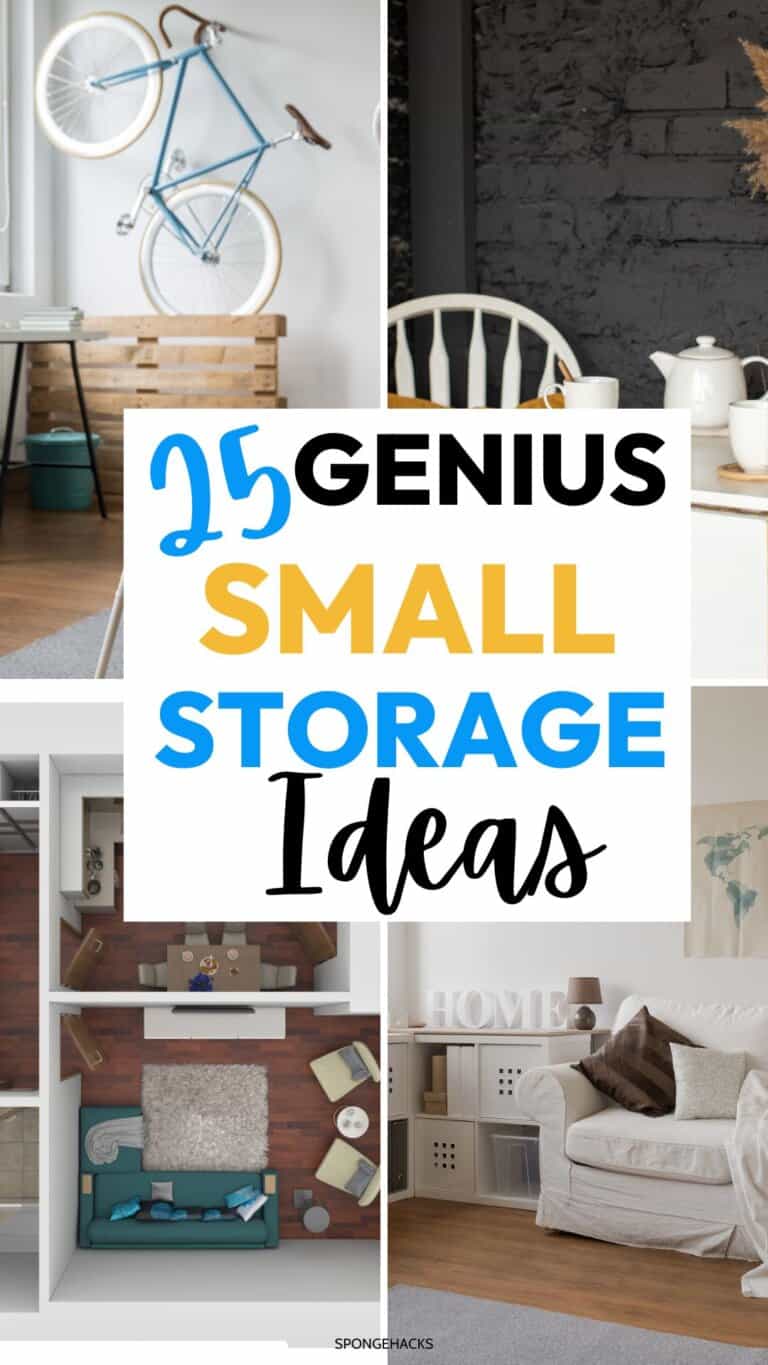 Hello, small space storage dilemma!
My husband and I were not in a good space financially and needed to downsize.
The transition was, to put it mildly, a reality check.
I was suddenly faced with the dilemma of learning how to create storage space in a small house.
If you're grappling with small space storage for your shoes, clothes, in your kitchen, desk or for your bikes, then this post is for you.
The challenge of making everything fit can be daunting, but it's far from impossible.
I'll share creative and sneaky small space storage solutions to make the most of your available apartment or small house without sacrificing style or comfort.
Okay!
Let's get to it.
Small Storage Space
Look – if you have small house organize woes because the closets are small, or you have just a small storage space to contend with, that doesn't mean you have to spend thousands to fit everything in.
When I first moved into my smaller living space, the idea of fitting all my belongings into what seemed like a shoebox was daunting.
I thought I'd have to invest in expensive storage solutions or get rid of half my stuff. But guess what?
Neither was necessary. Let's check out some great ways to store your items in a small space.
Small Space Shoe Storage
Learning how to create storage space in a small apartment doesn't have to be hard. Start with what you have most: the shoes!
Let's check out ways to store all those shoes!
1. Under the Bed Storage
Shoes, shoes and more shoes!
Every woman out there has dozens of shoes and if you are in a small apartment or sharing your apartment with someone else, what do you do with a small space shoe storage?
Well, why not use under the bed as extra storage?
You can get an under bed storage drawer to store all those extra shoes that don't fit in your closet.
You know, out of season shoes, boots and just all your extra shoes.
2. Vertical Shoe Rack
How to do you find shoe storage small space? Well why not look up!!
Gaining more storage in your small bedroom in your small house means you have to leverage vertical space.
And you can do that easily with a vertical show rack like this one that I absolutely love and will use for my son when he's a teen.
It's a simple yet effective solution that can dramatically increase your storage capacity without taking up valuable floor space.
Whatever you end up choosing for your shoe rack, vertical storage allows you to stack your shoes in a way that's both accessible and organized.
And you gotta love it!
3. Behind the Door
Are you tired of playing hopscotch with your heels every time you walk through the door?
Trust me, I've been there, tripping over stilettos like they're mini landmines in my living room.
But then I had an "aha" moment—why not use the space behind the door to store my fabulous footwear collection?
Yes, a metal shoe rack for the door saves soo much room.
Just hang an over-the-door shoe organizer, and voila! Your everyday flats and sneakers have a home that's as stylish as it is practical.
These organizers are like the little black dress of storage—simple, chic, and oh-so-versatile.
You can go for pocket-style ones for your summer sandals or racks for those knee-high boots you rock in the winter.
4. Small Space Storage Cabinet
Picture this: a sleek, compact cabinet that's like a luxury condo for your favorite heels, flats, and sneakers.
It's the VIP lounge of shoe storage, and it's small enough to fit into even the tiniest nooks and crannies of your home.
These cabinets are the unsung heroes of small-space living, offering shelves, compartments, or even pull-out drawers to keep your footwear organized and out of sight.
These cabinets come in all sorts of designs to match your fabulous decor.
From minimalist Scandi-chic to glam mirrored finishes, there's a shoe cabinet that's just screaming your name.
It's like finding the perfect pair of shoes, but for your home!
5. Dual Furniture
Isn't this GENIUS?
I love this idea of having dual furniture.
Use an ottoman to store all your shoes.
It's like having a hidden treasure chest, but instead of gold and jewels, it's filled with your favorite pumps and loafers.
And let's talk style—these ottomans come in all sorts of designs, from luxe leather to funky fabrics, so you can choose one that perfectly matches your decor.
And now your ottoman is extra seating!
Love it!
Small Space Kitchen Storage Ideas
If you have a small kitchen (like I do), with absolutely no storage, then check out these amazing ideas for you.
These are great small apartment storage ideas you can use today.
6. Use Organizers
If you have a very small space under your sink the best thing you can do is have clear organizers and labels!
I swear by these!
You can have shelves that slide around pesky plumbing, stackable drawers, and even door-mounted racks for all your sprays and sponges.
It's like giving your under-sink area a makeover worthy of its own reality TV reveal.
7. Over the Sink Organizer
Look –
If you're living in a 450 sqft. apartment you literally have NO storage space at all. You need all the small space small kitchen storage ideas you can get!
And this one is the clear winner.
If your kitchen doesn't have a lot of cabinet space, then utilize above the sink.
And over the dish sink organizer is perfect to store all your dishes, cutlery and cups!
8. Magnetic Organizer
With a small kitchen, every inch counts!
If there is a side of your fridge that's exposed use it as a small storage space!
Yes!
Get a magnetic wall organizer to hold your cooking utensils, paper towel and spices.
Imagine a sleek magnetic wall that serves as your kitchen's personal assistant.
Spice jars, paper towels, and a spatula—all great small house organization ideas and within arm's reach, but off your countertops.
And talk about style!
Whether you're into industrial chic or rustic charm, there's a magnetic wall organizer that's just perfect for your kitchen's aesthetic.
9. Command Center
Even if you have a tiny kitchen with no storage space, you can still create a command center.
This is a drop zone of sorts where you can hang your car keys and wallet and any important papers or flyers.
All you need are:
That's all you need to create a command center for all your important things you need.
10. Magnetic Knife Strip
When you have small space storage challenges you have to think outside the box.
I don't know about you, but the small drawer i have for my cooking utensils is overflowing and I'm jamming in my spoons and peelers.
To clear some of that kitchen clutter, why not try a magnetic knife strip?
No more digging through drawers or risking your fingers.
And talk about versatility—these magnetic strips come in various materials like stainless steel or wood, so you can choose one that perfectly complements your kitchen decor.
11. Nest and Catorgize
With what drawer or cabinet you have for your small storage space, try to keep it organized.
You can nest your pots and glassware and store your lids together.
Doing these simple things can keep the clutter off the counter and make it easy to find what you need.
Small Space Clothes Storage
Finding that you're constantly battling between your love for fashion and the reality of limited closet space?
Don't worry – you're not alone. Here are some practical ways to store your clothes and keep them organized for good.
12. Use this Small Space Storage Hack
Camisoles, cardigans and sun dresses, oh my!
If your wardrobe is filled with tons of clothing options, and you have absolutely no storage room for these clothes or room in your bedroom for a huge dresser, try this hack.
Get some shower curtain clips and use them to clip your tank tops and camisoles or dresses on a hanger.
You can fit dozens on one hanger! Genius!
13. 6-Tier Hanger
You've got these amazing pieces that you've carefully selected, but they're getting wrinkled, lost, or even damaged because they're all crammed together.
Even if you fold them, you then can't see what you have.
You've tried individual hangers, but then there's no room left for anything else.
It's not just a closet crisis; it's a fashion emergency!
Well, say hello to these six-tier hangers!
These hangers are designed to maximize space, allowing you to hang multiple items in the footprint of one.
And let's talk about visibility—each tier is separate, so you can easily see and access each piece.
14. Try a Pant Rack
Instead of using a bulky dresser to store all of your pants, why not free them up and hang them on the wall?
Use one or two towel ranks behind the door to store all of your trousers and pants!
Time to give your pants the VIP treatment they deserve with a wall-mounted pant rack!
Picture this: a sleek, horizontal rack mounted on your wall, where each pair of pants gets its own dedicated space.
It's like turning your wall into a boutique display for your bottoms!
These racks are not only space-savers but also total style enhancers.
You can go for a minimalist metal design or a rustic wooden one—whatever tickles your fashion fancy.
15. Clear Organizers are the Rave
Look –
You've tried stacking, you've tried cramming, but your clothes just don't have a proper home.
It's not just a mess; it's a fashion tragedy!
Why not try a clear pocket organizer for behind the door?
These organizers are perfect for smaller items like scarves, belts, or even t-shirts and tank tops.
And the best part?
You can see everything you have, making getting dressed a breeze.
16. Clear Dividers
Oh, the closet chaos, am I right?
You've got these amazing pieces that you've lovingly selected, but they're all squished together like sardines in a can.
You've tried folding, you've tried rolling, but your clothes are still a jumbled mess. It's not just inconvenient; it's a fashion fiasco waiting to happen!
Unlock the full potential of your closet with clear dividers—your go-to solution for vertical space optimization.
These sturdy, transparent dividers slide right onto your closet shelves, allowing you to stack your clothes securely without the fear of toppling.
It's like installing invisible walls in your closet, each one creating a designated space for your sweaters, jeans, or t-shirts.
And because they're clear, these dividers blend seamlessly into your setup, ensuring your clothes remain the star of the show.
17. Drawer Dividers
Time to level up your drawer game with drawer dividers, the unsung heroes of small-space storage!
These dividers instantly transform your drawers into neatly organized compartments.
No more digging, no more rummaging—just open the drawer and grab what you need.
And let's talk customization—these dividers come in various sizes and materials, so you can tailor them to fit your specific needs and aesthetic.
Small Desk Storage
Do you have a cloffice? You know, an office in a closet?
I used to when I lived in our small apartment. I had to share my little small desk with my closet.
So, if you have to content with small desk storage challenges, check out these ideas.
18. Under Desk Drawer Cabinet
If you have a small desk, it's best not to keep all your papers on the desktop.
Instead, opt for a under the desk drawer cabinet like this one.
This nifty cabinet slides right under your desk, providing you with extra storage without taking up any additional floor space.
It's like your desk just got its own basement, but way cooler and way more organized.
And let's talk style—these cabinets come in various designs and finishes, so you can choose one that perfectly complements your workspace.
19. 3 Tiered Rolling Cart
Or, you can go the other way and get yourself a three-tier rolling cart to store not only paper but also:
Office supplies like a stapler
Tissue and water bottle
Pens and pencils
Your journal and mail
For a desk for small space with storage this is the perfect solution.
20. Creative File Storage
If you have practically no storage for your desk or papers, why not get creative with this file cabinet?
With lots of crucial documents that you can't just toss, they're taking over your desk.
You've tried folders, you've tried shoeboxes, but let's face it, your important papers are still a scattered mess.
It's not just clutter; it's a ticking time bomb of disorganization!
That's why a creative file cabinet is your answer!
21. Wire Wall Grid
I'm totally OBSESSED with this small storage idea!
Have a chic home office with a wire grid. You can decorate it with some cute fairy lights and it can hold your mail, cool inspo quotes and more!
Small Space Bike Storage
When I was living in my first apartment we were granted a bike storage space.
It was perfect because my BF at the time used his bike for work and school.
But the space we had was pretty drab. I wanted to spruce it up.
Here are some fun ideas if you have a small space bike storage too.
22. Bike Wall Mount
Time to elevate your bike game—literally—with a bike wall mount!
This genius invention mounts to your wall, allowing you to store your bike off the ground and out of the way.
It's like your bike just got its own penthouse suite in the sky!
23. Overhead Bike Mount
You've got this awesome bike that you absolutely adore, but your bike room is turning into a jigsaw puzzle with no solution in sight.
You've tried leaning them, you've tried hanging them, but your bikes are still a tangled mess.
It's not just a space issue; it's a bike-loving crisis!
Time to look up and embrace the overhead bike mount, the ceiling solution for your compact bike room!
This mount attaches securely to your ceiling, allowing you to hoist your bike up and out of the way.
It's like your bike just got its own skybox seat!
And don't worry about style—these mounts are sleek and unobtrusive, so they won't clash with your room's aesthetic.
24. Compact Bike Rack
Time to get your gear in gear with a compact bike rack that does double—or even triple—duty!
This isn't just a bike rack; it's a multi-tasking marvel that can hold your bikes along with hooks and shelves for other sports equipment.
I like that you can store more than one bike and even your other sports equipment.
It's like your storage space just got drafted into the major leagues!
25. Bike Wheel Cover
Time to give your bike and your living space the respect they both deserve with a bike wheel cover!
This genius invention wraps around your bike's wheels, keeping dirt, mud, and any other unpleasantries contained.
It's perfect for when you have to store your bike in your small cramped apartment or home.
Small Storage No Problem
So there you have it, my fabulous space-savers and clutter conquerors!
We've tackled everything from bike storage to drawer dividers, proving that small spaces can indeed house big dreams.
Go ahead and embrace your limited square footage as a canvas for creativity—because with the right solutions, small storage is absolutely no problem!