I need some master closet ideas right now!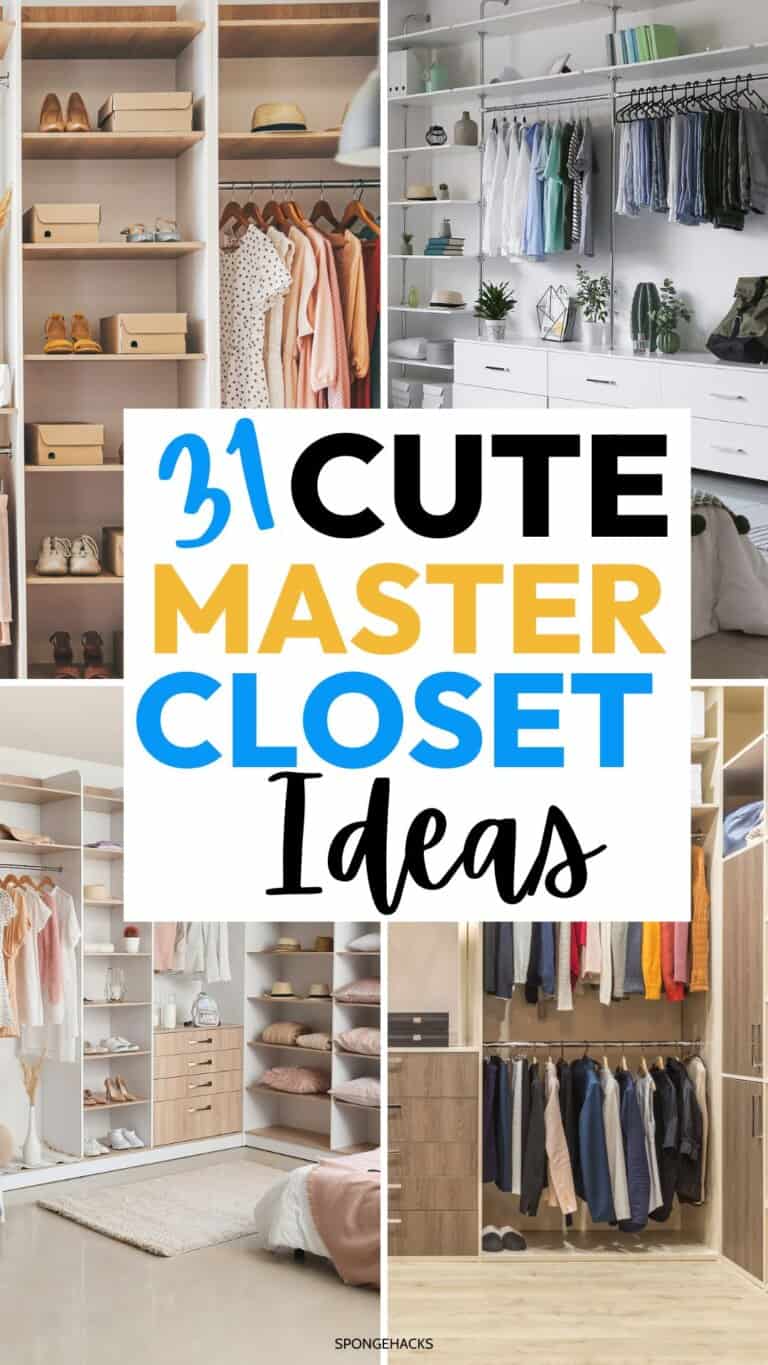 My master bedroom with a closet is overcrowded and I'm unable to see anything I have.
I end up spending more time looking for my clothes than deciding what to wear.
So, I end up putting on anything I can grab from the chaos.
It's horrible and I want to fix it.
That's why I'm going to go none other than Pinterest for some amazing stuff.
This will help me see what I can do to organize my master bedroom closet.
Whether you have a walk-in closet or a small closet in an apartment, these master bedroom closet ideas are for you!
So let's go and see them right now.
The Best Master Bedroom Closet Ideas
I have spent countless hours contemplating my closet space and praying for a solution to the eternal mess and those master bedroom closet design ideas have become a source of personal goals.
With so many creative and practical ways to organize your wardrobe and accessories, it's easy to get lost in the sea of possibilities.
From built-in shelving to chic hanging displays, there's no shortage of ways to transform your closet into a functional and stylish oasis.
So, if you're tired of rummaging around in a sea of clothes or simply looking for some fresh inspiration, the world of closet ideas for master bedroom is calling your name.
1. Personalized Baskets
Ah! I absolutely LOVE personalized closet design ideas!
Don't you just think these baskets are super cute and functional?
With your Cricket or with some fancy calligraphy pens, you can customize and personalize your baskets.
You can categorize all your clothes that don't hang like your leggings, tights, bras or camisoles.
This will make it super easy to find exactly what you need!
Get a smilier look with these gorgeous baskets for your closet organization.
2. Only the Essentials
I love this master bedroom closet idea!
Rotate your clothes and only have your essentials on hand.
This might be your favorite hats, shoes, dresses and pants/shirts.
This way, your master closet won't be crowded or stuffed with seasonal clothing!
For all of your OTHER clothes, just use vacuum-sealed bags to store them.
3. Use a Spare Room
Look –
You can cheat your way to an organized master closet by using a room or wall to have more closets.
Using these closet design ideas for a master bedroom can help you create a space that is clutter-free and cute.
Get a similar look with a closet organizer.
4. Remove Doors
Closet doors take up a lot of space!
If you live in a small apartment or have a small closet, the best thing you can do is remove those doors!
Yes, do it!
This is one of the easiest closet design ideas for master bedroom you can try!
Just take them down and replace with a curtain or NOTHING.
This was the first thing we did for all our room closets.
5. Use the KonMari Method
This is seriously LIFE-CHANGING!
Have you tried the KonMari method?
It's an organizational method to maximize space a bedroom with closets.
For more help, get this book!
It's seriously a MUST-READ to help you organize your master bedroom.
6. Use a Bookcase
Look –
You can get away with repurposing your furniture.
Got an old bookcase at your parent's house? Bring it and use it for your master closet.
It's the perfect depth for storing shoes and doing this will make your close look chic and beautiful!
7. Use Clear Bins or Shelves
If you're in a hurry and need to find that one piece of jewelry or perfume, having clear acrylic bins or shelves will help!
You can quickly see what you have and pin-point what you need!
Perfect.
Create a similar look with these bins:
8. Maximize Your Space This Way
Yes! I LOVE it!
One of the best master closet ideas I've come across has been to optimize your hangers!
Hang multiple clothing items on ONE hanger.
For this closet hack, get curtain rings to make this work for you!
9. Add Wallpaper for a Pop of Color
Isn't this just soo cute?
You can turn any drab master bedroom closet into an oasis dreamscape!
Use wallpaper to create that look and feel and enjoy looking at your master closet.
Create a smilier look with this wallpaper:
10. Use the Closet Door Too
Don't forget these type of master bedroom closet organization ideas: using the closet door.
Yes! This is one of the best reasons TO keep your doors to your master closet.
Hang a door organizer like this one to put your shoes, purses or extra clothes in.
11. Dedicate a Space for Accessories
If you want a cheap closet makeover, then check out this master closet design idea.
Hang your hats and use jewelry storage organizers to showcase your wonderful necklaces, earrings and bracelets!
Create a smilier look with this jewelry organizer:
Master Bedroom Walk-In Closet Ideas
There's nothing quite like having a spacious and well-organized closet right in the comfort of your own bedroom.
The possibilities are endless when it comes to incorporating your personal style and needs into your closet space, from custom shelving and drawers to luxurious lighting and accessories.
So whether you're a fashionista with a serious shoe collection or just looking to keep your wardrobe tidy and accessible, there's a walk-in closet design out there that is perfect for you.
So let's dive in and explore some of the best master bedroom walk in closet ideas out there!
12. Add a Mirror
This is SUCH an easy fix!
I love these types of master bedroom closet organization ideas!
All you need is a full-length mirror to make the illusion or more space in your tiny walk-in closet!
13. Style Your Walk In Closet
I'm seriously OBSESSED with this look!
Aren't you?
These closet design ideas for a master bedroom screams girly and beautiful.
Use a big area rug, funky light and a tufted ottoman and you have a uxorious master walk-in closet.
14. Go 50/50 With Your Walk-In Closet
If you live with a partner and you have a walk-in closet, the best way to organize it is to split it the middle.
Oh yea! I know!
I'm sure you think you have more clothes than your partner, but we have to be fair!
So use my #2 tip in this list to only put out your essentials and store the rest!
You got this 🙂
15. Paint Your Closet
Don't you just LOVE this color?
It's subdued and oh so green. Abdorbs for sure!
If you want to do a closet makeover then try painting your closet organizer?
It'll feel like a whole knew walk-in master closet!
16. Include a Vanity
If there is room in you walk-in maser closet, then why not add a vanity?
It doesn't have to be expensive or crazy big. Just add a small desk, a stool, mirror and there ya go!
It's a place for you to primp and pamper yourself!
17. Use a Shoe Rack to Save Space
Master bedroom closet shelving ideas need to work! And this one does!
Instead of putting your shoes on the floor of your master closet, put them up on the highest shelf.
Use a simple shoe rack like this one to recreate the look.
18. Add a Dresser
Your master closet isn't just for your clothes and shoes!
Use it for your all your accessories (yes, even find storage for your perfume in your closet).
You will have it all in one place and that will make it easier for you to find the purse or jeans you want to wear!
Small Master Closet Ideas
When it comes to small master closet ideas, it's all about making the most out of limited space.
From utilizing vertical space to finding clever storage solutions, there are a variety of ways to optimize your closet and keep your clothes organized.
And let's be real, who doesn't love a well-organized closet?
*raises hand.
Not only will it save you time getting ready in the morning, but it can also help reduce stress and make you feel more put together overall.
So whether your closet is the size of a shoebox or just needs some sprucing up, there's no shortage of tips and tricks to make it work for you.
19. Cover Up Your Closet Like This
I know I talked about removing the doors and putting a curtain but look at this getup?
I absolutely LOVE IT!
This is the cheapest master bedroom closet door ideas on this list!
It's gorgeous.
Grab some flowly panel curtains and a curtain rod and there you go!
20. Add a Laundry Basket
Sometimes the little things is all that counts here!
For your small master closet, make sure to fit a laundry basket.
This will save room in your bedroom for more storage.
21. Have Monogram Letters
Isn't this just a cute small master closet idea?
Put some monogram letters in your small closet as a way to personalize it and make it feel more expensive!
Create a similar look with this style of lettering:
22. Use a Storage Cube Organizer
I love when master bedroom closets use repurposed furniture items!
Here's another one! Use your storage cube organizer to store out of season clothes like sweaters, pants and shirts.
23. Use Vertical Space
For very small master bedroom closets, you have to utilize every square inch.
This means using vertical storage ideas like this one.
Make your closet shelves go up to the ceiling and store bigger items like coats or bedspreads at top.
This will help make other rooms less cluttered too if you have room to store pillows, towels and things like that in your master closet.
For the next part of this list, let's look at some master closet design ideas you can use for inspiration.
24. Cute Closet System
25. Chick Closet Design
26. Top to Bottom
27. Make Every Space Count
28. Closet Systems!
29. Ikea Pax Hack
30. Crystal Chandelier
31. Hidden Storage
Closet Design and Organization Ideas for Your Master Bedroom
There ya go!
I hope you enjoyed these master bedroom closet ideas for your apartment or home.
I love the master bedroom built in closet ideas in this list.
Someday I will put in a closet system to organize!
And, in case you didn't know, I have another guide just for tiny and small walk-in closets.
So, if you need more ideas for that type of master bedroom, then check out that article.
For more organization and home decor tips, follow me on Pinterest!