Last night I was getting ready for a dinner date with my husband and by the end of getting ready I realized all my perfumes were all over the counter.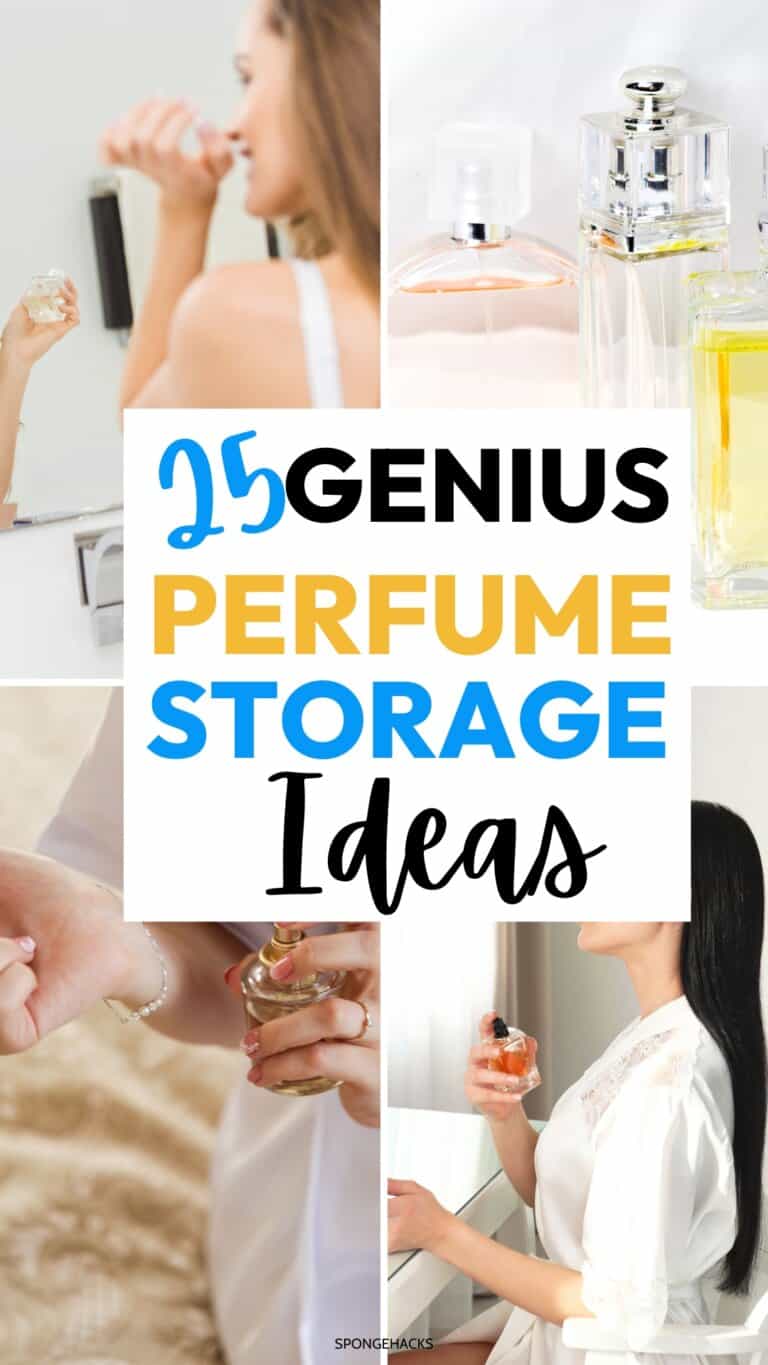 I noticed they didn't have a home!
Every day I battle my small bathroom with tight storage spaces and messy drawers and counters.
How can I store my perfume, makeup, and beauty products that look chic but that's also practical?
If you're like me, you're also storing your perfume in a haphazard way, never sure of what you own.
So if you have too many perfumes or you're running out of space for your growing collection, let's figure this out together.
Let's check out how to store your collection so that you can easily find the perfume you want and make sure your collection lasts as long as possible.
Check out these unique storage ideas for perfume.
Before We Start: Don't Store Your Perfume in the Bathroom!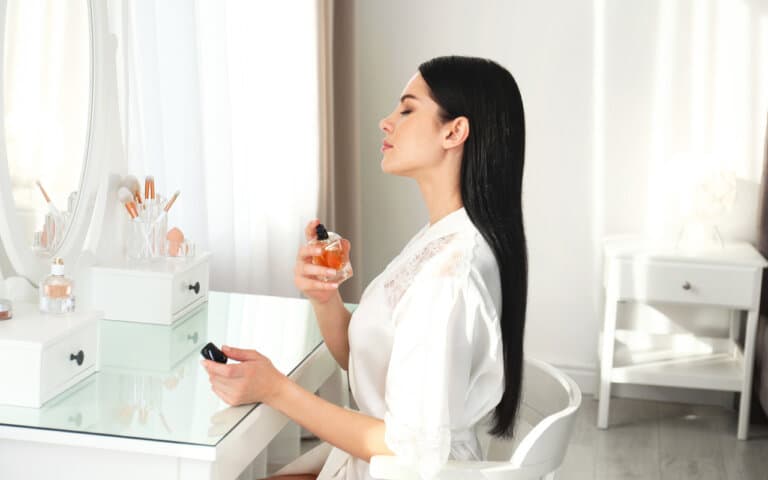 The bathroom may seem like a convenient and obvious place to store your perfume (yes! That's what I'm doing!) alongside your makeup, but it's going to do more harm than good.
That's because perfume is sensitive to changes in temperature, humidity, and light – everything you'll find in your bathroom!
The heat and humidity can cause the molecules in your perfume to break down and lose its quality and intensity.
So where should you store your perfume?
Why not in your bedroom?
Perfume should be stored in a cool, dry place away from direct sunlight and heat sources.
So when you're checking out this post, think of these tips as bedroom perfume storage ideas!
That way, you keep your perfume lasting longer and give yourself a quick spritz as you're getting dressed for the day.
Perfume Storage and Organizer Ideas
Living in a small place like an apartment can be kind of tough: space is limited, you don't always have the luxury of using multiple rooms, and you can really start to feel cramped.
But if you're a perfume aficionado, don't let that stop you from having an extensive collection – get crafty when it comes to perfume storage!
These perfume storage and organizer ideas will help streamline your perfumes, organize your space, and add an essential finishing touch to any room in your home!
Keepin' it real small-space style.
1. Perfume Organizer Tray
A simple perfume organizer tray or even a dish is a great way to store and display your favorite fragrances.
Pick a tray that's large enough to hold all of your perfumes. You can even add decorative accents like flowers or crystals to really make it aesthetic!
Just make sure you keep your tray away from direct sunlight.
2. Drawer Perfume Organizer
If you have a lot of perfumes and would rather keep them tucked away, you can use a drawer perfume organizer.
This keeps them organized and easy to grab when you're ready to spritz it up!
Look for organizers with different heights so you can see all of your perfumes displayed!
To get this look, grab this perfume organizer!
3. Glass Perfume Display Case
Are you looking for a totally elegant way to showcase your perfume collection?
You can always use a glass perfume display case!
Look for a case with multiple shelves, and think about adding LED lighting to really highlight your fragrances.
4. Wall-Mounted Perfume Shelf Hack
A wall-mounted perfume shelf is an awesome way to save space and display your perfume collection.
But what's even better is using spice racks to create a whole wall of perfumes! Oh yea!
Grab some shelves with a minimalist design that won't take away from your beautiful bottles – and arrange your perfumes by color or brand to create a visually appealing aesthetic.
5. Spinning Perfume Stand
If you're short on space, you can always use a perfume stand that spins to store and display your perfume.
Simply spin it around to grab the bottle you need, and you're good to go!
To recreate this look:
This will whip around your bedroom with ease providing easier access to all your signature scents without having to carry them across the room.
While this storage idea won't necessarily save you from all of life's problems, it'll help make finding your special fragrance a breeze!
6. Perfume Cabinet
If your perfume collection is huge, you can always go with a perfume cabinet to keep your fragrances safe and organized.
You can choose a pre-made cabinet or even repurpose an old cabinet with shelves into a perfume holder.
I love this one because you can use it to store your perfume, makeup, and other beauty products – and use the surface as a makeup table!
Plus, it adds a nice element to your room! Rustic vibes here!
7. Perfume Storage Box
If you need to take your perfume collection on the go, you can store them in a simple perfume storage box.
A wood or felt box with a lid is a great option, especially a lid that latches so you don't have to contend with runaway bottles!
You can measure and cut inserts to put in the box using foam or felt to keep all of your perfume bottles in place.
8. Perfume Stand
Why not make a big splash when you display your perfume with this storage idea?
Use a perfume stand to hold your entire collection of perfume and makeup too!
9. Use a Makeup and Jewelry Organizer
Why not store your makeup and perfume together?
I'm OBSESSED with this BOSS look!
This multi-function accessory can store all of your items in one spot and is the perfect way to keep your beauty essentials neat and tidy.
It's versatile, so you can showcase your signature scent while also storing your jewelry, and giving off those organized boho-chic vibes all year round.
With this must-have item you'll never be without a way to organize your goods – unlike relying on Post-It notes stuck on random surfaces!
DIY Perfume Storage Ideas
So…building your own custom perfume rack seems like a lot of work! LOL
If you're looking for some simpler DIYs, check out these easy perfume storage ideas:
10. Vintage Tray
Find an old, vintage tray at a thrift store or garage sale and give it a fresh coat of paint. The vintage feel will add a touch of elegance to your perfume display.
I s'more adore this sophisticated feel!
11. Mirrored Tray
A mirrored tray will give your perfume bottles a glamorous look.
You can purchase a mirror and a tray separately and glue them together to create your own mirrored tray.
12. Marble Tray
A marble tray will add a touch of sophistication to your perfume display.
You can purchase marble contact paper and cover an existing tray or a pre-made one.
13. Wooden Tray
A wooden tray will give your perfume display a natural, rustic feel.
Not only does it give your display a super-chill, rustic feel, but you can also totally customize it by painting and staining the tray any way you like.
Plus, you might be able to find one at a great price – trust me, skimping on the details never looks good. Show that perfume display some love and bring home a wooden tray today!
14. Floral Tray
Who said fancy decors have to be expensive?
If you're more of a DIYer, roll up those sleeves and get creative 'cos with the decoupage technique, you can create a floral-themed tray – perfect for those Insta moments.
All you gotta do is grab some flower images from mags or wrapping paper, then glue them onto a plain ol' tray.
Seal everything up with a coat of decoupage glue and voila – your masterpiece is ready to be snapped and shared!
15. Tiered Tray
A tiered tray will allow you to display more perfume bottles in a compact space.
You can purchase a pre-made tiered tray or create your own by stacking two or three smaller trays on top of each other.
16. Decorative Dish
Why settle for a boring old dish when you can have one that does double duty?
A decorative dish that serves as both eye candy and a perfume tray is the way to go.
Add an eleganza extravaganza to your shelves with something funky and fresh – ooh la la!
Shopping for the perfect piece of glam jewelry for your living space? Look no further than that fab vanity.
17. Glass Tray
A glass/acrylic tray will give your perfume display a modern, sleek look. You can purchase a pre-made glass tray or create your own by framing a piece of glass.
18. Decorative Wall Mount
Isn't this just TO.DIE.FOR?
I'm seriously obsessed with this look.
Be on the hunt for a decorative shelf to store and display your perfumes!
19. Floating Shelves
So simple yet beautiful!
Grab some floating shelves and hang them in your bedroom with a mirror and viola! The perfect perfume storage for you!
How to Organize Perfumes
Time to get creative with organizing your perfumes!
Take inventory of what you got and figure out where the perfumes will fit best.
If there's room in the closet, try stackin' 'em up on some shelves.
Setting them up in an intricate pattern would make things even more interesting, like adding a touch of flair to your wardrobe.
Alternatively, wheeling in a little cart for quick access is also an awesome option – it'll also give off that boutique kinda vibe! For extra safety, put all liquids in resealable plastic bags or something similar – that way you'll keep things intact in case ya gotta move stuff around.
Loggin' their location or labeling each bottle will make sure ya don't lose any fragrant gems down the line.
Whatever sceenarios you come up with, gettin'gorganized can be soo much more than just checkin' off a boring task list.
With all of these perfume storage ideas, how do you actually organize your perfumes?
Organizing perfumes can be a fun and creative task! Here are some steps you can follow to organize your perfumes effectively:
20. Sort by Type
It's not just fashion that trends go in and out of – you've gotta be thinkin' about your fragrance!
And the best place to start when rearranging your collection is by sorting your perfumes into groups, like floral, woody, spicy, and citrus. That way, it'll be easy-peasy for ya when you're trying to match a specific scent with an even more specific mood or occasion. And trust me, you'll thank yourself later when all those subtle scents are so clearly categorized.
Keep your perfume game on point always.
21. Sort by Occasion
You can also sort your perfumes by occasion, such as casual, formal, or evening wear. This will help you to choose the right fragrance for different occasions.
22. Sort by Season
Who says the only way to organize your perfumes is limited to by shelf or by scent?
Take it up a notch and organize 'em based on the season.
That way, you can freshen up your wardrobe depending on the season: be summer-ready with beachy vibes and light fruity scents or cozy up in winter with yummy spice scents.
Not only do you get to smell fly all year round, choosing appropriate scents will make sure everyone around you is poppin' as well.
So make sure you are smelling good no matter what time of year!
23. Sort by Bottle Size
If you're looking for a more eye-pleasing way to organize your perfumes, sort your bottles by size. When it comes to perfume bottle storage ideas, you should definitely place taller bottles in the back so that you can easily see everything.
24. Sort by Color
I know perfumes typically don't come in a huge array of colors, but you can make your collection look more aesthetic by placing similar colors together!
25. Store With Your Makeup and Lotions
If you have a small perfume collection, like just a few bottles, you can save space by storing them with your makeup and lotions.
A lot of these ideas can be used as a perfume and lotion organizer. Some of the larger storage ideas can be used to hang on to your make up too!
FAQs About Perfume Storage
Have more questions? Don't worry, I have you covered!
Here are some common questions about perfume storage that will help you keep your collection lasting longer and smelling amazing:
Can I store my perfume in the fridge?
While you don't have to store perfume in your fridge, it's not a bad idea if you live somewhere hot or if your home is particularly warm.
Just keep your perfume away from food to prevent contamination.
You probably don't want your food to smell like Gucci Guilty, right?
How long does perfume last?
Perfume can last anywhere from a few months to several years, depending on the fragrance and how you store it.
When it comes to wearing perfume, keep in mind that the top notes of a perfume (the initial scent) tend to fade more quickly, while the base notes (the lingering scent) can last for hours or even days.
Can I transfer my perfume to a different bottle?
If you want to give your perfume collection a matchy and aesthetic look, you may be thinking about transferring your perfume to a different bottle.
However, it's not really recommended unless the original bottle is damaged or leaking.
This is because the fragrance can be affected by exposure to air and light, which can cause it to degrade more quickly.
Awesome Perfume Storage Ideas!
If you love perfumes and fragrances as much as I do, it can definitely be a challenge to keep your stash neat and organized.
The key is to find a storage method that works for you!
I hope these perfume storage ideas give you some great ideas for better organizing your perfumes so you can easily find the scents you want to wear every day.